Yesware Tier Comparison

At Yesware, our goal is to make it easier for you to gain insight into how your prospects and customers interact with your messages in order to close deals faster. We've built an email tracking system which provides real-time feedback about your communications, template libraries to streamline and standardize your emails, team management and reporting to understand larger trends, and an integration with Salesforce to keep you focused on selling – not on updates. While we can't live without any of these features, not every salesperson needs them all. To help you decide which plan makes the most sense for you, we've put together this feature-by-feature comparison.
Unlimited Tracking
Tracking is at the core of Yesware and gives you immediate feedback on the effectiveness of your message. When you use tracking, you'll be notified in real time when your prospect opens your message and interacts with it by clicking links to find out more about your product.

All of our premium plans – Pro, Team, and Enterprise – have an unlimited supply of these notifications so you're always gaining insight about the people you communicate with.
Organize Into Teams
Depending on the size of your organization, the number of sales teams that you have may vary. Smaller companies may have a single team while larger companies may have hundreds of teams that focus on individual markets. Yesware makes it easy to track the progress and activities of your teams so you know exactly what is effective.

On the Team and Enterprise plans, you can create an unlimited number of teams with unlimited team members and team leaders.
Advanced Reporting
Unlike the Pro plan, the Team and Enterprise editions of Yesware let you see full detailed performance for your team as a whole as well for individual users. We've tailored the Team Tracking Report, Activity Report, and Prospects Report to make team management easier for everyone.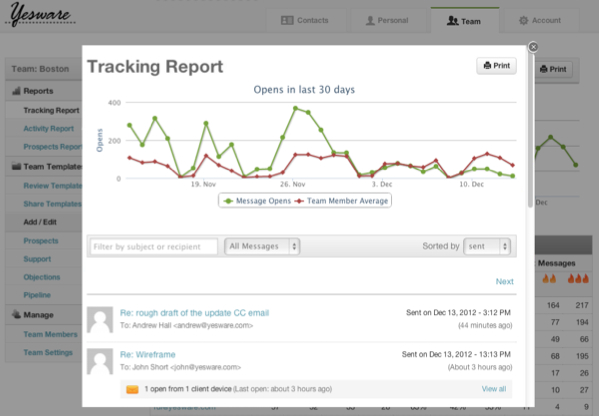 The Team Tracking Report details your team's performance, member by member, in an easy-to-read graph with details including emails sent, emails tracked, and open / reply statistics. The Activity Report provides an overview of template use, tracked emails, and CRM usage by team member. The Prospects Report aggregates each user's Prospects into a single place, allowing team leaders to monitor overall team progress. For all of these reports, you'll be able to click on any user on your team to drill down on their personal tracking report – filter, sort, and review their individual performance.
Template Standardization & Easy Template Sharing
Email templates are at the core of Yesware. Being able to compose common messages and standardize them across all of your prospects means that you're getting actionable messages across in less time.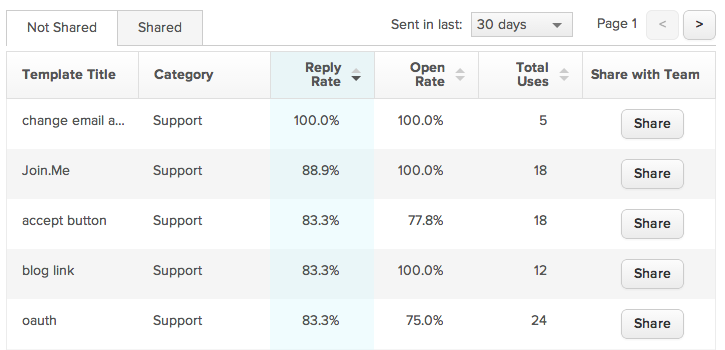 For the Team and Enterprise editions of Yesware, we've built a way to easily keep track of your best templates and to share those out to every member of your team. From your team template report, identify the templates you want to share, then press the "Share" button – that's it! 
Salesforce Integration
We wanted to come up with an easy way to keep Salesforce up-to-date without a ton of manual data entry – so we do it for you directly from gmail! The Enterprise plan includes a seamless integration with Salesforce that automatically captures all Yesware activity with the contact or lead that you're already communicating with.

By checking off a single box in your email, Salesforce will keep a log of your sent emails, message opens, link clicks, replies received, attachment opens – automatically!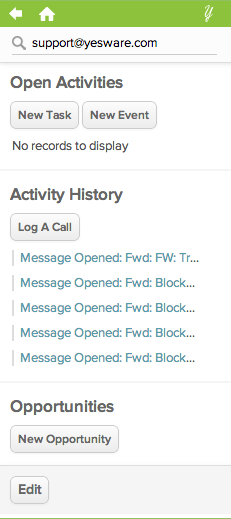 In addition to automatic Salesforce updates, you can also access your Salesforce information directly from Gmail using our sidebar. See your most recent activity with any contact, create new tasks, and get full contact information without ever leaving Gmail user experience.
Not a Salesforce user? All of our plans, including Pro, let you automatically BCC your CRM's dropbox address on all of your emails.
Custom
Need additional functionality beyond what our Pro, Team, and Enterprise versions offer? We'd love to create a custom solution that makes sense for your team.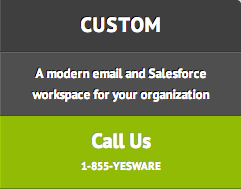 To learn more about any of our plans, email our sales team or give us a call at 855-YESWARE.