How to Find Anyone's Email: 13 Little-Known Tricks
You know who you want to contact — now if only you could find an email address.
Ugh. The dreaded email address search.
Some might resign themselves to mindless Googling. Or try the old Rapportive guess-and-check "trick" that's been circulating the Internet for years.
Please don't do that. 
Not when you could be wrapping up your email address search in under 30 seconds flat.
We did some digging to build a complete list of the best free tools and tactics to quickly find email addresses by name, using publicly available information. If your favorite didn't make the list, feel free to share it in the comments.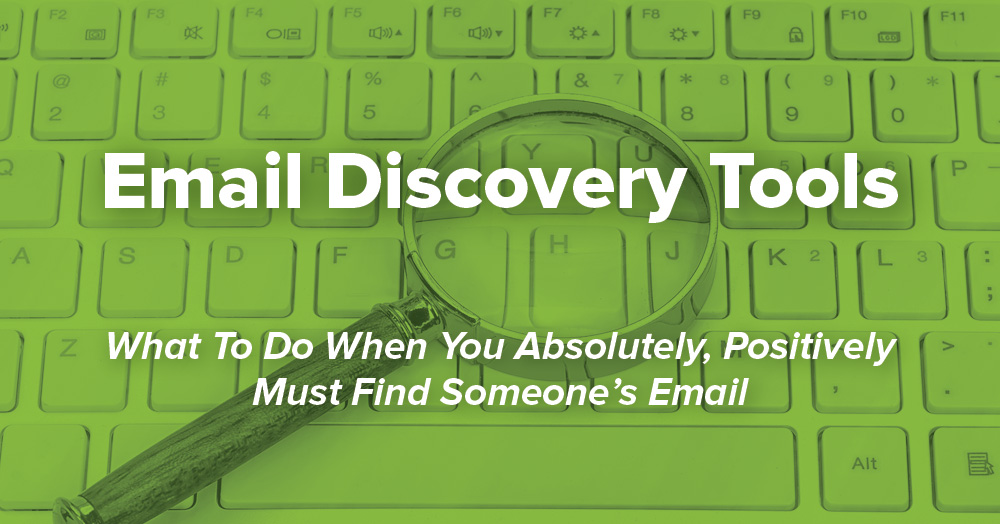 1. Clearbit – Super Accurate Email Finder That Lives In Your Inbox
This Gmail Chrome extension finds email addresses in less than five seconds, and we've found that it's accurate 97% of the time. Just plug in someone's company name with either their first name or job title. Once Clearbit identifies an address for you, you can one-click compose an email to that person.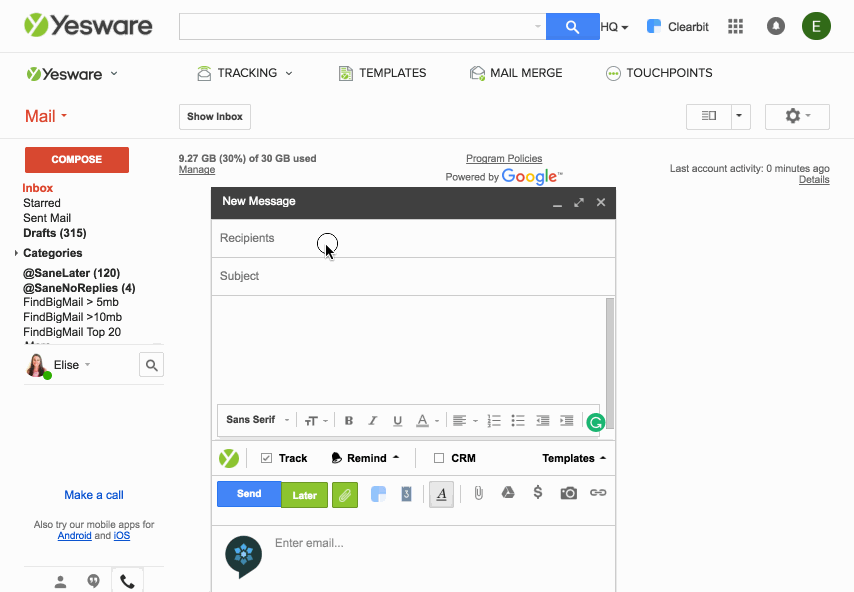 2. Datanyze Insider – Super Fast Email Address Lookup For Chrome or Firefox
Datanyze's browser plugin lets you look up anyone's email address by highlighting their name wherever it appears online. The Insider Email Finder then pings likely email addresses, finds which one is active, and displays a link to the correct address.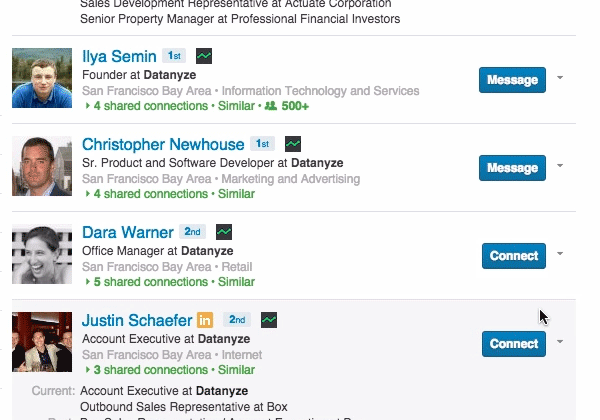 3. SellHack – Search Up To 10 Emails For Free Per Month
Similar to Datanyze Insider, Sell Hack is a handy browser extension that checks publicly available data sources to find someone's email address. The free plan will let you search up to 10 emails per month on Chrome, Firefox, or Safari.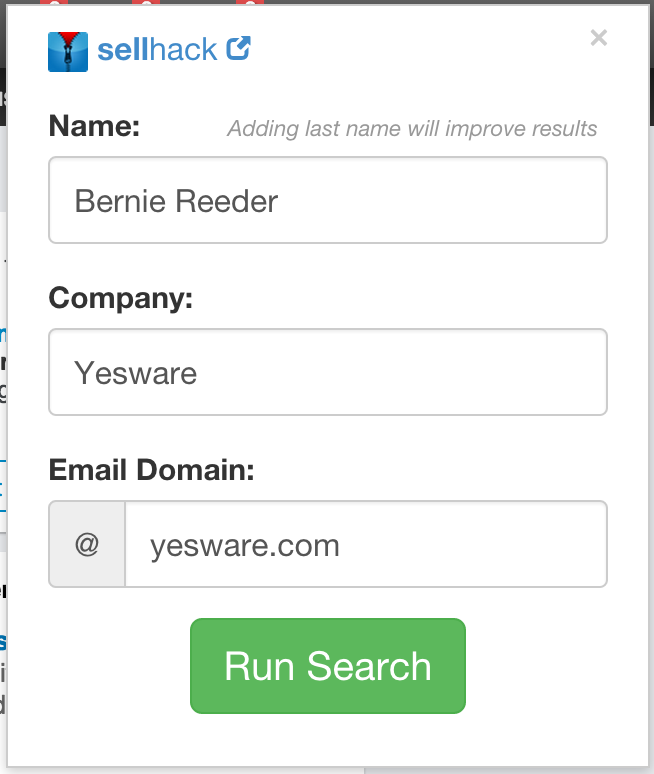 4. Email Hunter – Find Email Addresses In Bulk By Company Domain

This one's great for account-based sales. Punch any company domain in and you'll quickly get a list of all publicly available email addresses associated with it. You can search up to 150 domains for free each month, and plans start at $49/month if you're interested in searching more.

5. Headreach – Search by Name, Company, or Website
Headreach allows users to search for prospects by name, company, website, or by using the 'advanced search' option where you can search by job position (easy access to decision makers). Once you find your prospect, click "find (name)'s emails and social profiles" and they'll be added to your contacts. Headreach also includes a log for easy access to all of your searches.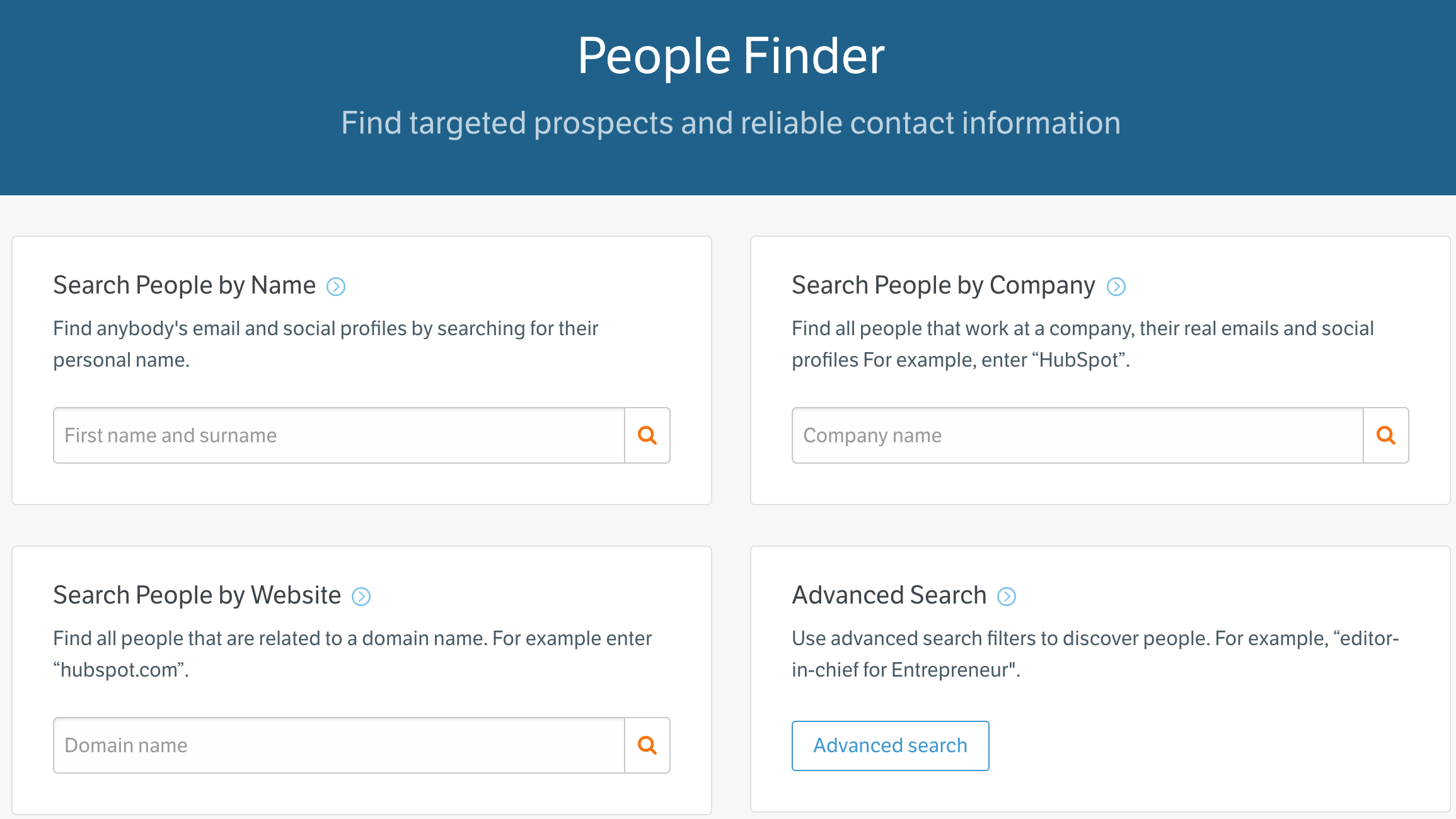 6. Findthat – "The Yellow Pages of Email"
Findthat is a quick and easy way to search and discover exactly who you're looking for. This database includes several diverse plans. Whether you keep it simple with the free plan (includes 15 monthly credits) or get the whole team involved (their team plan runs for $149 per month with over 3,000 credits).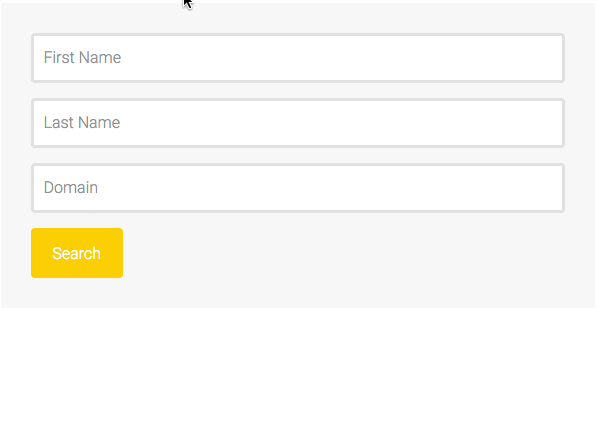 7. Anymail Finder – Guesses your prospect's address using email patterns
Just click on the toolbar from your Chrome browser and you can add your prospect's name and their company website. Anymail Finder guess their email address in seconds and let you one-click copy it.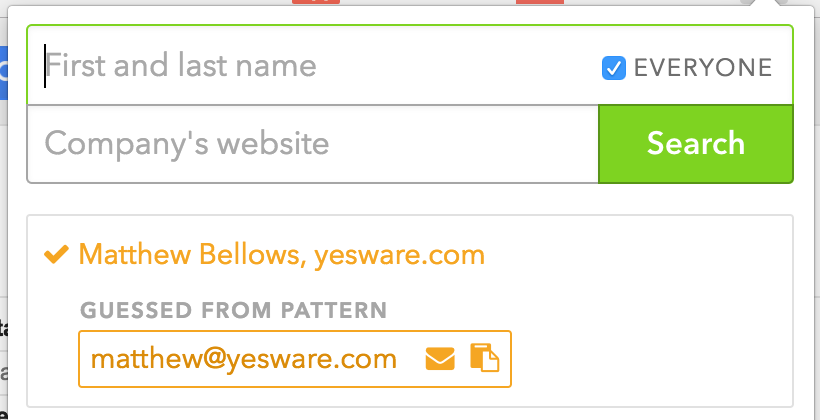 A note: if you're looking for addresses at an account where email address patterns vary, it's going to be tough to accurately guess your prospect's addresses using Anymail Finder. For example, at Yesware our earliest employees have firstname@yesware.com as their address, whereas more recent employees have firstinitiallastname@yesware.com as their pattern. Anymail did not pick this up. Matthew's email address is accurate above but others were not. Stick with Anymail for companies where you know one pattern applies.
8. Voila Norbert – Quickly Find And Verify Someone's Email

Search by first name, last name, and company domain. Norbert pings the mail host to confirm the correct email address, giving you 50 free searches per month.

While simple to use — you don't need to install a plugin — Norbert does not check for catchall addresses, and it limits the number of queries users can conduct (SMTP servers could block the service if pinged too frequently). In our own unscientific test, Norbert was able to correctly identify three out of five email addresses.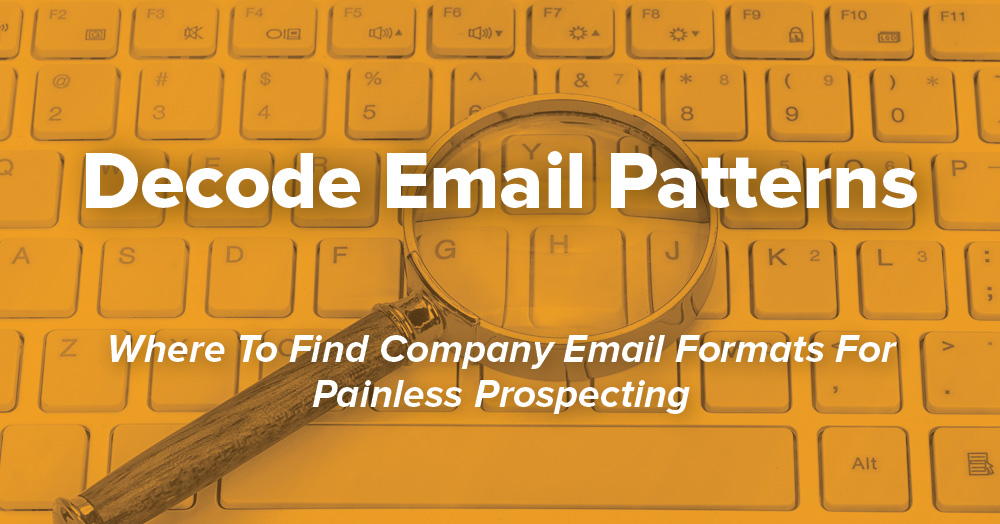 This free database contains the email address formats of more than 1000 companies. Search by company name, industry, or geographical location to find the pattern your prospect's company uses across their corporate email addresses — i.e. firstname@yesware.com, or firstname.lastname@yesware.com.

Small caveat: The site hasn't added new companies to its listings since 2011, so consider this a tool for prospecting into established companies only. We had better luck finding email patterns for startups and other new businesses using EmailBreaker (below).
It's exactly what it sounds like. Use this site to find email addresses of CEOs in companies around the globe.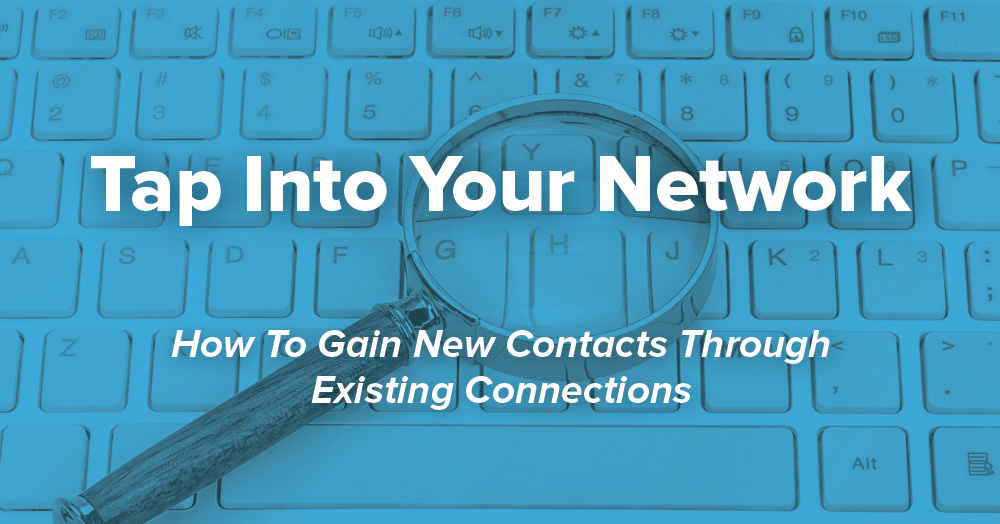 11. Conspire – Ask For An Introduction, Backed By Data
One of the coolest email tools we've come across recently is Conspire, an app that analyzes your contact list to identify mutual acquaintances who can introduce you to the person you want to reach.

Simply sign up with your existing email account and search for the person or company you're interested in emailing. Conspire will churn out a relationship graph showing who has the strongest ties to that person across your extended network, based on factors like frequency, speed, and the length of time they have corresponded.
It even offers prewritten email templates to make your request that much easier. (Although we'd be remiss if we didn't recommend copying and pasting the text into a Yesware template so you can track what happens after sending.)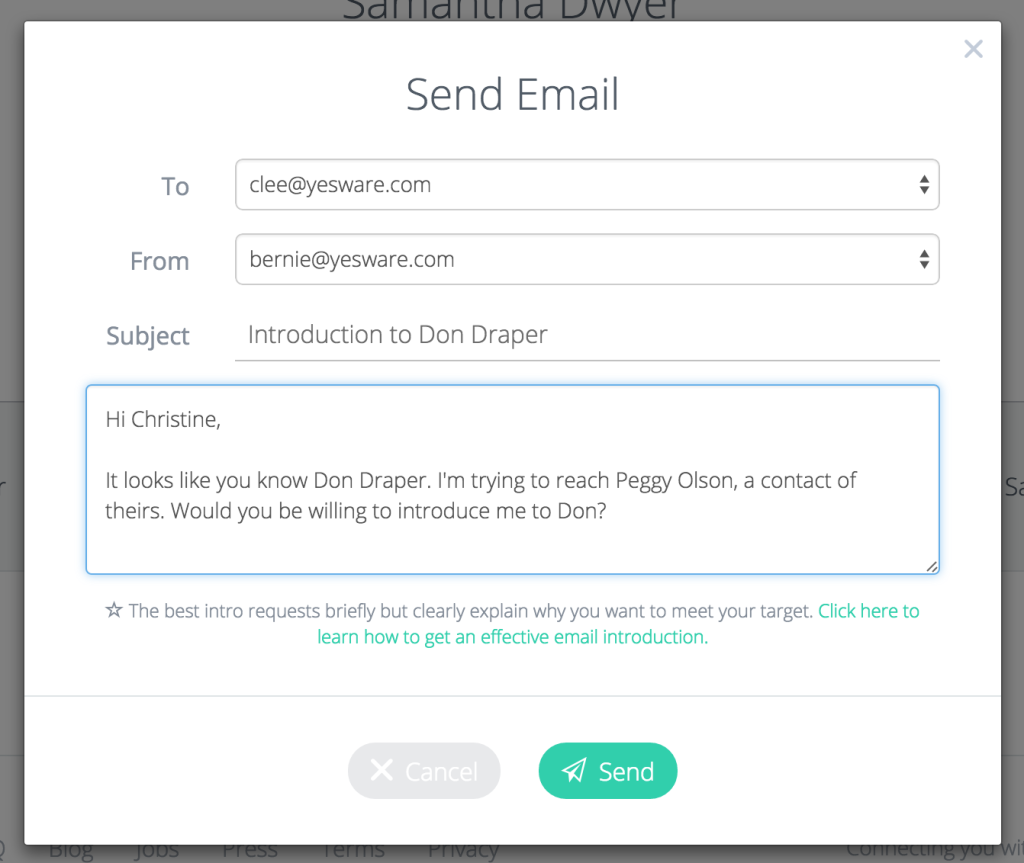 By the way, if you're looking for more email templates to introduce yourself or make new connections, you might want to check out the 18 free ones we offer in our latest email course.

12. LinkedIn Connections – Export Email Addresses To Google Contacts
Just because you're connected with prospects on LinkedIn doesn't mean you have their email addresses in your Google Contacts List.
The good news is that hidden away in LinkedIn's advanced settings is the ability to export your connections, giving you up-to-date email address in your inbox.

You can also use Zapier to sync new LinkedIn Connections to your Gmail Contacts as they come in.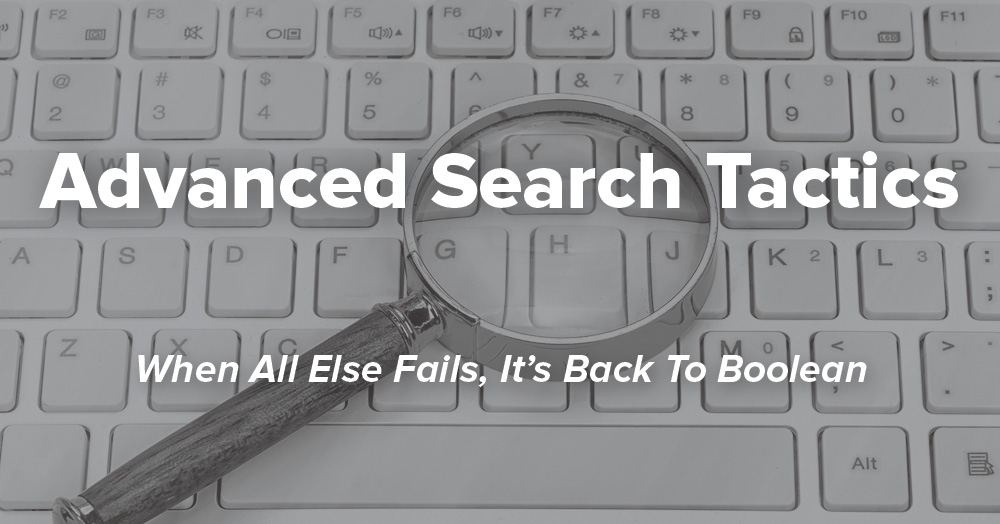 13. Google 'Em – How To Use Search Operators To Find Emails
Sometimes it really is that easy. Try these basic queries first:
[name] + email (or) email address
[name] + contact (or) contact information (or) contact me
If that doesn't work, it's time to get creative with Google search operators. Try running a search of their company website, like so:
site:companywebsite.com + [name] + email
site:companywebsite.com + [name] + contact
14. Advanced Twitter Search – The (at) (dot) Approach To Finding Any Email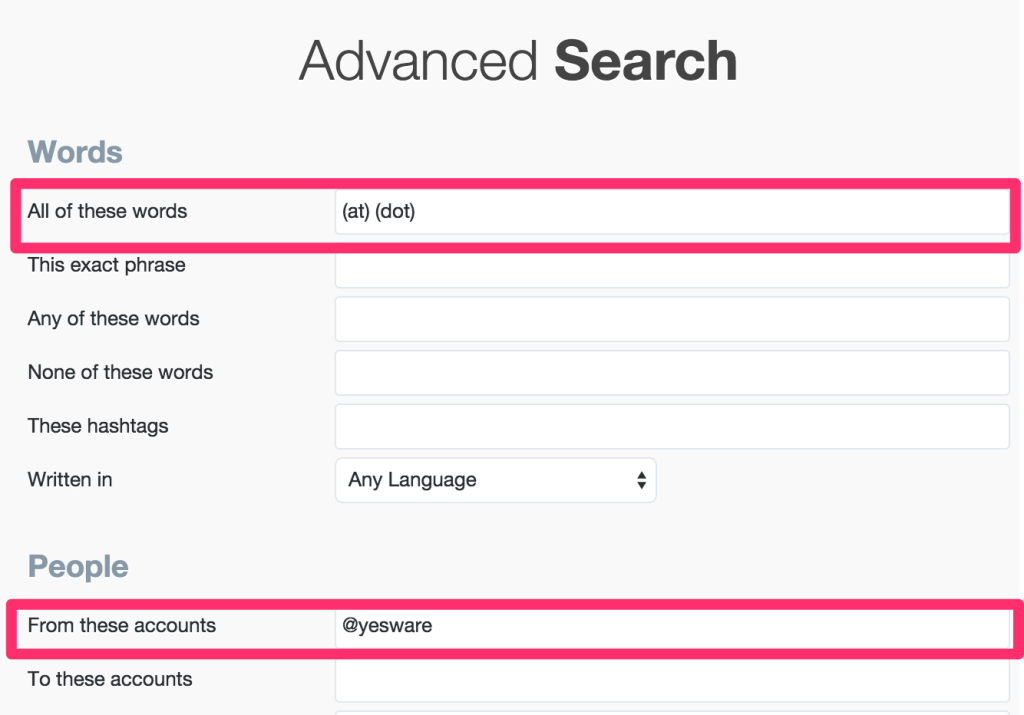 People get asked for their email on Twitter all the time. You can use Twitter's advanced search to find the last time your contact responded to such a request:
Search for the terms (at) (dot) in "All these words" under the 'Words" section
Enter their Twitter handle in "From these accounts" under the "People" section
Pro tip: Don't waste your time searching for the word "email." You'll just end up combing through a long list of tweets on the topic of email, and not their actual email address.
Over To You – How Do You Reach The Right People, At The Right Address, At The Right Time? 
What tools do you use to find email addresses missing from your contact list?
It'd be great to hear your experience and what you've found works best. We're always looking to try out new tools and workflows here at Yesware!