Boost Your Sales Through Effective Writing: 8 Proven Steps to Success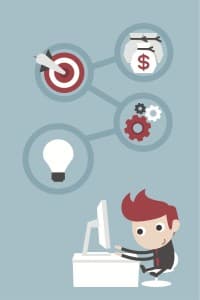 My first, best lesson in effective writing and sales came from my father, Joe Carlozo. Dad, who passed away in March, was a master salesman who led sales seminars nationwide. And I recall his empathy the day I earned a B+ that ruined my 4.0 GPA in English at Rutgers. Game over. Or was it?
Dad helped me craft a letter to get my professor to reconsider. "Be clear," he advised. "Tell her what you want, but you also need to connect. Tell her how much you learned in the class, how much you enjoyed it. Then show her."
A former teacher, Dad gave me an assignment: rewrite my final paper (the one that torpedoed my grade) even though my professor never asked me to. We sent her the letter and the rewrite, and I held my breath. A week later came the response: Final grade revised to an A. Wow!
More than just a grade changer, Dad's "sales letter" proved a life-changer. It taught me the values of emotional appeal and seeing things from the perspective of your audience. But how do we persuade others, through our writing, every day? And how do we get otherwise unreceptive people to hear our message?
I've spent my whole career as a journalist, writer and essayist honing those skills. It's much like working with a coach on a golf swing. So lesson one from this coach: Get out there and practice. (Both Malcolm Gladwell in Outliers and Daniel Coyle in The Talent Code write about how mastery comes through putting "10,000 hours" into any discipline.)
I've also enlisted the help of Jeremy Reeves, a direct response copywriter and sales funnel specialist. Together, we'll try to pass on what we know about how to write with punch, panache and style. In the meantime, if you have questions, fire them to me at feedbacker@aol.com. I'd love to run future columns based on your writing queries.
8 Steps to Success
1) Show, Don't Tell
When I redrafted that college paper without being asked, I showed my prof that I took her class seriously. Let's say you claim in a letter than you can boost a company's performance. It's one thing to tell someone what you'll accomplish, but can you show it? As an example, your email might link to a video that displays your product or service in action, relating the real-life story of a person whose life or performance was changed by it.
2) Write the Way You Talk
"People these days want to communicate with someone real," Reeves says. "If you're writing emails, sales pages, or any other type of sales message, you want to speak to the person you're trying to sell as an individual, not a 'group.'" He suggests creating an avatar that represents your perfect prospect, and speaking to that avatar. "That way you have a single focus point to talk to, which makes it easier to write like the way you'd sell them in person."
3) Use Power Verbs
The verb "to be," which we so often use in conversation, waters down effective writing. If you've got an email or pitch letter ready, redraft it at least once by highlighting all forms of "to be": is, was were, am, etc. Pay special attention to passive constructions, which always sound lumpy and wimpy. "The one flavor of ice cream I like best is strawberry" says the exact same thing as "I like strawberry ice cream best," except with far more words and far less zip.
4) Be Genuine
"The days of swindling and manipulating people like the stereotypical used car salesman are over," Reeves says. "We're now in a trust-based economy and if you want to stand out, you must be trustworthy." Beyond making solid claims, you must know you can deliver exactly what you promise—and demonstrate that to the reader. Here, the Golden Rule applies: "It means truly caring about the person you're trying to sell, and demonstrating that level of care."
5) Make Me See
To quote "Seinfeld," most sales talk equals yadi, yadi, yadi. People tune out a written message when it recites endless statistics, uses jargon, or fails to spark the imagination. By contrast, why not make a visually compelling, sense-based "movie with words"? It's one thing to say, "Our restaurant serves a delicious meal," and another to say, "We serve heaping baskets of honey-dipped fried chicken and piping hot sides of crisp, waffle-cut sweet potatoes, dusted with brown sugar." Hmmm, maybe that made you taste as well.
6) Develop and Show Your Personality
Writers use the term "style" to describe the point where content meets the way you convey it. In sales writing, Reeves says, that equates to having a personality. "Create a little polarity in the people you're talking to," He advises. "Yes, you'll push some people away, but those are the people who weren't going to buy anyway. Those that resonate with your new 'voice' will be more attracted to your and become lifelong, loyal customers." So whether you're flamboyant, dryly humorous, crusty or offbeat, let it come out in your writing. It's bound to resonate with people you want to make your customers.
7) Tell a Story
As human beings, we're hardwired for a story. At a young age, we ask our parents to "tell me a story"; when we're older, we follow the characters in our favorite films and novels as though they're our intimates. A sales letter that tells a convincing, evocative story full of rich details (see point number 5) draws people into a narrative—and that's a much different ballgame than trying to get someone to listen to a typical sales pitch.
8) Evoke Curiosity
Reeves says he's often asked about what people can do to get their emails opened. It's harder than ever, given how much spam people receive now. He gives the example of two email subject lines, and invites you to condor which one has more appeal:
Subject Line #1: 25% early-bird discount to our upcoming seminar

Subject Line #2: The strange story behind this 25% discount to our seminar
Obviously, there's a clear winner and you know which one. "Curiosity is a powerful motivator that gets people to take action like nothing else I've ever used before," Reeves says. And once that email is open, "Carry through the curiosity, if possible."
Conclusion
Understanding the mechanics behind great sales emails can go a long way in helping you craft effective email templates.
Learn how to use Yesware's Custom Email Templates to close more sales at our free webinar, today at 1pm ET.
Get expert sales tips straight to your inbox to win more deals
Related Articles
Sales, deal management, and communication tips for your inbox