The Definitive Guide to B2B Sales in 2021 (Expert, Data-Backed Strategies)
Closing a sale feels amazing.
But getting to the yes is a process.
If you're in B2B sales, you know the sales cycle is an extended process, with multiple stakeholders weighing in. It's almost never a one-call close.
In this article, we'll cover everything you need to become a B2B sales master:
How B2B sales is changing in 2020
Building authority with your best prospects
Moving prospects from the first contact to the purchase
… and much more.
Let's dive in.
Table of Contents
B2B Selling: Guiding Buyers Toward the Deal
Connect with more buyers
All-in-one toolkit for B2B sales reps
What is B2B Sales?
B2B simply means "business to business." In B2B selling, you're helping your company sell products or services to other businesses.
B2B sales is very different from B2C sales, or "business to consumer":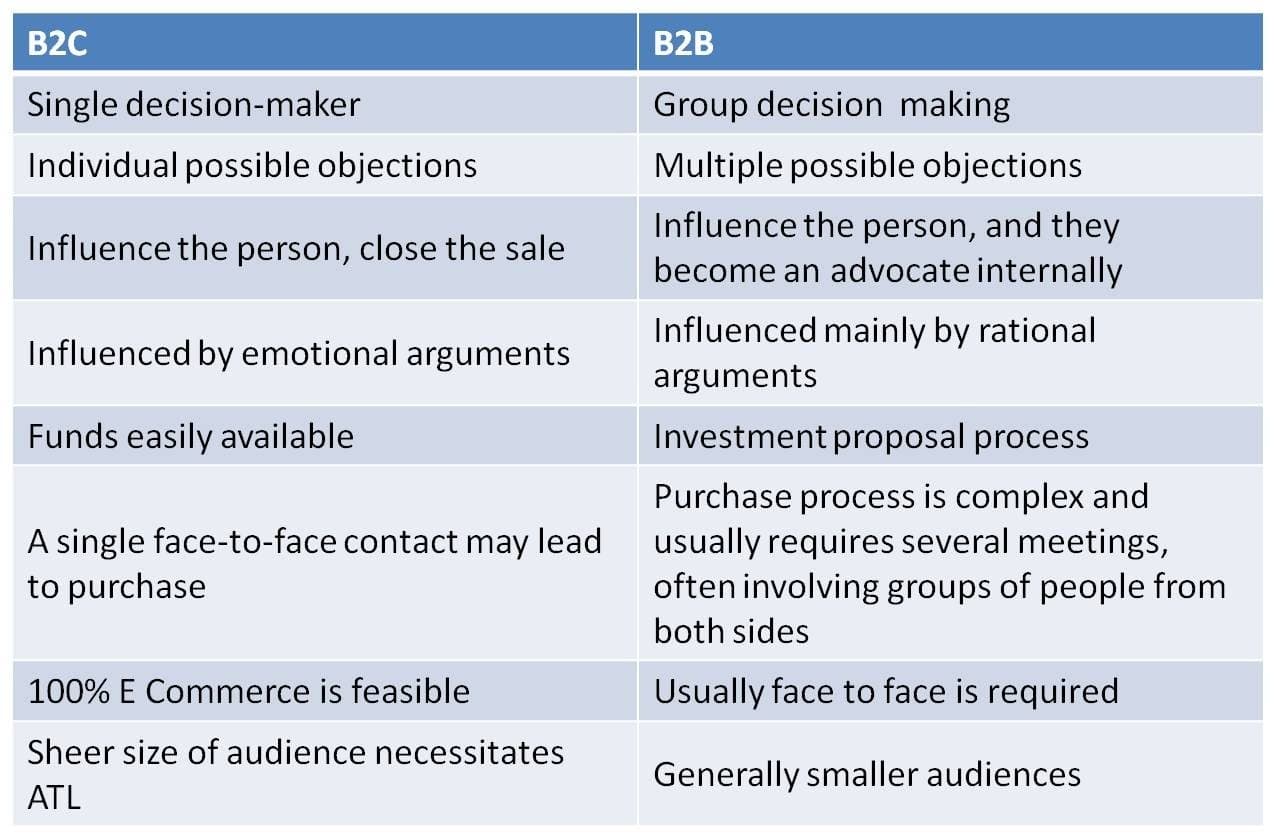 Source
Consider a few key ways that B2B sales is different:
When you sell to a business, every purchase decision has an impact on the company's bottom line. That means purchasing decisions have to be vetted through an approval process.
Order values for B2B purchases run much higher than for consumer purchases. Six- and seven-figure deals (and even bigger) are very common.
Typically, the approval process requires sign-off from multiple stakeholders. Larger sales will require more decision-makers to say yes.
While it's more complex, it's also far more lucrative.
In 2018, Forrester estimated that the total size of the US B2B e-commerce market was $9 trillion, or nearly half of US GDP.
Source
Compare that with the US retail market, at $3.63 trillion over the same period, and you quickly get a feel for the enormous opportunities in B2B sales.
Let's take a closer look.
Inside Sales vs. Outside Sales
In B2B, there are two types of sales representatives — inside sales reps and outside sales reps.
Inside sales reps work remotely with their potential customers, taking advantage of tools like email and video to answer customer questions, build relationships, and share product knowledge.
In SaaS sales and other tech-focused industries, inside sales is especially prevalent.
Outside sales reps work in the field, often at industry events and conferences. Since they often work on the road, they tend to have more freedom to manage their own schedules and work independently.
Over time, however, the line between inside sales and outside sales has become blurred:
Source
Outside sales professionals were already spending an average of 45.4% of their time selling remotely before the pandemic. And COVID has only accelerated this trend, grounding many outside sales reps and moving their activities online. It's safe to say that remote selling is here to stay.
What Can I Make as a B2B Sales Professional?
While some B2B sales professionals are just getting by, others are getting ahead.
According to ZipRecruiter, the average salary for a B2B sales representative in 2020 is $51,018.
But the top 10% of earners are making above $75,000 a year.
How can you break into the upper echelon? Move into the tech sector.
A Glassdoor survey found that sales pros at enterprise tech companies consistently bring home the highest paychecks, with these companies leading the pack: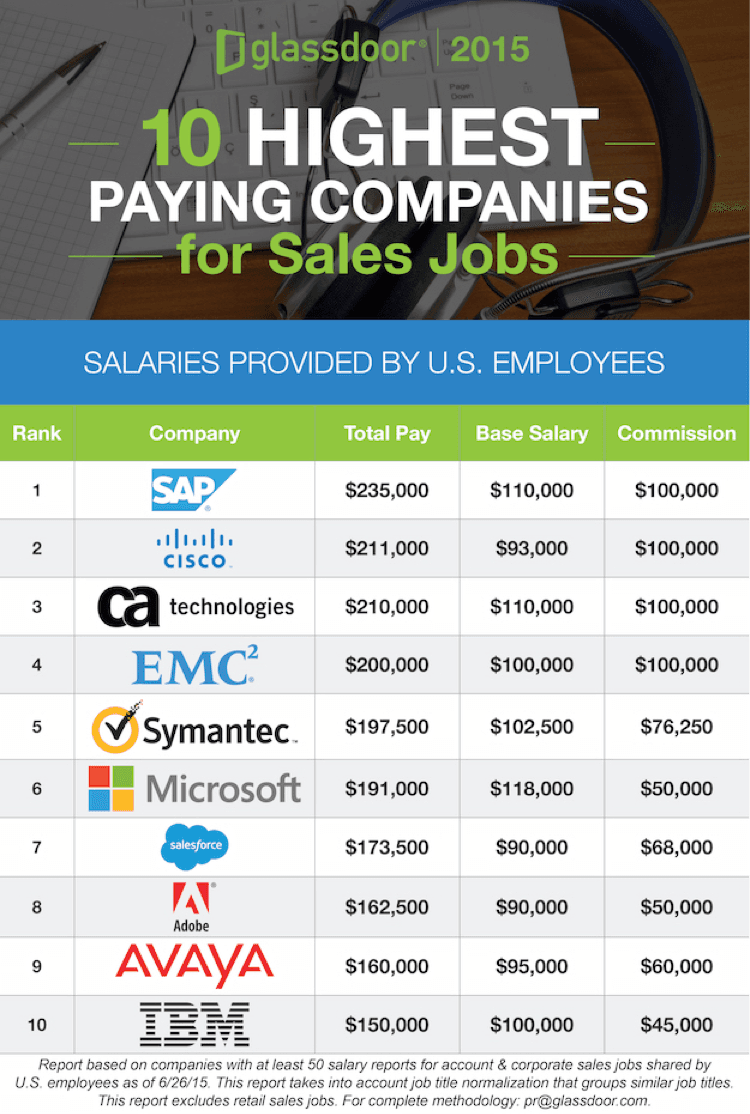 Source
Read more:
Current Trends in B2B Sales
With increasing shifts towards digital and mobile, consumers are researching and making purchases online more than ever before.
And those trends have only accelerated during the pandemic.
In the B2B space, the same shifts have been transforming the way companies purchase products and services.
The most successful B2B salespeople will stay on top of these trends — and take advantage of them.
Consider some of the most important trends in B2B sales today:
Customers are doing more independent research. Buyers have an unprecedented ability to shop around and do research before they make a buying decision. You've done it yourself when you shop around for the perfect mattress or the right pair of glasses online.
B2B buyers are no different.
Hanne Tuomisto-Inch, B2B industry Head at Google, reports that in the last two years, the number of younger professionals in decision-making roles at B2B companies has soared to 46%.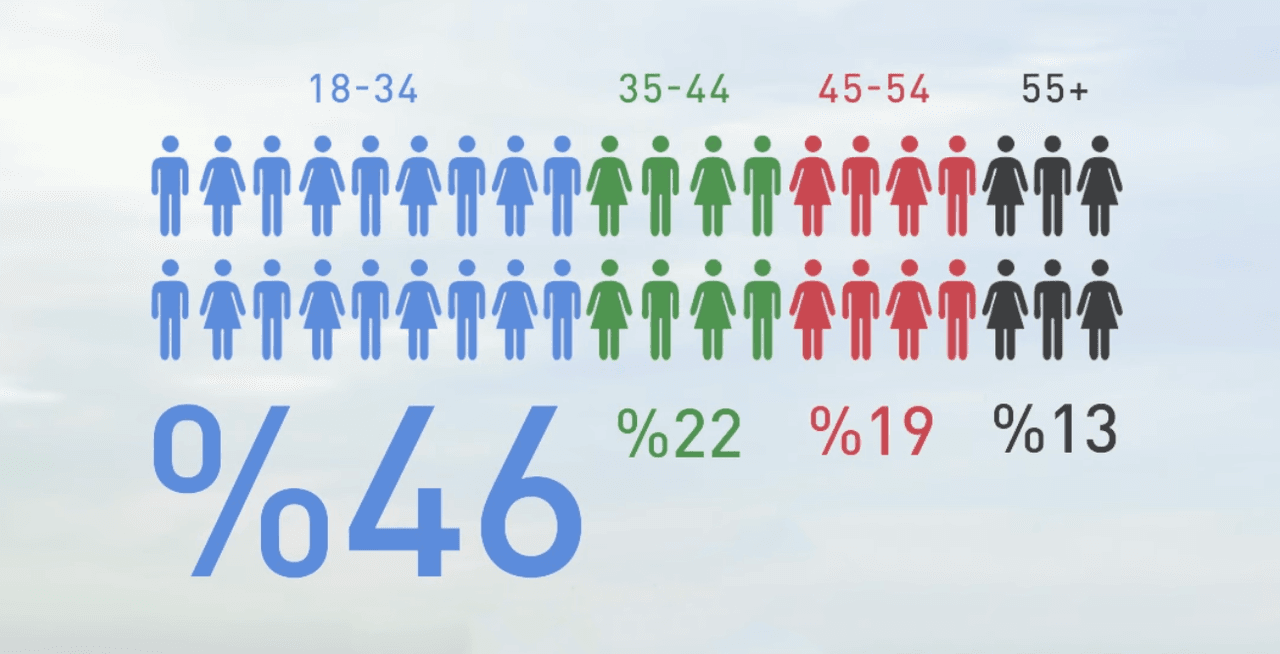 These buyers draw on the wide range of content available online, including company websites, review sites, and social media, to conduct extensive research before they ever reach out to a salesperson.
In fact, only 29% of buyers are interested in talking to a salesperson during the research phase. And typically, 57% of the purchasing process is complete by the time buyers get in touch with a sales representative.
Customers are more comfortable making large, self-serve purchases. In both the consumer and B2B spaces, buyers are increasingly confident making large purchases online.
Among B2B decision-makers, more than 70% report that they would make fully self-serve purchases in excess of $50,000 — and 27% would be comfortable with self-serve purchases over $500,000.
The B2B sales process is more complicated than ever before. As deals get larger and more stakeholders get involved, the time to close a deal is getting longer. 74.6% of B2B sales to new customers take four months to close, with nearly half taking six months or longer.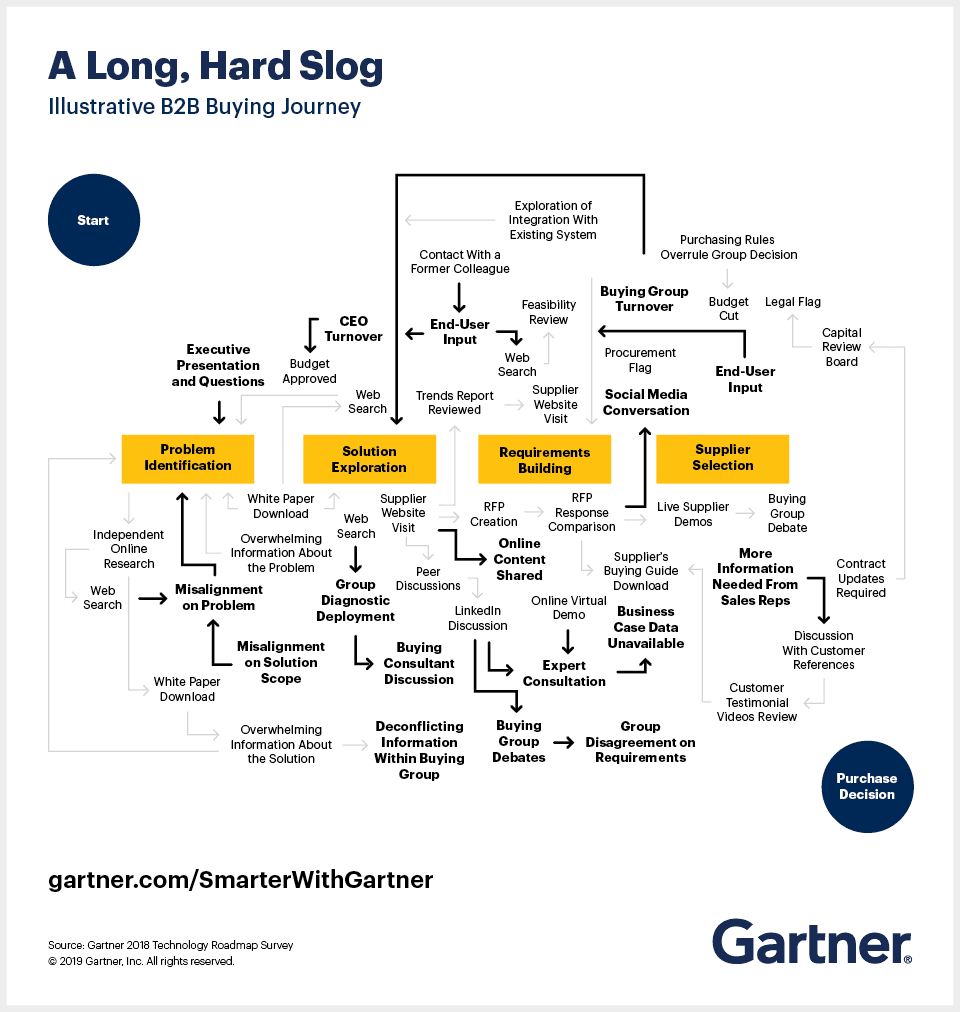 Source
With all these changes, top B2B sales professionals are using sophisticated tech tools and adopting customer-focused strategies to close more deals and boost sales performance.
Close deals fasterA modern solution to prospect, schedule meetings, and follow up — right from your inbox
Let's take a closer look.
Read more:
B2B Selling: Guiding Buyers Toward the Deal
With the rise of digital and mobile technologies, B2B buyers have more choice than ever.
But more choice isn't necessarily a good thing.
Consumers have more options than ever — and more information to help them make those choices. But they also report high levels of uncertainty and stress.
The typical B2B buying process takes twice as long as customers expect. And a sales process that drags on and on is no fun for anyone.
When asked to describe the B2B buying process in one word, senior executives described it as hard, awful, painful, frustrating, and a minefield.
Most B2B buyers want to cut through this complexity, as Forrester's Andy Hoar notes:
B2B buying is a means to an end — of me making money for my business. So oftentimes, buyers want to get in and get out as quickly as possible. In fact, many people characterize B2B buying as hinged on efficiency. When it comes to that, even more reason to remove friction in the process.
And believe it or not, that's great news for you.
You can set yourself apart from the competition and close more deals by taking a different approach to B2B sales.
And it all starts with making the buying process simpler for customers.
Gaining Trust
Let's face it. People are usually skeptical of sales representatives.
Remember those young professionals who now make up nearly half of B2B buyers? They're more than twice as likely to be skeptical of sales reps as their older counterparts: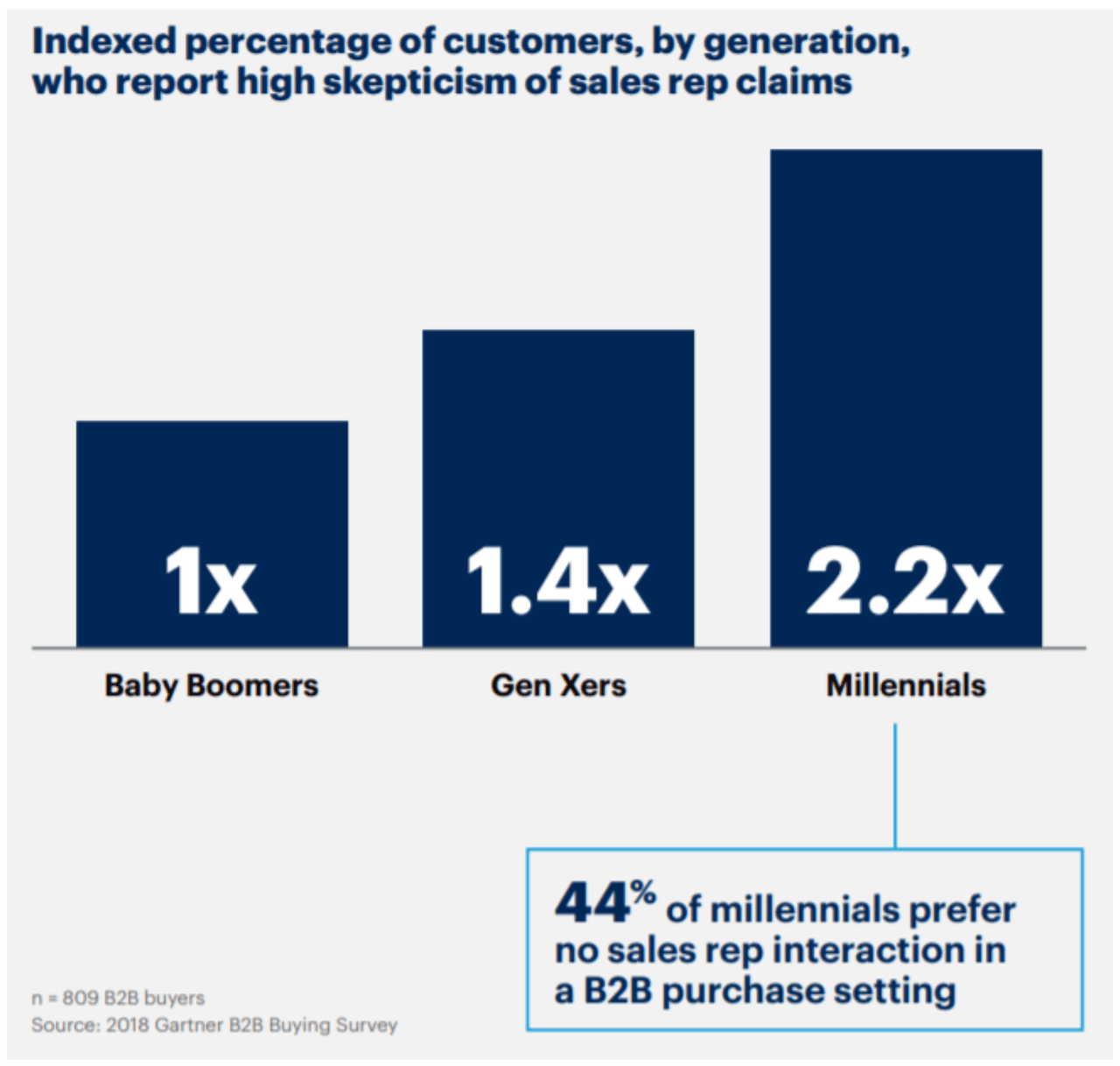 Source
As research from Vonage has shown, this is a key reason why buyers are shifting to conducting their own online research: they simply don't believe salespeople have their best interests at heart.
59% of B2B buyers prefer to do research online instead of contacting a sales rep
49% of B2B buyers say they prefer to work with sales reps who take time to understand their problems
68% of B2B buyers said that a salesperson who listened to their needs would be more likely to make the sale
Trying to rush your prospect toward a sale is a rookie mistake that will undermine trust and cost you potential deals.
High-performing B2B sales professionals don't race toward the close. They take time to understand the customer.
In your early conversations, focus on listening to your customers so you can understand what they need. Over time, you can share resources to help inform them on how your product can meet their needs and guide them toward the sale.
Sharing Expertise
Decision-makers have a wide range of choices available to them. And as they try to work through them, the sales process gets bogged down in a deluge of information.
Many sales professionals try to be helpful, assisting buyers by providing information, data, and case studies to guide customers as they consider all their options.
Unfortunately, this just makes the situation worse.
As research by Gartner has found, providing more information decreases purchase ease by 18% and makes it harder to move toward a close.
Source
Fortunately, there's a better way.
One of the best ways to run a smooth B2B sales process is playing the role of an expert consultant.
By showing up as a knowledgeable authority:
You provide customers with relevant, personalized advice that helps guide them toward a purchase
You give customers clear recommendations for action that are supported by your experience and expertise
You explain what your product can do for customers in a way that's simple and easy to understand
You help them navigate challenging aspects of the purchase process
And this approach translates directly into better sales performance.
Gartner found that salespeople who take a proactive, authoritative approach increase purchase ease by 86%. And they're 62% more likely to close high-quality deals, compared with other sales professionals.
What does consultative selling look like in practice? Let's take a closer look.
Read more:
The B2B Sales Process
The B2B sales process starts with research. Knowing as much as possible about the pain points and challenges that your best prospects care about will make the entire process go much more smoothly.
Understanding Your Customer
The first step in the B2B sales process is knowing who you want to reach. As a starting point, you'll want to define your customer persona, if you don't have one in place already.
Source
You'll want to identify demographic and professional details, like age, gender, location, and job role. This information can be helpful, but it's only a starting point.
What you're really after are the pain points, challenges, and emotional drivers that will affect your prospect's buying decision. Consider questions like these:
What are their major stresses?
What challenges does your product help them solve?
What business goals can your product help the company achieve?
Can the product help the prospect move up in the company or reach other professional goals?
What systems are they using currently, and why aren't they working?
Once you've nailed down your customer persona, you'll be in a position to research the prospects best fit that profile.
Generating Leads
Depending on your company's marketing strategy, you might have an inbound lead generation strategy, an outbound strategy, or a mix of both. Let's take a closer look.
Inbound Lead Generation
With an inbound strategy, you'll be attracting new leads through your website.
Visitors become leads when they opt in to offers on your site. Most often, this happens when they click on CTAs or fill out forms on your company's blog and landing pages.
You can use your email signature to promote your company's services and attract new leads:
And your LinkedIn profile can be the perfect place to share relevant content with prospects in your industry: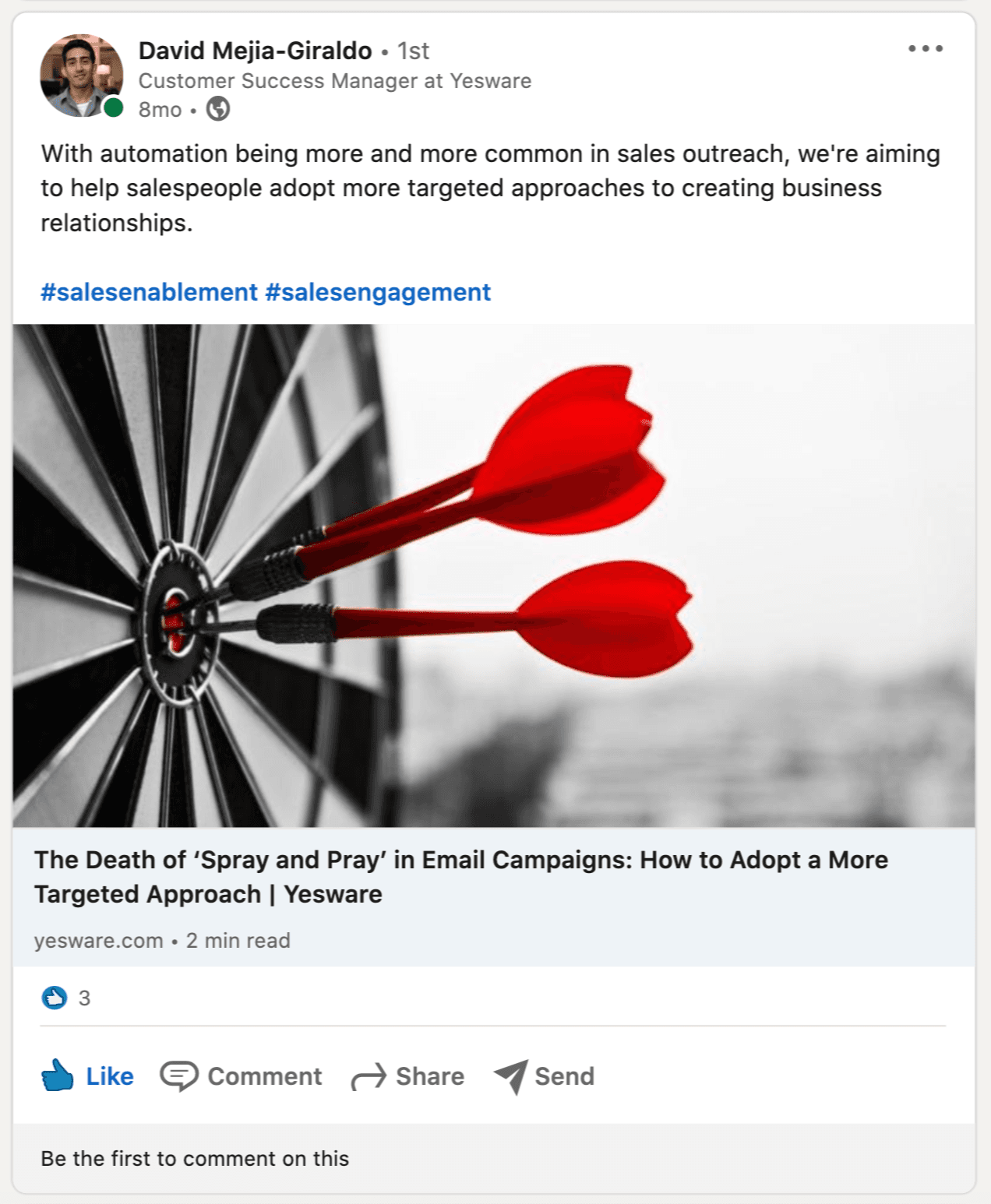 Of course, not everyone who opts in is a great lead.
Marketing qualified leads have shown interest in your marketing team's efforts but aren't ready for a sales call. For example, a marketing qualified lead might have subscribed to your blog or downloaded an ebook.
Sales qualified leads have taken actions that demonstrate interest in becoming a paying customer, such as submitting a sales form asking for more information about your product.
Product qualified leads have demonstrated interest in becoming a paying customer by actually using your product. For example, here at Yesware, we attract many of our qualified leads with our free 14-day trial:

Identifying your most promising leads is critical. Work with your marketing team to get a solid lead qualification process in place so you can focus on prospects who are ready to close the deal.
Outbound Lead Generation
Of course, if your marketing team isn't providing a steady flow of inbound leads, you'll need to find more leads on your own.
That's where direct outreach comes in.
Reaching out to leads directly can be the fastest way to reach potential customers and close more sales. But keep these basics in mind.
Focus on quality. It's easier to send a cold email than ever — and that means that decision-makers often get hundreds of cold pitches a day. You want to stand out in your recipient's inbox. Sending 10 high-quality emails to your best prospects will enable you to close more deals than blasting out 100 generic pitches.
Do your research. Understanding your reader's challenges and priorities is the starting point of a great cold email, as we'll see below. Conduct background research to craft an email that speaks to your reader's needs.
Get an intro. Warm is better than cold. Prospects will be more responsive when you come recommended by a mutual contact. Whenever you can, be sure to get an introduction.
Contact key decision-makers. Reaching out to people who are lower on the company hierarchy might feel comfortable and safe, but they typically don't have the authority to make a buying decision. Take time to review the company hierarchy and identify the stakeholders who can sign off on a purchase. Top-performing B2B sales professionals reach out to the decision-makers who have the authority to make buying decisions.
Read more:
Researching Leads
Now it's time to fit the companies that best fit the profile of your customer persona. As you conduct research, you'll want to gather background information that can cast light on the company's current priorities and needs.
Is the company about to launch a new product?
Has the company recently gone through a change in leadership?
Did the company just close a new round of funding?
Indicators like these provide helpful clues to the company's current priorities, and can help you determine if the company is likely to be interested in your product or service.
Fortunately for you, most of this information is hidden in plain sight. You just need to know where to look.
Where to look:
Review the prospect's website. Top sales professionals review their prospects' websites, blogs, and social media channels. Being up-to-date on their most recent content enables you to show that you're informed and speak to how your offering will help serve their users.
Dig into company news. Digging into company news and updates can help you learn about the prospect's business objectives and give you an edge on your competitors. Here are some great places to start:
Check out top company decision-makers on LinkedIn to get a sense of what's important to the company right now
Read earnings reports and press briefings to stay on top of recent company news and trends
Listen to podcasts with top company decision-makers to learn more about company strategy
Browse user reviews on G2 and Capterra to learn about company strengths and pain points
Take notes. Whatever you do, be sure to take notes on everything you learn. It's a simple way to remember key facts and details so that you can bring them up later with a prospect. As a sales strategy, it's a no-brainer that sets you apart from the competition.
Read more:
Connecting With Leads
You've built a list of prospects. It's time to turn them into paying customers.
Focus on your warmest leads. When reaching out to leads, you want to prioritize your best targets. And that means focusing on leads who have already expressed interest in your service. Connect with these leads first, then move on to cold outreach.
Personalization is key. Remember, more isn't necessarily better. You can close a lot more deals by sending 10 personalized, highly targeted emails a day than by sending 50 generic messages that go straight to the trash folder.
Automate your follow up. Keep sending follow up messages. Up until the eighth message, you still have at least a 10% chance of getting a response — yet 70% of sales email sequences stop after the first message.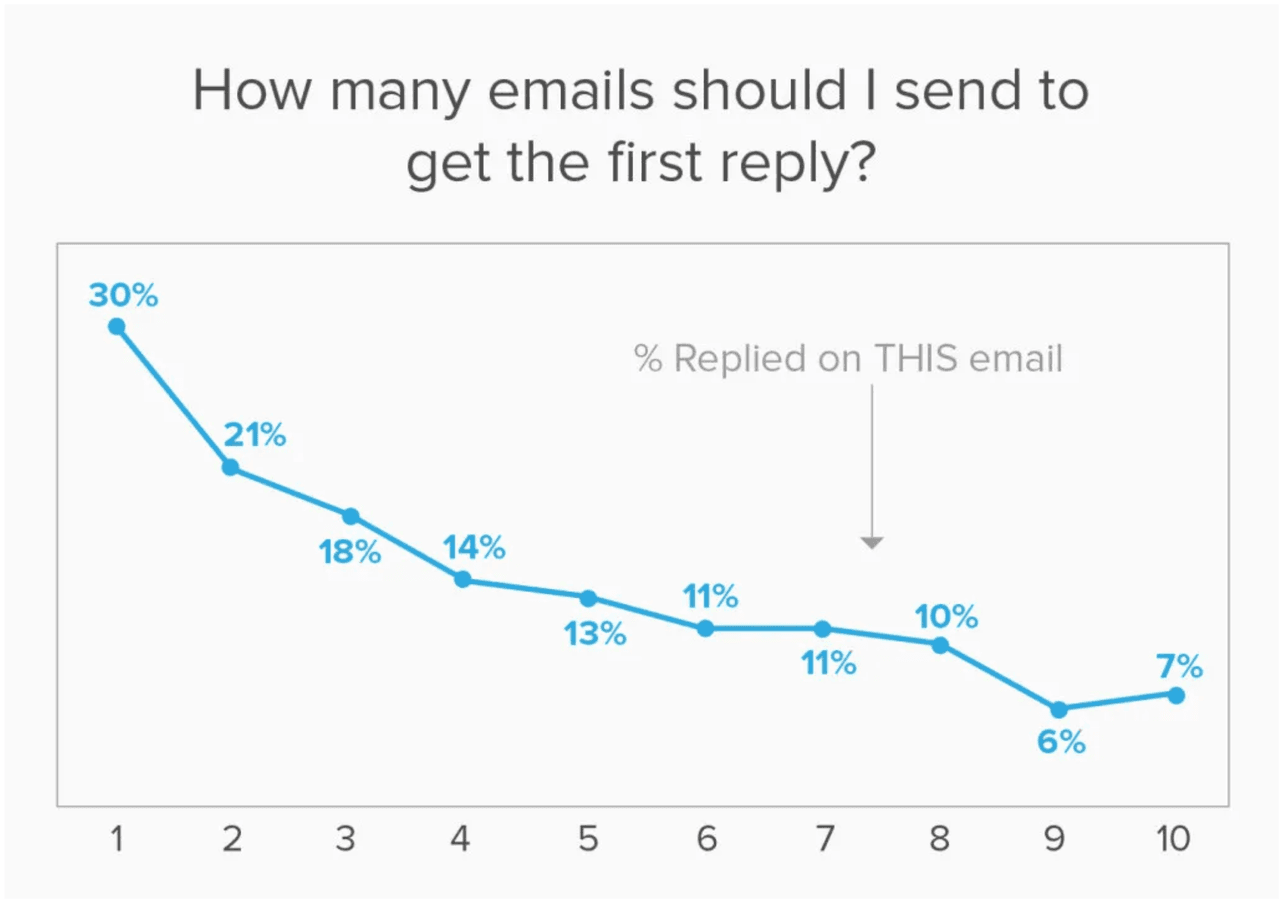 As you send more outreach emails, you'll have more and more follow-ups to keep track of. To make follow up effortless, schedule automated follow-ups to prospects who haven't responded yet.
Take a multichannel approach. Checking in across different channels is an effective way to personalize your outreach and close more sales. With Yesware's multi-channel campaigns, you can schedule follow-ups by email, phone, LinkedIn, and other channels.
Personalization at scaleSend multi-channel campaigns with email, calls, and social touches
Once you've reached a prospect, the next step is a meeting. And doing the right things here can make the sale — or break it.
Far too often, B2B salespeople are too quick to start talking up their product. Before you get to any of that, you need to understand the prospect is going through and the challenges they're trying to solve.
Try asking questions like these:
What's going on in your business that has us talking about [new product or service] today?
When did you realize that what you're doing right now isn't working?
Have you tried to solve this problem before? Why didn't previous solutions work out?
What does success look like for you? What metrics will you be looking at?
What stakeholders are involved in purchasing decisions?
Above all, keep your cool. The B2B sales process is complex, and you'll rarely close a deal on the first call. Stay focused on building trust, and you'll move your prospects steadily toward a close.
Advancing The Deal: Move Buyers Toward a Purchase
In all likelihood, you won't close your prospect on the first call. And that's fine. Today's B2B sales cycle is a complex, unpredictable process, as Millward Brown Digital explains:
The traditional purchase funnel diagram, one which any marketer could sketch from memory, is officially dead. The singular, orderly sequence of purchase stages has been scrambled, and marketers need to conform. In today's world, where consumers have access to constant information through computers, smartphones and tablets, each person's path to purchase is complex and unique.
While the sales cycle has many twists and turns, your job is simple: continue moving your prospect toward the sale. Let's look at how it's done.
Determine What Your Prospect Needs
Based on your initial conversation, you likely have a clear picture of where your prospect is now — and where they want to be. Now it's time to determine how you can help them get there.
At this point, you'll want to work with your prospect to determine the required capabilities.
Crafting required capabilities is an interactive, back-and-forth process. While your customer understands their organization and its current needs, you understand your product and its capabilities. Work together in conversation with your customer to determine the company's challenges — and how you can help solve them.
Show How You Can Meet The Prospect's Needs
Nurturing your prospect toward a close can be really exciting.
But the hard truth is: prospects don't care about your product. They care about solving their own problems.
If you want to close a sale, you need to focus on demonstrating how your product can deliver concrete business results.
Sharing impactful pieces of content is a great way to help prospects continue moving through the funnel.
In a survey on content marketing preferences, Demand Gen Report found that late in the buying process, decision-makers are most responsive to research reports, webinars, interactive content, and case studies.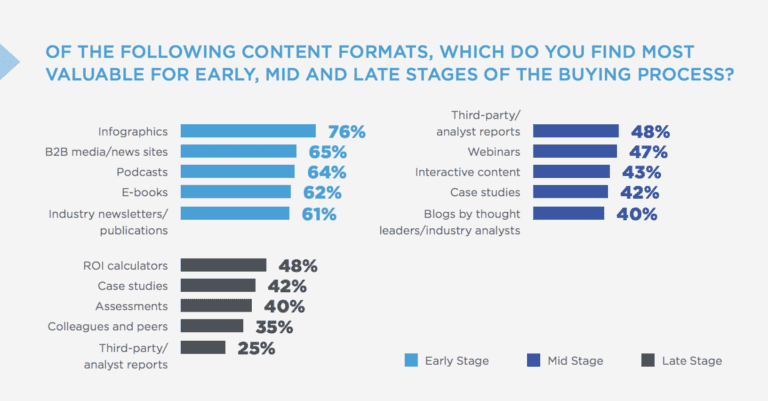 Set yourself up for success ahead of time. Connect your marketing team with your best customers to create attractive customer success stories. And work with marketing to identify other relevant topics for white papers, videos, and blog posts.
By establishing your brand's track record of delivering great results for customers, effective content builds trust and credibility. And it's a great way to continue to establish your own authority.
Read more:
Sending The Proposal
It's proposal time. The moment of truth. But don't worry — when you know what a great proposal looks like, you're far more likely to get the sale.
And one simple hack can make the difference between "yes" and "no."
Always be sure to include multiple options in your proposal.
Everyone wants choices. And you want them to be choosing between Option A and Option B that you present — not choosing whether to go with you or another vendor.
Don't be discouraged by a no. "No" often just means "not right now." Stay in touch with prospects. Continue touching base with them and sharing content about how you can solve their problems. Six months down the road, that "no" might turn into a "yes."
And when you do get a "yes," take the next steps to ensure customer success. Get an agreement in place with payment terms the buyer will agree to in exchange for the product. And connect the buyer with your customer success team, to ensure that they're onboarded smoothly and have the support they need to be successful.
Read more:
Thriving in the Age of COVID
During the pandemic, everything has changed. And that includes B2B selling.
While the underlying dynamics of the sales process remain the same, important changes have taken place during COVID. And the most successful B2B sales professionals will stay on top of those trends.
Embrace Inside Selling
In the age of COVID, everything has gone online. Schools have gone digital. Restaurants have switched to delivery. And sales teams have gone remote.
Over the course of the pandemic, more and more buyers and sellers have reported that they prefer remote interactions over face to face engagement.
In fact, as McKinsey reports, over three-quarters of B2B customers now say that remote selling is equally or more effective than selling in person. And nearly 80 percent prefer to stick with remote and digital interactions — even after the pandemic has ended.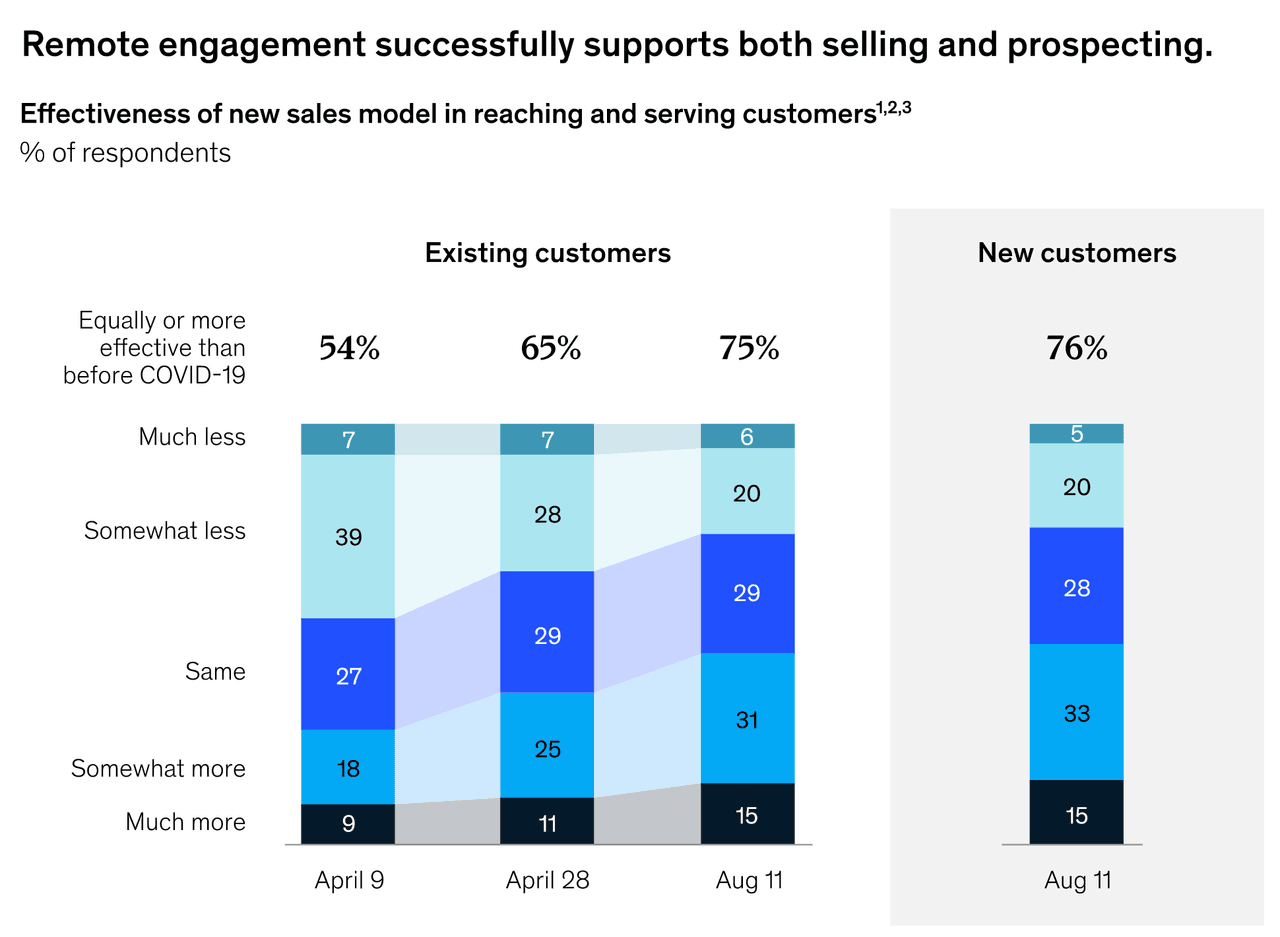 Source
Deliver an Omnichannel Experience
As B2B buyers have shifted to remote interactions, they've increasingly come to rely on digital channels. And with that, B2B buyers are demonstrating an increasing preference for engaging across a wide range of channels.
During COVID, video conferencing has become the preferred way for business partners to interact remotely.
Revenue driven by video conferencing has skyrocketed by 69%, with more than three-quarters of decision-makers reporting they prefer to connect with potential clients by video conference rather than over the phone. And revenue from online chat has surged by more than 30%.
B2B buyers are increasingly seeking the same omnichannel experience they get from consumer brands, with social media, online ads, webinars, and emails all helping to move them toward the sale.
The lesson for B2B sales pros is clear. The more you reach out to leads across video, chat, email, and other online channels, the better your chance of closing more sales in the new remote environment.
Read more:
Your Turn
B2B selling is changing faster than ever. And that means enormous opportunities for the sales professionals who stay on top of these trends.
Take a good look at your sales process — and be honest with yourself. Where are you crushing it? What growth areas do you need to zero in on?
Becoming a top-performing B2B sales pro is a long game. Commit to improving just one aspect of your sales game this week. Next week, focus on another.
In time, you won't just close more sales, you'll become an indispensable member of your team — and open up incredible opportunities for your future.
---
About the Author: Chris Collins is a copywriter and conversion strategist for B2B and SaaS companies. He specializes in research-driven copy and content that helps brands engage visitors and turn them into customers.
Get expert sales tips straight to your inbox to win more deals
Related Articles
Sales, deal management, and communication tips for your inbox