4 Sales Follow Up Email Templates That Get Replies
The importance of sales follow-up emails is so much more than just "checking in."
Whether you work small deals and have one follow-up with many companies or you work large deals with many follow-ups at fewer companies, the average seller has somewhere between 75-150 open follow-up loops at any given time.
Now, this is way too many individual follow-up loops to be able to keep in your head, so organizational sales tools like Yesware are critical to your success.
Yesware works to eliminate follow-up failures by tracking your emails, setting reminders, and scheduling automated touches through Campaigns, which leads you to closing 40% more deals.
But here's the kicker: 70% of sales emails stop after the first attempt.
Yesware's data scientists also found that you have a 21% chance of getting a reply to your second email if the first goes unanswered.
After that, there's still a 25% chance that you will eventually hear back from your recipient over subsequent follow-ups.
But why are so many people giving up so quickly? Our guess is that it has something to do with the fact that writing and rewriting these mission-critical messages isn't always easy.
But how do you walk the line between persistence and pushiness?
Next time you find yourself searching for the words that will get you back on your prospects' radar and garner their reply, consider one of these data-backed follow-up email examples.
(PS – No time to read? Grab all four email templates here to copy and paste as you like.)
Automate your follow-upSend personalized follow-ups at scale
1. After You Leave a Voicemail – Follow up Over Email
Following a voicemail with a quick email can pack a one-two punch powerful enough to break through to the busy person you've been trying to reach. By engaging your contact in both the eyes and ears, you double the impact of your message to get past what mental health professionals refer to as cognitive triage.
This email follows the 3-B Plan for cold email (brevity, blunt, and basic), which cuts through the noise and distraction of a crowded inbox. Studies prove that shorter emails result in quicker response time, and the less time something takes, the more like they are to do it.
Follow-up email sample: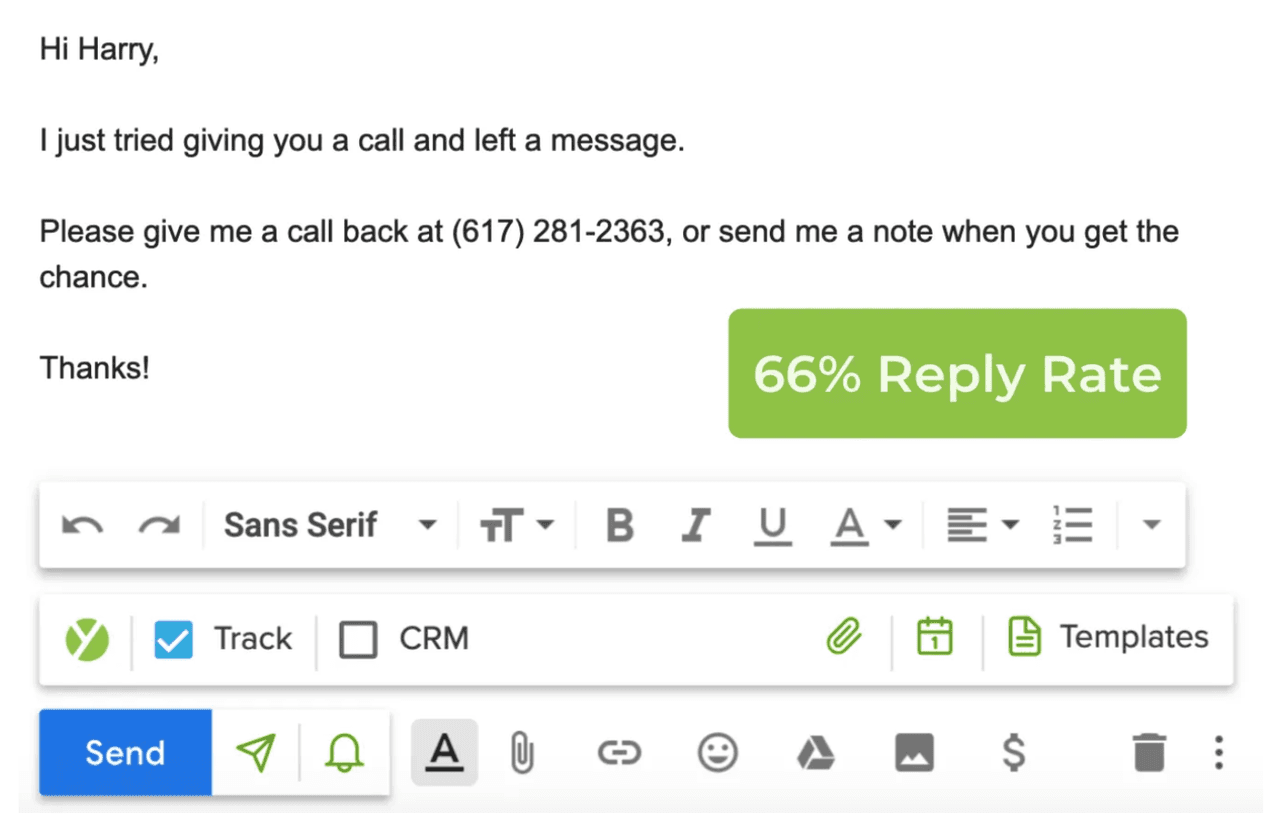 2. They've Read & Haven't Replied – Reference Their Behavior
The sales rep below has a simple follow-up strategy that helps her quickly capture her prospects' attention, resulting in a 50% reply rate. Whenever she notices a pattern of email-opens and link-clicks within a specific email in Yesware's tracking dashboard, she knows to send a quick note to 1) let the recipient know that she's aware of their potential interest, and 2) volunteer herself as a helpful resource.
Follow-up email example: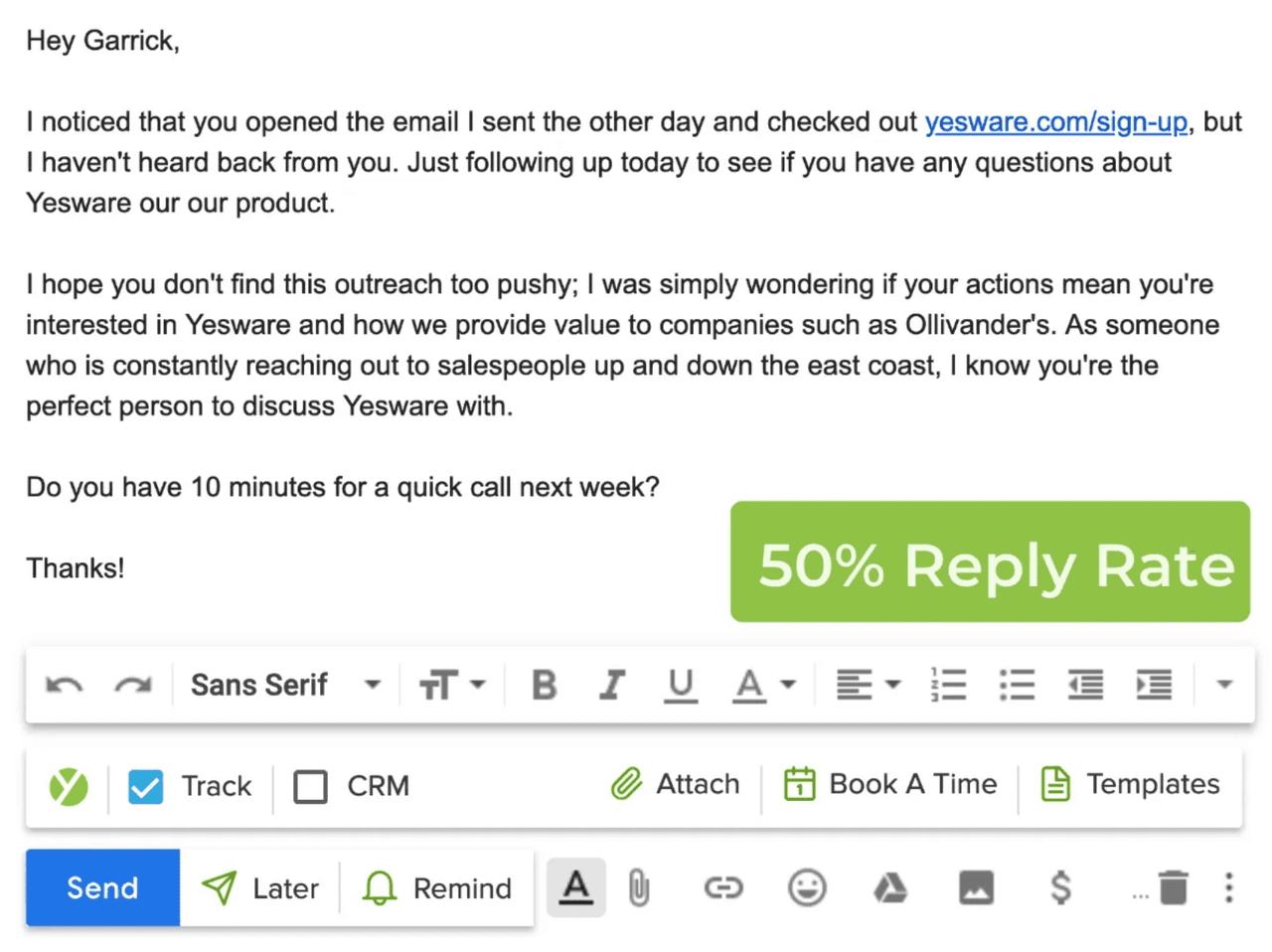 Email tracking from your inboxKnow when recipients read your emails, click on links, and view attachments
3. When You Don't Know Who the Decision-Maker Is – Ask for a Favor
Ever doubt if you've been following up with the right person? You don't want to alienate your contact by flooding their inbox with potentially irrelevant emails, but you don't have other leads.
Your best move: Simply ask them to point you in the right direction – it might actually make them like you more. According to what psychologists call the Ben Franklin Effect: when we do someone a favor, we like them more.
In a sales context, asking your desired prospect to refer you to the decision-maker(s) is a way to build rapport and likability. When people provide assistance, they feel good about themselves and about you.
Follow-up email example: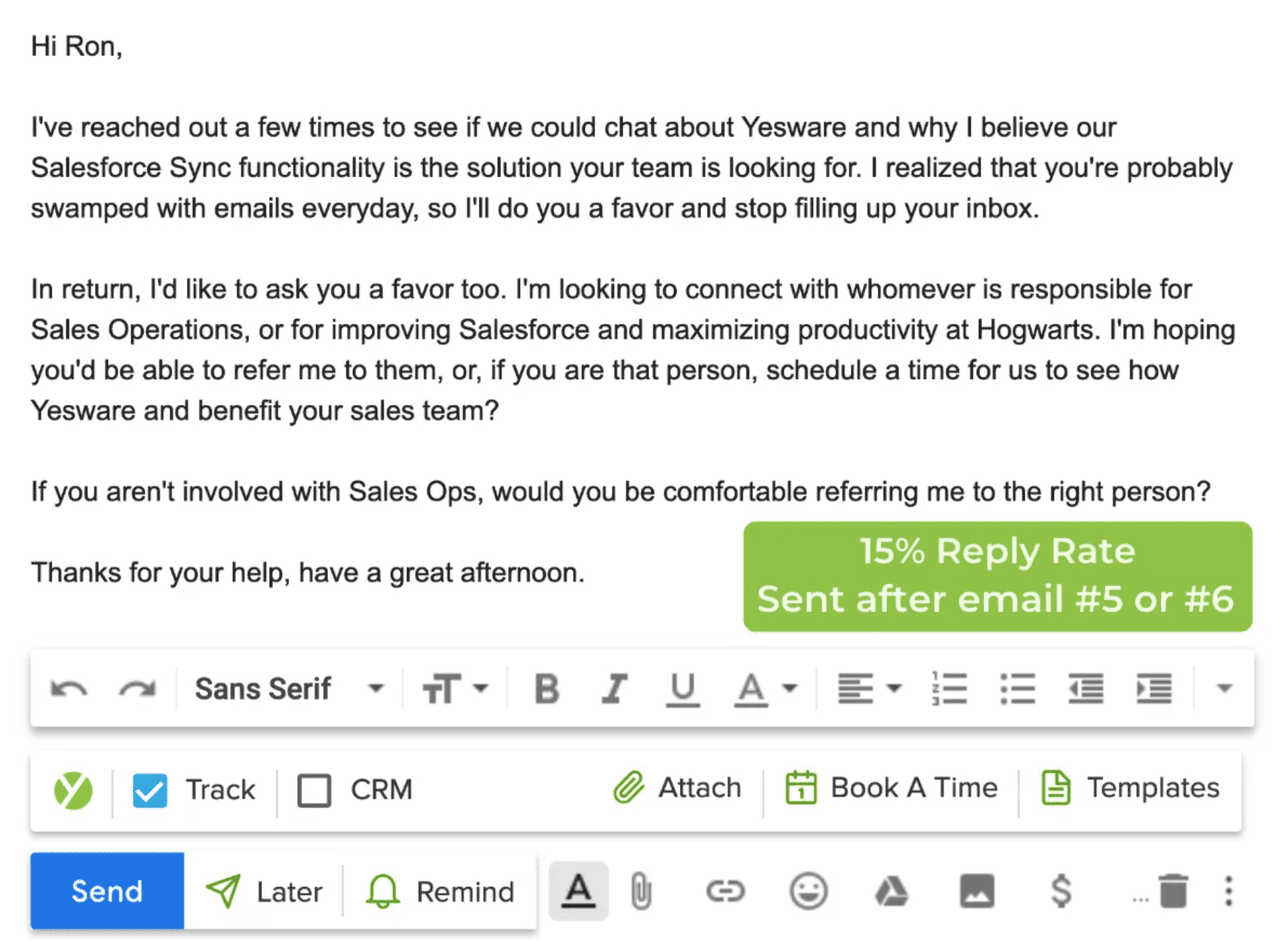 4. Right After a Sales Call – Keep Adding Value
Well, the good news is some of those follow-up emails must have worked because you got your prospect on the phone for a sales call
To keep the deal moving forward, follow up with a note thanking them for their time along with a quick recap of the call. This template from a Yesware sales rep is all about adding value, and has a 51% reply rate.
Follow-up email example: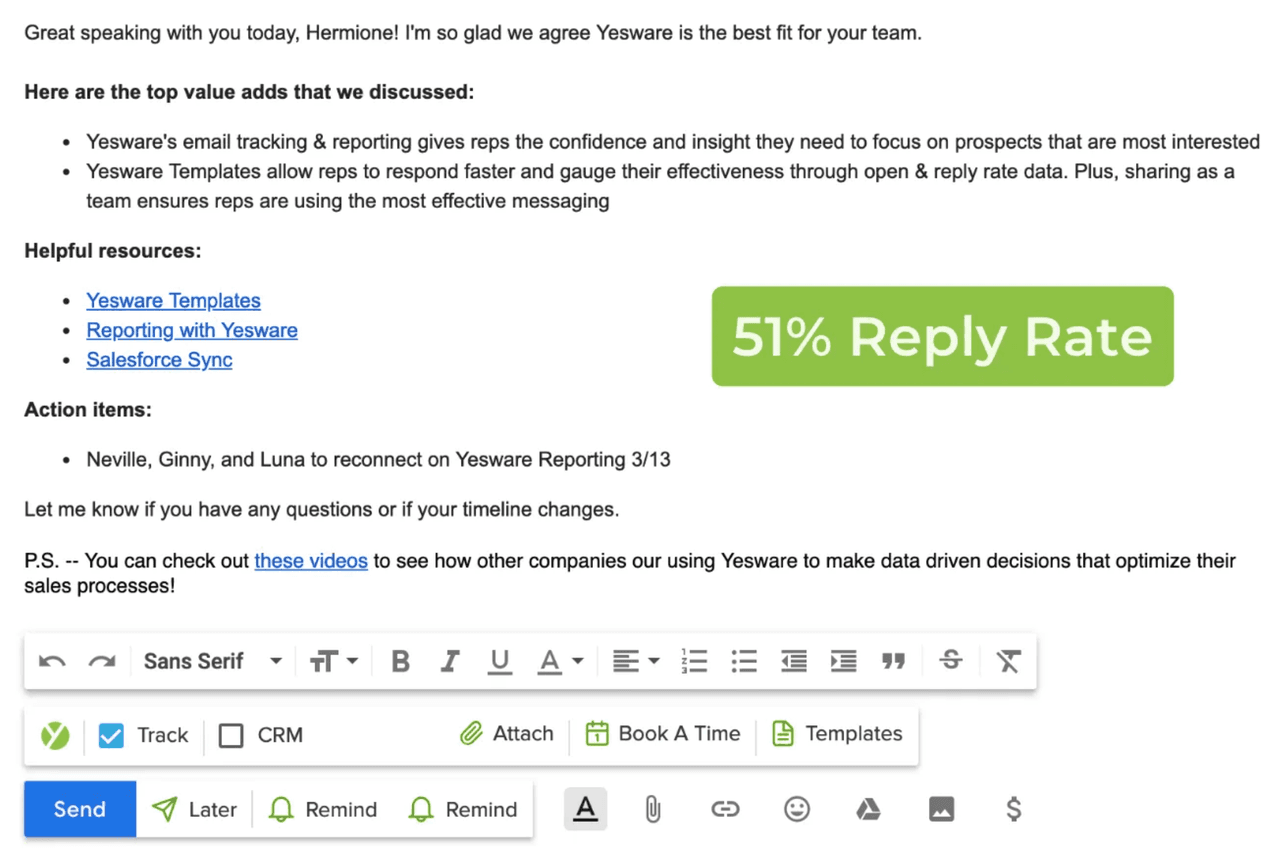 To customize this email for your prospects:
Highlight specific features/services that address their unique pain points.
When pitching your product to decision-makers, link to "how-to"s or product documentation they can show to their team.
Tell your client the next steps they need to take in order to close the deal faster. The most important step is setting an exact time to follow up.
Try sticking a "P.S." at the bottom of your email. This can be a good place to and point to other companies who have used your product/service successfully.
Free For The Taking: 4 Sales Follow Up Email Templates
There are many different factors that determine whether sales emails hit the mark or fall short. Sales is constantly changing, which means you should always be tweaking and testing your own follow-up templates.
You can use the resource below as a starting point. In addition to four follow-up templates, we've also included 14 other sales email templates for you to save to your Yesware Template Library, and edit to your liking.
Get expert sales tips straight to your inbox to win more deals
Related Articles
Sales, deal management, and communication tips for your inbox