Sales Prospecting: How To Find Great Leads That Actually Turn Into Buyers
In B2B sales, the goal is clear. You've got a monthly sales target. And you don't just want to reach it — you want to crush it.
And that means getting in front of as many qualified prospects as possible.
Finding qualified leads who actually need your product is critical for a strong sales operation.
When sales dry up, it's often because your team hasn't kept the pipeline filled with prospects.
In this guide, we'll walk you through all the steps you need to build a strong sales prospecting process:
Inbound and outbound prospecting, compared
Qualifying your prospects
Effective sales prospecting techniques
… and much more.
Let's dive in.
Table of Contents
Building Your Sales Prospecting Process
Prospecting made easyMulti-touch, multi-channel campaigns with email, calls, and social touches
What is Prospecting?
Sales prospecting answers the question: who should your sales team target?
There are millions of businesses you could go after — more than 32 million in the United States alone. But not all of them are a great fit for the products and services you're offering.
Sales prospecting is the process of narrowing down the total pool of leads to the most qualified prospects that have the highest likelihood of responding positively to your sales process and turning into paying customers.
Source
Imagine you're selling web design services to local businesses. 
You'd narrow your focus to your ideal customers — businesses in your area that could improve their business with a new or updated website.
Your best prospects aren't a one-and-done. They continue to work with you and maintain a strong business relationship after closing the initial deal. The more of these prospects you close, the more you'll be able to increase revenue with less effort from your sales team.
To build a strong prospecting process, we need to start with some basic concepts.
Sales Leads and Sales Prospects
To sum up what we just learned: leads aren't prospects.
At the most basic level, a sales prospect is a lead that has been qualified by your sales team. Qualified leads are more likely to turn into paying customers. And come back for repeat business again and again.
Because of that, it's important to understand that lead generation and prospecting are different activities.
Lead generation includes everything that sales and marketing do to gather leads. This includes inbound efforts focused on customers who have viewed a webinar or downloaded an ebook, and outbound efforts to identify high-quality leads.
Sales prospecting starts with all those leads that your lead generation efforts have brought in. The goal is to qualify them, prioritize them, and convert them into paying customers. With prospecting, the focus is on evaluating leads and then making initial contact, when they can be transitioned to a meeting with a sales representative.
Inbound and Outbound Prospecting
The difference between inbound and outbound prospecting is pretty simple. With inbound prospecting, your prospects come to you. With outbound, you go out and find them.
But the reality is a lot more complicated.
Source
Inbound and outbound isn't an either-or choice. The smartest sales teams know they can get the best results by blending both approaches.
According to research, 49% of sales teams that rely exclusively on outbound hit their sales targets, compared with 64% of sales teams that use both inbound and outbound. Instead of going all-in on one or the other, high-performing sales teams try to strike a balance that's right for them.
Outbound Prospecting
When we think of outbound, we're typically thinking of cold emailing and cold calling.
With outbound, you start with promising leads — and reach out to them directly in an effort to turn them into prospects.
When done well, outbound can be extremely effective. Highly targeted, personalized outreach can convert leads into customers at high rates… especially when sales reps have taken the time to warm up those leads in advance.
Check out how our sales reps send personalized outbound messages that focus on a specific business need: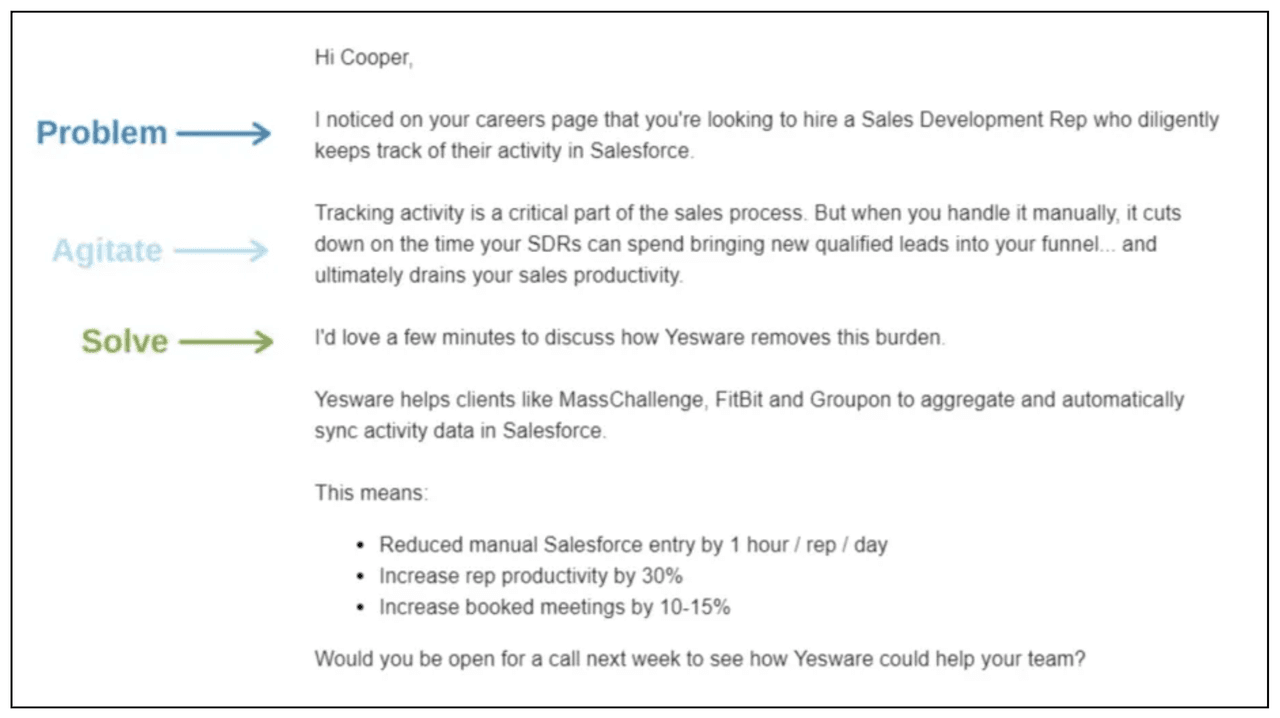 But be careful. Outbound can also be extremely ineffective. Spammy, spray-and-pray messages sent with no thought of your prospect's needs have little chance of success. When you send outbound messages, make sure the interaction is valuable to your prospect.
Inbound Prospecting
Webinars. Ebooks. Podcasts. Blog posts. They're the bread and butter of inbound marketing.
94% of B2B buyers conduct online research on a purchase before buying, so offering helpful resources is a no-brainer.
By looking at the specific pieces of content your lead was interested in, inbound enables you to quickly learn more about what their challenges might be — and how you might be able to help them.
Here at Yesware, our articles and guides, like our guide to 1-on-1 meetings for sales managers, help us to learn more about the specific business needs of our visitors.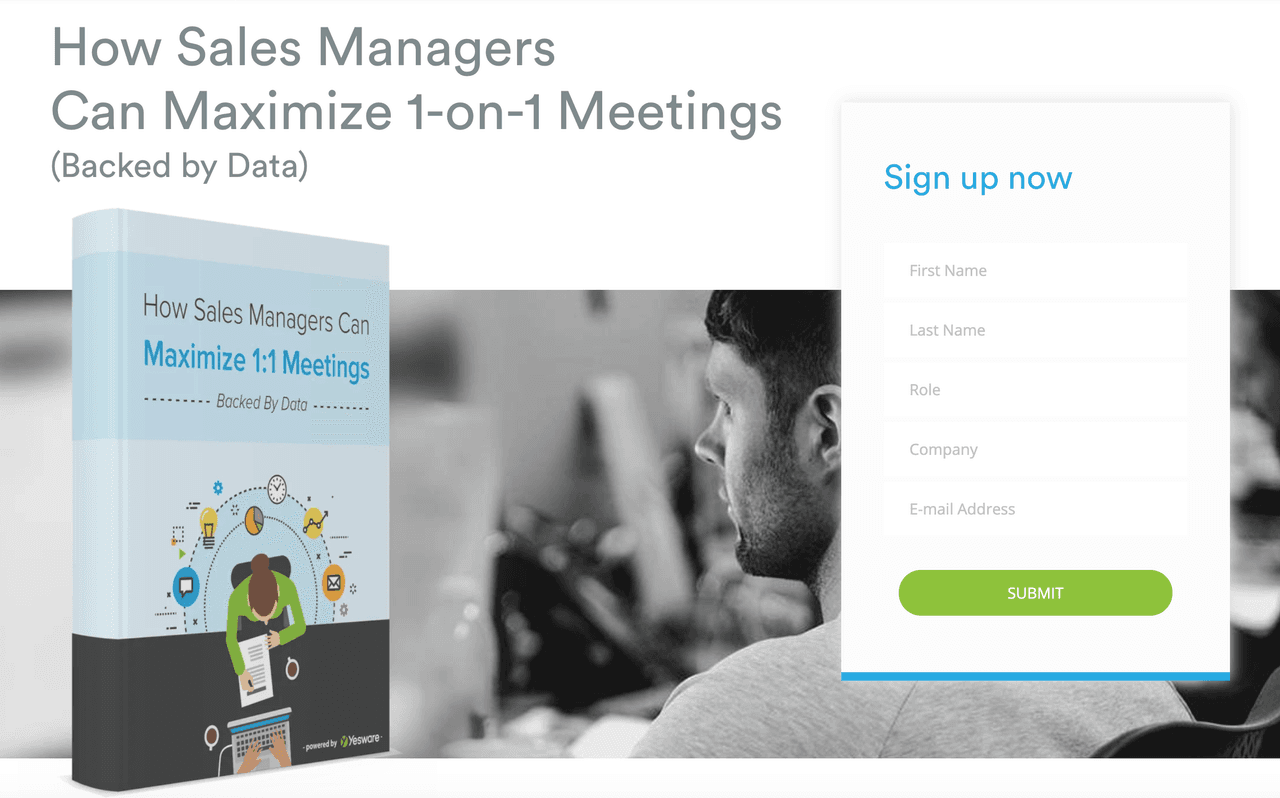 When you attract inbound leads with your content, you have a natural way to start a conversation with them. Talk to them about pain points they're going through, and use the discussion as a way to build trust.
Always know what's workingGet notified when recipients read your emails, click on links, and view attachments
Read More:
Who Does Sales Prospecting?
Different companies handle sales prospecting in very different ways. It all depends on the stage of your business.
At the very earliest stage of a business, founders usually handle everything from building the website to taking sales meetings. Managing the prospecting process is just part of those responsibilities. In these early days, it can pay to use automated tools like LeadFuze or Datanyze to make your prospecting process more efficient.
As your company grows, you'll likely go through a phase where your sales team is still small and one person will take over the entire sales process, from lead generation to close. While this isn't ideal, it's typically transitional as your sales function grows into more differentiated roles.
On a mature, high-functioning sales team, you'll have both sales development representatives (SDRs) and account executives. Sales development reps will handle the process of qualifying leads and making the initial contact, at which point they'll hand them off to an account executive who can move them toward the close.
Read More:
Building Your Sales Prospecting Process
40% of sales reps agree that prospecting is the most challenging part of the sales process — so it's easy to let it slide.
If you want to consistently find customers who are a great fit for your business, you can't let that happen. You need a solid process.
Building a strong prospecting system will help you ensure a steady pipeline of great prospects.
Start by scheduling time on a daily basis for prospecting in your calendar, ideally at the times your prospects most often answer your calls.
Research
As we noted earlier, your prospecting process starts with a pool of leads. These are likely a mix of inbound leads who have engaged with your existing content, and outbound leads that you think could potentially be strong sales prospects.
Build Your Customer Persona
The first step to finding your best leads is knowing which ones most closely match your ideal customer. And that means you'll need to know what your ideal customer looks like.
Simply put, your ideal customers bring the most economic benefit to your business. They move quickly through the sales cycle, cost the least to acquire, have a high customer lifetime value, and tend to bring your company a high number of additional customers through referrals.
Building your buyer persona is a critical first step in determining who you're trying to reach.
As you build your buyer persona, don't just focus on objective criteria like job titles and demographic details. Identify characteristics that can help you make the sale, like pain points, values, and motivations.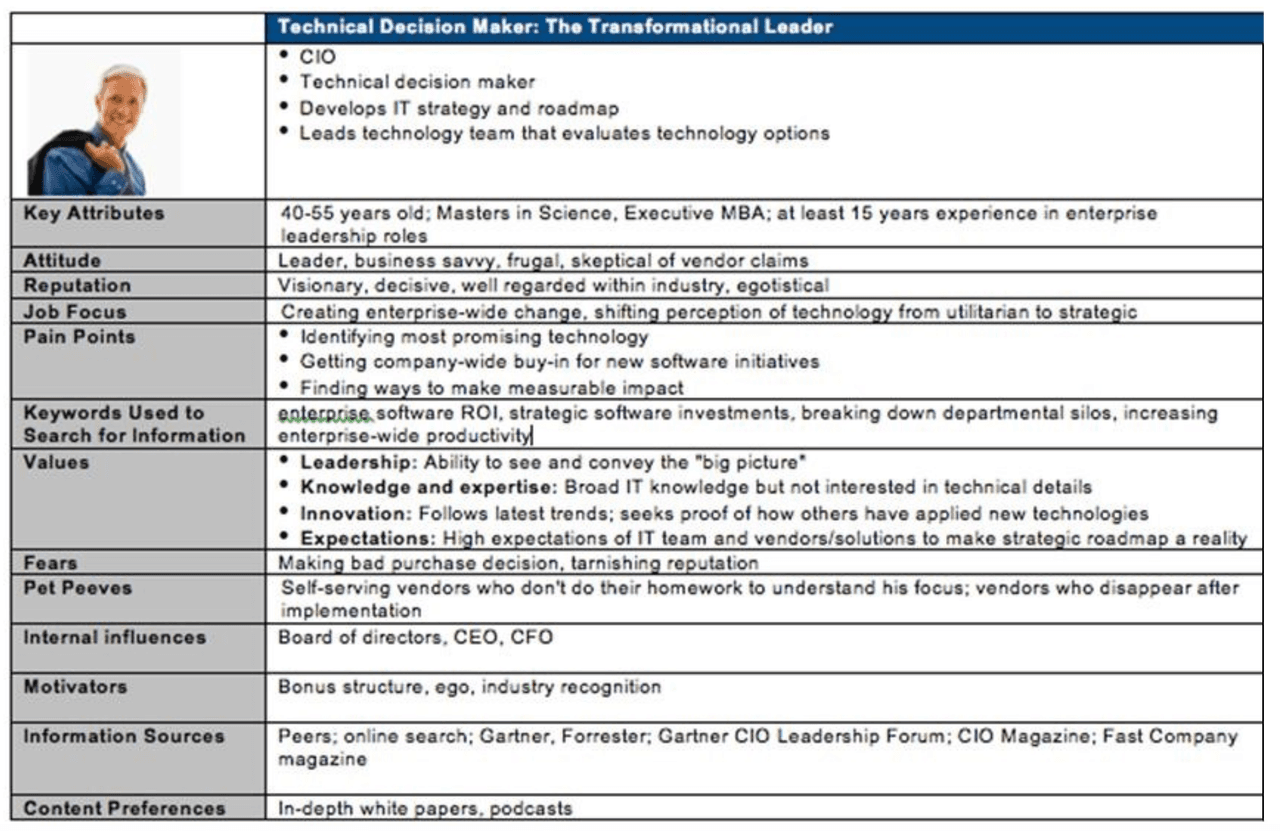 Source
Your buyer persona is your north star. Using your persona, you can determine whether your prospects match up with your ideal customer's industry, company size, and demographics, and quickly start prioritizing your prospects.
Ask Qualifying Questions
After doing an initial check against your buyer persona, you'll want to ask some further qualifying questions that can surface your best-fit prospects — and filter out others who might be dead ends.
Start with these basic questions to qualify your leads:
What's the size of the organization? What's the size of the target department?
Are they currently using a competitor product?
Have they expressed interest in your product or service?
Are they in a vertical that's a good fit for your product or service?
Is there anything that would automatically disqualify them as a strong fit?
Over time, you'll refine your qualifying questions, based on the specific characteristics you notice about your best buyers. But don't let the perfect be the enemy of the good. For best results, get a workable list in place now, and improve it as you go.
Zero In On Key Decision Makers
Once you've identified the companies that you want to target, the next step is to identify decision-makers — the key players within each target company who have the power to make buying decisions.
With inbound leads who downloaded a piece of content on your website, you can often learn a prospect's role just from looking at the information they submitted on their opt-in form.
In general, however, this won't be enough to tell you their role in making buying decisions.
In a small startup, the Director of Marketing might have the final say on all buying decisions related to the marketing function. But in a larger, more established company, the Director of Marketing might have to run purchasing decisions through the VP of Marketing and the CMO.
LinkedIn is a fantastic resource to find your best decision-makers, especially if you're taking a more outbound approach.
Using Sales Navigator, you can search for any company, then quickly pinpoint key decision-makers in any vertical:

Then, narrow down your search terms to find the exact people you want to connect with: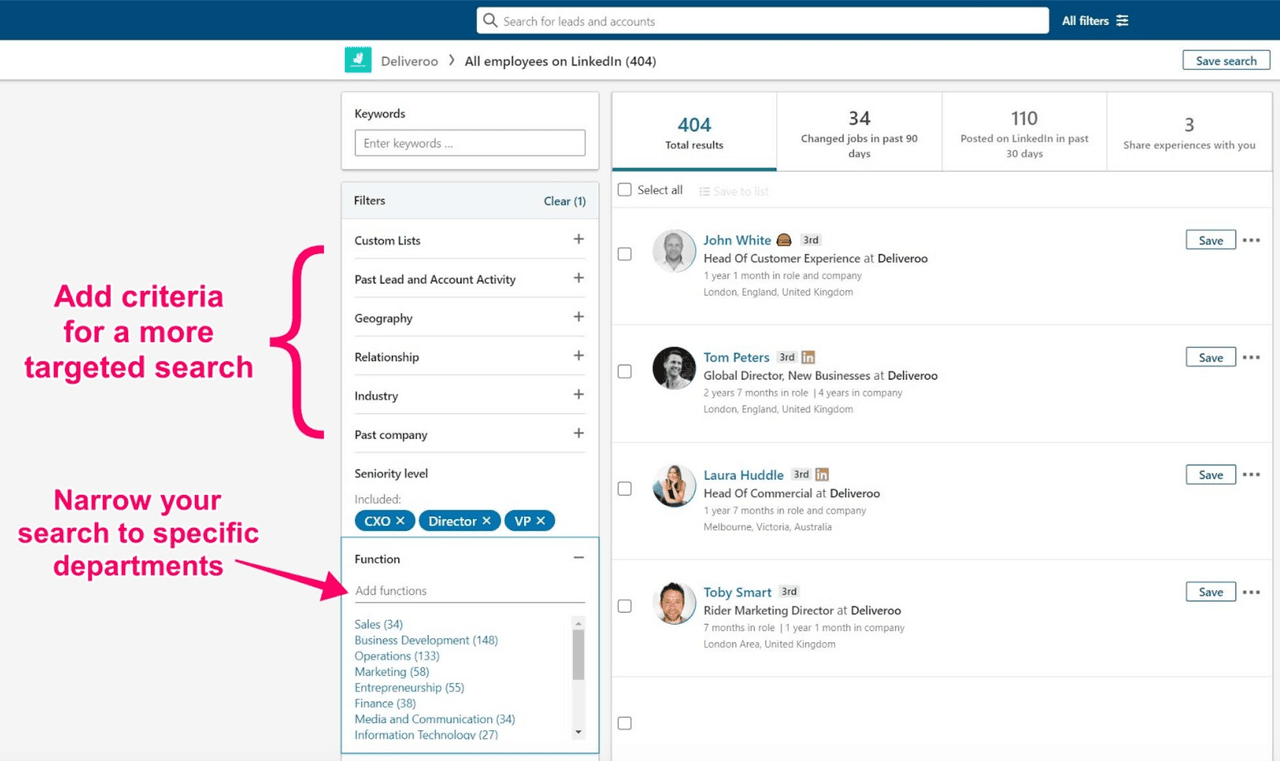 As you look for decision-makers, avoid the mistake of focusing exclusively on people who can say yes to your product. 
With an average of 6.8 people involved in every buying decision, it pays to build relationships with relevant company stakeholders. These contacts can advocate for buying decisions internally, even though they may not make the final decision about whether the company moves forward.
Every company is organized differently. And that means sometimes you just won't know who to connect with. Make your best guess based on your knowledge of your ideal buyer, and move on.
Read More:
Prioritize
By now, you should have a list of decision-makers at target companies.
It's tempting to go ahead and start doing outreach. But you'll want to make sure you're making the most of your time. That means prioritizing your outreach, so you maximize the time you spend with your most promising prospects.
That's the basic idea behind lead scoring.
Lead scoring enables sales teams to rank prospects by assigning them points. Leads receive points for every action they take in your sales funnel. The higher the point total, the more promising the lead.
Large sales teams often have sophisticated lead scoring systems. But just getting a workable lead scoring system can significantly improve the performance of your sales team, by focusing your efforts on the leads that bring the best value to your company.
Here are some basic tips for getting started.
Focus on the basics. Are there key characteristics that your best leads must-have? Do they need to be in a certain vertical or a specific geographical area? If so, focus on those essentials first. An easy way to weed out any leads that don't fit your baseline requirements is awarding negative points.
Use what you already know. Look back at the best customers you've already closed. What specific actions did you see before the sale? What qualities made it easy for you to close them? Analyze all your past customers, and use it to build a starting list of points.
Start simple, then build. Once you have this starting point, keep iterating. Ideally, you'll want your lead scoring system to capture all the behaviors a lead could engage in, like viewing your pricing page, downloading an ebook or viewing a webinar, opening your emails, and so on.
If you randomly assign point values, your lead scoring efforts will be worthless. Take time to figure out what characteristics and buying behaviors are actually correlated with a purchase. 
Here's what it looks like in practice:
Source
Setting up lead scoring takes some time. But the effort will pay off handsomely.
By assigning each prospect a score, you'll spend most of your time with your very best prospects… and close sales with customers who stay with your company for years to come.
Connect
Your target list is researched, qualified, prioritized, and ready to go. Great work.
Now it's time to start connecting with prospects.
Prospects tend to respond much better to outreach from a company they're familiar with, so warming up your prospects is critical before you reach out.
With inbound prospects, the work is done for you. After all, they came to you. When you have outbound prospects, connect with them on a social platform like LinkedIn or Twitter, and comment on their posts ahead of your outreach.
When you start reaching out, you have one goal in mind: move the sales process forward. You are not trying to make the sale. Your entire focus is on building trust with your prospects, and making it easy for them to take the next step… typically, scheduling another call or a sales meeting.
Here's how.
Making Contact By Email
Cold emailing is the most effective way to reach out to new prospects. And when done well, it can deliver incredible results.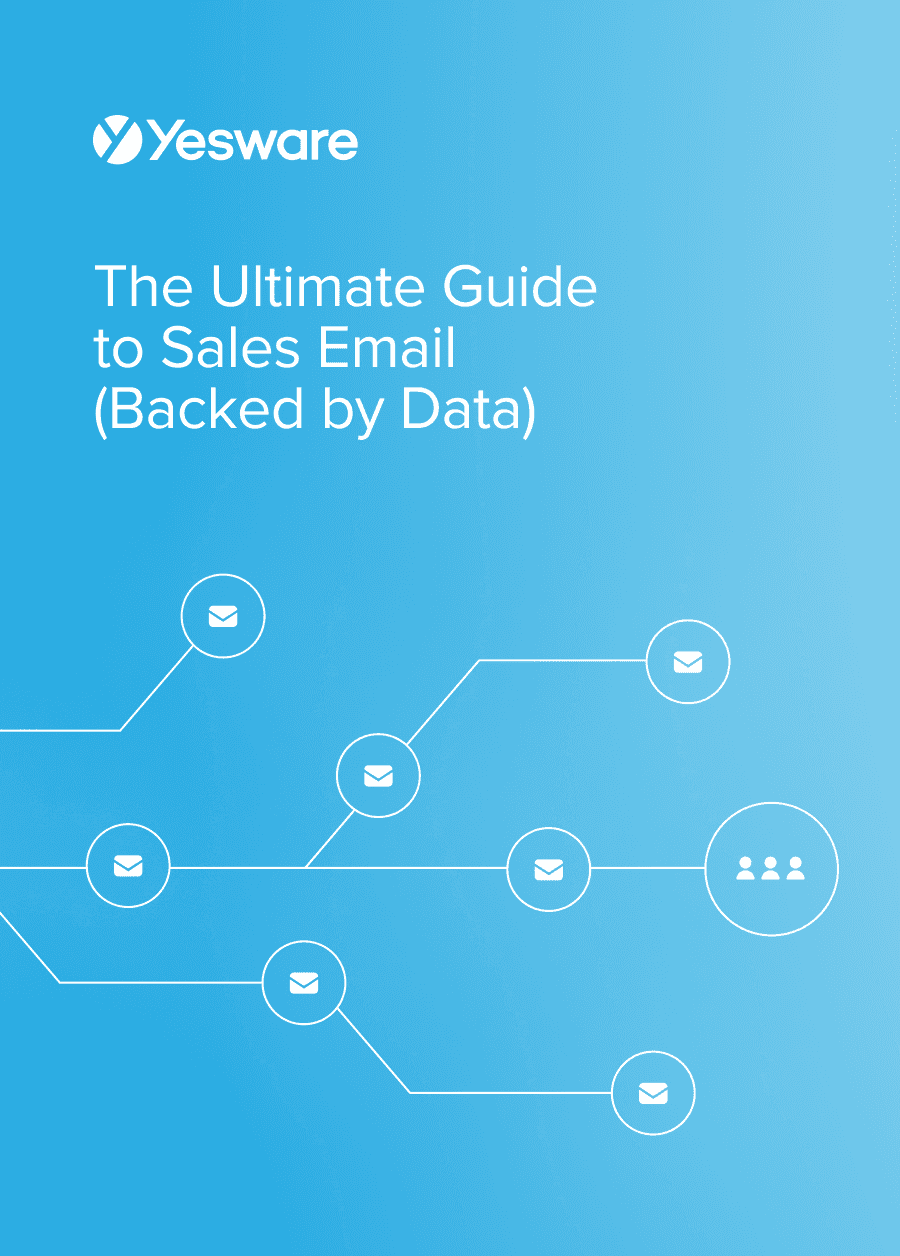 The Ultimate Guide to Sales Email (Backed by Data)Looking at the aggregated email habits of more than half a million sales emails, we've pulled together the best tips & strategies for improving the outcome of your sales emails.
The key is to stay laser-focused on your prospect's needs. Here's how the team at Xactly does it: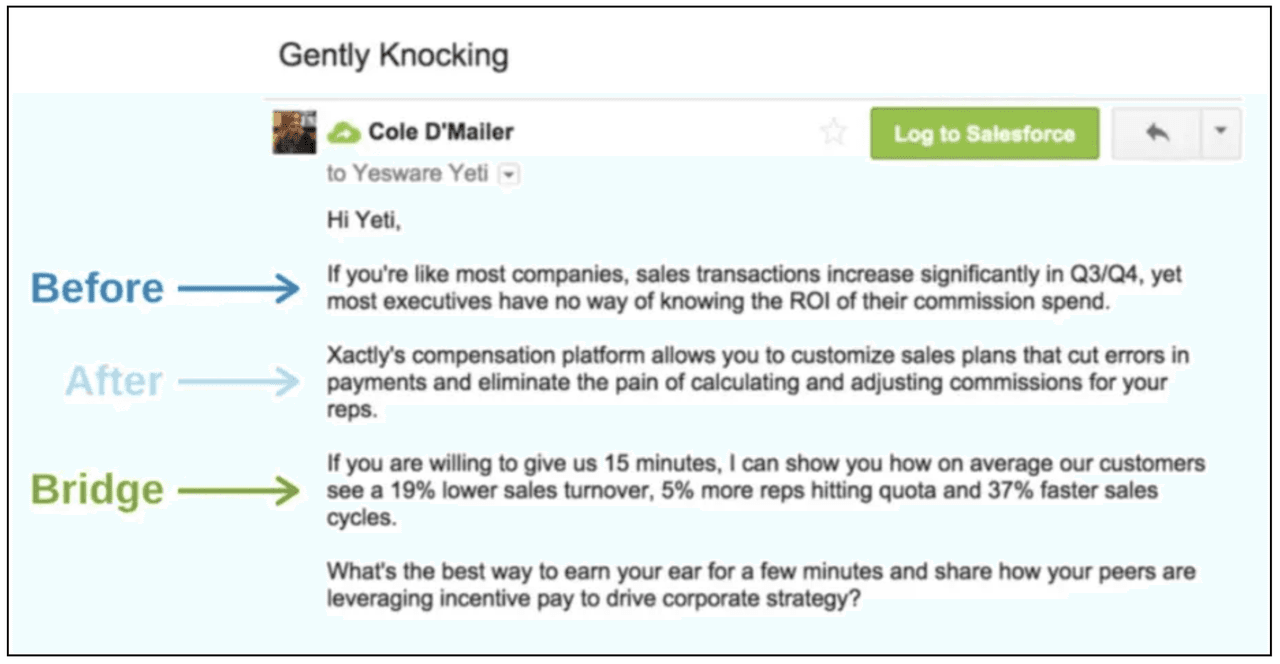 Writing great cold emails is both an art and a science. We've covered it all in our comprehensive guide to writing great cold emails.
The good news is, you can dramatically improve your cold email performance simply by avoiding a few common errors. Check your messages for these common errors before you send, and you'll be far more likely to get a positive response.
Your message is spammy. If you're seeing low open rates, your messages could be going to spam. Make sure to avoid common email spam trigger words that could be getting you caught in the spam filter (Tip: top 5 reasons your emails are going to spam).
Your subject line is boring. Dull subject lines can also kill your open rates. Great subject lines combine a clear benefit to the reader and curiosity that prompts a click. And while they take time to write, they're critical — if your reader doesn't open your message, nothing else you say matters.
Your message isn't personal. Outreach messages are conversation starters. There are endless ways to strike up a connection, so be creative. Find a common interest on their social media. Comment on a recent media appearance. Compliment a recent LinkedIn post.
Your message isn't helpful. Most outreach messages don't get a response because they're completely irrelevant to the challenges and problems the prospect is actually going through. Relevant, personalized messages are what get your readers' attention — and get a response. Go back to your customer research, and identify the pain points that you can help your reader with before you write.
Your message is too focused on you. Your prospects don't care about you. They only care about themselves. Talking endlessly about your product and its amazing benefits won't grab their attention. Focus on how you can solve your prospect's problems, and transform their lives.
You're asking for too much. With an outreach message, saying yes needs to be simple. If you make an ask that sounds like a commitment of time, energy, or effort on the part of your reader, they probably won't respond — no matter how compelling your pitch. Make the minimum ask you need to keep the sales process moving forward, and no more.
Read More:
Making Contact By Phone
Most people don't love cold calling. After all, we all tend to avoid rejection — and with cold calls, that comes with the territory.
But there's also no faster way to connect with prospects and book sales meetings.
Great cold calls are just like great cold emails: they're personal, relevant, and make it easy for the prospect to say yes.
Keep these key points in mind to seriously raise your cold call game:
Talk from a script. Nobody has time for a rambling call that's not relevant to their needs. Prepare ahead of time by crafting a script. Your goal isn't to follow it robotically, word for word, but to have a framework for the call so you know the main points you want to make.
Memorize your opening. That moment when your prospect picks up and… you just start babbling? Awkward. Avoid it by planning out your opening lines in advance. (Good to know: friendly, conversational opening lines like "How are you?" tend to dramatically outperform salesy openers like "Did I catch you at a bad time?")
Ask questions. On a sales call, your job isn't to sell. You're there to listen, and to understand your prospect's pain points. And the best way to do that is to ask lots of questions. Here are a few of our favorite open-ended sales questions to ask on sales calls:

What are your company's biggest priorities this year?
Tell me about what you're looking to accomplish.
What challenges have you faced in the past when trying to solve these problems?
Why are you considering [type of solution you offer] now?
Looking for more? We cover everything you need to make high-converting cold calls in our comprehensive guide.
Read More:
Prepare
You've made a list of your top prospects, prioritized them, and started reaching out to them. At this point, you're starting to get sales meetings on the calendar.
Far too many sales reps make the mistake of going into sales meetings unprepared. According to a study by Forrester, 70% of sales reps go into sales meetings unprepared to answer basic questions from prospects — and 78% aren't ready to share examples or case studies to show the value of their product.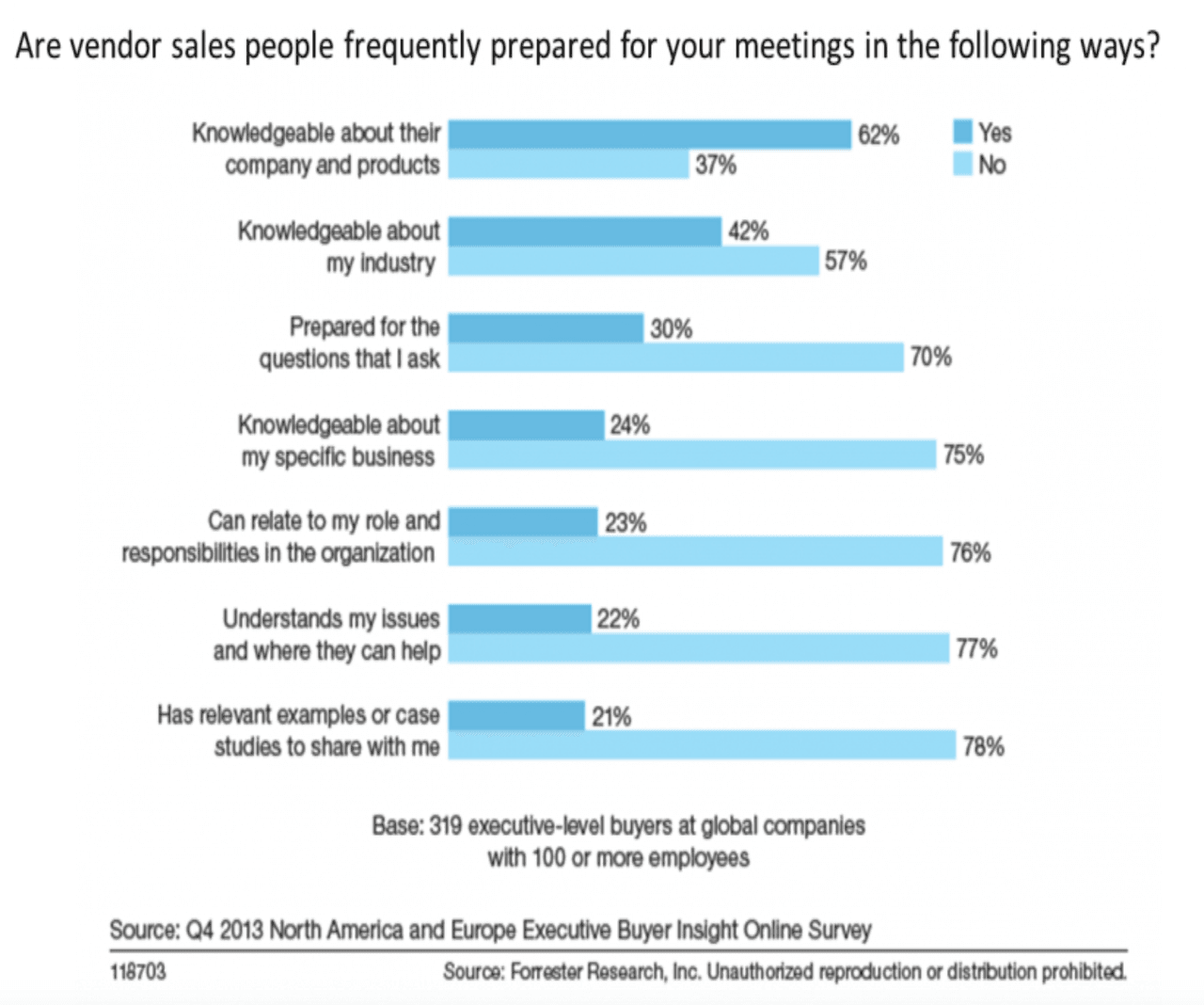 The better you prepare, the more sales you'll close. It's that simple.
Create a basic checklist of steps you take to prepare for every sales meeting. By running through it, you'll be confident you're ready to meet your prospect and make a strong sales pitch.
Here are some basic steps you should always take to prepare:
Research the client's business needs, so you can speak confidently to their pain points during the meeting.
Plan a custom sales pitch with your prospect's specific needs in mind (here are 5 elements of a sales pitch).
Prepare a list of questions that will help you better understand how you can help your prospect.
Practice your pitch until you can run through it smoothly and effortlessly.
Get pumped up! Listening to a high-energy motivational playlist ahead of time can put you in the right frame of mind to crush the call.
Be Ready for Objections
You're not done qualifying your prospect just because you've gotten them to a sales meeting.
Things change during the buying process — so you need to continue to qualify prospects every step of the way.
Take it from Tom Williams, CEO of DealPoint:
Everybody has the experience of working a bad deal to death… The big mistake is that you can be qualified today, but things change over the course of the sales cycle. Just because a lead is qualified on day one, doesn't mean that the prospect is qualified on day ten.
Incorporate effective qualifying questions into your sales meetings, so you can make sure you're selling to prospects who can benefit from your product.
When you find that a prospect is a poor fit, resist the temptation to close them anyway. It's damaging to their business. And it drains away time from closing prospects you can really help.
Sales Prospecting Techniques
The evolution of online networking and social media platforms has made prospecting easier than ever. In just seconds, you can generate lists of thousands of leads for your sales team to qualify.
Here are our favorite techniques for quickly finding loads of potential prospects.
LinkedIn
LinkedIn is the natural starting point for your online prospecting efforts. With Sales Navigator, you can easily search for leads based on finely tuned search criteria and save them to lists to follow up on later.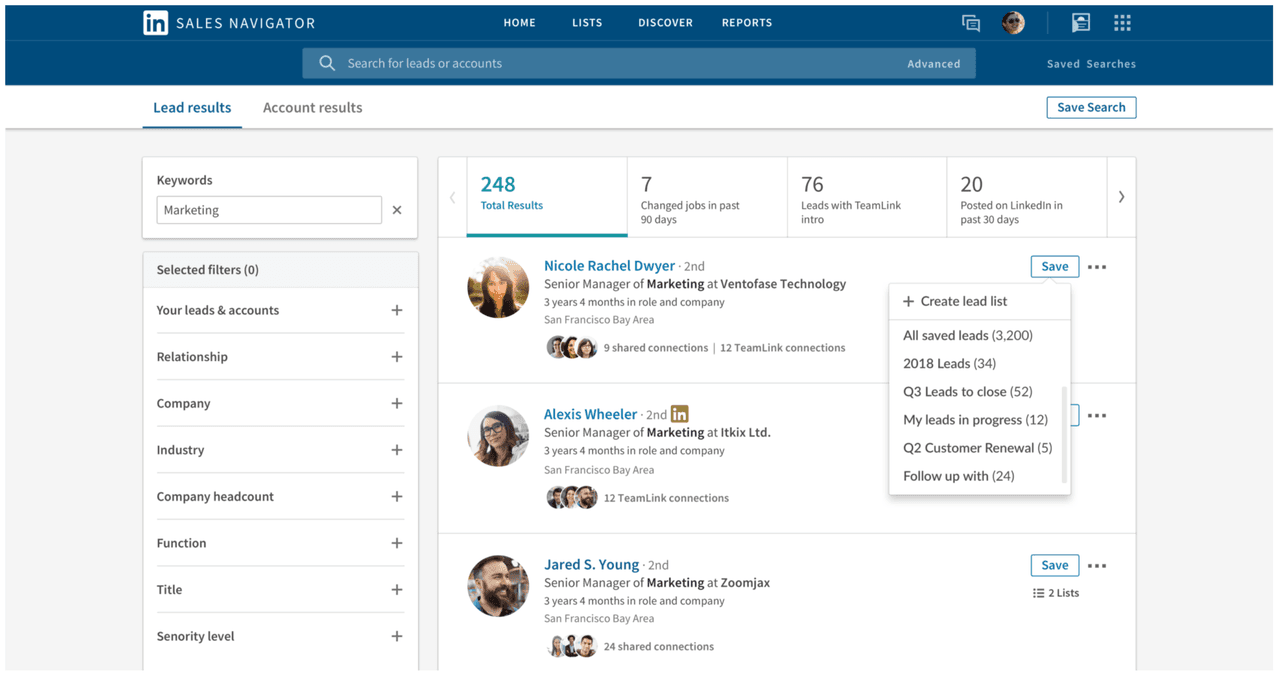 Source
Get LinkedIn in your inboxInstant insights from your inbox sidebar
Sales Navigator will also recommend leads for you, based on your prospecting activity. It's an easy way to rapidly spin up a long list of potential prospects.
LinkedIn offers another terrific opportunity for prospecting — LinkedIn Groups. Find relevant groups, and you'll instantly be connected with professional communities where you can connect with others in your industry. They're the perfect place to help others, build your authority, and position yourself as a useful resource.
Read more:
Crunchbase
If you're in a tech-related vertical, Crunchbase is another powerful database that's tailor-made for finding your ideal prospects. You can search companies in the tech space according to a wide range of criteria, including the company financials, its current tech stack, and overall industry authority.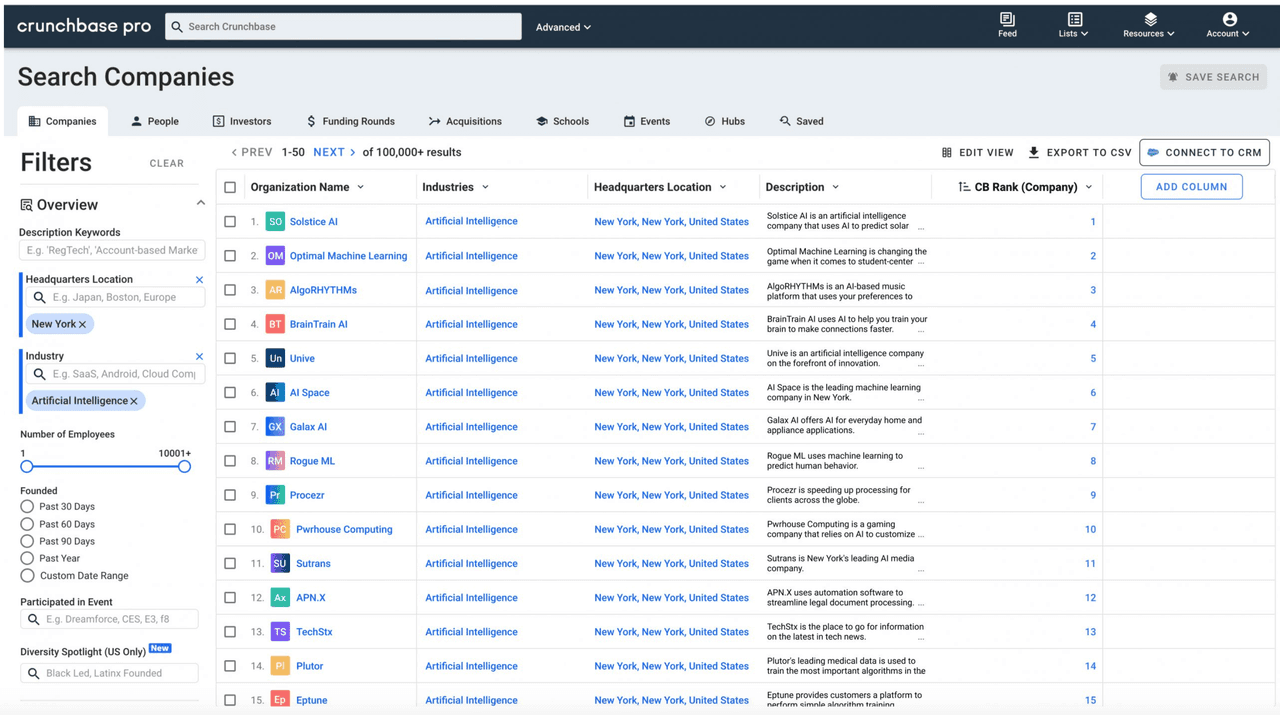 Source
Crunchbase also makes it easy to get real-time alerts, so you can send event-based outreach to prospects when there's relevant company news.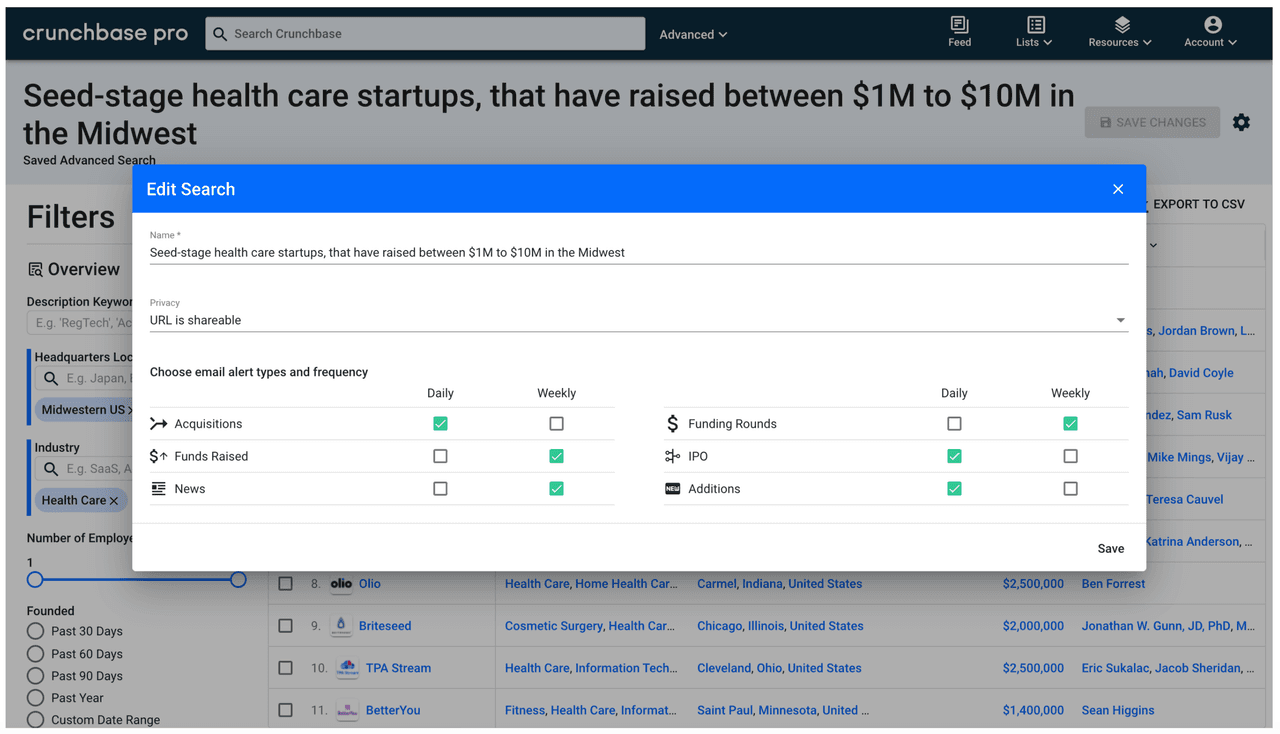 Source
If you're in a tech-related industry, it's a must-have sales tool.
Tip: Looking to outsource your sales prospecting to an agency? Top Increase Sales Marketing Agencies.
Twitter
Many sales professionals don't even consider Twitter as a prospecting tool.
And they're missing out — because it's one of the most powerful prospecting tools at your disposal.
Not only can you find your ideal contacts, but you can also see a more personal side of them that they might not share on more professional platforms like LinkedIn. And best of all, you can reach out and start conversations right away with direct messages.
The best place to start is Twitter's Advanced Search. For example, if you're selling a tool that makes it easy for marketing teams to repurpose content, you'd likely want to reach marketing team leaders: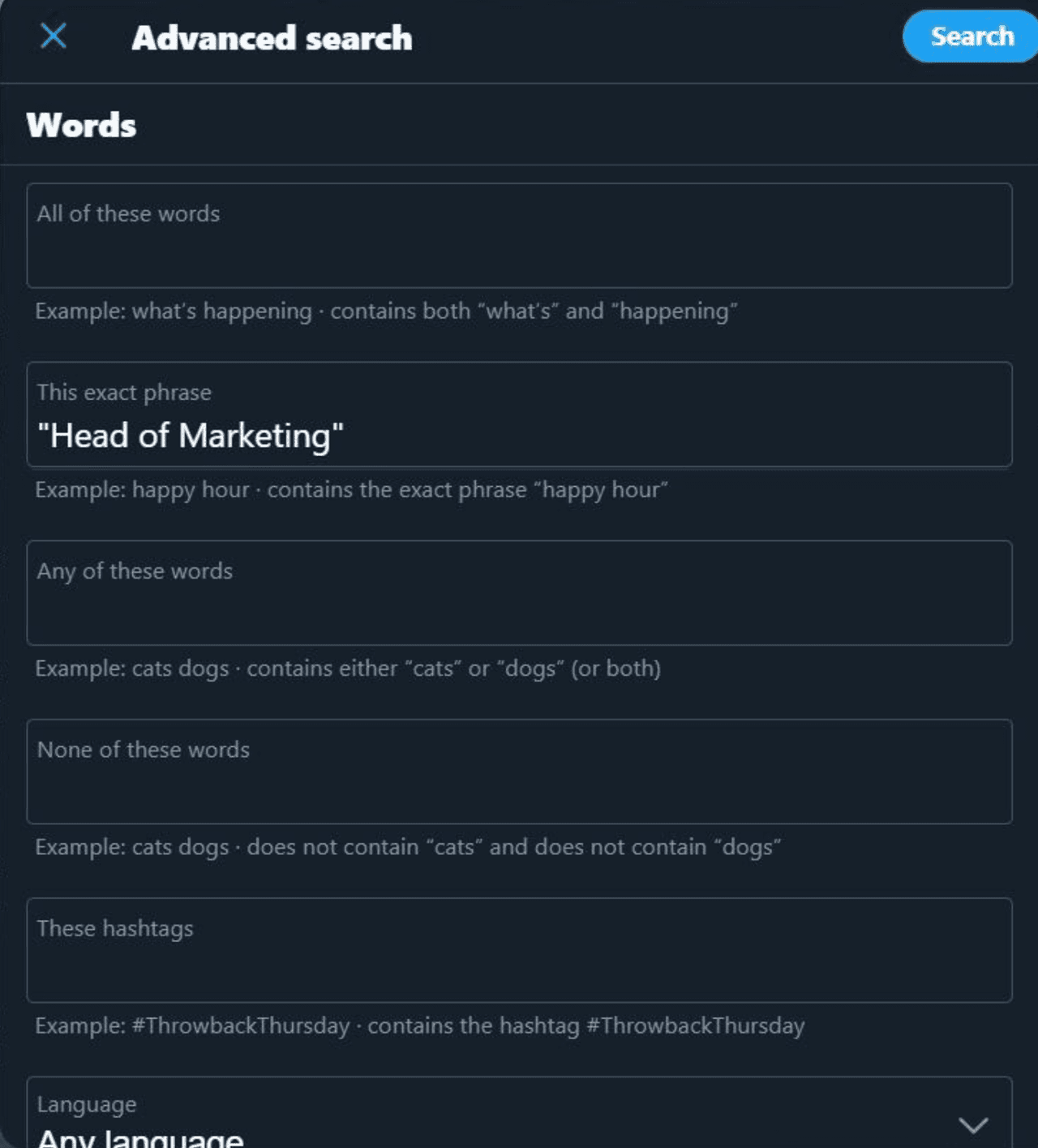 When your results come up, choose "People," and you'll instantly see a list of potential prospects:
Thought Leadership
So far, we've talked primarily about outbound techniques. But there are plenty of inbound methods, too — and one of the best is thought leadership.
At the most basic level, you'll want to work with your marketing team to ensure that your brand is putting out consistent, helpful content on the regular. But you can help raise your sales performance by building your own profile as a thought leader.
Start by identifying the places your audience usually hangs out online. LinkedIn is an especially common place to find B2B buyers, but they might be in Reddit forums, Slack groups, or other online communities.
Once you've found your target buyers, the key is to regularly show up as an authority. For example, regularly posting on LinkedIn is a great way to showcase your domain expertise.
Here's how Chris Walker, CEO of Refine Labs, does it: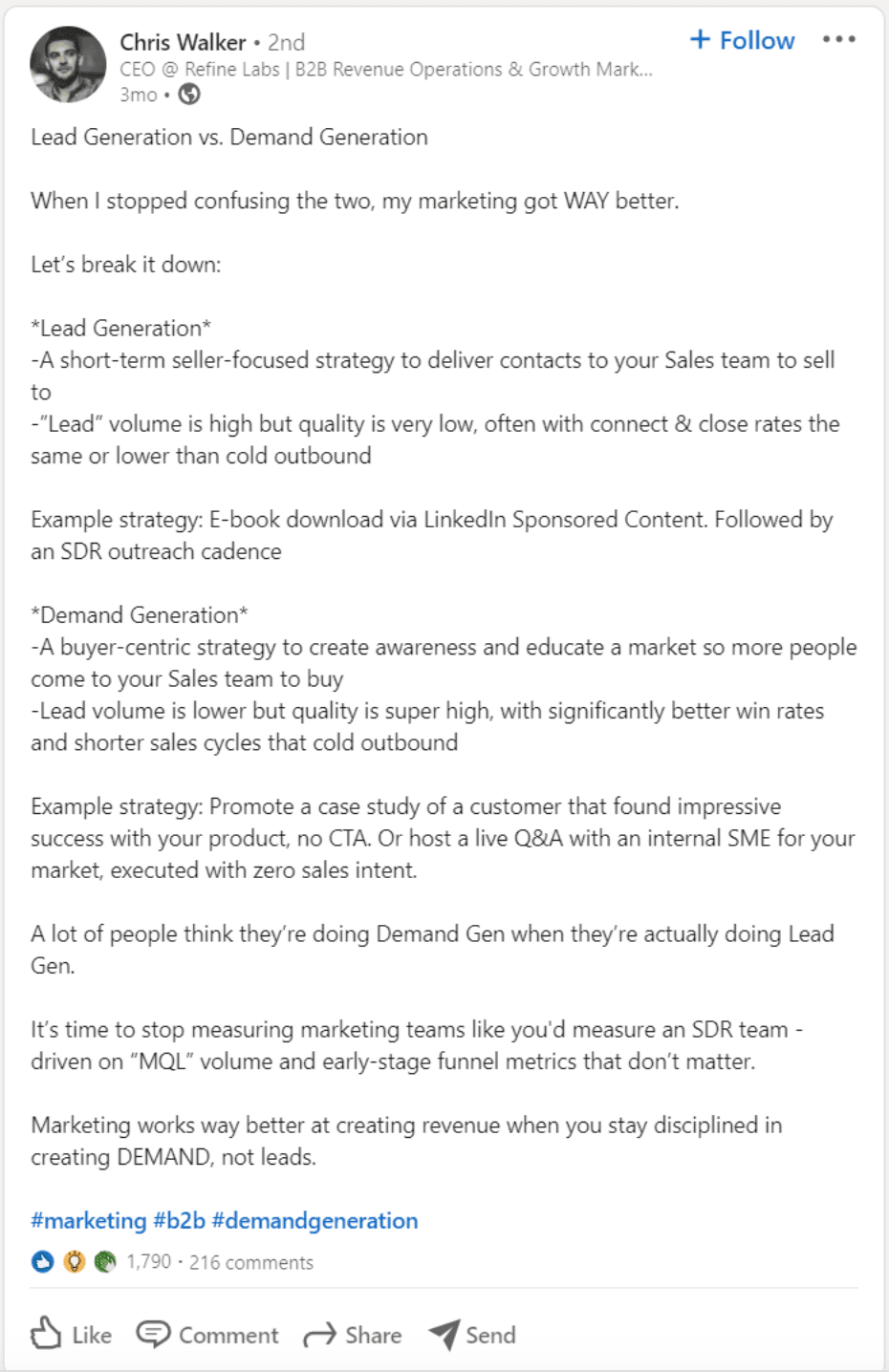 Read more:
Referrals
If you're not asking for referrals, you're missing out on an enormous opportunity to fill your sales pipeline.
Past and current satisfied customers are your best referral source. If you don't have a system in place already, make sure you establish a process to reach out to your customers periodically with a referral request.
While it doesn't have to be complicated, timing is critical. Reach out when you know your customer is likely to refer you. Keep your request simple and friendly:
Hi [FIRST NAME],

Just saw you gave us a great score on the customer survey you received yesterday. So happy to hear we've met — and maybe even exceeded — your expectations!

Can you please do me a favor? I'm trying to find other great customers like you who would benefit from [specific benefit you provide]. Is there anyone you can think of that you can introduce me to who might also be interested in our product?

[SIGN OFF]
Remember, referrals can also come during the sales process. If you determine that a prospect isn't ready to move forward or isn't a good fit, make a point to ask for referrals. Even if they're not a great fit, they may have other colleagues they'd be happy to refer you to.
Conclusion
A strong prospecting process is the foundation of a thriving sales team. Having a reliable pipeline of strong prospects makes it much easier to crush your sales goals, month after month.
If you're not prospecting on the regular, start by making it a consistent part of your day. Build a habit of researching, qualifying, and prioritizing leads, and you'll soon be filling your calendar with sales meetings.
Once your basic process is in place, you can build on it. Experiment with new ways to connect with prospects. Refine your lead scoring system. Always look for ways to improve.
Get started today. Together with strong outreach and follow-up, a great prospecting process will transform your sales results — and your career. 
---
About the Author: Chris Collins is a copywriter and conversion strategist for B2B and SaaS companies. He specializes in research-driven copy and content that helps brands engage visitors and turn them into customers.
Get expert sales tips straight to your inbox to win more deals
Related Articles
Sales, deal management, and communication tips for your inbox