7 LinkedIn Summary Examples for Sales
The best LinkedIn summary examples are like a strong handshake.
They leave a positive impression, and they really stand out from the dead fish.
Research shows that we make judgments about others within 30 milliseconds of meeting them.
On LinkedIn, this means everything above the fold in your profile — your LinkedIn headline, LinkedIn picture, and summary.
Which is why we put together a science-backed guide for salespeople to optimize their LinkedIn profile, with 7 unique LinkedIn summary examples to steal for yourself.
LinkedIn in your inbox
Get instant insights from your inbox sidebar
How to Write a Sales Orientated Summary on LinkedIn
Taking your LinkedIn summary from average to top-notch requires a few quick actions.
From rhetorical decisions (your main purpose, using first-person) to going above and beyond by adding value (keywords, uploading media), you'll need the right ingredients to write the perfect LinkedIn summary.
First, Figure Out the Goal of Your LinkedIn Summary
In the world of LinkedIn, you get what you give.
So, if you don't know what the main objective of your summary is, you can bet that your audience won't give you the response that you want.
Before you start writing, think of your ultimate goal, then plant the seeds. This guides your audience towards taking the action.
For example: If you're on the job hunt, your goal would be to get recruiters and hiring managers to look at your profile. You could list your skills, qualifications, and a call to action for contact.
Notice That the Best LinkedIn Summary Examples Are Short
LinkedIn gives you 2,000 character limit, but stay under this.
According to eyetracking research, people are going to skim through your profile opposed to reading it fully. This means you don't have to break down your years of experience in granular detail.
Instead, keep your profile summary short by including:
Bulleted lists
Plenty of white space
Brief sentences
Consider the Differences Between Desktop vs. Mobile
In January 2017, LinkedIn desktop had a major redesign that changed an important summary element:
At first glance, your summary is no longer shown fully. Here are the character counts for summary previews by device (to read further, a viewer needs to click to expand):
Desktop: 220 characters
Mobile: 92 characters
Make sure you fit your must-read info upfront, and remember: teasers get people to expand.
Always Use First Person When Writing About Yourself
You wouldn't introduce yourself in an email in the third person, so don't do that on LinkedIn.
Take it from Elsa Ronningstam, author of Identifying and Understanding the Narcissistic Personality:
Referring to yourself in the third person creates a distance between the "I" and "he." So if you have an exaggerated view of how great you are, you could be using this distance to make yourself even bigger. Or, if you've achieved major success suddenly, using the third person could be a way to adjust to the bigger role that's been assigned to you. It's a way to enlarge yourself to fit that role.
It's safe to say that sticking with first person makes you more approachable and human, giving off a better first impression.
Include a Call-To-Action at the End
If your goal is to drive action, let your reader know the best way to contact you. Here's how Yesware Sales Manager Paul Hlatky weaves in his CTA to his summary:

Highlight Your Specialties By Adding Them as Keywords
This is one of the best LinkedIn summary examples for job seekers.
One quick trick to optimize your profile (and get more eyes on it), is to add keywords at the bottom of your summary.
Not only will this show your specific skills right at the top of your profile, but recruiters will see what you have to offer.
The trick is to get specific.
For example, instead of just saying "sales," Yesware Account Executive Dustin Beaudoin does the following:

Show Off Your Skills With Proof: Uploaded Media
One of our favorite LinkedIn summary tips is to include a glimpse into your portfolio.
If you have any articles, slideshares, or blog posts you're proud of, upload them as media.
Here are some key reasons why adding media makes your profile stand out:
Since your repertoire is unique, it's another opportunity to differentiate your profile
It encourages readers to stay on your profile longer, exploring your work
It's an easy way to show your personality to your connections
For example, I added my favorite Yesware contributions to to my summary so people can easily access my work:
Prospecting made easyAutomated campaigns with emails, calls, Linkedin InMails, and custom touches
LinkedIn Profile Summary Examples for Sales Professionals
Example #1 – Show Them What You Love
Feel passionate about your work outside the office?
Let it show in your LinkedIn summary.
Giving a peek into your personal life can help build a stronger sense of social capital (aka collaborating and connecting with those you work with).
It's the same reason why water cooler conversations bring us together.
This example, from Yesware VP of Product Jake Levirne, is a great example of how you can give a glimpse into your personal life via your summary:

You can accomplish this by:
Deciding what you're passionate about, then filling in the blank: "I love ____ — [what it looks like]"
Thinking about how your passion relates to your personal and professional lives, then writing it out as: "Professionally, ______; personally, ____.
Example #2 – Layer Your Life Story, Pearl by Pearl
Use storytelling to your advantage.
Listening to stories increases our levels of oxytocin (aka "the love hormone") so we become more emotionally engaged.
It works in your LinkedIn summary, too. Introduce yourself as the protagonist, then string together your life phases by connecting them with an overlapping theme.
What it looks like: Here's how my LinkedIn summary brings in my childhood passion to storytelling (and uses the string of pearls):
Why it works: It's the string of pearls, a writing technique that pieces together the persuasive details strand by strand. Each sentence builds upon the one previous.
Example #3 – Show How You Can Solve Pain Points
If your objective is to drive more business, try putting your industry front and center.
That makes you the invisible player.
It works if you're offering a service that will solve people's specific pain points (think: sales or recruiters).
Do this by using the ACCA writing formula:
Awareness – Bring attention to a problem
Comprehension – Help your reader understand it fully
Conviction – Create urgency to do something about the issue
Action – Call them to make a change
Why it works: This escape from an undesirable reality gets people to respond. Pain motivates us more than pleasure, so pointing out how you can solve an issue causes people to take action.
Here's how you can show pain points by using the ACCA formula in action:
How you can do this:
Identify the main pain point your industry solves. This becomes your third sentence.
Why is now the time to fix it? This becomes your first sentence: "It's time for ___."
What's the end result? This becomes the second sentence: "We can now ____."
What's a common misconception? Break it in half; show why it's not true: "___ isn't ___; it's ___. [Insert statement about reality that makes them think in a new way.]"
Then, drive them to action so they can make this change happen.
Accelerate resultsBest-in-class email tracking, templates, campaigns, and CRM sync
Example #4 – Your Smooth Elevator Pitch
This example points out your background, philosophies, achievements, and skills all at once — but it's also concise. Consider it your brief autobiography.
Why it works: Humans are skeptical creatures, so you need to establish credibility to earn trust. Laying out your credentials, awards, and skills proves your worth and sways your audience to act.
Here's how Andrew Archer, lead in growth marketing, smoothly establishes credibility in his LinkedIn summary: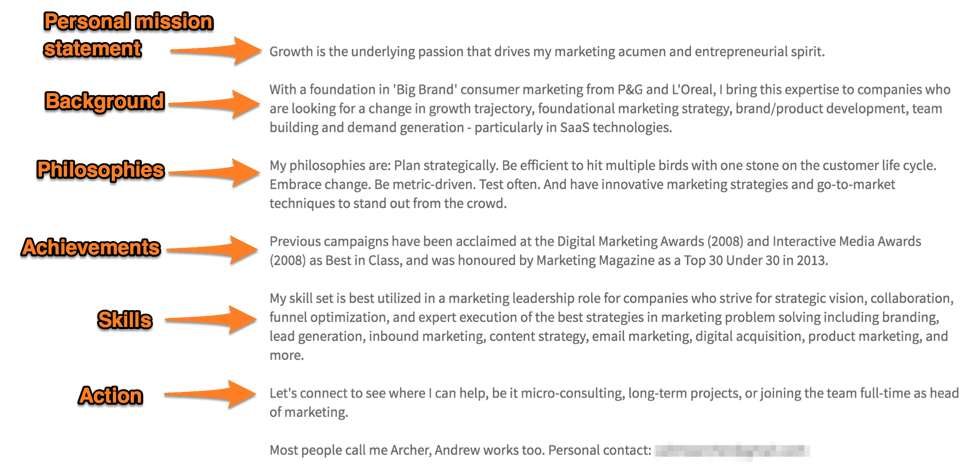 Example #5 – Short and Sweet With Bullets
This one works well if you function in a very specific role and/or have a strong skill wheelhouse you want people to see at first glance of your profile.
Hint: this is one of the best LinkedIn summary examples for job seekers and consultants.
You can improve your LinkedIn search rank (or LinkedIn SEO) by including your qualifications as keywords. The higher you rank, the more likely a recruiter will find you.
Here's one of our favorite LinkedIn summary examples from Jenn DiMaria of RevEngine Marketing: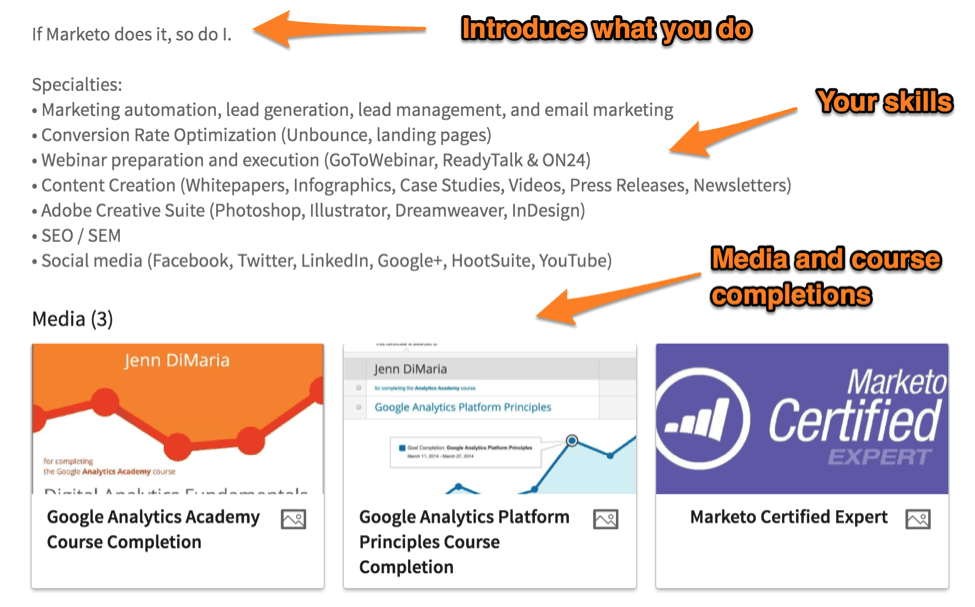 How to make it your own:
First sentence: "If ___ does it, so do I" ← A quick quip explaining what you do.
Bullet out your keyword-specified specialties.
Add any media that further displays your hard work.
Get Email Tracking Straight From Your Inbox.
Example #6 – The Dramatic Hook
This one's for the creative types.
Like a classic novel, your LinkedIn summary can draw eager readers with a great hook.
Good writers know to include a little tension in their storytelling.
How do you apply this to a business profile?
Illustrate a situation that captures the essence of your role in an exciting way (see example below) to leave readers on the edge of their seats.
Here's how Brian Massey (The Conversion Scientist) takes website conversions and turns it into a creative writing assignment: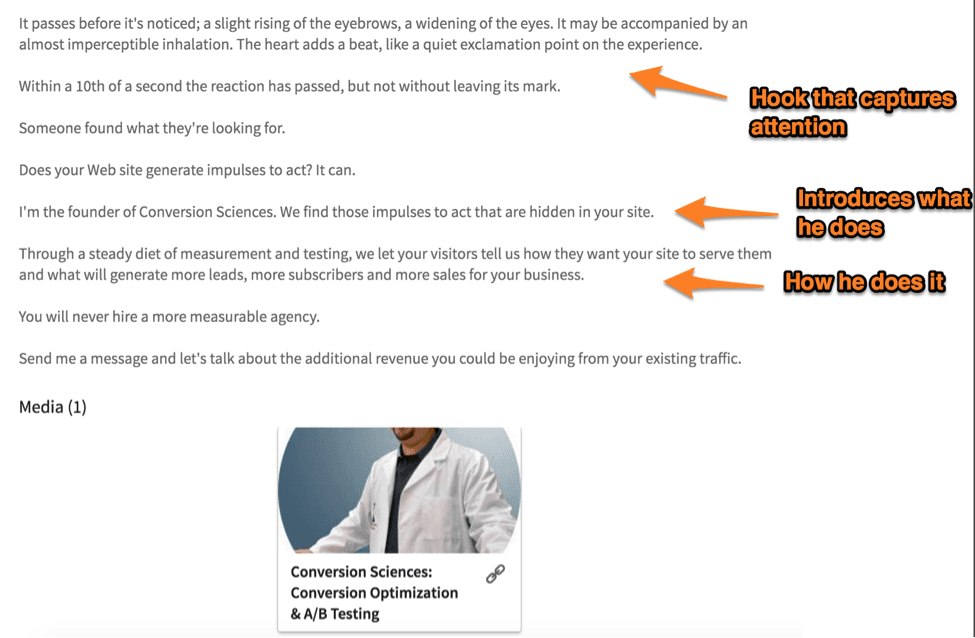 Here's how to do it on your own:
Figure out the focus of your current role, at its core. Examples: closing new customers (sales), keeping customers happy (customer success), building out an awesome team (recruiting).
Think about a moment that captures what that really means to you. Then, fill in the blank: "It passes [way in which it passes]. [More descriptive language]
Add a line break, then write who you are: "I am ___."
Lastly, tell them how to take action.
Because this one's tricky, here's a re-write done by our Content & Engagement Manager for content marketing, showing you exactly what's taken from the example above (underlined) plus elements that are captured (boxed):
Example #7 – Get a LinkedIn Summary for Sales Reps in Seconds with This Shortcut
Too busy to write a summary section? Use this shortcut and you won't have to type a word.
Here's how:
Go to your LinkedIn profile. Underneath your header, you'll see suggestions to strengthen your profile. Depending on your profile strength (or weakness), there will be an option to see what your summary could look like:
LinkedIn will pull information from your profile to suggest a summary for you: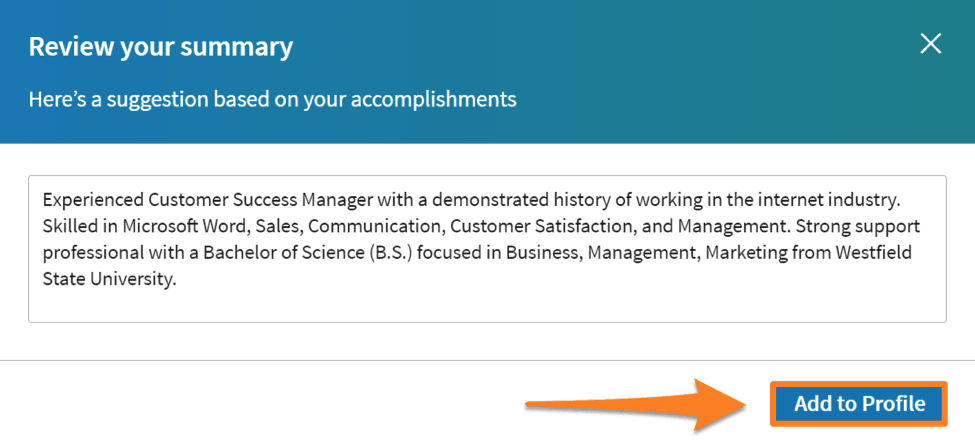 And just like that, you have a LinkedIn summary example for sales! Too easy.
Hungry for more?
Get expert sales tips straight to your inbox to win more deals
Related Articles
Sales, deal management, and communication tips for your inbox