9 Email Management Software Tools to Organize Sales
Did you know that over 300 billion emails are sent per day, worldwide?
That translates to 2.4 billion emails sent per second.
Given those statistics, it's no wonder managing your inbox management has become almost a part-time job in itself!
It can be hard to focus on your actual job when you have hundreds of unopened emails waiting for you in your inbox. But managing your inbox in a meaningful way — getting rid of what you don't need forever and bringing the most important items to the forefront — doesn't need to be rocket science.
In fact, it can be downright easy with the right tools and automation.
In this article, we'll go over the best tools we found for managing a busy inbox, no matter how you prefer your inbox to be arranged.
Here's what we'll cover:
Why Is Email Management Important?
Text-based messaging — namely, email and SMS/social media messaging — have become most people's preferred form of communication over the last two decades. Both are reliable and fast — in theory, at least.
Email, though, has a special distinction as being a somewhat nebulous (and increasingly frustrating) tool. That's because it's used for both personal and professional communication — and just about everything in between.
The lines of email communication have become so blurred over the years that cleaning out your inbox can take hours of your time.
Remember that figure we talked about earlier — 300+ billion emails sent per day? Well, nearly half of those are spam.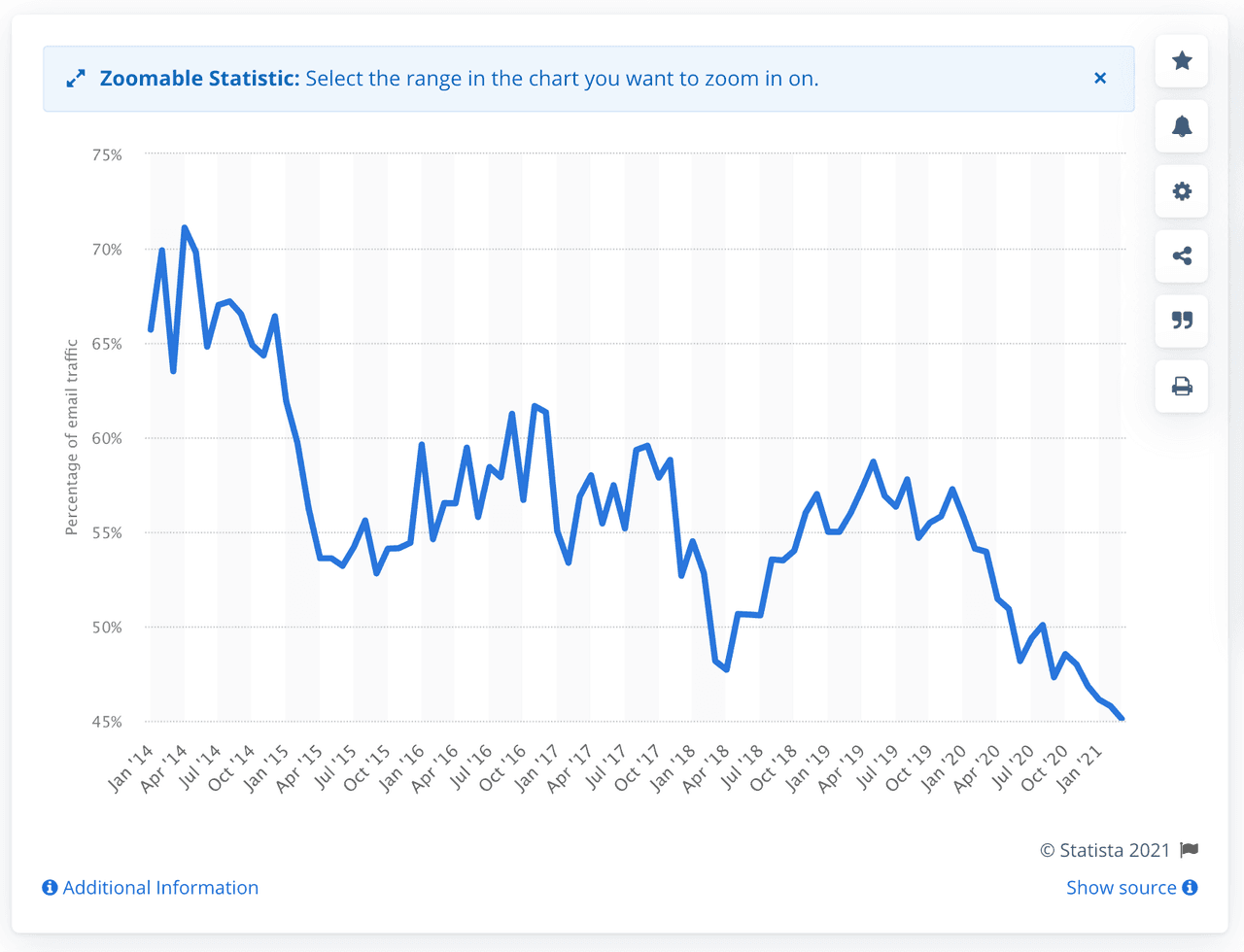 And while it's certainly comforting to see that number trending down, it still doesn't address the fact that people spend hours per week of their time sorting through emails that serve no purpose. By the time someone finishes cleaning up their inbox, there's often little energy left for responding to customer emails.
Reply automatically
Send personalized, automated follow-ups to your most important customers
For salespeople, email needs to be more than just a form of communication; it needs to be leveraged as a tool. Sales reps need to learn and automate the most efficient ways of prioritizing the email that comes in, so they can focus on revenue-generating activities like responding to the important emails and completing sales calls and demos.
Fortunately, there are tools to help with this process. We'll go over some of our favorites later in this article, but first let's get on the same page about a few key email terms that are commonly misused.
Email Terms
First things first: your email inbox. It's hosted in one of two ways, depending on your service provider. If you use GSuite or Hotmail — any kind of SaaS platform, really — it's considered webmail. In these cases, your email is hosted on remote servers. These can be great options for startups and small businesses because they offer a variety of pricing tiers.
On the other hand, if you use something like Microsoft Outlook, your platform is called an email client, and is hosted on your own servers on-site.
Finally, there are email management tools — these are separate from your inbox hosting platform and are used in conjunction with the tools built into them. Email management tools are called add-ons, and they can be represented in a variety of ways — buttons, a toolbar, or even accessibility and functionality directly within your inbox.
How to Manage Your Email to Close More Deals
There are a plethora of ways to manage your inbox to help boost email productivity.
How each person goes about this task is ultimately unique to them and their organizational preferences, but some management tasks include:
Snooze Emails
Some email management tools allow you to hide or push to the back an email that doesn't need immediate attention. It will then ping you about said email at a more appropriate time.
Automated Follow-ups
So much of the sales process relies on following up. In fact, many deals aren't moved to the next stage of the pipeline until the fourth (or later!) follow-up.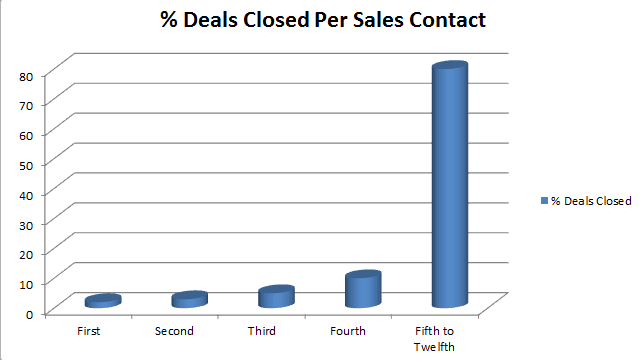 But keeping track of who needs their second, third, or fourth follow-up is too much to keep track of for a busy sales rep. Many email management tools will let you create and save follow-up templates that you can personalize and schedule to send automatically.
Send Later
The send later feature is self-explanatory. It allows reps to draft emails, and schedule them to send later. This is really convenient for immediately recapping a conversation post-meeting, or getting your thoughts on paper and then having a think about whether your words ring true.
Unsubscribe
Most email management tools can help you easily remove yourself from unnecessary email campaigns. Your inbox will contain fewer junk messages so you can focus on the important ones.
Email Sorting
Many of the tools we'll go over today will help you sort your emails efficiently, allowing you to pick and choose which groups of emails to focus on.
Meeting Scheduler
Some email management tools, like Yesware, have meeting scheduler tools built-in. This function syncs your calendar in real-time and sends an updated link to recipients, so they can choose the most convenient time for them at a time you're guaranteed to be free.
Skip the back-and-forth
Send customizable links that sync to your Outlook or Gmail calendar
Again, each of these tools will hold different weights in terms of importance to individual salespeople. The tools you choose should be customizable — make them work for you, not the other way around.
Take Control of Your Inbox
In general, there are three major things that will help just about any sales professional take control of an unruly inbox, regardless of the tools you use along the way.
Delete With Wild Abandon
The cardinal rule of Inbox Zero? Delete anything that's not relevant, now or in the future, or that has already been dealt with. If it can't be deleted, that's okay — but anything that can't be deleted should otherwise live in a well-labeled folder. Your inbox should only contain emails that are yet to be addressed.
Unsubscribe Ruthlessly
How much time do you think you've spent deleting the same marketing campaign emails, over and over again? Maybe you signed up for a one-time 10% off code, but are now still stuck on the promotion list. Or maybe you've been ignoring one of those "customer satisfaction surveys" for months, with no intention of ever completing it.
Deleting these emails ad nauseam every week is killing your sales productivity; marketers are nothing if not tenacious. They will continue sending you marketing emails until you clearly express your desire to no longer receive them.
Set aside thirty minutes a week to open and click "Unsubscribe" on any email lists that don't regularly serve you. It takes a bit of time upfront but will save you hours in the long run.
Respond ASAP
Whenever you can, respond to emails immediately and then move them to a designated folder. The longer an email sits outstanding, the harder it becomes for your brain to engage and reply. Don't be hasty, but do be prompt.
Even following these three simple rules will help your inbox become more manageable. But the tools in the next section will help you take it to the next level.
The 9 Best Email Management Software Tools and Apps
For sales teams that need an extra leg up on managing their inboxes, the following tools can help. Many of them are fantastic collaboration tools, as well, and can help your salesforce achieve optimal productivity to ultimately enhance the customer experience.
SaneBox is an email sorting tool. It sorts your emails into folders based on what needs to be read ASAP; anything that can wait for later goes into the SaneLater folder. It also separates emails on which you've been CC'd into their own folder. SaneBox comes with a Do Not Disturb tool, allowing you to turn off your email notifications during busy work times. It also gives users the ability to snooze emails and have them ping you at a later date.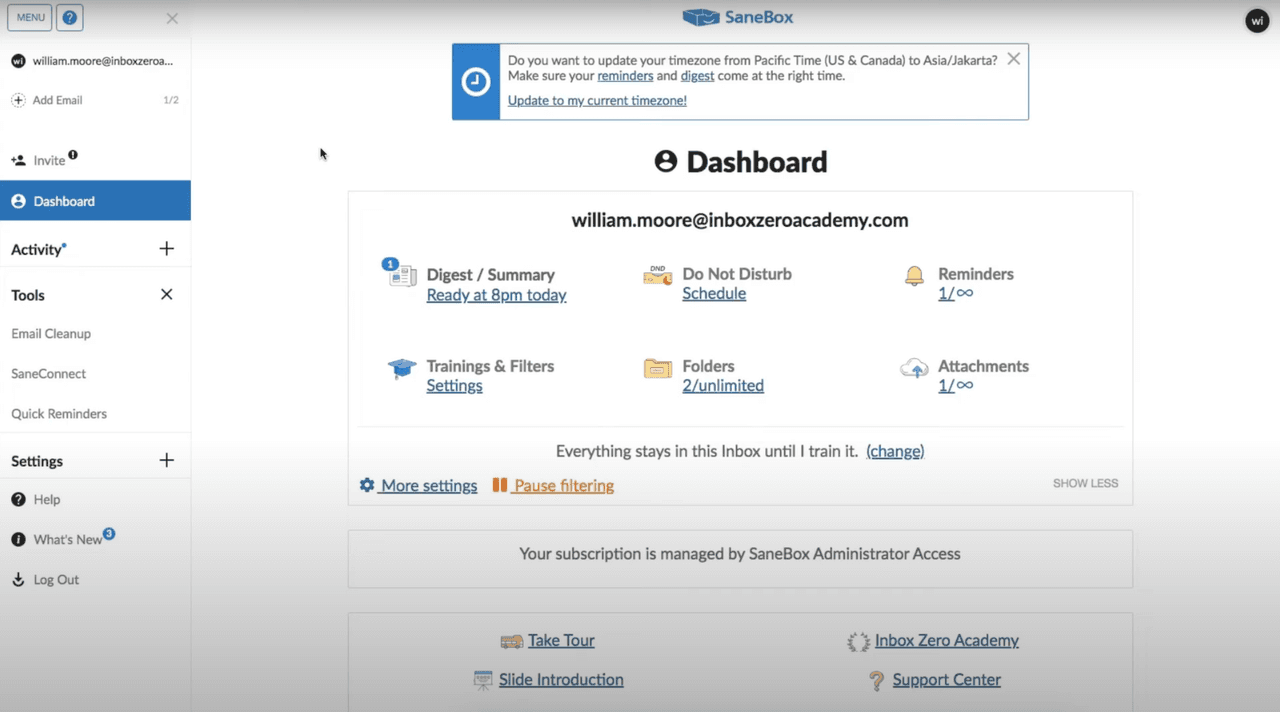 The EmailAnalytics app helps visualize your team's email activity in Gmail. The tool is great for sales, help desks, and customer service teams — one of its big features is the way it tracks metrics around the average response time of each user. This is important for customer service, for obvious reasons, but also hugely important for sales. Studies show that the faster a sales rep responds to an inquiry, the more likely they are to eventually close that deal.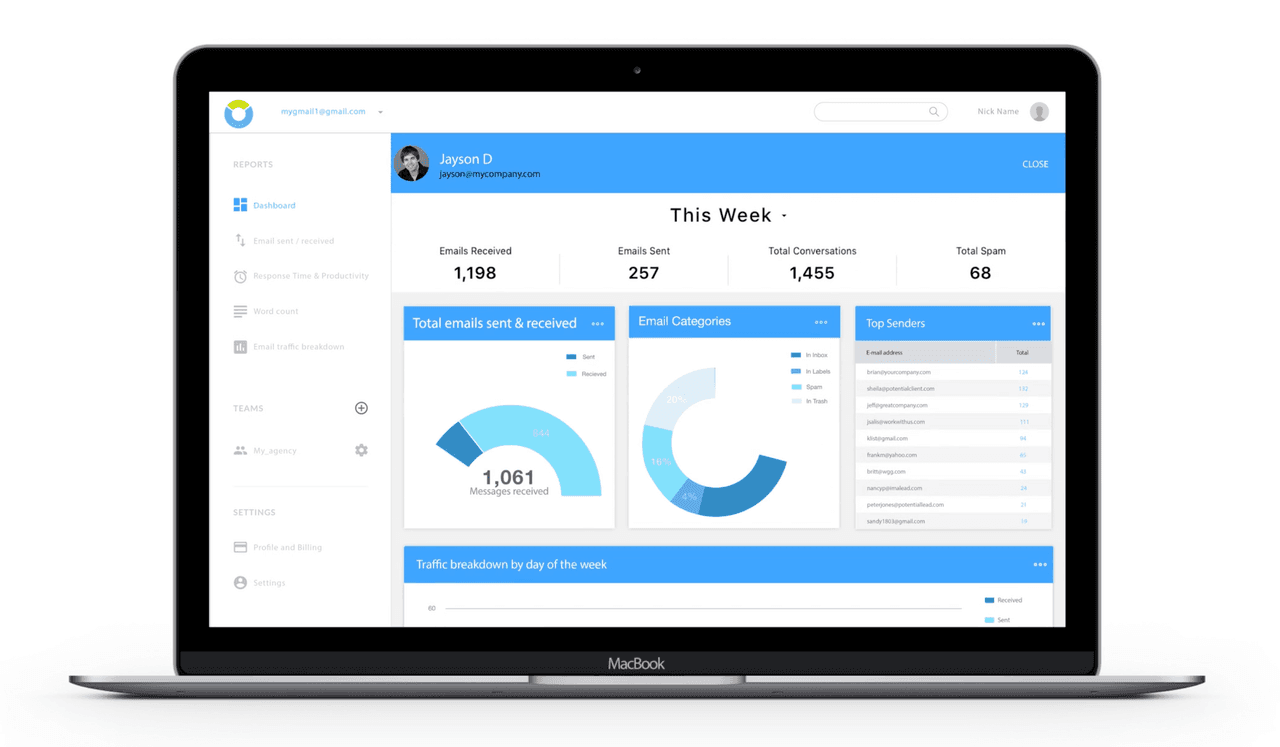 Clean Email is a great tool for doing things in bulk. It allows you to move, delete, label, unsubscribe, block, report as spam, or archive large groups of emails all at once — perfect for those who are drowning in unread messages and need order, fast. Offering high levels of customization, Clean Email lets you teach it to take certain actions automatically, and how you prefer your inbox to be sorted.
Yesware is an all-in-one sales toolkit that integrates into your Outlook or Gmail inbox. The tool allows you to stay on top of who opens your emails and presentations, automate communication and follow-ups with multi-touch campaigns, generate reports that show what messaging is/isn't working, and more. The tool is designed to help sales professionals and teams hit their numbers in less time, while not having to leave their inboxes or alter their workflows.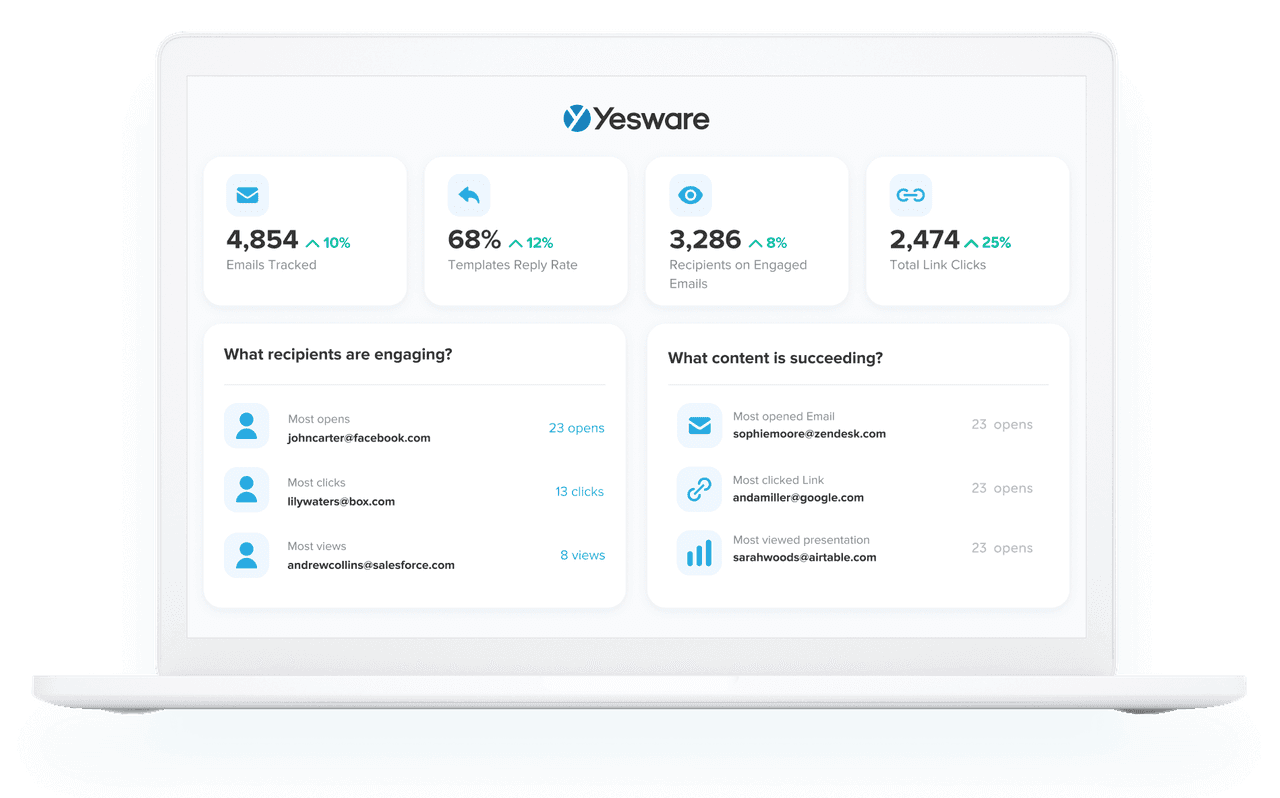 Mailbird allows users to integrate and manage their various email accounts, contact lists, and messaging and calendar apps — all in one streamlined interface. It integrates with Facebook, Twitter, LinkedIn, Whatsapp, Google, Asana, and many more. Like Email Analytics, it allows users to snooze emails for later. Another favorite function is the Speed Reader tool, which summarizes long emails into easy-to-digest snippets.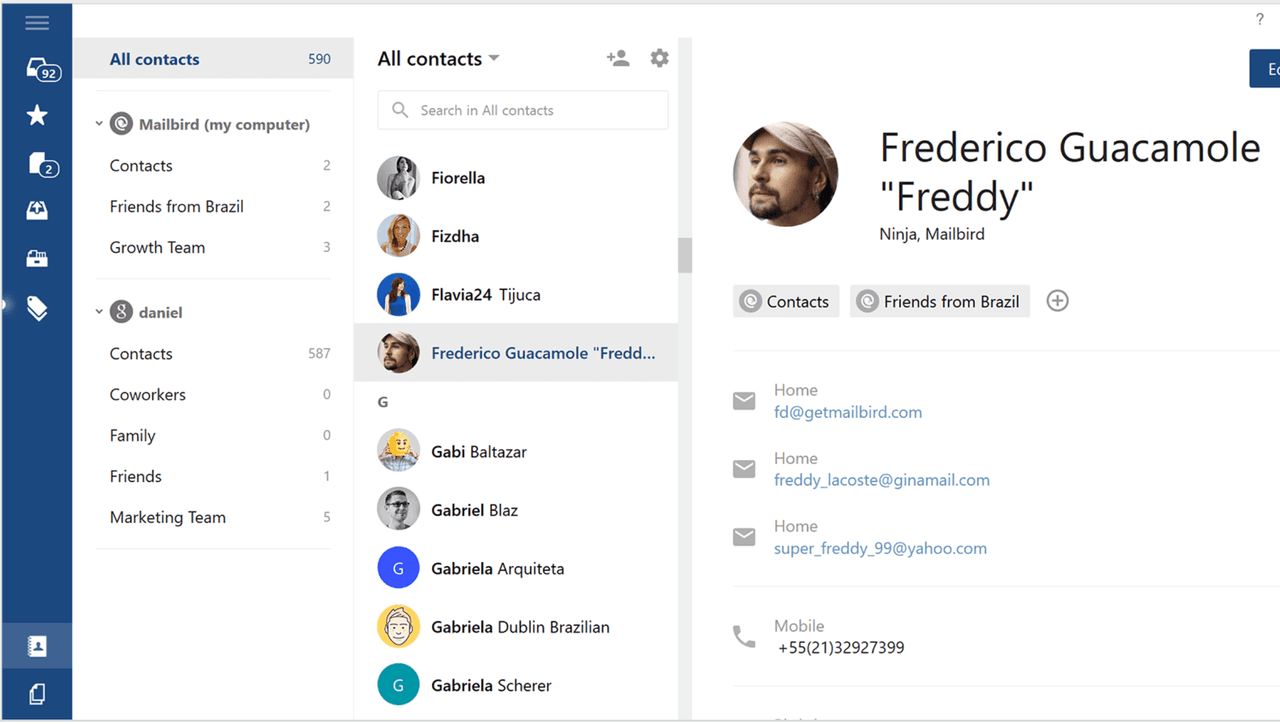 MailMate is a code-heavy app, but is worth its weight in gold (code?) for those with the right knowledge base. The app is designed to significantly remove the need for a mouse when navigating through email. For the average emailer, this may seem superfluous, but it can be a game-changer for those who spend all day in their inbox. MailMate's extremely broad-reaching keyboard controls allow users to navigate through their inboxes with ease, without ever lifting their hand to their mouse.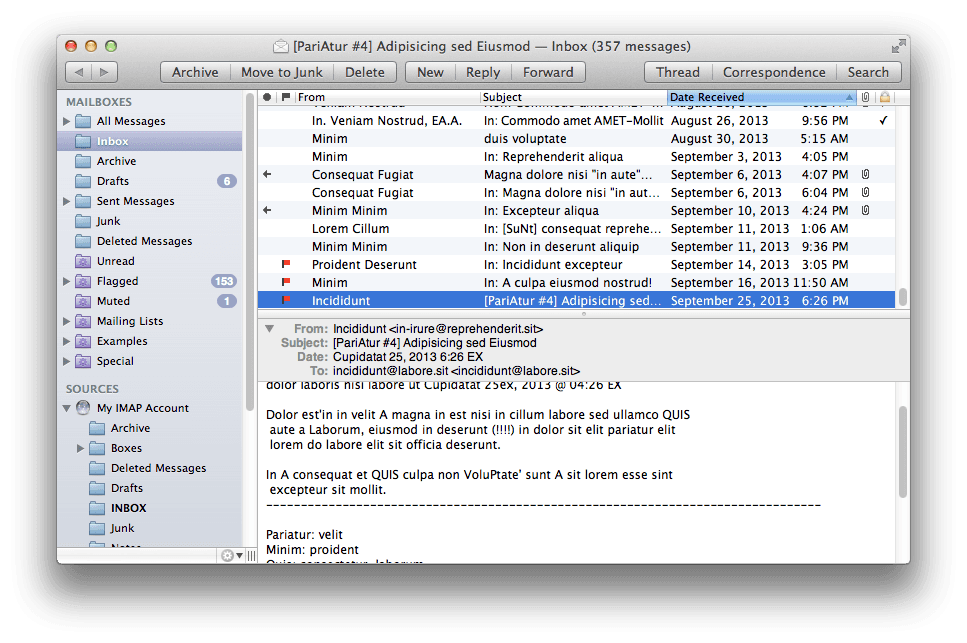 Hiver is an email tool built for collaboration. It offers a shared inbox, and the ability to delegate emails to people without forwarding them using tags, labels, and @notifications. Hiver's collision alerts stop multiple people from working on the same email, and it also can create smart rules for intuitive and automated workflows.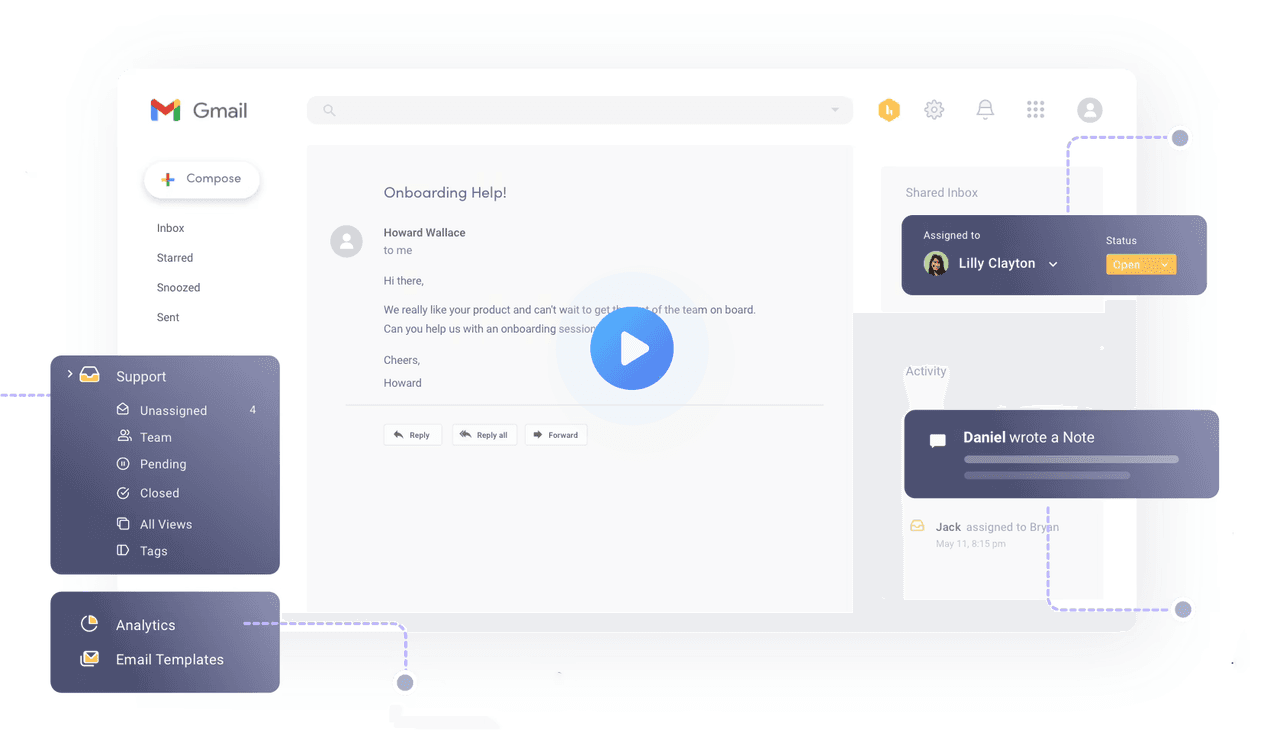 Gmelius calls itself "the collaboration platform for Gmail." It's a great option for anyone with a Gmail account. Like other tools we've mentioned, Gmelius offers a shared inbox, as well as the ability to assign a delegating manager who oversees and monitors emails with its email tracking capability. You can use Gmelius to create Kanban boards directly from your inbox; you can also save Kanban templates for future use.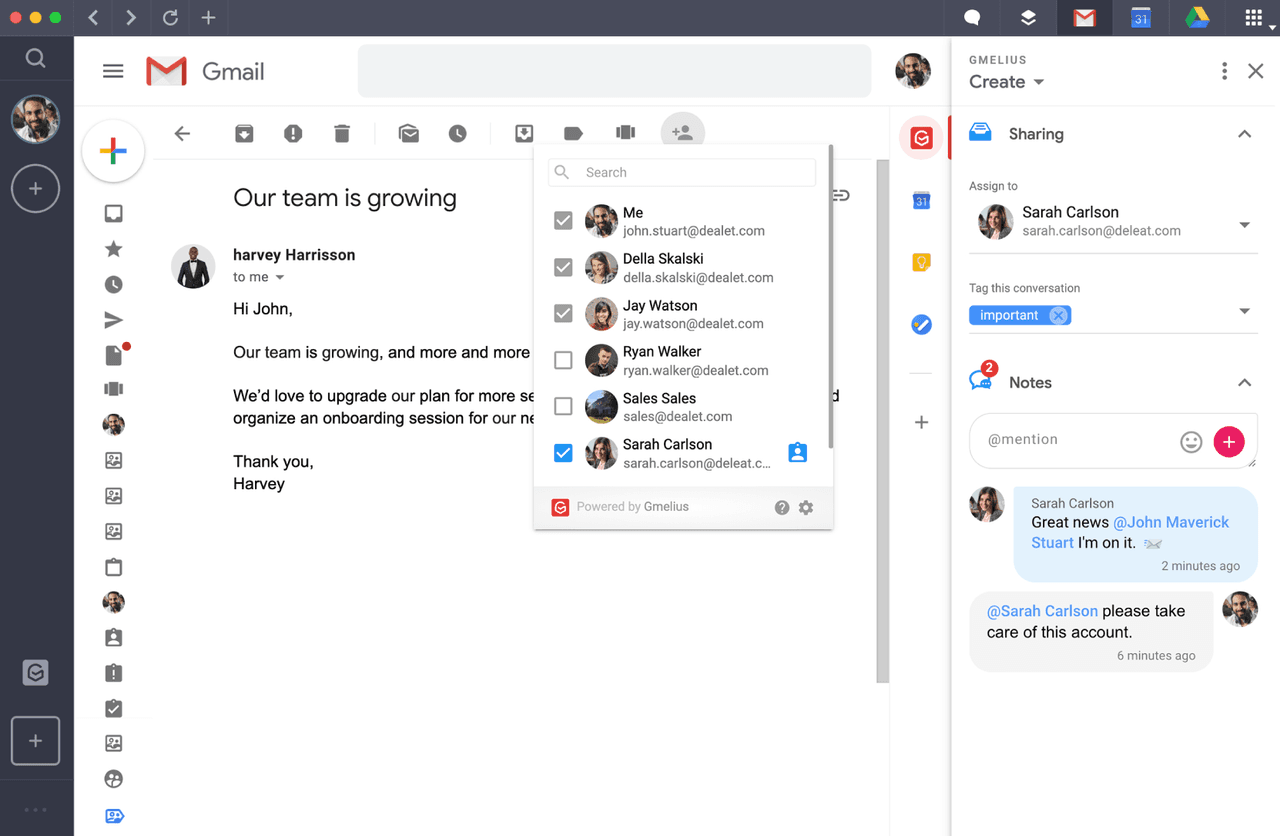 Shift allows users access to all of their accounts from one central desktop app. One of its most popular features is its search capability, which can work across all of your inboxes with a single search. Its Workspaces feature allows you to craft a digital working environment with specific tabs, apps, and bookmarks your team needs to get the job done efficiently.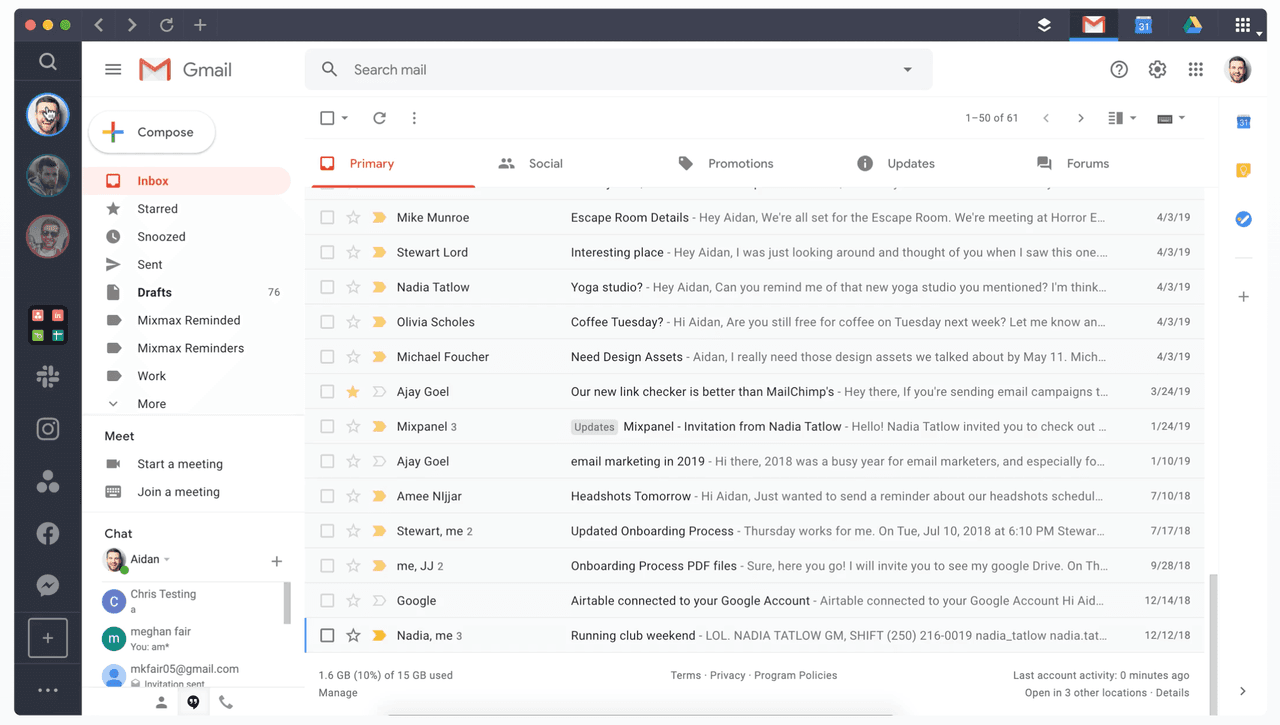 How Yesware Can Help Manage Your Email and Organize Your Sales Process
Yesware integrates with the most popular CRM and email services, making it a one-stop shop for all of your inbox management needs. Our software includes a wide range of features that will help make your inbox a tool that moves your business forward, instead of a time-wasting mess that holds you back.
Email Tracking
With Yesware's Email Tracking feature, you'll always know exactly where you stand in communication. When you know that a recipient has opened and read your email, you can properly delegate it to a folder and assign next steps.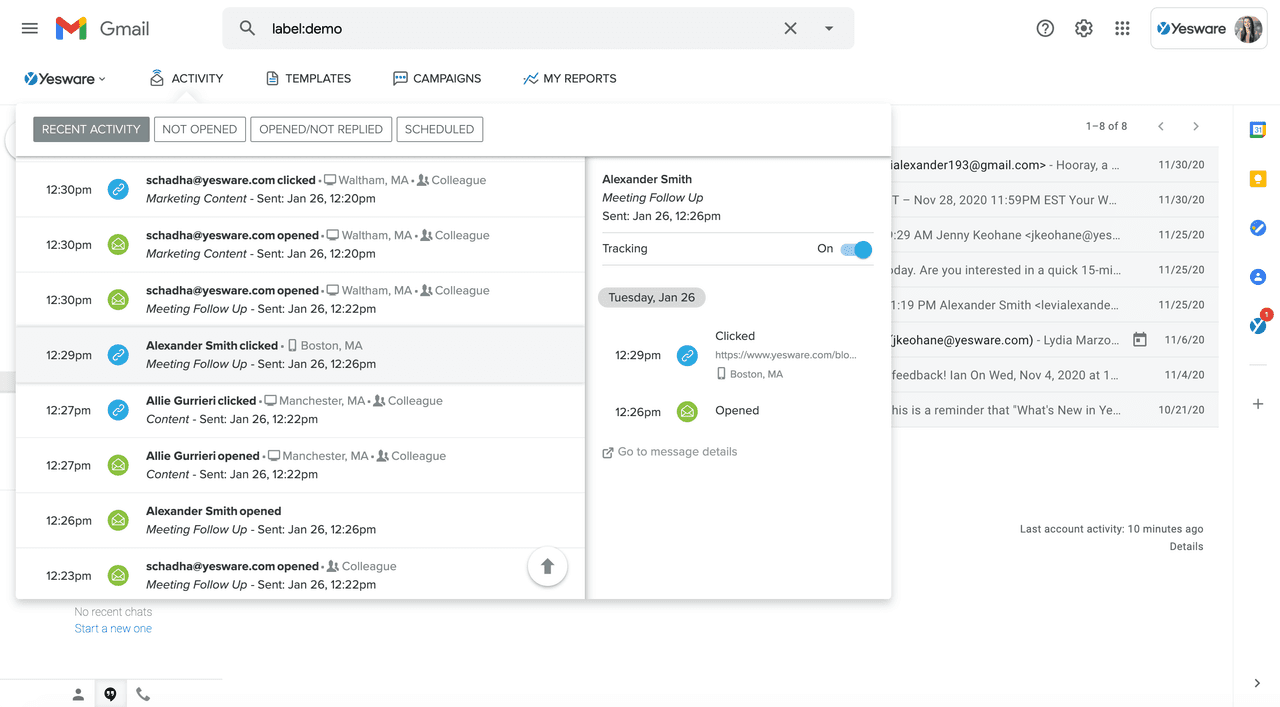 Email Tracking saves team members time and effort and boosts productivity.
Email Templates
Yesware gives users the ability to create and save email templates for any occasion. This feature ensures that you never spend time drafting the same email over and over again, and ensures that you leave nothing up in the air.
It also tracks the open rate and effectiveness of each of your templates, so you know what's working and what needs to be tweaked.
Salesforce & LinkedIn Integration
Yesware integrates seamlessly with Salesforce and LinkedIn, meaning that all of your contacts and communication can live in one place.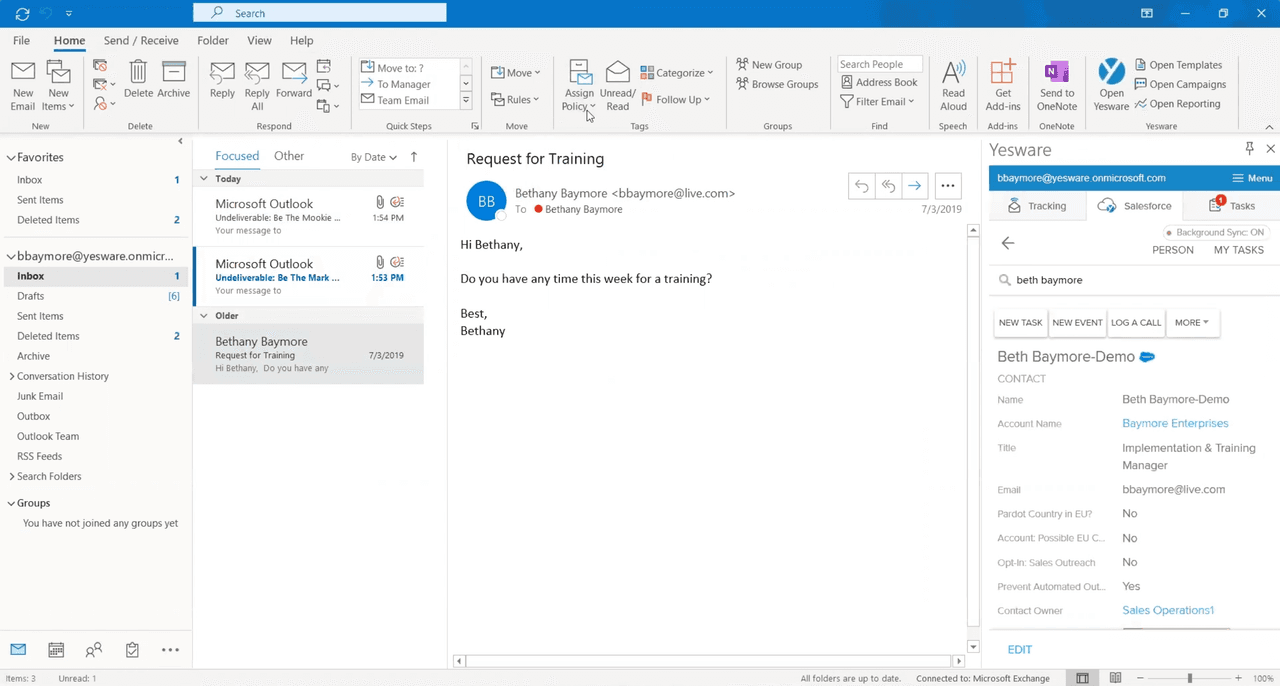 It shows all of your recent communication directly in your inbox, and can even give you insight into their interest and level of engagement.
How close are you to Inbox Zero? How much closer can you get after 30 minutes of using the tips and tools outlined above? The closer you get to a clean inbox, the more productive you'll be — get going!
Get expert sales tips straight to your inbox to win more deals
Related Articles
Sales, deal management, and communication tips for your inbox