Top 20 Sales Productivity Tips for 2021
The measure of sales productivity is determined by the efficiency and effectiveness of a sales rep. And achieving this can turn an underperforming salesperson into a top performer.
Yet 65% of B2B companies find sales productivity to be the number one challenge they face on a daily basis.
Emails, meetings, follow-ups, phone calls – sales reps have busy and chaotic days. And sometimes, it feels like the day just slips away from you.
Let's look at some highly effective sales productivity tips that will streamline your sales process and clear up time in your day.
Here's what we'll cover:
Boost inbox productivity
All-in-one suite of time-saving tools
Sales Productivity Tips for Workflow Management
1. Batch Your Regular Tasks Into Timed Intervals
You sit down to do one thing, get an email that distracts you, and then realize you never followed up with the email below, now you're on the phone, and suddenly your team meeting sneaks up on you. Before you know it, 5pm hits.
This happens to everyone. And it's never a great feeling when looking back on your day.
A great way to prevent this from happening is to batch your tasks. Break the work down into timed intervals – 1 hour for prospecting, 5-10 min break, 1 hour for follow-ups, 5-10 min break, and so on.
This method is known as The Pomodoro Technique.

The Pomodoro Technique is a well-known time-management method that can help you power through tasks without distractions and get things done in short bursts, with breaks in between to relax and mentally refresh.
Try it for yourself – tasks that you regularly do throughout the day, batch them into designated times. Then zone in and complete each task for the day before moving on to the next. Make sure to take breaks in between.
2. Eat the Frog: Tackle Your Hardest Task First 
Mark Twain once said, "Eat a live frog first thing in the morning, and nothing worse will happen to you the rest of the day."
Translation: get the hefty projects done earlier in your day.
When you go into the day with a dreaded task, it's easy to put it off. But if you can tackle this project head-on first thing in the morning, you get rid of any underlying stress and can now tackle the rest of your day with a clear mind.
Fun fact: The prefrontal cortex of our brain is the most active and creative right after sleep. Try channeling that creativity and energy by tackling your hard projects right off the bat.
Top sales professionals have used this "eat the frog" strategy for years.
3. Block off Time for Focused Tasks on Your Calendar
Calendars aren't meant for only meetings.
Top sales reps have found that blocking off time for tasks on their calendar helps with zoning in and focusing.
Here are some of their thoughts when asked about their top sales productivity tip:
"Proactive Time-Blocking — making appointments with myself to tackle important, non-urgent, high-value activity." – Mike Weinberg, Founder of The New Sales Coach

"I find filling my calendar with blocks with a very specific focus helps a great deal." – Paul Alves, Co-founder and CEO of AG Salesworks.
This also prevents other employees from booking time on your calendar while you're heads-down on important tasks.
And to prevent this from getting in the way of prospective meetings: book these blocks the day before, once your meetings are already lined up for the day.
4. Set Time Blocks for Checking Emails
Set calendar blocks that are specifically for checking and sorting emails. This way, you won't waste time frequently checking your email throughout the day in between other tasks.
This helps you zone in and stay focused.
Check out other email productivity tips here.
5. Block off Time at the End of the Day to Plan Your Next Day
This one is a game-changer.
Going into the next day prepared and with a set schedule will allow you to get to work and zone in immediately, without wasting time thinking about what needs to get done.
Our VP of Sales here at Yesware, Ian Adams, recommends this sales productivity tip:
"Block out 30 mins at the end of the day to plan for the next day to do pre-call research, schedule follow up emails, send out calendar invites, add recipients to campaigns, etc."
There are tons of top sales professionals, CEOs, and a variety of professionals who utilize this technique.
The CEO of American Express tells sources that he spends his final moments at the office each night by writing down the top three things he wants to accomplish tomorrow. 
Sales trainer and best-selling author, Tom Hopkins, encourages the same technique. Hopkins suggests you take time at the end of every day to sit down, assess and choose the 5 or 6 priorities for tomorrow so you can begin with clarity.
Try this sales productivity tip for yourself and see if it changes the way you approach the following day.
Sales Productivity Tips for Inbox Management
6. Streamline Your Inbox: Create Email Folders to Stay Organized
Ever get super frustrated that you can't find an email you know is in your inbox – it was just there!
Creating email folders and getting into the routine of dragging emails into these categories can significantly reduce the time you spend looking for emails.
Here's a full guide on how to use Gmail folders to keep your inbox organized.
Once you create your folders, you can move emails received and emails you're sending to these folders with a click of a button.
How to quickly add a label to messages in your inbox:
Open the message
Click the Label button (it has a tag icon)
Check off each label to want to add, or type a new label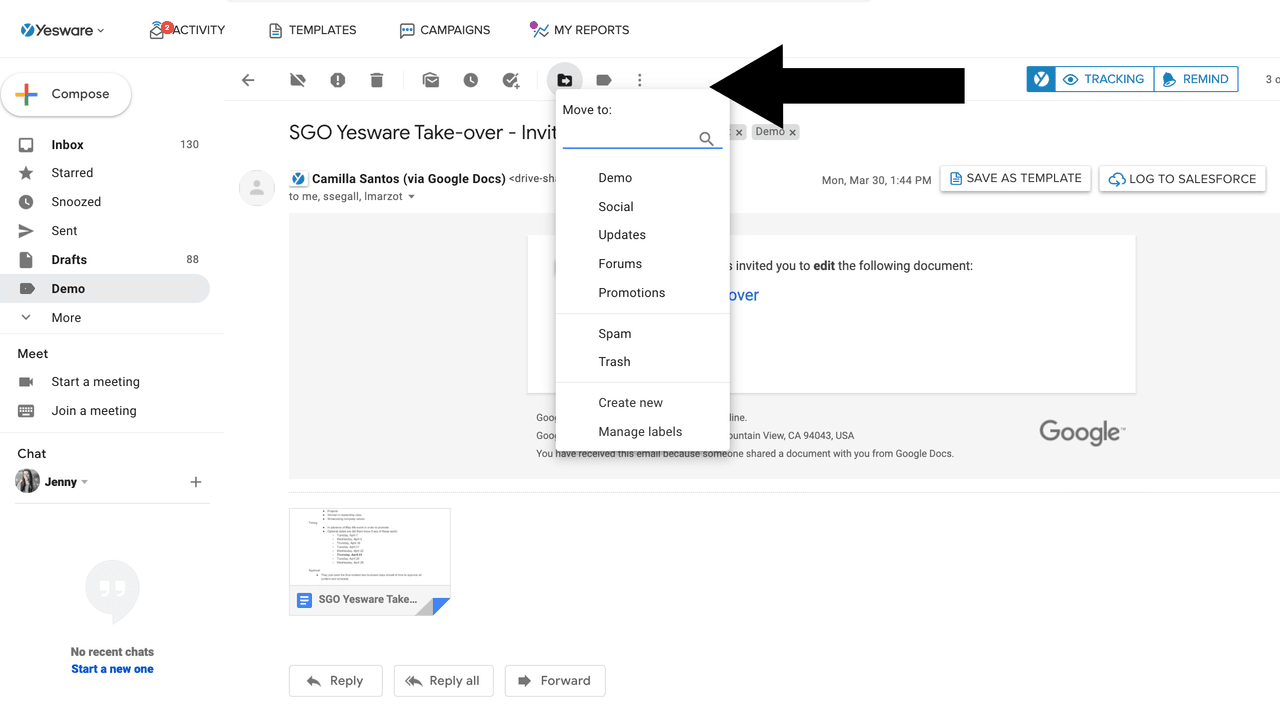 How to add a label to a message you're sending/outgoing messages:
Click Compose
In the bottom right corner, click More options (three vertical dots)
Click Label
Choose a label to add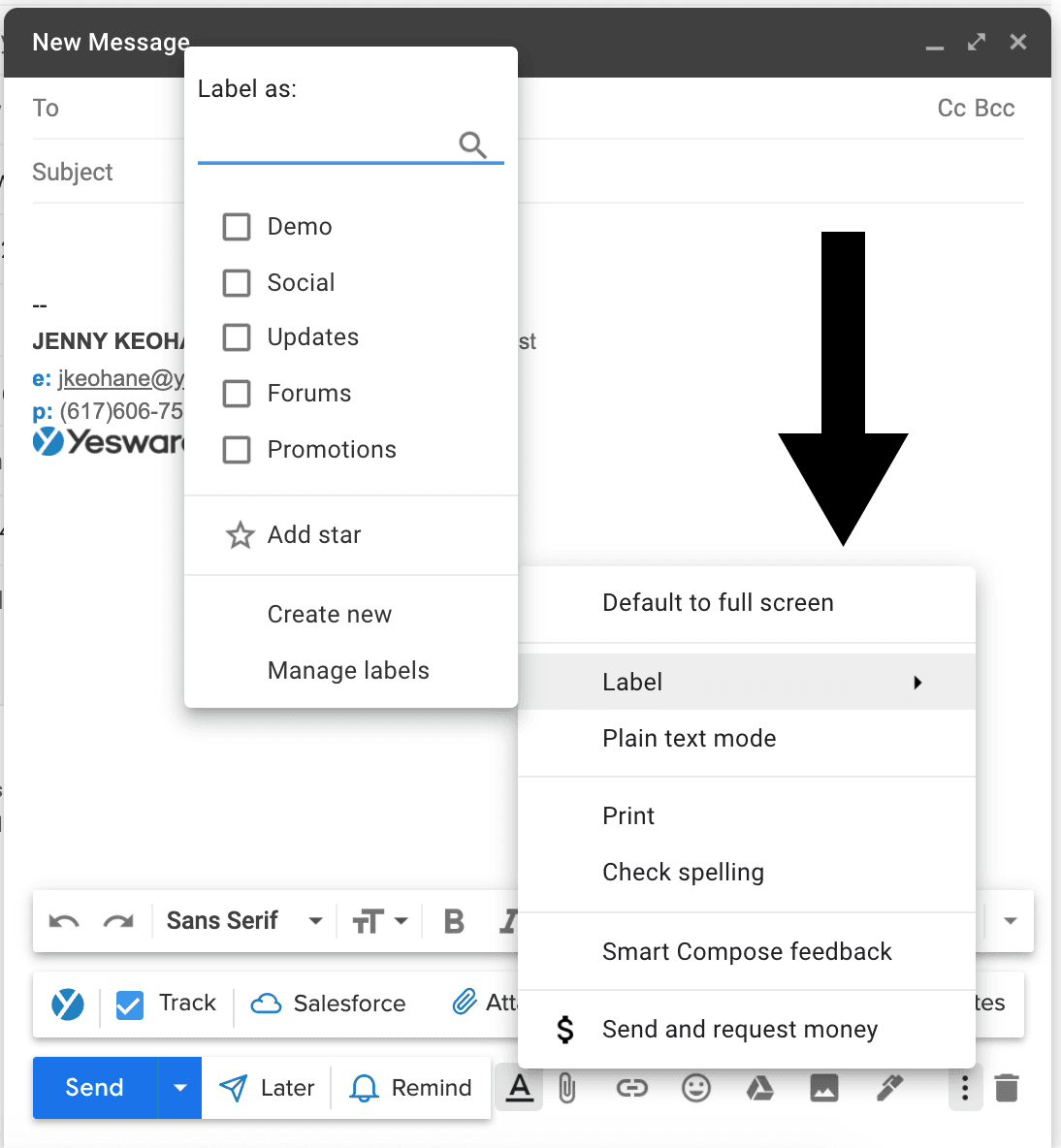 You can also use features such as color flags to stay organized and help mark emails based on categories and priorities.
This sales productivity tip will help you streamline your inbox workflow and stay organized. You'll save both time and stress looking for those emails that seem to have fallen into a black hole.
7. Create and Organize Your Sales Templates Based on Workflows
Writing the same emails over and over will do nothing but waste time.
You don't want to reinvent the wheel. For example, make a follow-up template for every type of meeting you have. Make sure to include merge fields and personalize every message you send.
Then, make sure to organize these templates into folders. 
Structure your folders for different stages of the sales process, i.e., cold email, follow-up, keeping-in-touch, break-up. This will keep you organized and save you tons of time when you're grabbing your templates on the fly.
Yesware Account Executive, Allie Gurrieri, says that creating folders for templates based on workflows is one of her top sales productivity tips:
"Our AE team has template folders based on our sales process from start to post close. We have prospecting, pilot, follow ups, legal and security, FAQ, quotes, and post closed templates to ensure our whole ae team has easy access to standard language. Reps can focus on add their own personality and notes to the messages to ensure strong business relationships are formed."
AE's Template Library:
Here's an example of folders organized for the workflow and tasks of an AE. This allows them to quickly move through their library and effortlessly find the correct templates needed.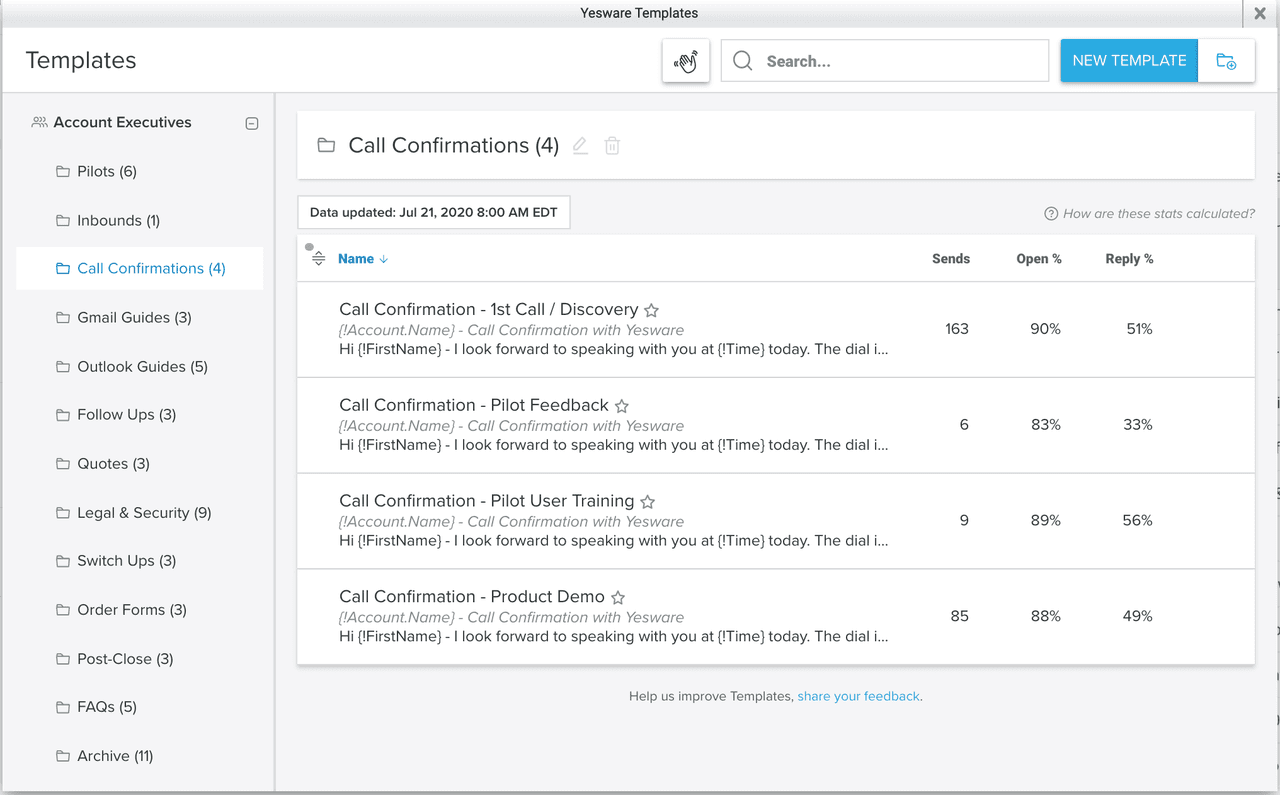 This sales productivity tip will save you hours per week. Organizing your templates into folders will help you move through your everyday inbox flow more efficiently.
Template library in your inboxReady-to-go messaging for the entire sales cycle
8. Create Prospecting Campaigns by Lead Source and Persona
Our VP of Sales, Ian Adams, highly recommends this sales productivity tip:
"Create campaigns by lead source and persona. The source will instruct you on how to approach them (think inbound vs. cold call) and the persona will instruct you on what to say."
By creating campaigns in a way that you can understand and match the correct messaging to the recipient, you'll fly through your campaign tasks.
Here's another similar tip.
Our Customer Success Manager, Casey Considine, recommends:
"Utilize campaigns in a way that you can re-use them (i.e., creating an introduction campaign for cold outreach, creating an updates campaign for recipients that are now saved as contacts, etc). It will allow you to use the same campaigns over and over without having to create any new content, you can adjust the touch content to update anything you need, but oftentimes people don't realize to keep things simple."
All-in-all, take advantage of re-using campaigns so you're not continuously writing out new emails. And as long as you leave room for personalization through merge fields – you're good to go.
9. Label Your Emails
Take control of your inbox. When you open an email, label it right away so that your inbox is action-specific.
Labels help you categorize your emails so that you immediately know what's what as you scroll through your inbox.
Your inbox will then look like this:
10. When You Open an Email, Take Immediate Action
This sales productivity tip is taken from Chet Holmes' book The Ultimate Sales Machine.
"If you spend just 15 minutes per day to revisit, readdress, or reread documents or emails, you will waste 97 hours per year where no action is taken."
By opening emails and putting off the action required behind them, you only waste more time and energy down the road re-visiting these same emails.
It's a good rule of thumb to only open an email when you know you have the time to respond. When you don't have the time, leave them unread so you don't find yourself circling back to the same emails over and over again.
Sales Productivity Tips for Sales Team Success
11. Structure and Clean up Your Meeting Agendas to Improve Productivity
Meetings are fundamental to any successful operation. But recent studies show there is often misalignment when it comes to meeting effectiveness: 65% said meetings keep them from completing their work, and 71% said meetings are unproductive and inefficient.
Every successful sales rep knows that to have a productive meeting, you need an agenda set and stone going into the meeting. But are your agendas as clean and structured as they could be? Let's look at a few tips for doing so.
Identify who leads each topic: 
On your meeting agenda, identify who leads each topic, so each employee comes in prepared and ready to lead their portion of the discussion.
This will ultimately speed up the process, provide more insightful information, and keep the meeting organized and structured.
List agenda topics as questions:
For agenda topics that aren't assigned to an employee, but need to be addressed, try listing each as a question. In a Harvard Business Review study, they found that listing agenda topics as questions increases meeting productivity.
This ultimately leads to a more thorough group discussion. Also, try to designate a specific amount of time you will spend on each question.
12. Align Your Sales and Marketing Teams
Sales and marketing alignment is crucial for boosting sales productivity and ultimately boosting sales. With the fast-changing market, these two departments need to unite and streamline their processes.
One of the best ways to do so is by scheduling a marketing and sales meeting once a week.
Talk through your sales funnel, share information and insights, create common goals, align on similar language and messaging, create branded content as cohesive teams to help with lead generation, etc. This communication is essential.
Software Advice discusses the concept of "Smarketing," which refers to the alignment of sales and marketing created through frequent communication. 
Here's their example of "The Smarketing Feedback System."
The impact of sales and marketing alignment is loud and clear. Studies show that sales and marketing alignment can lead to a 32% increase in year-over-year (YoY) revenue growth (Aberdeen Group). 
By working closely with the marketing team, you'll have better information and sales collateral to share with prospects, strengthen your campaigns, gain more insights into the market, and more.
13. Improve Sales Team Collaboration
Sales team collaboration is all-important for improving your team's success.
In a recent study we conducted here at Yesware, we found a clear positive correlation between content sharing (templates and campaigns) and account growth.
Take a look at the below chart.
Account Growth Avg. = the average growth of the sales team
TSU Range = percentage of the team sales reps are sharing their best practices with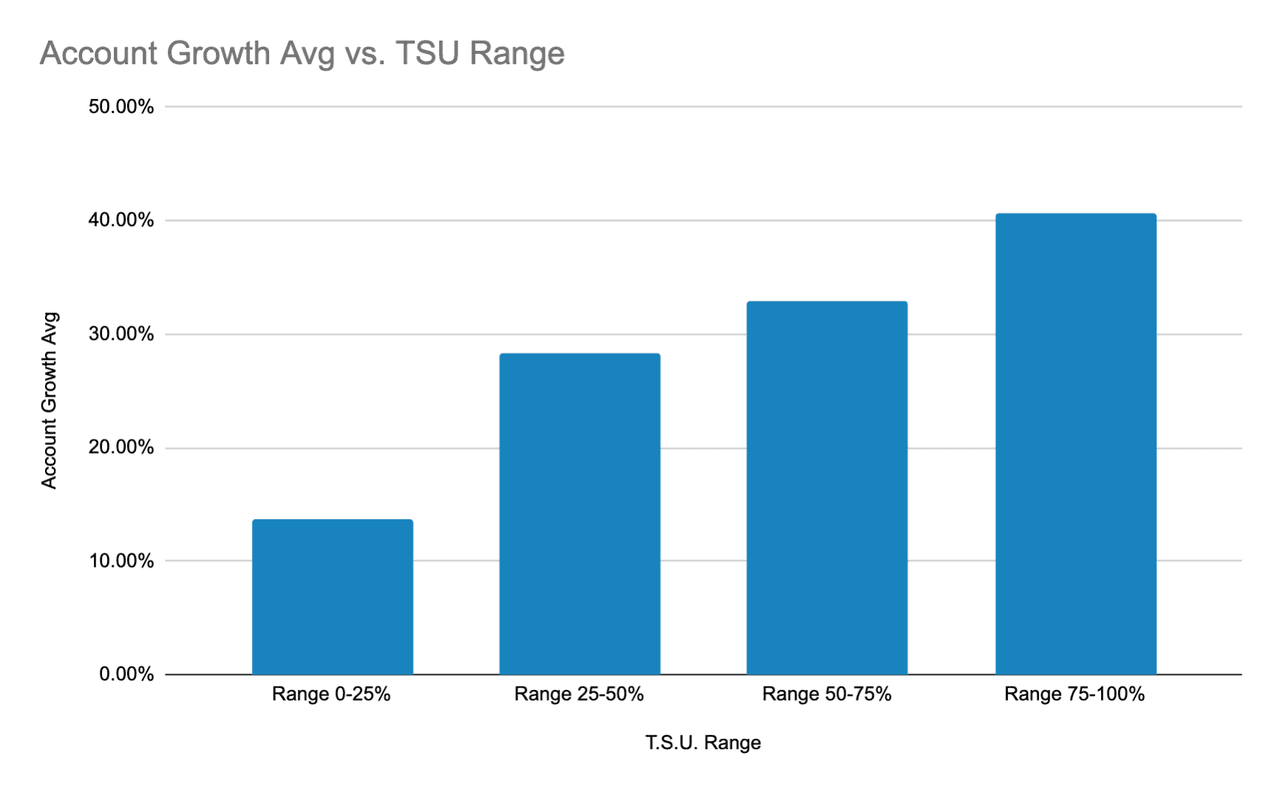 As a sales manager, it's important to encourage a collaborative culture as well as adopt the right sales tools to do so.
To share content with your team, implement a sales tool that allows you to seamlessly share your best-performing templates and campaigns from your inbox.
Let's take a look at what the sharing functionality looks like within Yesware:
Collaboration made easy
Share campaigns & templates across your team in seconds
14. Spend More Time Qualifying Leads (& Less Time With Dead Leads)
The qualification process is essential to every B2B sales pipeline. Before taking the prospect through the pipeline, make sure they're a good fit.
Studies show that at least 50% of your initial prospects aren't a good fit for what you're selling. This means if you're not effectively qualifying your leads, it'll negatively affect ur overall sales productivity.
Through research and conversation – dig into their pain points, buyer persona, company size, budget, etc. This will also help establish who your high-value prospects are and prioritize deals based on the likelihood of leading to a sale.
With so much information at your fingertips, you should have no excuse not to research your leads before going into the conversation.
A sales technique for qualifying your leads is through BANT. This is a formula used to determine whether it's the right time to sell to a prospect and helps to separate hot deals from time-wasters through a series of questions.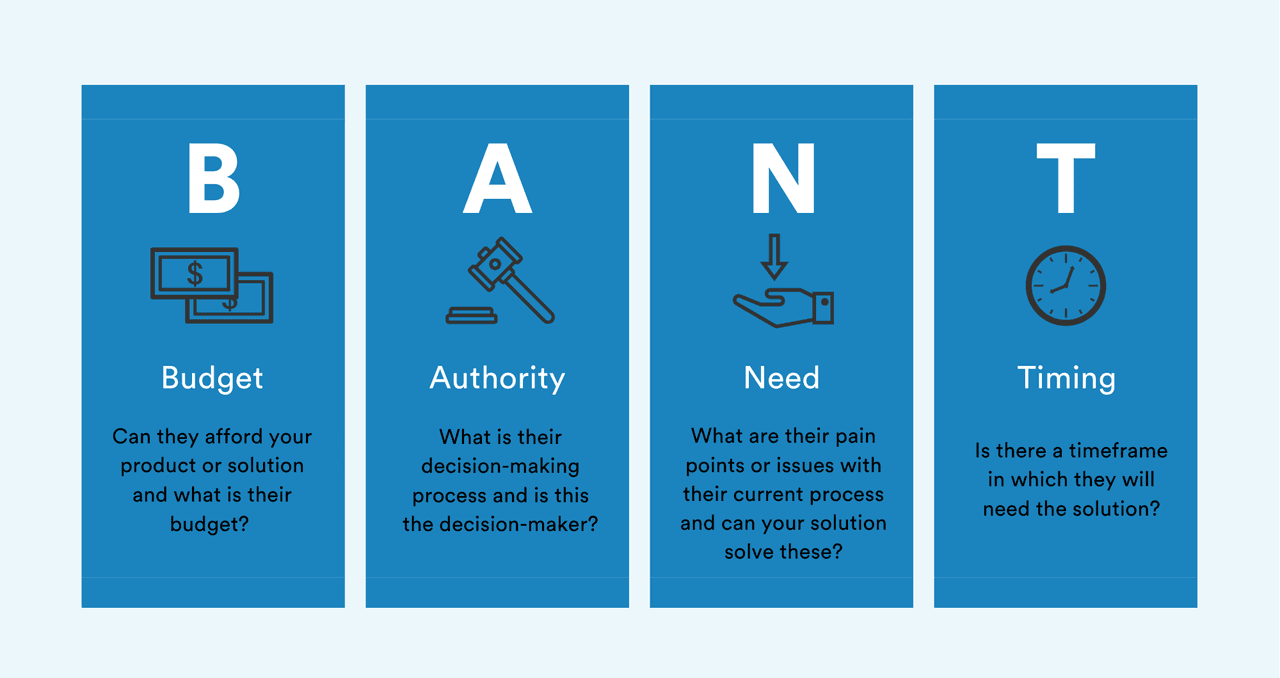 Budget: is your solution a priority for your prospect
How much would you spend on similar products/services?
Who is in charge of financial decisions?
How much money is budgeted for this solution?
Authority: understand their decision-making process
What is your decision-making process?
How can I help you meet your expectations?
Who on your team would be using this solution? What are their values? Obstacles?
Need: how to gauge their pain level
What does your current process look like?
Where do you run into hurdles?
What problems are you trying to solve by looking at solutions like ours? How often do you run into those problems? How much do they bother you on a scale from 1 to 10?
Timing: find out how soon they're willing to act
Walk me through the evaluation process. How long have you been looking for a solution?
What types of time constraints are you working with?
What are the implications if you don't meet the timeline?
Are there any contracts from other solutions you're already signed to? Until when?
15. Set Short-Term and Long-Term Goals
Establishing short-term and long-term goals, both equally as important, will help keep you on track.
Activity goals are a good place to start because they're 100% controlled by the rep. For example, start with something as small as "I want to make ___ calls per week."
You'll then achieve these in incremental wins. This will help keep you motivated and boost morale.
And when you choose a goal and set a time limit – you increase the likelihood of achieving that goal.
The well-known SMART methodology can help guide your strategy.
Specific
Measurable
Achievable
Realistic
Time-based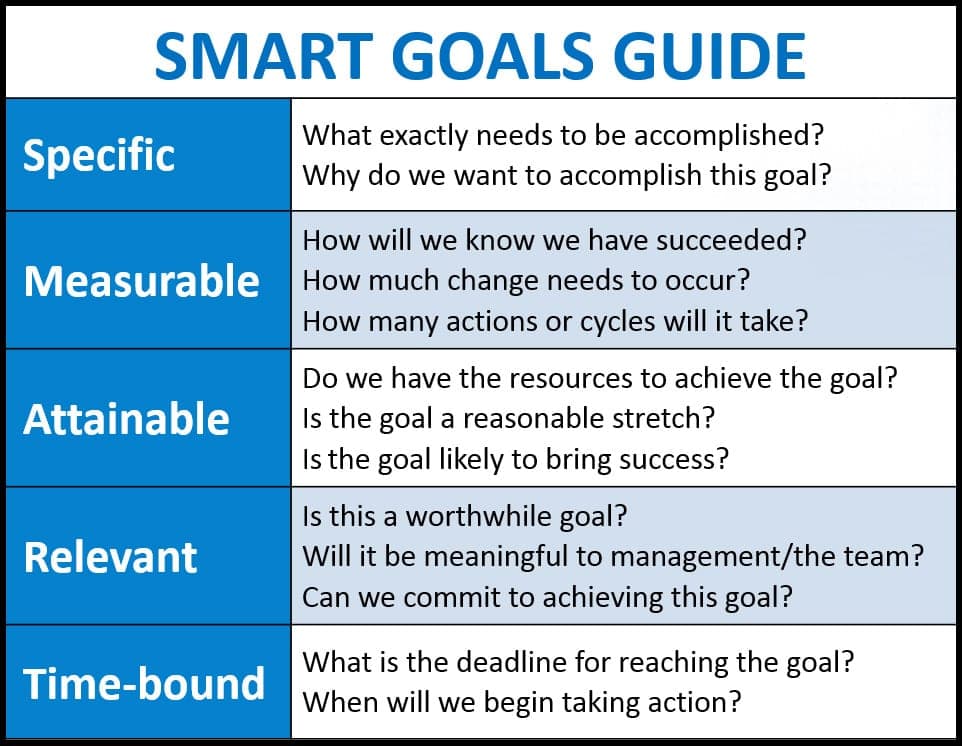 When creating your plan – start with the questions above.
Set these goals. Write them down. Work at them. Accomplish them.
Productivity Tips for Sales Calls
16. Ensure You Have a Pre-Call Research Checklist
Having a checklist in place before you make sales calls can help you both stay on track and improve the outcomes of your calls.
You should never enter a call without doing your research. Set time blocks designed for both pre-call research and for the calls themselves.
Here's a checklist designed from our Discovery Call Formula to help you get started: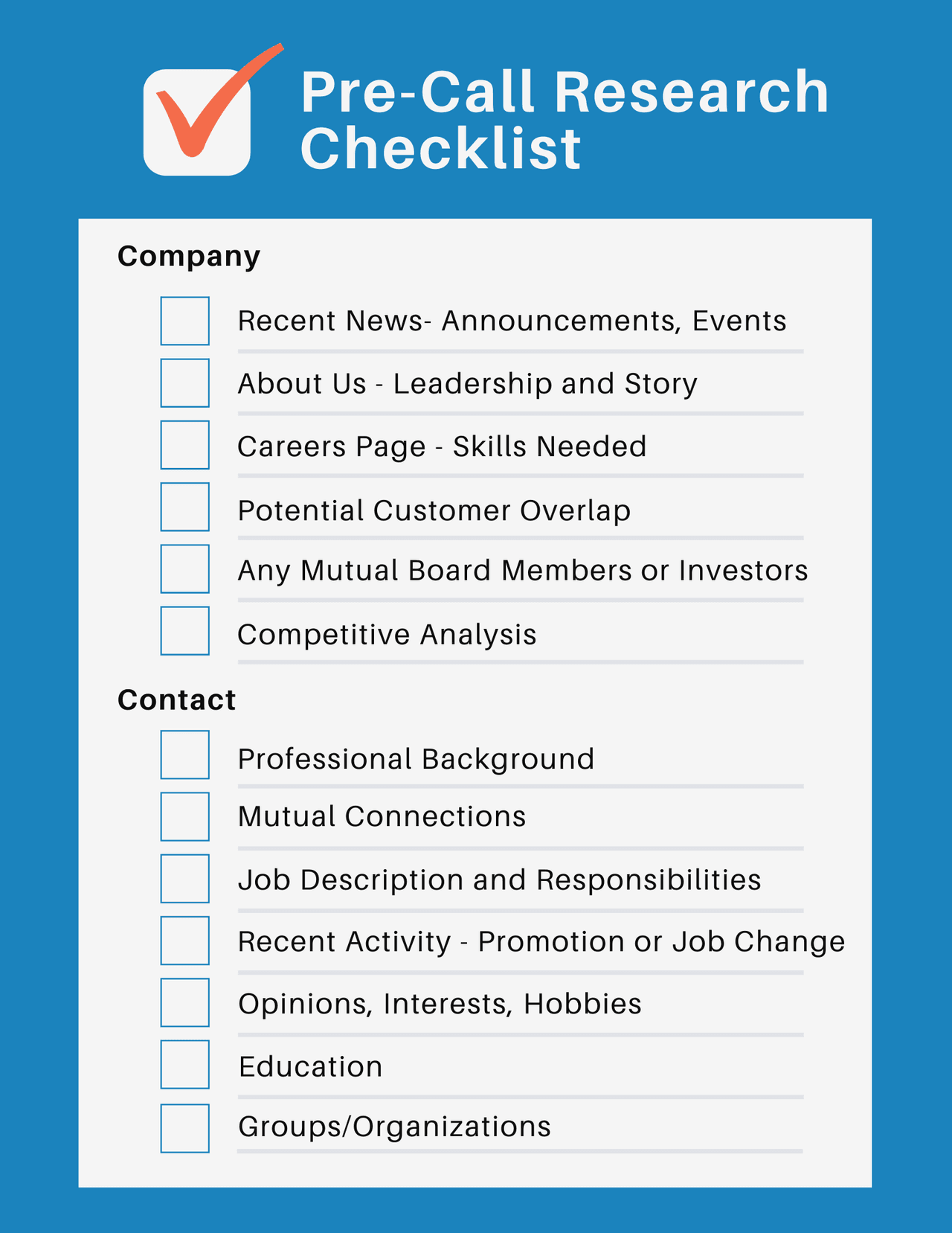 17. Always End Calls With Next Steps and a Calendar Invite
VP of Sales, Ian Adams, recommends you end calls with "when should we reconnect to discuss ______?" then send a calendar invite for the follow-up call.
This will ensure nothing slips through the cracks.
If you get into a habit of ending your call with this question, then immediately sending a calendar invite, you'll avoid the tedious follow-ups of figuring out your next meeting.
You can ensure that you don't forget this by including "Next steps" in your calendar invite.
Always include an agenda in your calendar invite. Here's a basic outline:
Proposed Agenda:

1. Company Goals & Initiatives

2. Overview

3. Next Steps
Sales Productivity Tips for Data Management
18. Automate Your CRM
Skip the manual data entry with CRM Sync.
This capability automatically syncs your email activity, calendar activity, campaign activity, and engagement data. Plus keeps track of important email metrics.
Your CRM is the most effective when it's integrated with your sales tools.
Check out more on Salesforce CRM sync here.
19. Leverage the Right Sales Tools
You don't have to type out every email, dial every call, or log every activity on your own.
Our number one sales productivity tip is to automate your workflow. If you haven't implemented a sales software, you're leaving time and money on the table.
For example, let's look at Yesware. Our customers have told us stats such as:
Yesware gives Fundbox back 1 hour/rep/day
Adding sales automation frees up 4,200 hours/month for Mimeo
Guidebook saves 8 hours/day across teams with Yesware
Taylor & Hart gets a 3x increase in sales volume per consultant
MassChallenge cuts down days of sending out campaigns to just a few hours
Enough said?
Technology is a game-changer and has provided sales teams with endless opportunities to boost sales productivity and focus on the important stuff, ultimately speeding up the sales cycle.
Sales automation tools allow you to automate the manual and tedious tasks in the sales process so you can focus on what's important.
These tools do time-consuming everyday sales activities for you such as data entry.
20. Review Your Workflow & Metrics Regularly
You can always find ways to improve your workflow.
Stay on top of your key performance metrics as well as productivity metrics to gauge what's working and what's not.
By regularly reviewing your tasks, you'll get into a habit and pick up on patterns that lead to higher productivity and lower productivity.
Boost Sales Productivity
The best way to boost your productivity is to continuously try new techniques and productivity tips to see what yields the best results.
At the end of every week, reflect on what worked well and what didn't.
Sales productivity techniques work differently for every sales rep. Find what works best for you and establish a routine.
You'll see better results in no time.
Get expert sales tips straight to your inbox to win more deals
Related Articles
Sales, deal management, and communication tips for your inbox