High-Converting Sales Collateral Examples & Best Practices
Gone are the days of using traditional sales collateral that consists of brochures and catalogs. In today's hyper-competitive landscape, modern sales collateral needs to effectively engage and persuade prospects to maintain momentum and drive sales.
The harsh reality is that 78% of executive buyers claim salespeople do not have relevant materials to share with them. This indicates a gap in what sales teams are producing and what prospects actually want.
If done right, sales collateral demonstrates the value and drives context in your sales conversations. Providing this material not only enriches the prospect's experience with your company but helps to give them that extra push to purchase.
Let's look at sales collateral examples, crucial elements of high-converting collateral, best practices, and more.
Here's what we'll cover:
What is Sales Collateral?
Sales collateral consists of various forms of material that help to support the sales process and provide prospects with the right information at the right time.
The material helps to drive context, provide value, and ease prospective concerns.
But in today's modern selling — the term "sales collateral" and "marketing collateral" seem to get mixed up.
They're different for both when you use them and how you use them.
Let's take a look.
Sales Collateral vs. Marketing Collateral
When: Marketing collateral is used at the top of the sales funnel, at the awareness and interest stage. Sales collateral is used in the middle/bottom of the funnel, at the consideration and decision stage.
How: The goal for each is different. Marketing collateral should capture the audience's attention and pull them in, while sales collateral should drive the prospect to make a decision and give them that final push they need to purchase.
It's also important to keep in mind that all sales collateral should be personalized to the prospect. On the other hand, marketing collateral is distributed widely to your target audience. This means the messaging behind each piece will be different.

Examples of Marketing Collateral: Blog posts, pillar pages, landing pages, testimonials, ebooks, infographics, white papers, newsletters.
Examples of Sales Collateral: Case studies, competitor comparisons, sales presentations, one-pagers, FAQ sheets, research reports, product videos, sales playbooks, datasheets.
Pro Tip: Although the intent of each is different, there's no rulebook that says you can't use them interchangeably if needed. Let's say a prospect brings up pain points/needs that are covered more thoroughly in a piece of marketing collateral, by all means, use that to your advantage.
3 Key Elements of the Perfect Sales Collateral
1. Builds Trust
Your sales collateral should always portray information that'll help gain prospective trust and build rapport.
By providing prospects with collateral that is informative, addresses their needs, and is personalized, you gain trust that'll enhance your relationship going forward.
This also means that all information provided needs to be factual and truthful. By not doing so, that one mistake can immediately diminish your credibility.
2. Aligns to the Buyer's Journey
Your sales collateral should always be aligned to the buyer's journey. By matching the information provided with their current decision-making stage, you ensure the information is valuable and catered to their current needs and desires.
The typical buyer's journey has three stages — awareness, consideration, and decision. Sales collateral is typically shared in the consideration and decision stage.
It's important to understand where the prospect is and what they're looking for to guide you in the right direction.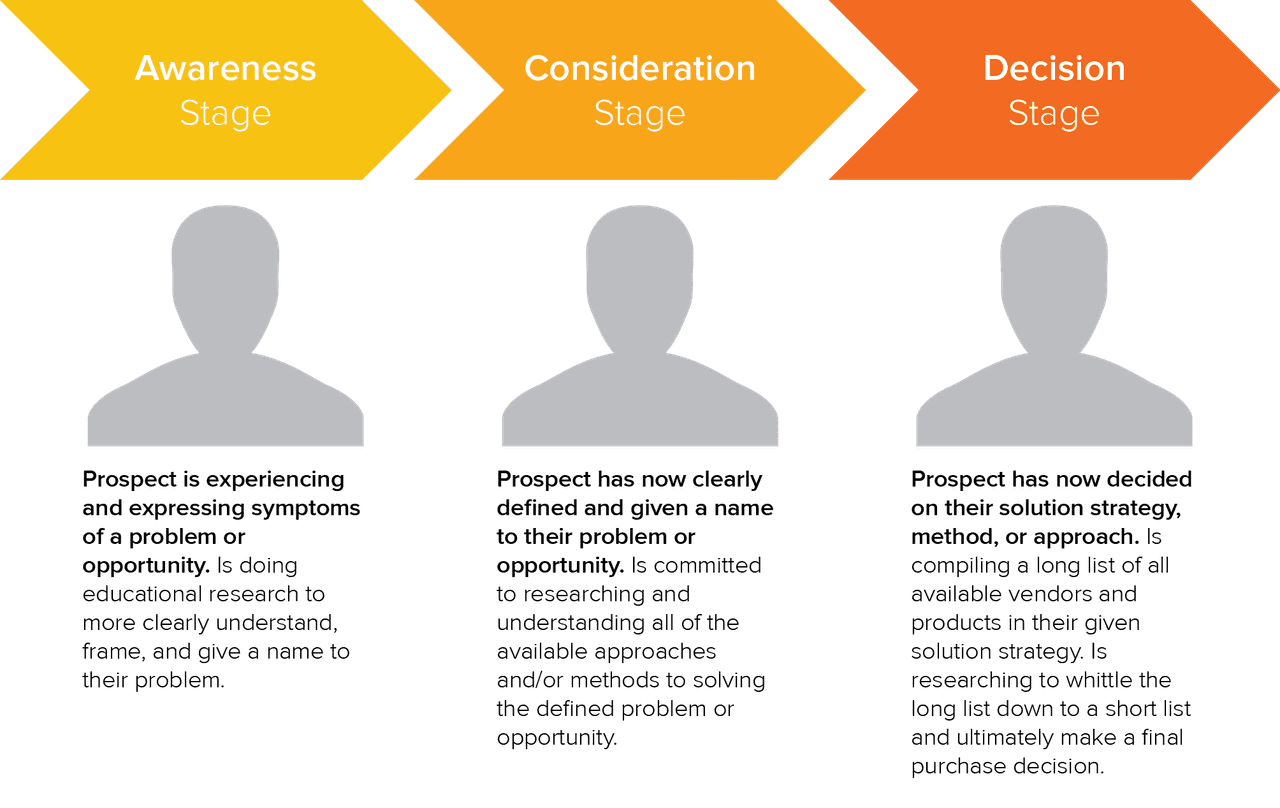 Source
3. Provides Value
The goal of your sales collateral is to provide value to the prospect. If the material doesn't address their specific pain points, concerns, or needs discussed in your conversation — don't send it.
The material you send should always center around the conversation you've had with the prospect.
For example: If the prospect mentions another competitor, send that competitor comparison sheet. If they have a lot of questions about product functionality, send your product videos. And so on.
The most effective sales collateral has both an engaging visual design as well as information that communicates the message clearly and effectively.
Track your sales collateralView attachment opens & page-by-page breakdowns
Best Types of Sales Collateral Examples
1. Case Studies
Case studies are hands down one of the most effective types of sales collateral because of the power of social proof.
Nobody wants to be the guinea pig. Decision-makers want proof that your solution will provide them value, and one of the best ways to do that is to provide them with 3rd party evidence.
In short, case studies tell a story of how a customer achieves success with your solution.
Studies show that case studies can increase your deal closing ratio by 70% and your sales by 185%.
Here's the thing — prospects want proof that your solution has achieved desired results, provided value, and led to other companies' success. Case studies back up your sales pitch by providing hard facts and proof of what you promise, allowing you to build trust.
Keep in mind that your case study should be relevant to your prospect and their company. The case study should focus on similar objectives and ideally be a similar company, i.e., industry, company size, etc.
Your case study should address:
The pain points and challenges faced by the customer before your solution
How it was implemented
The outcome/results of adopting the solution — hard data and stats here
If done right, your case studies will ensure the buyer that you're a reputable company that delivers results.
Here are 15 case study templates to easily create your own.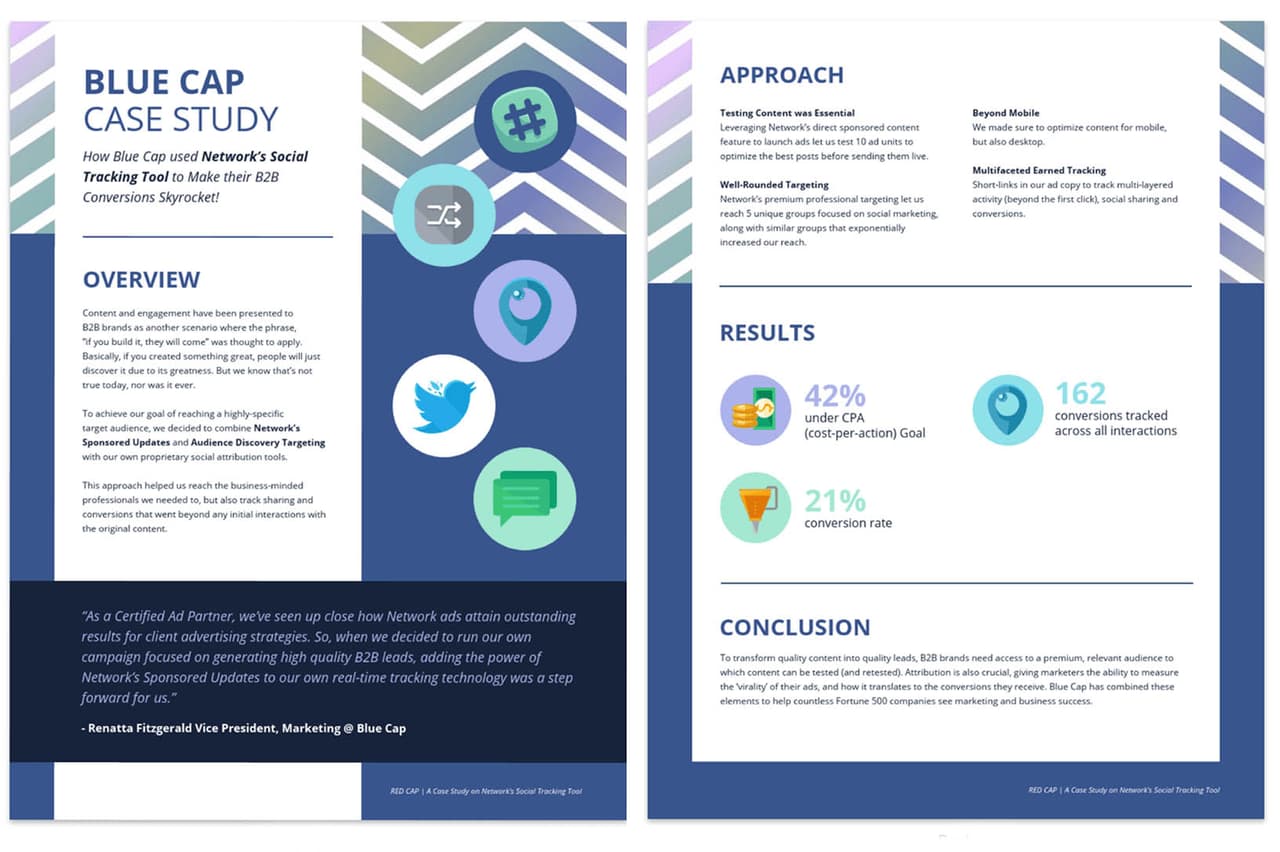 Tip: Case studies can be used throughout the sales cycle. Sales reps use case studies at different stages of the buying process depending on the buyer's needs and the conversation taking place.
2. Sales Presentations
Sales presentations take a personal approach and help build connections with prospects. If done right, sales presentations can be one of the most engaging forms of sales collateral.
An effective sales presentation compels the audience and tells a story, aligns with your prospect's needs, highlights your value proposition, and motivates your prospect to take action.
There are various routes to take when creating your sales presentation — you can present a general overview of your company and solution or create a more hyper-focused presentation that focuses on features and the product itself.
It's crucial to tell a story that is relevant and catered to your prospect. As humans, we connect with stories and they stick in our minds.
Here's an effective formula: the Before-After-Bridge.
Before → Here's your world…
After → Imagine what it would be like if…
Bridge → Here's how to get there.
Start with a vivid description of the pain, present an enviable world where that problem doesn't exist, then explain how to get there using your solution.
The key here is to have a general branded template that you can fill out/personalize for each company. And always provide engaging visuals.
For example, which is more effective for you? This statement — "On average, Yesware customers save ten hours per week" — or this image:
The graphic shows you what that 10 hours look like for prospects vs. customers. It also calls out a pain that the solution removes: data entry.
Visuals are more effective every time. They fuel retention of a presentation from 10% to 65%.
3. Competitor Comparison Sheets (Battle Cards)
Sales collateral should be there and ready to help you overcome objections. And we all know that one of the most common sales objections is our very own competitors.
Competitor comparison sheets, also known as battle cards, help visualize how your solution stacks up against your competitors. These are typically one-pagers that show the difference between you and a company. This can be as simple as a side-by-side chart comparing each solution's features and functionalities.
Your sales team should have access to these battle cards for all of your top competitors. That way, when your competitor's name comes up in conversation, you're equipped with the right material to show the decision-maker why your solution is better.
In-depth collateral insightsSee who's viewing & the average viewing time
4. Sales Playbooks
You can take various routes when creating sales playbooks. These provide a framework for sales professionals to help them do their job better.
The best playbook for delivering to prospects is to show your prospect how they can achieve better results with your solution.
An example of this is creating a product guide that gives best practices, tips, and tricks for using your solution — this not only provides the professional with insights into effective techniques but does this while selling them your solution.
Here's an example of what we use here at Yesware:
5. FAQ Sheets
FAQ sheets assist the prospect with questions that typically arise in the sales process. This helps to continue the momentum and address questions quickly and effectively.
In sales, you know the questions that frequently arise throughout your conversations. Start jotting these down throughout your day and compile a list of frequently asked questions.
Then, create a sheet answering these questions that align with your strategy and messaging. This not only saves you time answering tedious questions but also shows the decision-maker that you're prepared and organized.
Keep in mind to make sure these questions highlight your advantages over competitors. Make sure it's helpful and informative but also uses language that persuades.
Here's an example of a FAQ sheet template:
6. Product Videos
Aside from demos, product videos are the best way to show your prospects how your product works before purchasing. By sending product videos, you allow them to view and obtain all information on their own hands before proceeding.
Efficient sales and marketing alignment here is necessary. Never underestimate the power of sales reps and marketers working together.
Over here at Yesware, we created a learning portal called Yesware U where customers can access videos on their own. Our sales team uses this portal to send prospects videos and articles on the daily.
This helps prospects navigate our solution on their own as well as gives our sales team easy access to all up-to-date product videos where they can send links over to prospects in seconds.
Sales Collateral Best Practices
1. Create Sales Collateral Templates
Make sure to build out a general template for each sales collateral created. Then, when you need to send the collateral to a prospect, you can personalize the piece to make it catered to that specific prospect and their company.
As stated above — alignment between your marketing and sales team is crucial. The best way for your teams to collaborate on this is by establishing ready-to-use templates that you can personalize and send quickly.
2. Ensure Accessibility
Make sure the accessibility of your sales collateral is easy and seamless. The last thing you want is for your prospects to have difficultly opening your documents.
Always tell the prospect in advance you're sending them the piece as well as what format you're sending it in.
Tip: Try descriptive links to avoid emails going to spam and ensure deliverability.
3. Track Attachment Engagement
Sending sales collateral is a game-changer when you can gauge which pieces are most effective, which need more work, and who is the most interested in your solution.
Attachment Tracking tells you whether recipients are clicking on the attachment, interacting with it, and how much time is spent on the document. This not only tells you the interest level of the prospect but reveals the effectiveness of the collateral itself.
Here's an example of Yesware's presentation report: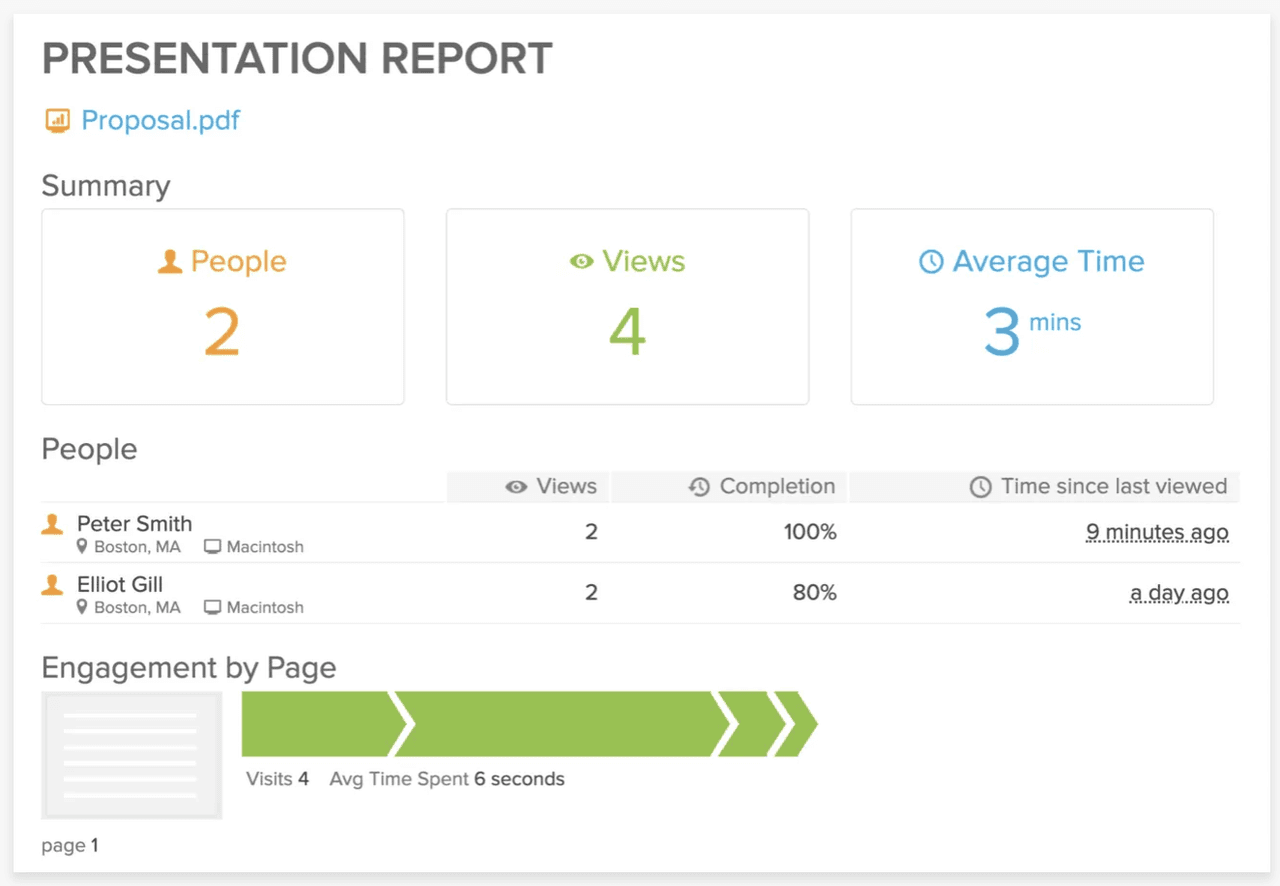 It's all about measuring and seeing what resonates most with your prospects, then refining that strategy and leveraging it. By tracking your sales collateral, you'll be able to fine-tune your pieces and collateral strategy a step further.
4. Provide Context Around Your Sales Collateral
Never send your sales collateral out of the blue. Always give a brief explanation of what they should expect and why you're sending it.
If the collateral is relevant, mentioning it should flow seamlessly with your conversation. It can also be effective to follow up about the collateral to ask about opinions and if they're satisfied/need any more information.
5. Always Update Your Collateral
Companies are constantly changing and evolving. Always make sure you stay up to date with your sales collateral and double-check for any updates and recent changes before sending them to your prospect.
An example of this is in your battle cards — by providing outdated information, you immediately lose the prospect's trust. Stay on top of your competitor's product updates (as well as your own) to keep the pieces up-to-date and reliable.
Conclusion
Implementing sales collateral into your strategy is one of the best ways to improve buyer conversations and close deals faster.
An effective sales enablement program and team alignment is a game-changer when it comes to producing this content.
Creating sales collateral can be a seamless experience if the right process is in place. By ensuring a process is in place with both your sales and marketing team, you'll drive momentum and continuous growth.
Equipping your sales team with highly effective sales collateral that'll convert prospects into customers will undoubtedly streamline your sales process and boost sales substantially.
Get expert sales tips straight to your inbox to win more deals
Related Articles
Sales, deal management, and communication tips for your inbox