The Ultimate Guide to Social Selling
Social selling is an approach to the sales process that leverages the power of social media. Effective social selling can help salespeople:
Optimize their outreach process for faster connections with their target audience
Provide highly relevant content to potential customers at critical moments in the buying journey
Build relationships that lead to lucrative sales opportunities and referrals
Be aware, though: social selling is decidedly not simply spouting off the team sales pitch on LinkedIn or Facebook. This sales strategy is more nuanced than that, and requires some tact and finesse. 
In this article, we compiled the best social selling research and strategies so that your sales team can start adopting this profitable sales approach.
Here's what we'll cover:
What Is Social Selling?
Social selling is kind of an umbrella term — it's a catch-all for the many ways in which a sales (and sometimes marketing) team leverages their social media platforms in order to:
Make authentic, natural connections with the right prospects 
Become thought leaders in their industry by sharing content that's valuable and timely
Develop value-based, trusting relationships with potential clients
It's a sales strategy that's being used more and more, and for good reason. Research shows that about 73% of salespeople who engage in social selling outsell their peers who don't.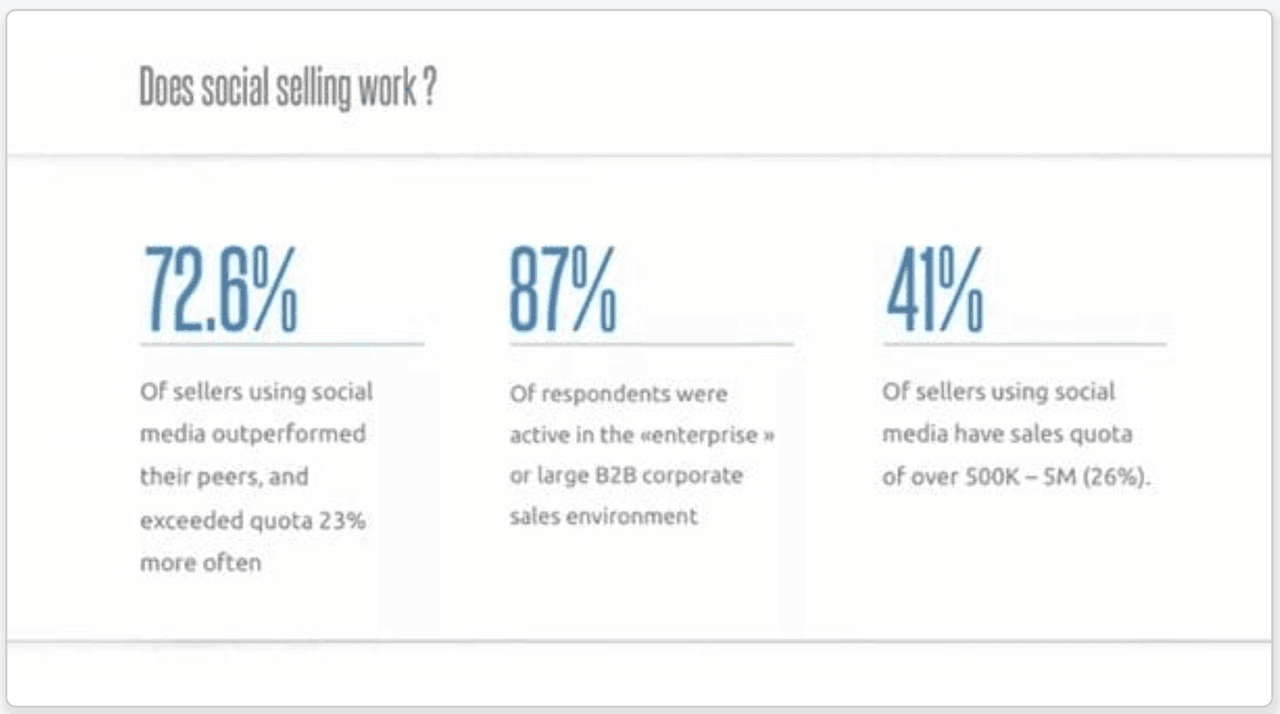 Salespeople who utilize social selling strategies also enjoy benefits like:
Highly optimized lead generation
Shorter sales cycles with higher conversion rates
Deeper and more authentic relationships with their customers
That all being said, be warned: a lot of salespeople get the wrong idea about what social selling actually looks like. It's not as simple as making a profile on LinkedIn or Facebook and waiting for the sales to roll in. 
Social sellers use a complex combination of strategies and tools that enables them to leverage the power of their social networks to learn targeted information about their customers' pain points. This information, in turn, helps the company tailor their social media marketing efforts around those pain points.
In other words, it allows salespeople to authentically offer the right value to the right prospects at the right time.
If it sounds a little bit like magic, it's because it kind of is. Effective social selling requires a delicate balance of technology and human touch, and buyers will know if your efforts aren't genuine. But when the pieces come together the right way, effective social selling can earn salespeople the right to be a fly on the wall of their potential clients (without the ick factor).
Social selling allows salespeople to (politely!) "listen in" on their prospects' conversations on social media, and put their best foot forward accordingly. 
The Benefits of Social Selling
As an everyday consumer, the idea of social selling may seem a bit intrusive. It can be creepy to think about how much LinkedIn or Facebook really know about us. But most people in B2B sales know that this kind of buyer/seller interaction happens behind the scenes all the time on social media.
Despite sounding a bit "Big Brother," social selling is actually a powerful sales strategy that ultimately builds trust — and trust is what ultimately leads people to make purchases. 
And it's not just another sales trend — we're willing to bet that social selling is here to stay. That's because it works. Nearly every sales metric and KPI gets better when social selling is involved.
Companies that use social media as part of their sales strategy are 40% more likely to hit their revenue goals than companies that don't. Individual sales reps benefit from it, too — salespeople who are active on social media get 45% more sales opportunities than those who stick to traditional sales.
The proof is clearly in the pudding, as far as numbers go. But there are other, less tangible (but equally important) benefits of social selling, too.
1. Build Better Relationships
The truth is, buyers don't really care what sales approach you take. Whether you're a proponent or value selling, consultative sales, or even a more traditional approach, know this: at the end of the day, customers buy from one kind of sales rep — the one they trust. 
That's one reason that social selling is so effective. When executed correctly, social selling is a fantastic way for businesses to organically demonstrate the value they can offer. And because social selling leverages the power of your existing social network, there's usually some trust already baked into the process.
The combination of familiarity (via social networks) + a highly targeted value offering (gleaned from social listening, which we'll get to in a minute) is a powerful tool that allows salespeople to build solid, trusting relationships with potential clients.
All this to say: gone are the days of awkward cold calls and outbound marketing. Social selling changes the game — get ready for a pipeline of warm leads, straight from your target audience and ready to connect.
2. Capture the Market
Social selling is becoming increasingly popular as more and more companies use social media to help them make purchasing decisions. In fact, 75% of B2B buyers and a whopping 84% of C-level decision-makers use social media as part of their purchasing process.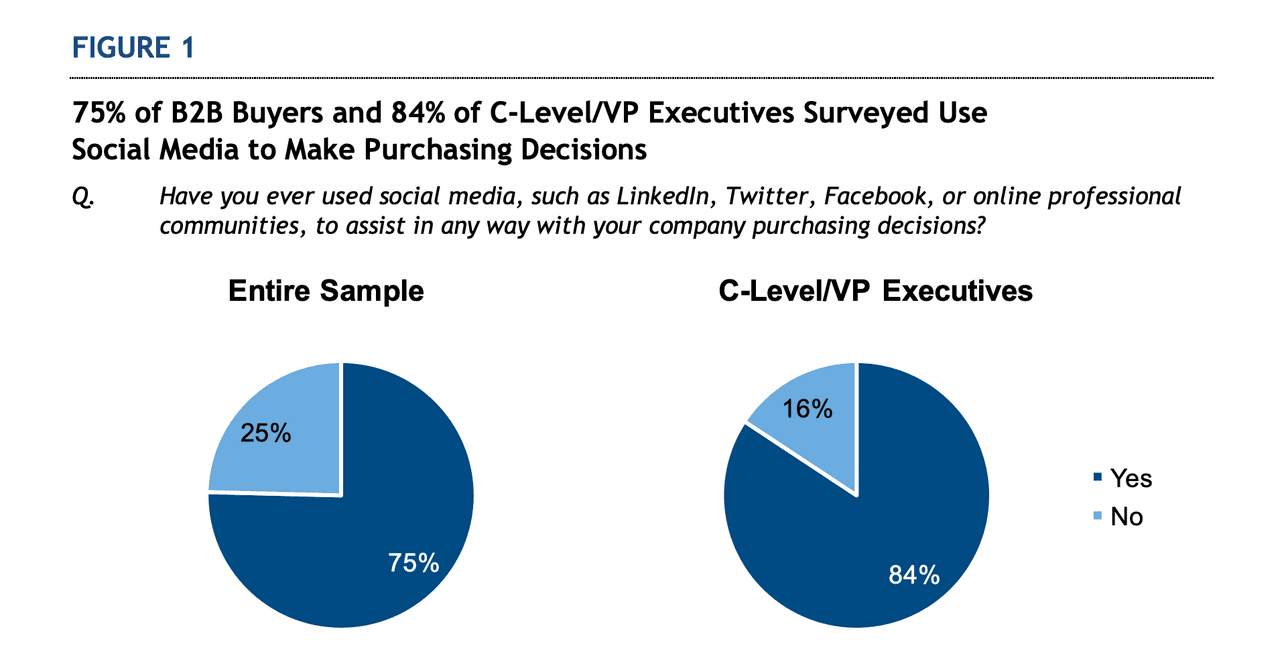 And those numbers are only going to go up from there. A recent Google study shows that millennials — represented by the blue bubble in the graphic below — are quickly becoming the largest share of B2B researchers, and increasingly taking over positions of upper-level decision-makers.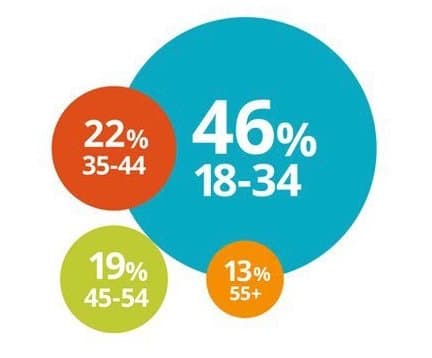 Do you know what else millennials are really good at?
Social media.
The more millennials move into B2B sales decision-making positions, the more prevalent and important social selling will become. That means that the sooner your sales team leverages their own social media presence, the better chance your company has to capture that market share as the sales landscape continues to change. 
3. Stay Ahead of the Curve
Digital marketing has completely transformed the way buyers make decisions. Many buyers now need zero input from salespeople to make decisions. Those that do eventually work with sales reps are interacting with them much later in the sales process.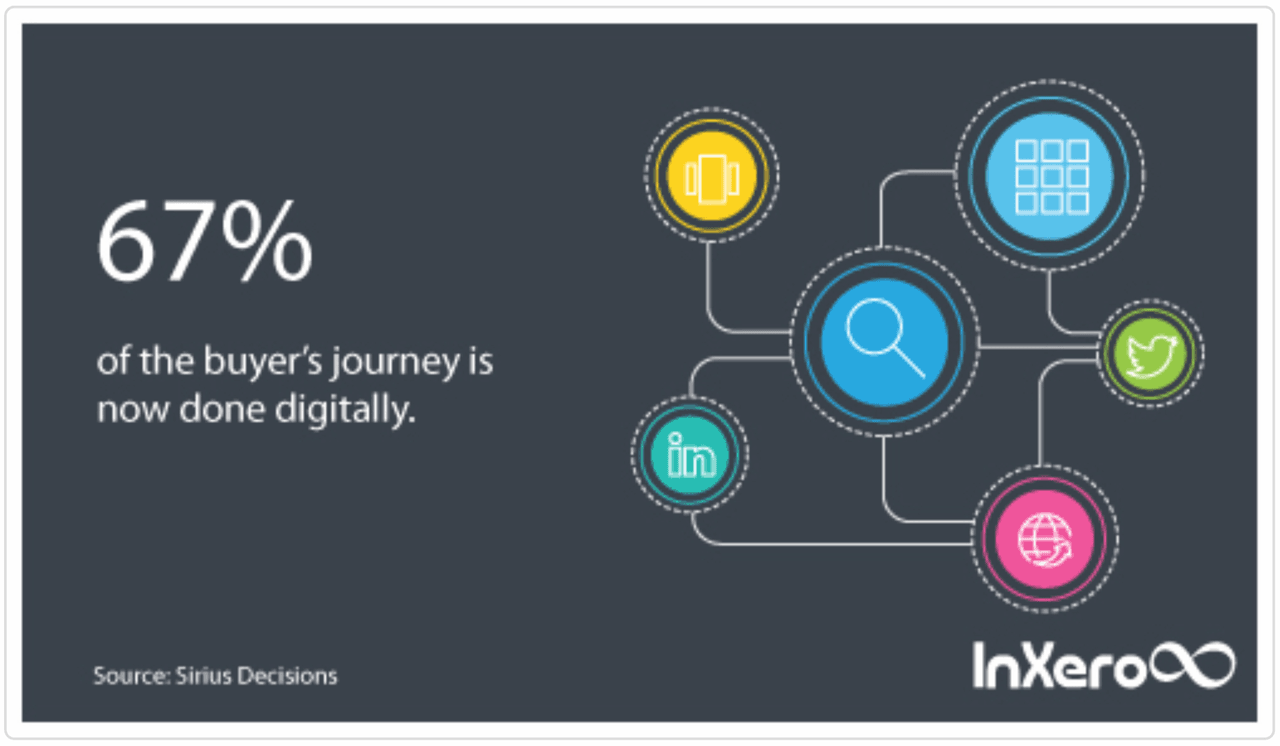 This is yet another way that social selling can work in your favor. Social selling allows you to "keep tabs" on the buyer's progress through their social media activity — all without coming across as pushy or overbearing. That way, you can position yourself to jump in at the exact moment a potential customer is ready to start a conversation. 
4. A Web of Connections
Despite it being a really effective sales strategy, social selling won't convert every lead — and that's okay. No sales strategy is 100% effective for 100% of leads.
Don't get hung up on how many deals you close, or even how many of them come directly from LinkedIn or Facebook. As long as you continue to create organic, relevant content, and focus on building authentic relationships through your social media presence, you will reap the benefits of social selling through its most inherent capability: connections.
In fact, 92% of consumers trust referrals from people they know.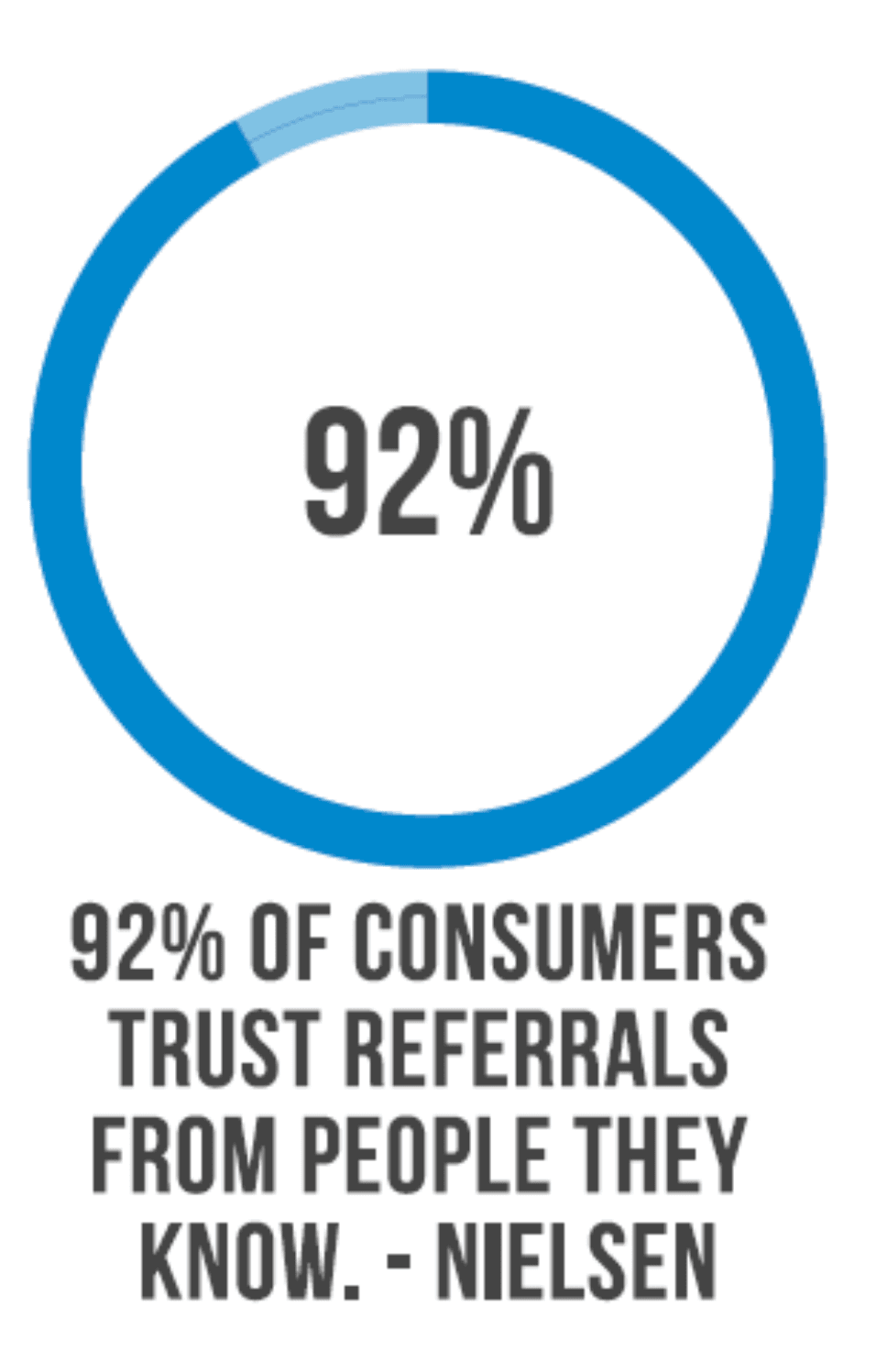 Your product may not be a great fit for Customer A, but that doesn't mean that Customer A doesn't notice the way you position yourself on social media — a referral for Customer B is just as valuable!
The Best Social Selling Strategies
Because social media is such a habitual part of our non-professional lives, it can be easy to fall into some of those casual habits when you're utilizing a social selling approach. 
Hopefully, this goes without saying, but avoid at all costs conflating business social media with your personal platforms. Social selling on Facebook, Twitter, or LinkedIn calls for a different set of etiquette rules and best practices than those you probably follow while scrolling your profile at the end of a long day. 
1. Be Human in Front-Facing Interactions
The point of social selling is to make real, genuine connections with potential customers. While it can be tempting to outsource social media tasks to chatbots or VAs, don't do it. Nothing is more frustrating for a potential customer than getting stuck in an endless messaging loop with a mindless robot. 
There are tons of automated tools that will boost your social selling skills (we'll get to these in a minute), but save them for use cases where the customer won't know they exist. Your sales reps and/or marketing team should handle any and all prospect interaction.
2. Automation Is Your Friend
While it's important to log the real hours when it comes to customer conversation and content creation, there are many opportunities in social selling to leverage the power of automation.
For example, with Yesware, you can connect with buyers without leaving your inbox: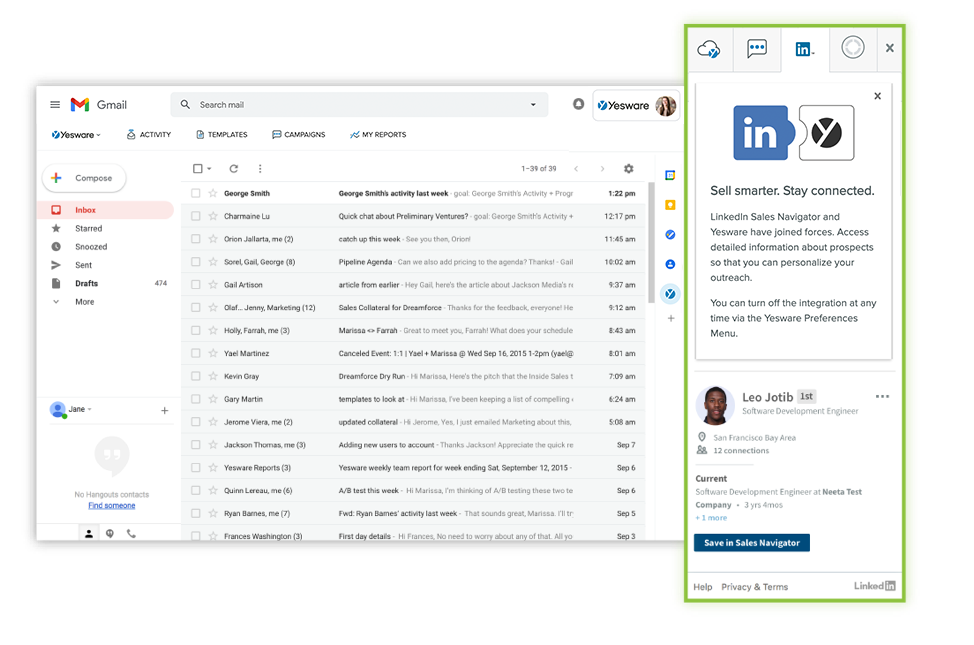 You can also seamlessly connect with prospects through LinkedIn in your Multi-Channel Email Campaigns.
Automation tools can help you build relationships faster.
You should also explore the capabilities of your CRM. Many sales teams underutilize their CRM software. Go beyond the cookie-cutter functionality, and see what tools are under the surface.
The more you can automate and integrate behind the scenes, the more time and energy your sales team will have to offer above-and-beyond front-end value. 
3. Build Your Brand
Your company's brand should be cohesive and streamlined throughout your website and whatever social media platforms on which you have a presence.
Any savvy customer will be able to spot a Facebook profile that only exists to check a box. Your logo, the tone of your copy, and the overall feel of your platforms should be well-developed and consistent. This also adds to the brand trust you'll build with your prospects.
Be sure to also go through and clean up any past posts, pictures, or interactions that don't quite line up with your current messaging or customer-facing brand.
4. Know Your Place
One of the biggest benefits of social selling is that you get to leverage your "ins" a lot more easily than you do in the real world. When you're working with a new prospect, look for any opportunity to reference an existing connection — people are much more likely to trust someone if they have a mutual contact. 
It's also important to prioritize your social media interactions; it's unlikely that you'll pay equal attention to each of the major platforms. Think about your customer and where they most likely spend their time, and focus your efforts there. Here are a few tips for each platform.
LinkedIn:
The key to social selling on LinkedIn? It's all about your connections. Look for opportunities to connect through existing contacts or field-adjacent work. Craft your introduction message so that it's personalized and offers value. Join any relevant LinkedIn Groups, too, and share content to add value where appropriate.
Twitter:
One feature we love about Twitter is Twitter Lists. Twitter Lists allow you to separate your followers behind the scenes, so you can further tailor your shared content and sales cadence based on who you're talking to.
Facebook:
Facebook's platform offers a great mix of business and casual, and it lends itself well to authentic, friendly interaction with other businesses and individuals. It's easy to start a conversation, ask an open-ended question, or otherwise naturally engage with your followers and community.
Through all of these strategies, remember that the intention of social selling isn't to make a sale; it's to build real relationships that naturally lend themselves to sales opportunities. 
Tools for Social Selling
There are many tools on the market to help you engage in social selling the right way. As with any sales strategy, make sure you're meeting the buyer where they are in their journey.
1. Prospecting
Tools like Yesware's LinkedIn Integration can help you connect with more prospects by incorporating social touches into your outreach campaigns and connect/message/research leads right from your inbox.
2. Sales Cadence
Social listening — a key component of social selling — is when a company monitors the posts, interests, and other social media activity of potential clients. They use this intel to tailor their marketing efforts. Social listening helps a sales rep identify the right time to enter a prospect's buying journey. As well as the right content to bring to the job. Tools like Awario can help you find and join important conversations about your field in real-time.
3. Content
Sharing content is another huge part of social selling, but organizing the moving pieces of writing, optimizing, and sharing content on a regular schedule can be daunting. Software like Hootsuite streamlines this process for you and can distribute (and track the analytics of) your content across various social media channels.
4. CRM
Juggling all of your contacts and connections — and where you stand with each of them in the sales process — can also be difficult to manage for busy sales professionals. Try tools like Yesware to help you skip the manual data entry and sync all activity to your CRM.
Get expert sales tips straight to your inbox to win more deals
Related Articles
Sales, deal management, and communication tips for your inbox