5 Ways to Increase Email Engagement in 2021
Crafting a well-thought-out cold email or campaign and receiving no email engagement is downright frustrating.
Sometimes it feels like you're waving your hands up and down, and you remain feeling unnoticed.
The bottom line: Something was off that caused a disconnect between you and your recipient.
The good news: There are always ways to improve your messaging, and luckily we have various studies and data at hand that reveal the secrets to how.
Let's look at five data-backed ways to increase your email engagement in 2021 for both sales emails and email marketing. These tips will help you hit your mark, get the email metrics you're looking for, and ultimately get the responses you deserve.
What Is Email Engagement?
Email engagement is measured by how recipients interact with your emails. Some engagement metrics include email open rates, reply rates, click-through rates, and conversion rates.
Email engagement is all-important to both sales professionals and email marketers.
Sales reps want their messages to be read and replied to so they can uncover prospective problems and offer solutions.
Marketers want their email marketing campaigns to drive conversions and get recipients to take action, typically to their email subscribers or email list.
No matter the field, there are various tried-and-true ways to boost email engagement on your prospective emails and email campaigns. Let's take a look.
Boost email engagementDissect what's working with real-time insights and engagement data
5 Best Ways to Increase Email Engagement in 2021
Let's look at the five most powerful ways to increase engagement.
1. Use Subject Lines That Generate High Open Rates
There's no question how important subject lines are for achieving email engagement in both your cold emails and email campaigns.
This is your recipients' first impression of your email and the deciding factor of whether your email gets opened or not. So it's crucial to make it engaging and leave the recipient wanting to know more.
In a recent 2020 study, we looked at top-performing email subject lines that received over 85% open rates and analyzed why they were so successful. Our findings showed that subject lines with specific characteristics received higher than average open rates.
Let's take a look.
Subject lines that include numbers receive almost double the average open rate: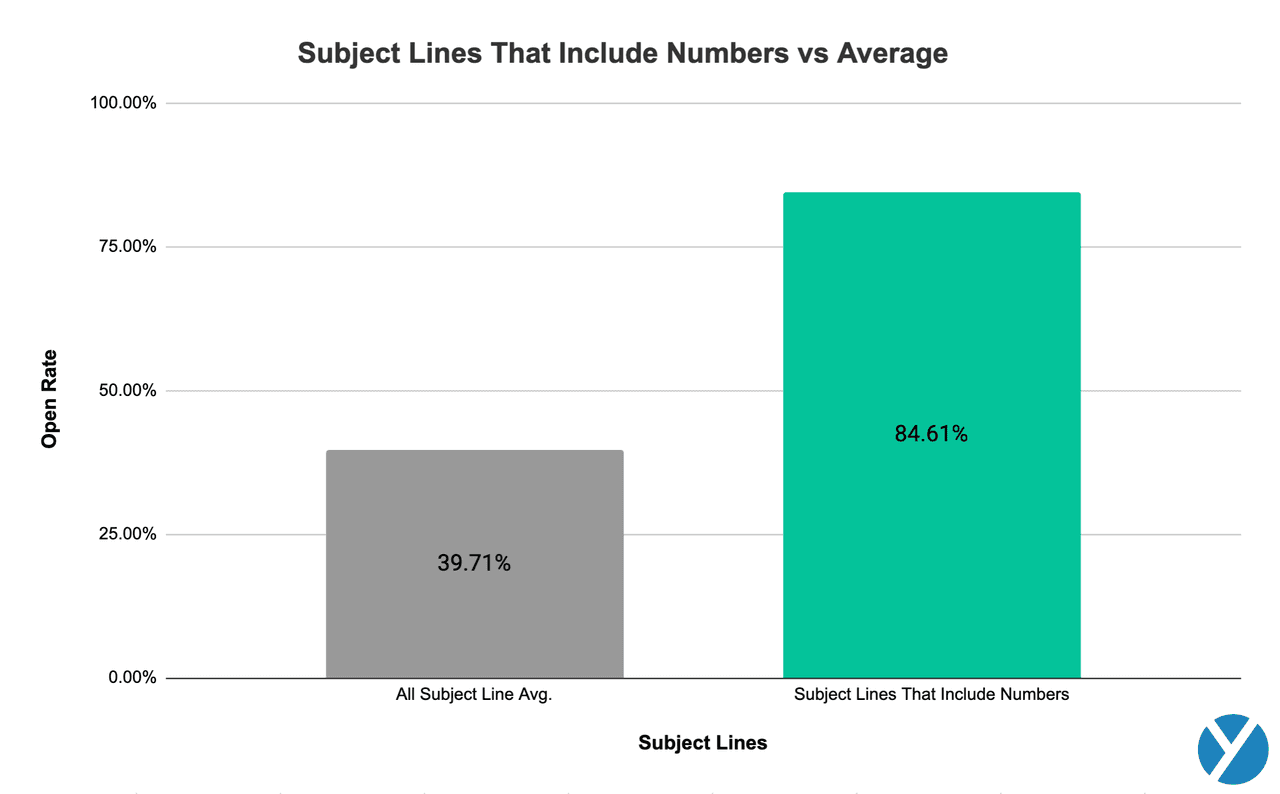 Subject lines that are questions receive higher than average opens by roughly 10%: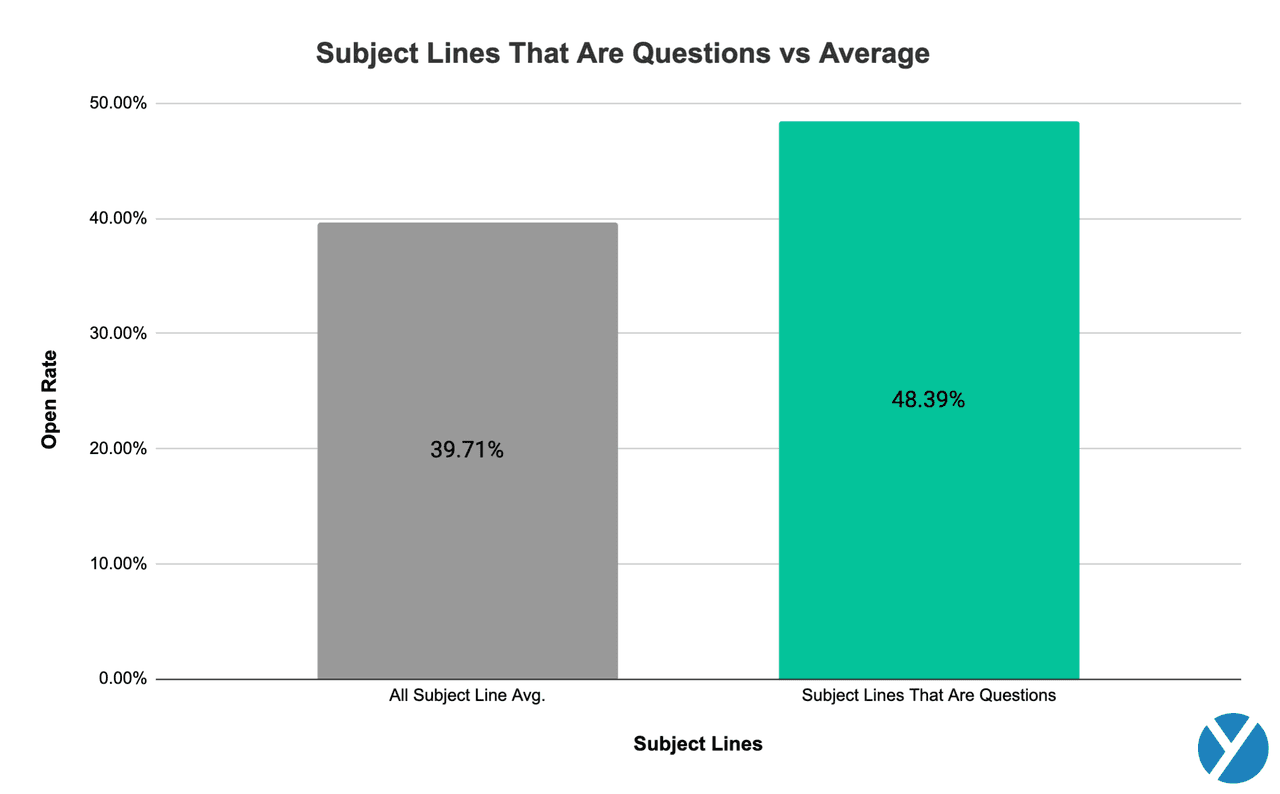 We also found that subject lines drive more email engagement when they:
Address pain points
Provide value
Generate curiosity
Generate FOMO
Use social proof
Here are some examples of the most successful subject lines, altered for anonymity:
"What more could you want?"
"Why [Company]? And why now?"
"[Name], is there too much on your plate?"
"What would you do with [Number] more hours per week?"
"[Relevant topic] Resources that can help right now"
"For every [$ Amount] customers spend, they earn [$ Amount] back"
"5 things you didn't know about [Topic relevant to prospect]"
"[Product/Solution] empowers [Company] like never before"
Click here to see more top-performing subject lines.
2. Utilize the Power of Personalization and Segmentation
Today's selling requires a more targeted and personalized outreach approach. And various studies have portrayed the power of personalization and segmentation in email campaigns.
In a Yesware 2020 email study, we analyzed 265,000 emails/4.5M data points, and the data revealed that emails sent at a high volume consistently yielded lower reply rates. Highly personable templates that are low volume seemed to be most effective.
And various studies have found similar results.
In Campaign Monitor's study, they found vast evidence that personalizing and segmenting your email campaigns yield higher open rates and success.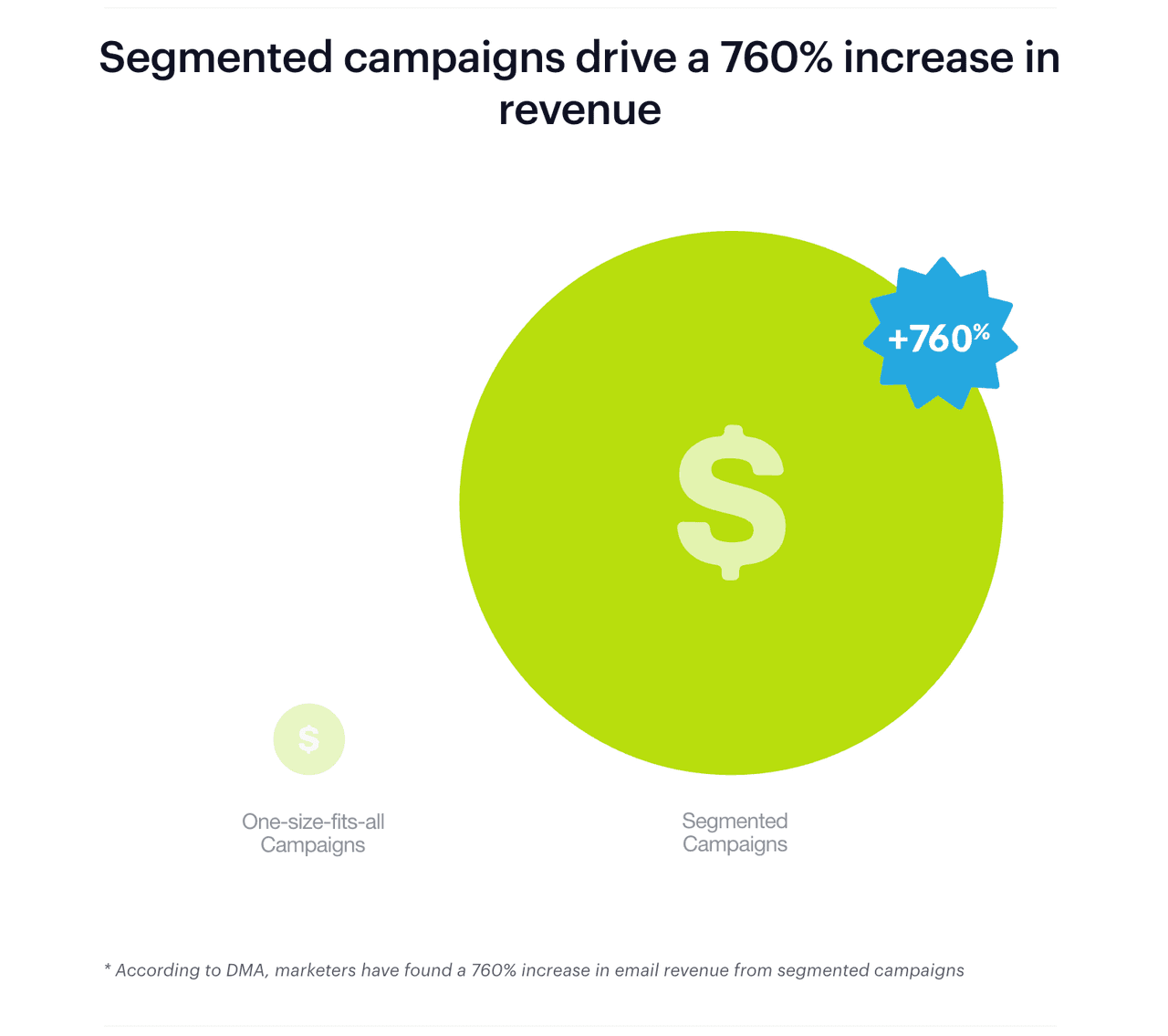 Another study conducted by Drift found a similar conclusion as Yesware and Campaign Monitor — the killer combo to boost email engagement uses personalization with smaller audiences.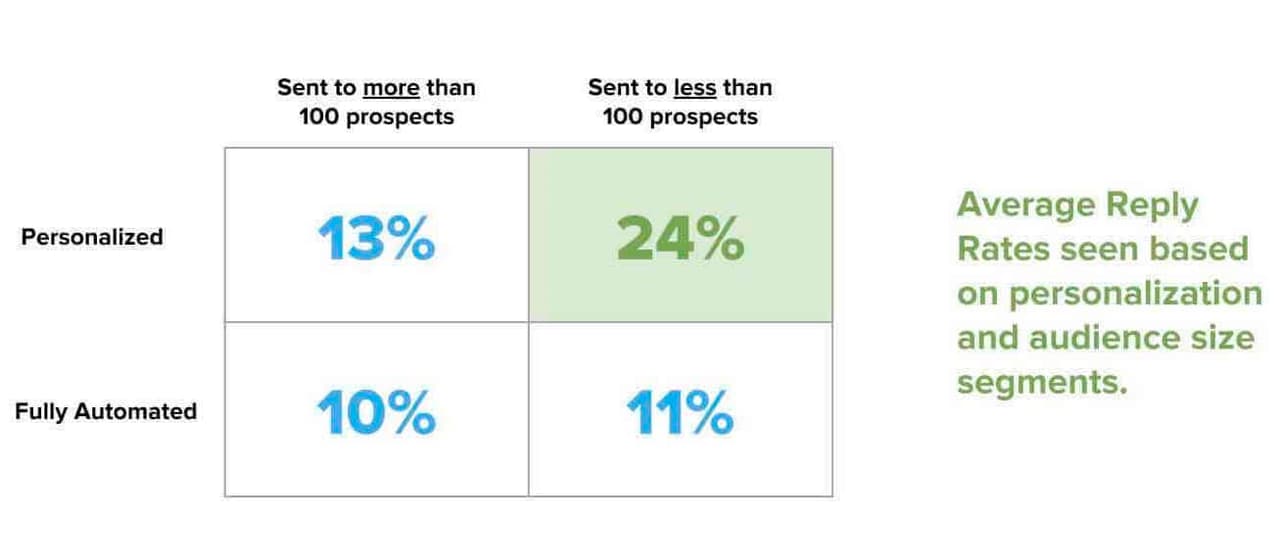 So it's time to throw out your one-size-fits-all tactics and adopt a more targeted approach.
An easy way to test the waters is by A/B testing your outreach. This will allow you to always be in the know of what's resonating with your audience so you can make the necessary adjustments to increase email engagement.
Personalize all outreachPersonalize emails at scale with Yesware
3. Master the Art of Storytelling
Captivating your audience in sales is an art just as much as it is a science. Enter, storytelling.
Stories have a profound effect on our brains and our behavior. This goes back to childhood, when the most basic request we made as kids, besides "I'm hungry," was "Tell me a story."
Various psychologists have studied the power of stories on our brains and how they elicit powerful empathic responses.
A killer story is full of visual and sense-based detail — and moves in real-time. In other words, it's "making a movie with words." This will not only help to engage your recipient, but they'll ultimately retain more information through the story.
Source
To hone your storytelling skills and boost email engagement, consider the following advice from the experts:
Combine compelling facts with narratives
Illustrate the main points 
Use imagery or presentations to help tell your story
Make it relevant to your recipients
Use metaphors to paint pictures
Make connections
Get creative and be different.
Find your story and write it. Connect it to your product or service and make it personal, not contrived.
4. Nail Your Email Formula: Intro, Social Proof, CTA
It's important to get your email formula right. In order to have an effective email, each line must persuade the recipient to read the next one, all the way through to your close.
Once you've mastered the right email formula, save it as a template and re-use it.
Your email content should typically include:
A compelling opening
Social proof
CTA
Let's look at an example of a proven formula that has time after time resulted in high email engagement and replies.
Star — The big idea
Chain — A series of facts, sources, reasons, and benefits
Hook — The call to action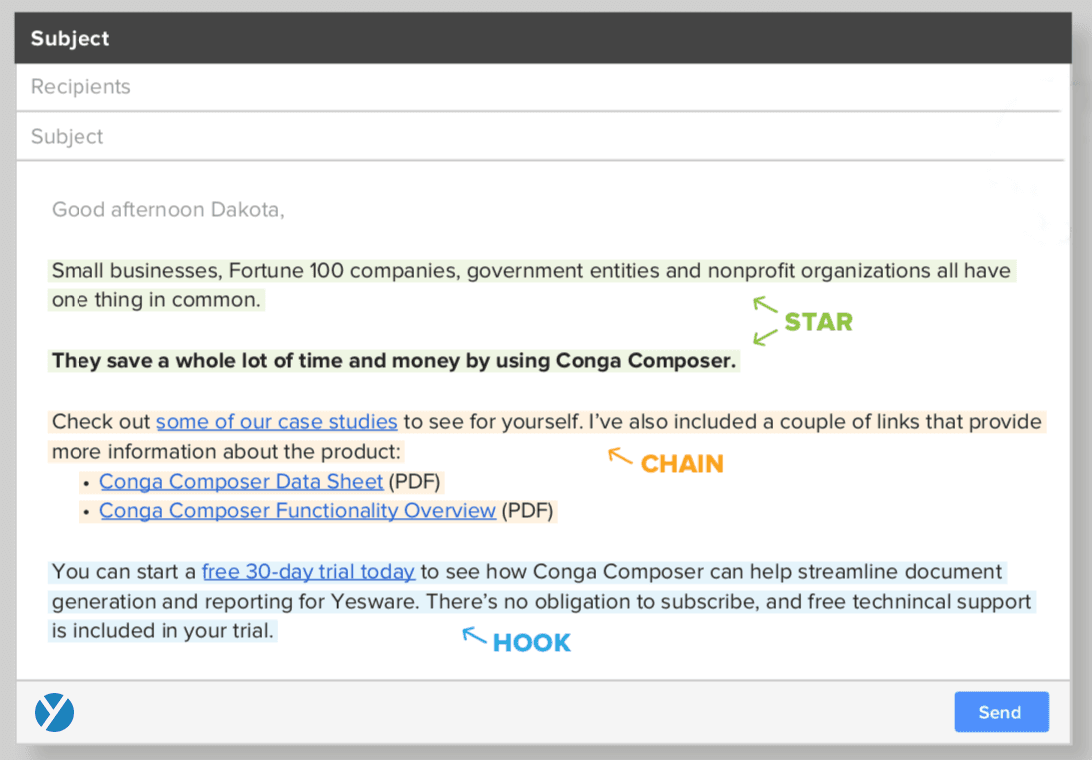 Introduce your idea with an attention-grabbing opening. Then, create a chain of supporting facts, sources, and benefits to build credibility and transform attention into interest. Lastly, hook them with a CTA that makes it easy to take the desired next step.
Why it works: The critical element in this email formula is the chain. By introducing social proof that lends credibility to your argument, you have a better shot at convincing someone to follow through.
Want some more email formulas to give you a head start? Download our free ebook below.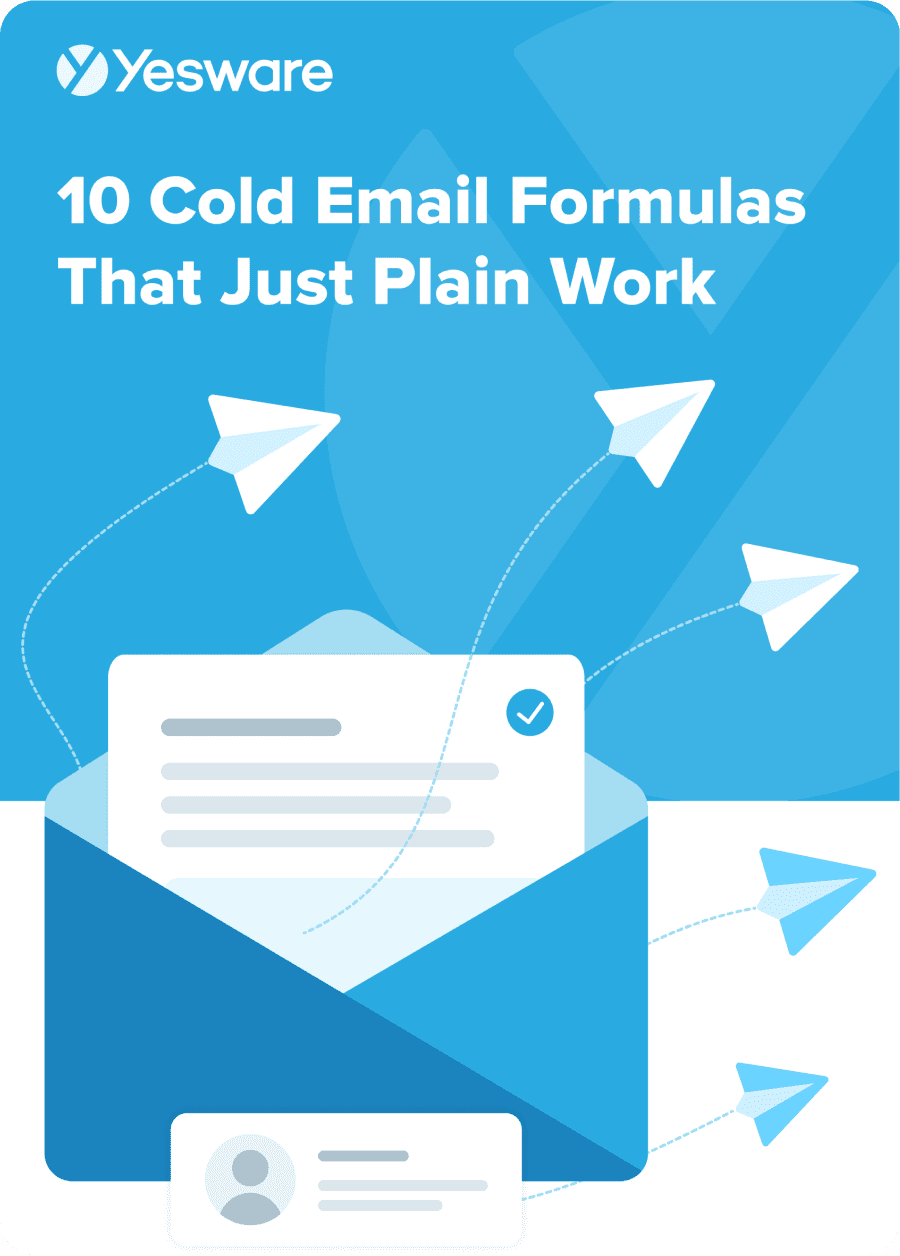 10 Cold Email Formulas That Just Plain WorkSee how B2B sales professionals are using these cold email templates to engage more prospects, fill the top of their funnel and build more sales pipeline faster.
5. Create a Unique Experience
Let's face it — your recipients are getting tons of emails in their inbox that look the exact same.
One way to ensure your email achieves high email engagement and not only gets opened but responded to? Create a unique experience they'll remember.
There are various ways to do this. But one of the most powerful is to attach a video to your email.
Consumers today crave a human connection. We're social creatures, and we're far more likely to buy from someone we like and can relate to.
Videos now account for more than 75% of the world's internet traffic. And studies predict that by 2022, it will account for 82% of all internet traffic. What does this tell us? Many buyers prefer this medium to consume content, and the desire for video is only growing.
Let's look at an example.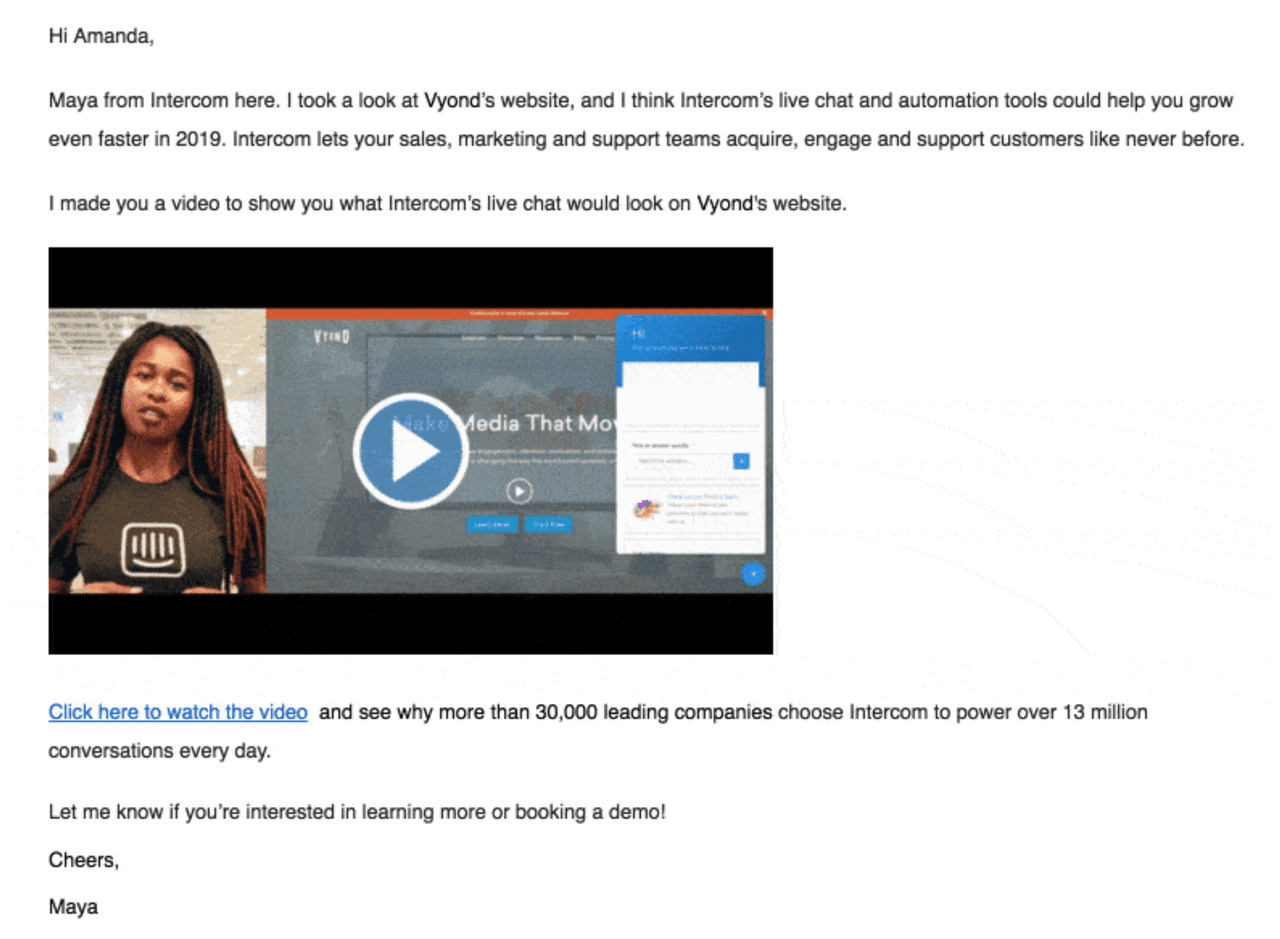 I know what you're thinking — But I don't know how to create a video.
The thing is, recipients aren't looking for perfection. A home video taken on your computer of you talking about your product or solution with no edits will do the job.
This will create as much of a human connection as you can behind the veil of a screen.
All-in-all, the key to an effective cold email is to show your human side. And if you can find unique ways to do this, such as the example above, you'll set yourself apart from the crowd.
Always Be in the Know: Measure, Track, and Improve
The only way to improve your email engagement is to always be in the know of what's working and what's not.
So make sure you have the right tools at hand in order to do so.
For example, Yesware's Templates and Campaigns Reports tell you your most effective and highest-converting templates and campaigns.
See open, reply, and connect rates and uncover what's working for your teammates. Then use them again for repeated success.
Share your successes with your team and see what messaging/formulas/stories are resulting in the most engagement.
You'll see increased email engagement in no time.
Always be in the know of what is/isn't workingDaily activity, engagement data, and outcomes
Hungry for More? More Guides to Help You Improve Your Email Engagement
Improve your email format:
Improve your email messaging:
Improve your email deliverability:
Get expert sales tips straight to your inbox to win more deals
Related Articles
Sales, deal management, and communication tips for your inbox