How to Find Anyone's Email Address: 11 Guaranteed Strategies
If you're wondering how to find email addresses, you've come to the right place.
We've all been there: you know who you want to contact to make your sale — now if only you could find their email address.
Ugh. The dreaded search.
Some might resign themselves to mindless Googling and hopeful outreach.
Please don't do that. 
Not when you could be wrapping up your email address search and sending that email in under 30 seconds flat.
We did some digging to build a complete list of the best tools and tactics to find email addresses.
Did your email deliver?Get real-time engagement insights in your inbox
Tools to Find Someone's Email Address
1. Hunter.io – Find Email Addresses in Bulk by Company Domain 
Punch any company domain name in and you'll quickly get a list of all publicly available email addresses associated with it. You can search up to 25 domains for free each month, and plans start at $49/month if you're interested in searching more. Click here to try Hunter.io for yourself.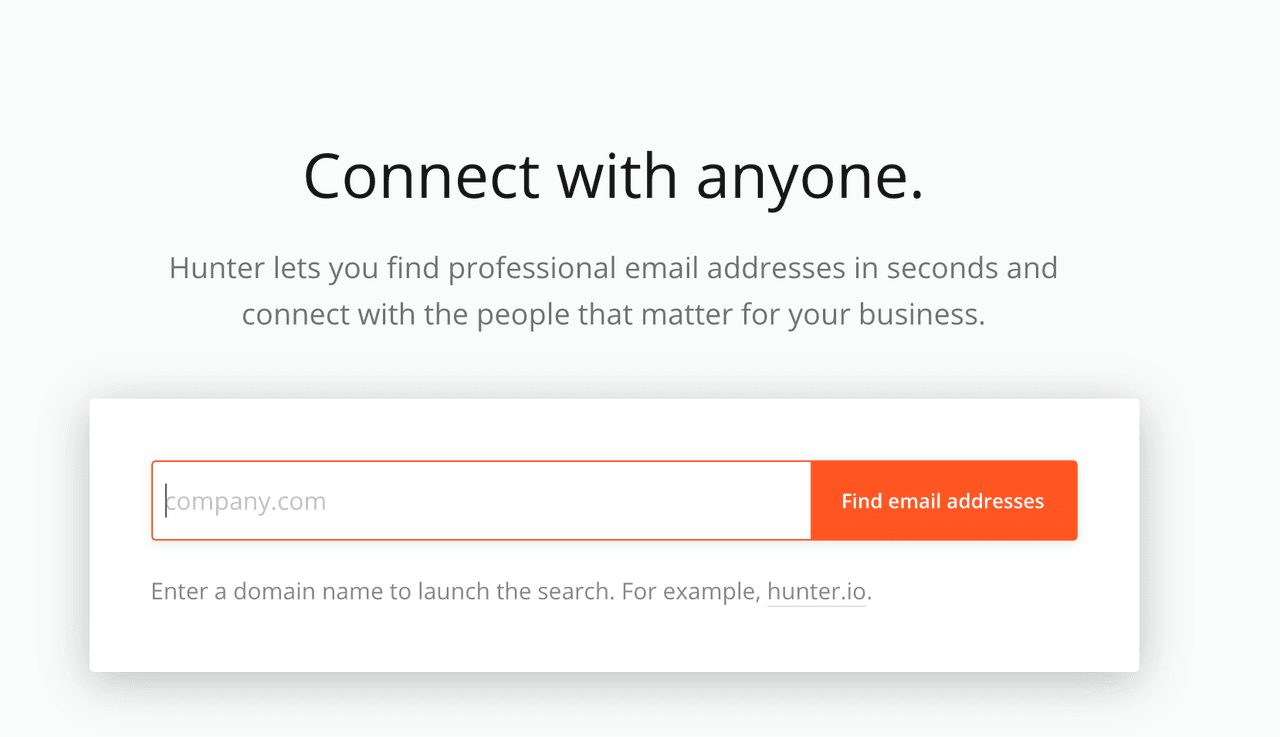 2. Clearbit – Super Accurate Email Finder That Lives in Your Inbox
Clearbit Connect is an Outlook and Gmail Chrome extension that finds email addresses in less than five seconds, and we've found that it's accurate 97% of the time. Just plug in someone's company name with either the person's name or job title. Once Clearbit identifies an address for you, you can one-click compose an email to that person. For pricing, you need to request a demo. Click here to try Clearbit for yourself.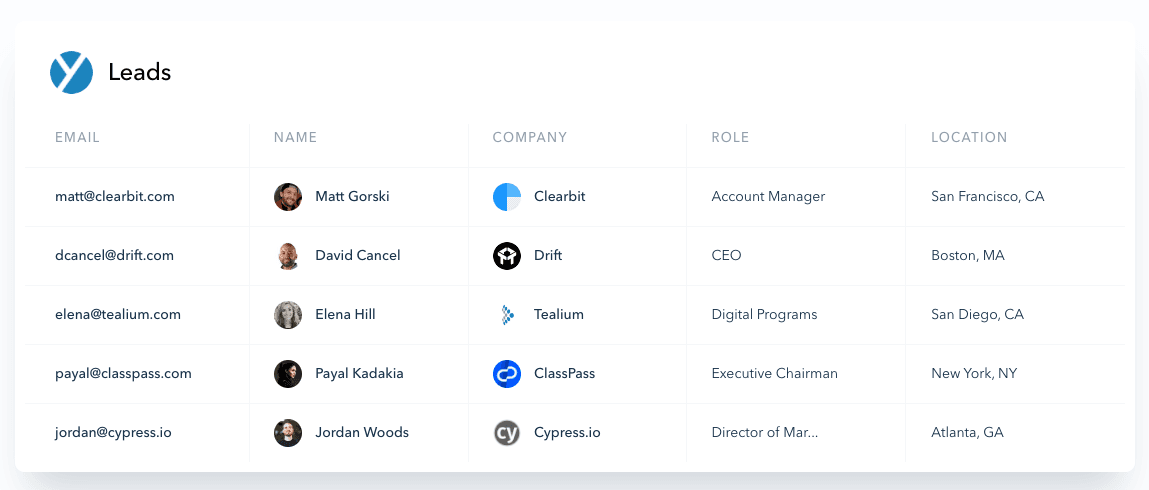 3. SellHack – 10 Free Searches per Month

Sell Hack is a handy browser extension that checks publicly available data sources to find someone's email address. The free plan will let you search 100 emails per month for $3, pricing goes up to $60 a month for 2,500 email credits. Click here to try SellHack.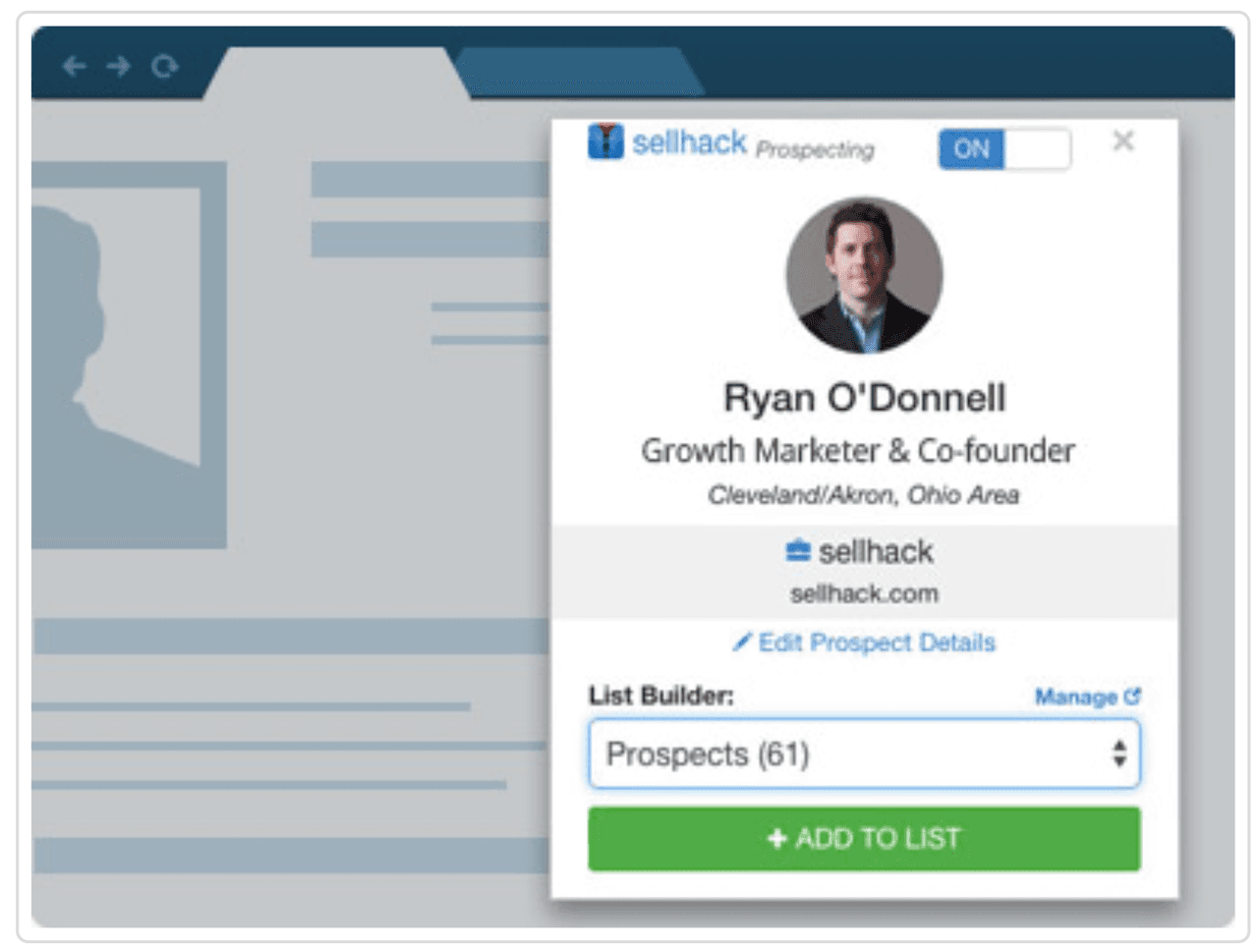 4. LeadFuze – Search By Name, Company, or Website
LeadFuze allows users to search for prospects in 2 ways: 1) account-based search: name, company or domain, role 2) market-based search: company criteria, people criteria, etc. There are various filters you can apply to your search engine as well. Free trials give you 25 free lead credits and pricing starts at $132/month for 500 lead credits. Click here to try LeadFuze.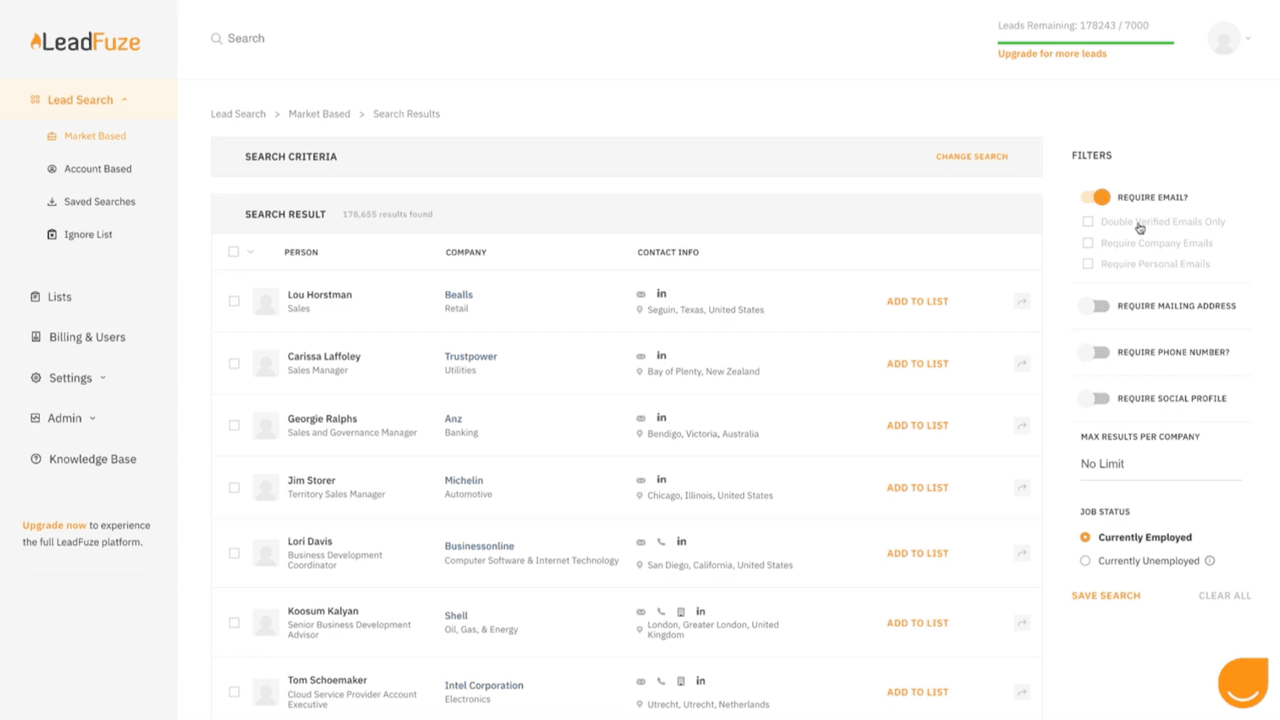 5. Findthat – "The Yellow Pages of Email"
Findthat is a quick and easy way to search and discover how to find email addresses that you're looking for. This database includes several diverse plans. Whether you keep it simple with the free plan (includes 50 credits) or get the whole team involved (their team plan runs for $149 per month with 3,000 credits). Try Findthat for yourself.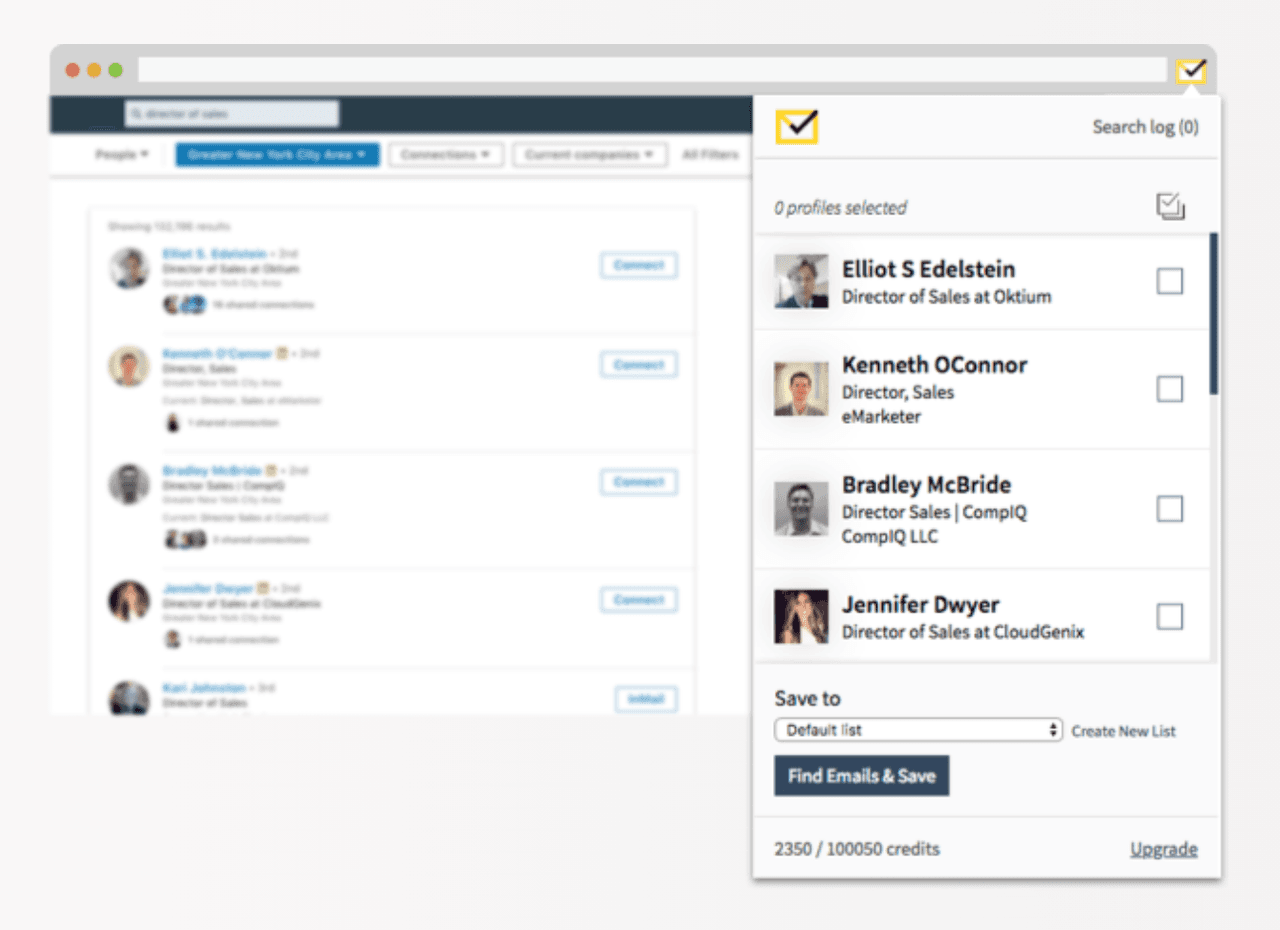 6. Voila Norbert – Quickly Find and Verify Someone's Email
Search by first name, last name, and company domain. After every search, there's a rating to let you know how certain the tool is that it gave you the right email address. You can get started with 50 free leads, then plans starts at $49/month for 1,000 leads/month. Click here for more on Voila Norbert.
Where to Find Company Email Formats
7. FindEmails.com – How to Find Email Addresses by Person or Company
FindEmails.com lets you look up email addresses by typing in the person's name, company name, and role. The tool runs mailserver tests for email addresses to help validate deliverability. Their pricing starts at $29/month with 1,000 credits and up to $99 a month for 10,000 credits. Click here to try FindEmails.com.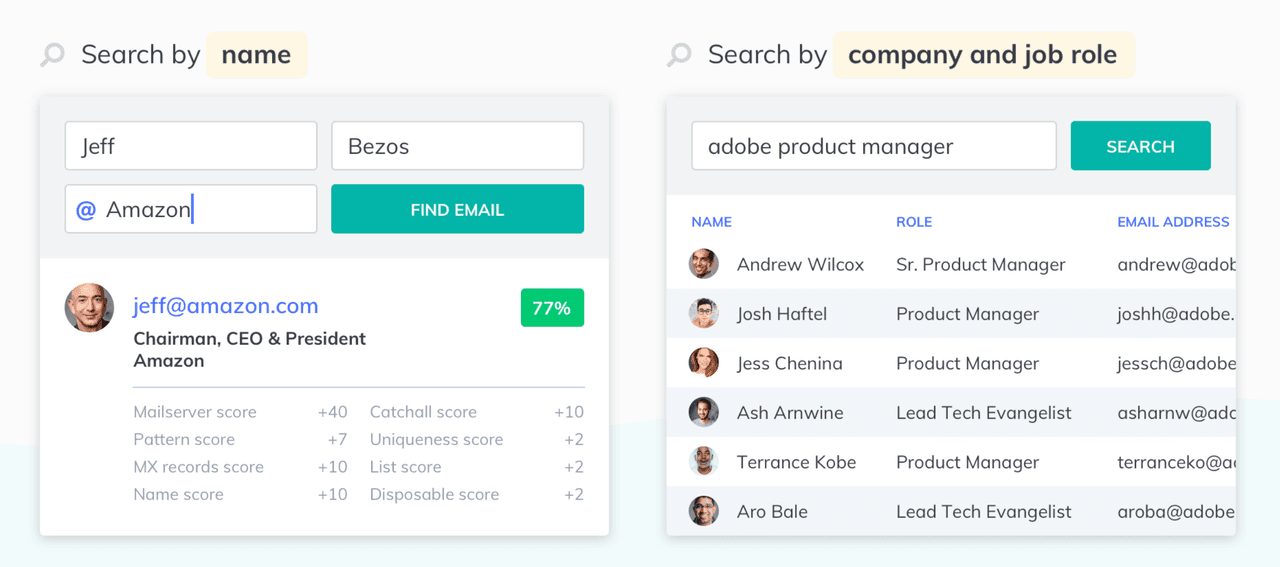 Eliminate the guesswork
Know when recipients read your emails, click on links, and view attachments
8. Email Permutator+ – Create a List of Potential Email Addresses
Build email lists with Email Permutator+, get started by submitting your recipient's name and email domain name. When you hover over each email in the list, the legitimate address will display a social profile that matches the person you're looking for. Click here to try out Email Permutator+.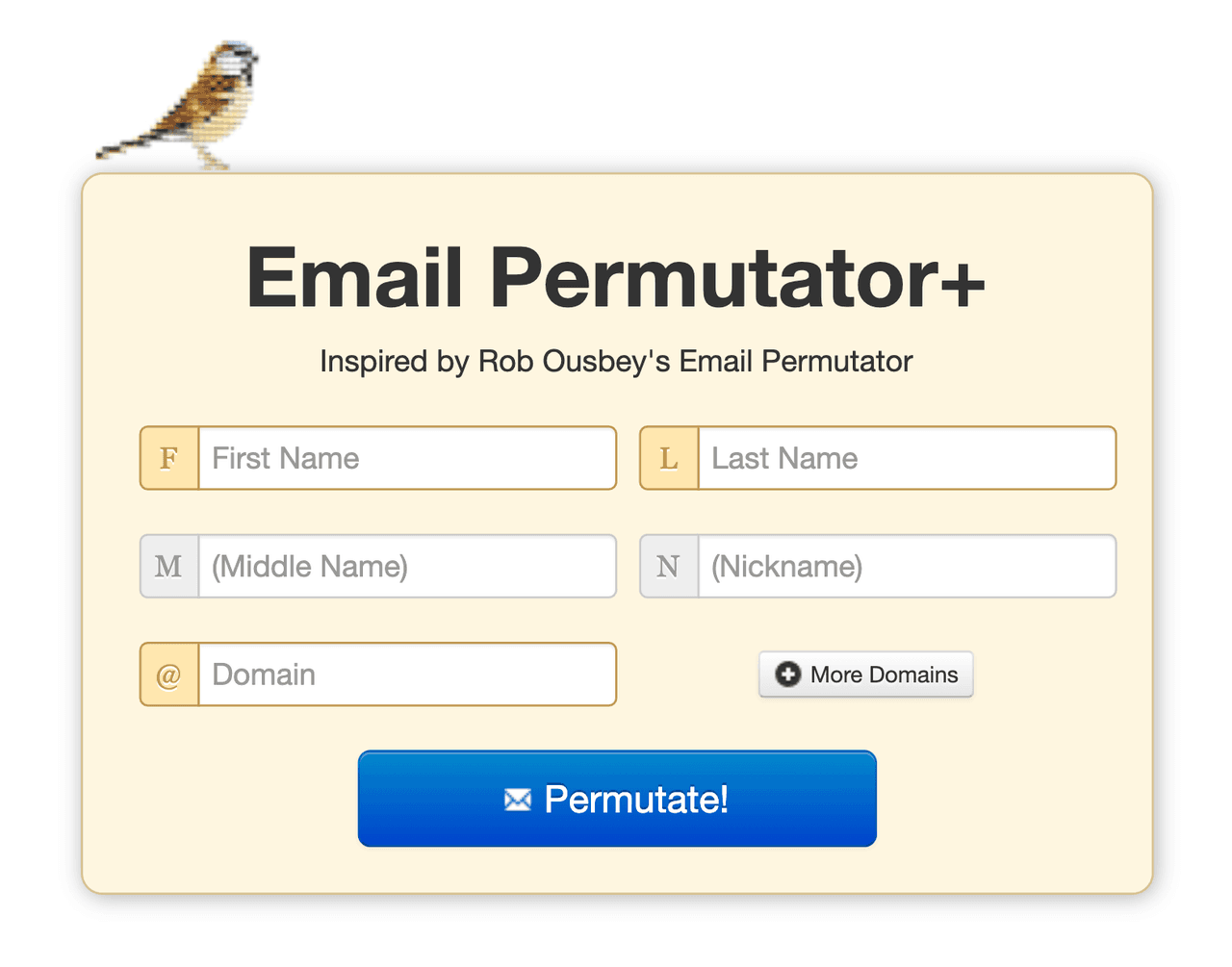 Find Email Addresses Using Your Networks
9. LinkedIn Connections – Export Email Addresses to Google Contacts
Just because you're connected with prospects on LinkedIn doesn't mean you have their email addresses in your Gmail Contacts List. The good news is that hidden away in LinkedIn's advanced settings is the ability to export your connections, giving you an up-to-date email address in your inbox.

Advanced Search Tactics for Finding Emails
10. How to Use Boolean Search Operators to Find Emails

Sometimes it really is that easy. Try these basic queries first:
[name] + email (or) email address
[name] + contact (or) contact information/contact info (or) contact me
If that doesn't work, it's time to get creative with Google search operators. Try running a search of their company website, like so:
site:companywebsite.com + [name] + email
site:companywebsite.com + [name] + contact
11. Advanced Twitter Search For Finding Emails
People get asked for their email on social media all the time. You can use Twitter's advanced search to find the last time your contact responded to such a request:
Search for the terms (at) (dot) in "All these words" under the 'Words" section
Enter their Twitter handle in "From these accounts" under the "People" section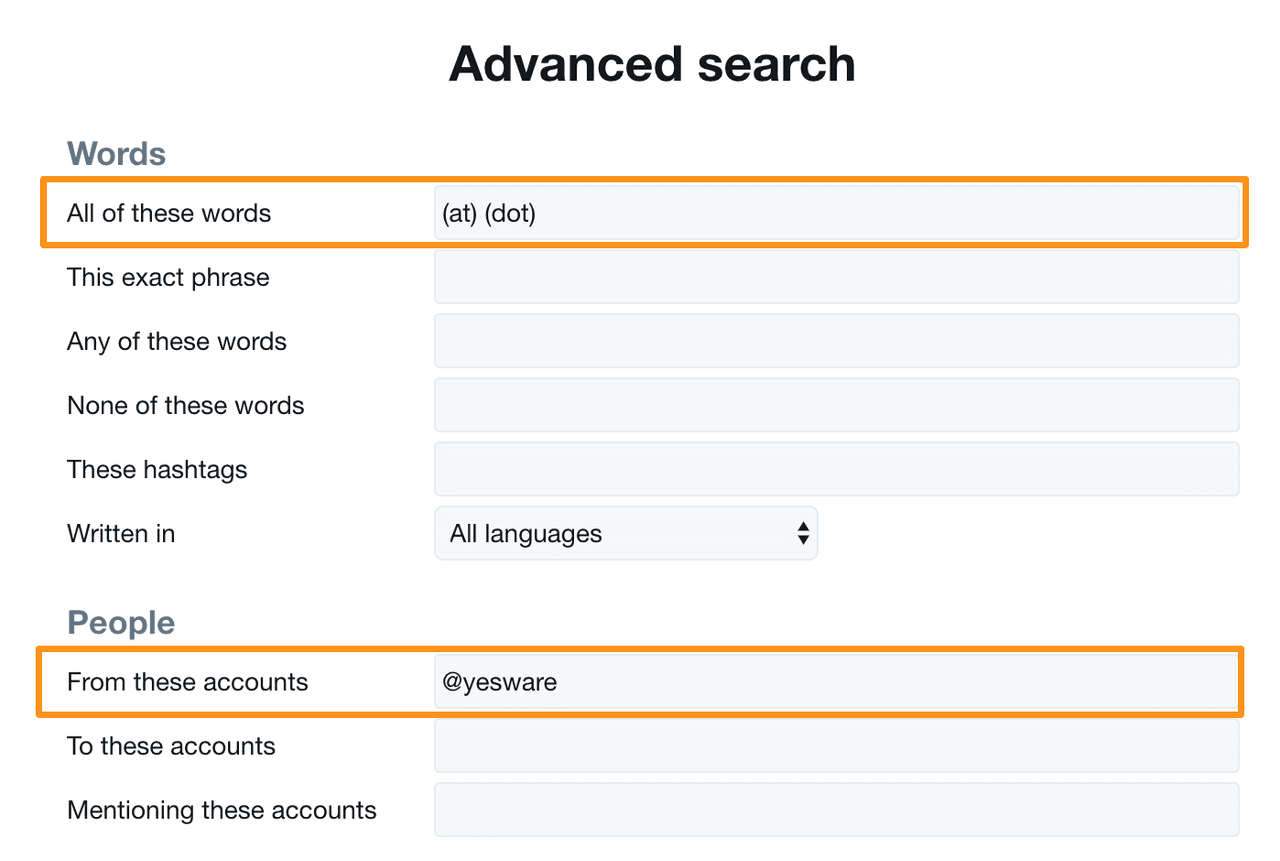 Pro tip: Don't waste your time searching for the word "email" or "gmail." You'll just end up combing through a long list of tweets on the topic of email, and not their actual email address. Find emails in seconds using Advanced Twitter Search.
All-in-one inbox toolThe tools you need to prospect, schedule meetings, and follow up
How Yesware Can Help With Your Outreach
How do you reach the right people, at the right address, at the right time?
Now you know how to find email addresses in seconds. Next, eliminate the guesswork of how your outreach is performing with email tracking. Get notified when recipients read your emails, click on links, and view attachments. Get these real-time insights right in your Outlook or Gmail inbox.
What tools do you use to find email addresses missing from your contact list? It'd be great to hear about your experience and what you've found works best. Tweet us @Yesware, we're always looking to try out new tools and workflows!
Get expert sales tips straight to your inbox to win more deals
Related Articles
Sales, deal management, and communication tips for your inbox