Techniques for Better Sales and Marketing Alignment to Increase Your Bottom Line
Businesses that accomplish sales and marketing alignment achieve strong revenue growth, increased return on investment (ROI), and enhanced team efficiency.
The impact is loud and clear. The Aberdeen Group found that sales and marketing alignment can lead to a 32% increase in year-over-year (YoY) revenue growth.
When it comes down to it, salespeople and marketers are working towards the same ultimate goal: to win business and increase revenue. And in today's hyper-competitive landscape, the teams need to work together to achieve these goals.
With a 'smarketing' system in place, both teams feed off one another and benefit from collaboration, feedback loops, and communication.
In this article, we'll look at 10 techniques for better sales and marketing alignment plus revenue outcomes and processes.
Here's what we'll cover:
What Is Sales and Marketing Alignment?
Sales and marketing alignment represents the process of working together through shared goals and strategies to create a unified operation and integrated approach.
This is where the term "smarketing" comes into play. This portmanteau, which is coined from the words "sales" and "marketing," represents the two teams seamlessly working together as one, rather than two separate silos. 
With the fast-changing market, these two departments need to unite and streamline their processes.
There are vast benefits of sales and marketing alignment that we'll touch on and discuss techniques for achieving each.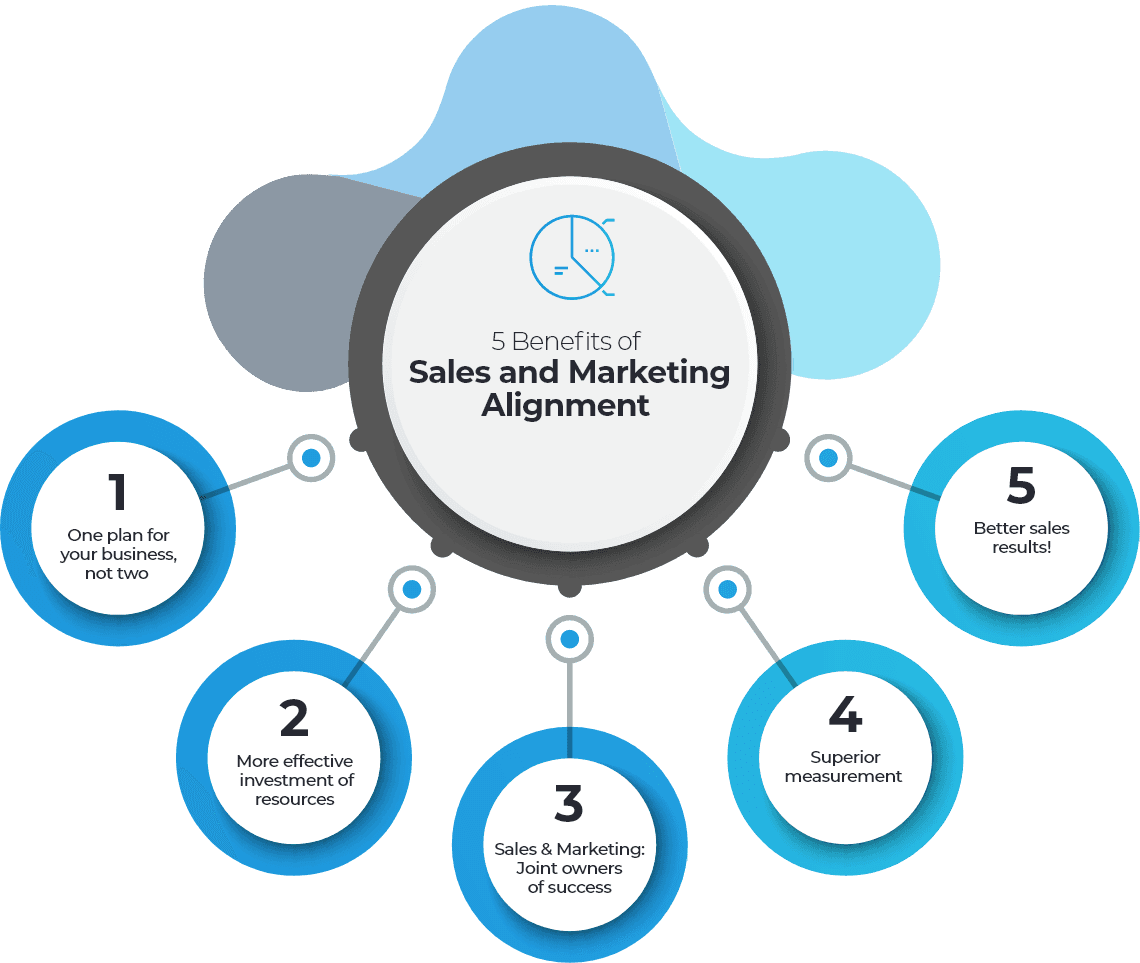 How Sales and Marketing Alignment Leads to Higher Revenue
Sales and marketing alignment has proven time and time again that it leads to greater business success.
Studies show that highly aligned companies do better in all six of the following performance metrics than companies with low alignment:
Qualified leads
Conversion
Acquisitions
Retention
Average billing per customer
Revenue
Let's take a look at some studies to see the effects head-on:
Wheelhouse Advisors found that businesses with aligned sales and marketing can generate up to 208% more revenue. Plus achieve higher growth, retention, and deals.
Superoffice shows that companies with high sales and marketing alignment generate higher annual company revenue, brand awareness, and average deal size.
MarketingProfs found that aligned sales teams and marketing teams achieve 38% higher sales win rates, shown below.
Aberdeen Group found that 74% of best-in-class organizations have complete or strong marketing and sales alignment, which is an above-average state. And the majority of the other organizations fall below the average alignment.
Enough said?
Now let's look at how to do this.
Drive revenue growthTrack, analyze, and standardize what's working
How Marketing Can Help Sales
Marketing can help sales in a variety of ways that'll lead to better buyer conversations and more closed deals. When it comes down to it, marketers specialize in engaging and capturing the attention of buyers, and your marketing team can utilize this specialty in various ways to support your sales team.
Let's look at three ways marketing can help sales:
Content Creation: Marketing can create content that addresses common prospective concerns and objections. Effective sales collateral demonstrates your solution's value and drives context in your sales conversations. 
Higher Quality Leads: Strong communication between teams has many benefits; the handoff process can be improved, lead quality issues and sales criteria can be addressed and refined, and the quality of leads can be significantly increased. 
Data: Marketing data can be extremely valuable to sales reps. Marketers collect data such as demographics, behavior, language, interests, market trends, etc., that can help sales reps have better buyer conversations.
And more.
How Sales Can Help Marketing
There are various ways that sales can help marketing further understand the customer. Since sales reps have first-hand knowledge from talking directly to customers, they'll bring unique insight to the table to help refine and tailor marketing strategies.
Refine Strategies: Through buyer conversations, sales reps obtain key information such as common objections, behaviors, and any problems customers face throughout the buyer's journey.
Assisting in Testimonials: Because sales reps are working hand-in-hand with customers, they can identify best-fit customers for testimonials and/or references from customers who had a good experience with your company.
Competitor Information: Sales reps hear about competitors on the daily and this information can be super helpful to marketing. Important information can include how a competitor is providing a better experience, upcoming product enhancements, etc.
And more.
10 Techniques for Better Aligning Your Sales and Marketing Functions & Achieving 'Smarketing' 
1. Set Shared KPIs and Goals
Sales and marketing teams' successes are typically measured differently. The teams have different KPIs, therefore they have different goals. This is a very common ingredient of misaligned teams. 
Studies show this misalignment: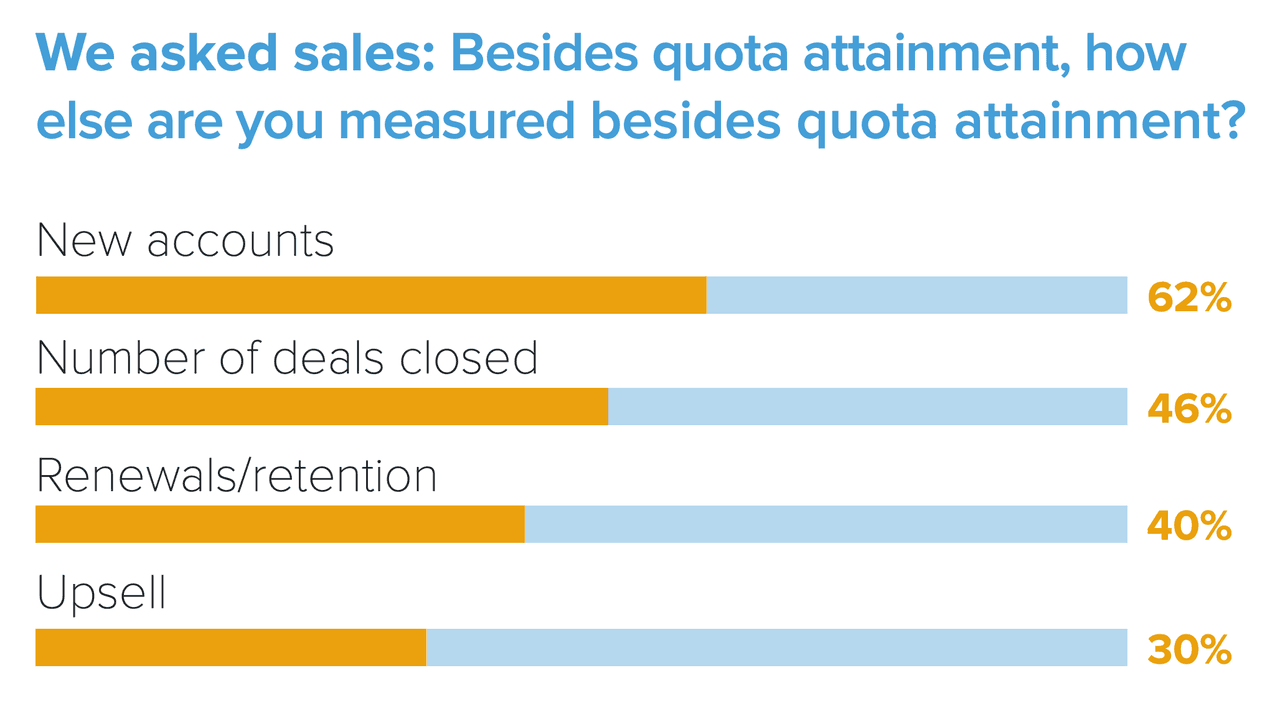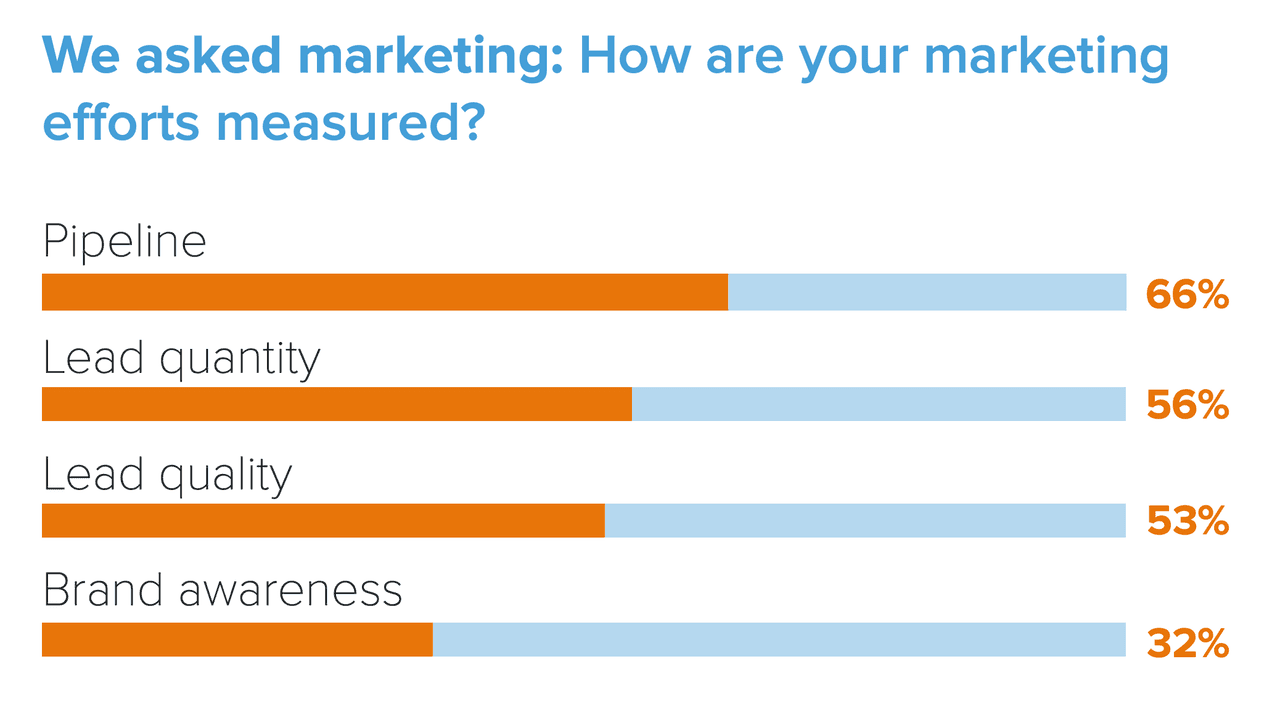 A great technique for aligning sales and marketing is setting joint KPIs.
By doing so, both teams are working towards the same goal. This will form mutual accountability, meaning collaboration is more likely to occur.
2. Develop a Process for Content Creation
Marketers know how to create content, and salespeople know what prospects are looking for. Now bring this together.
Set a process in place where sales reps jot down what prospects are looking for and bring these ideas to the marketing team. Then, marketing can create sales collateral that is relevant and useful to drive conversations forward and influence closes.
High-converting sales collateral examples include sales playbooks, case studies, product videos, competitor comparison sheets, sales presentations.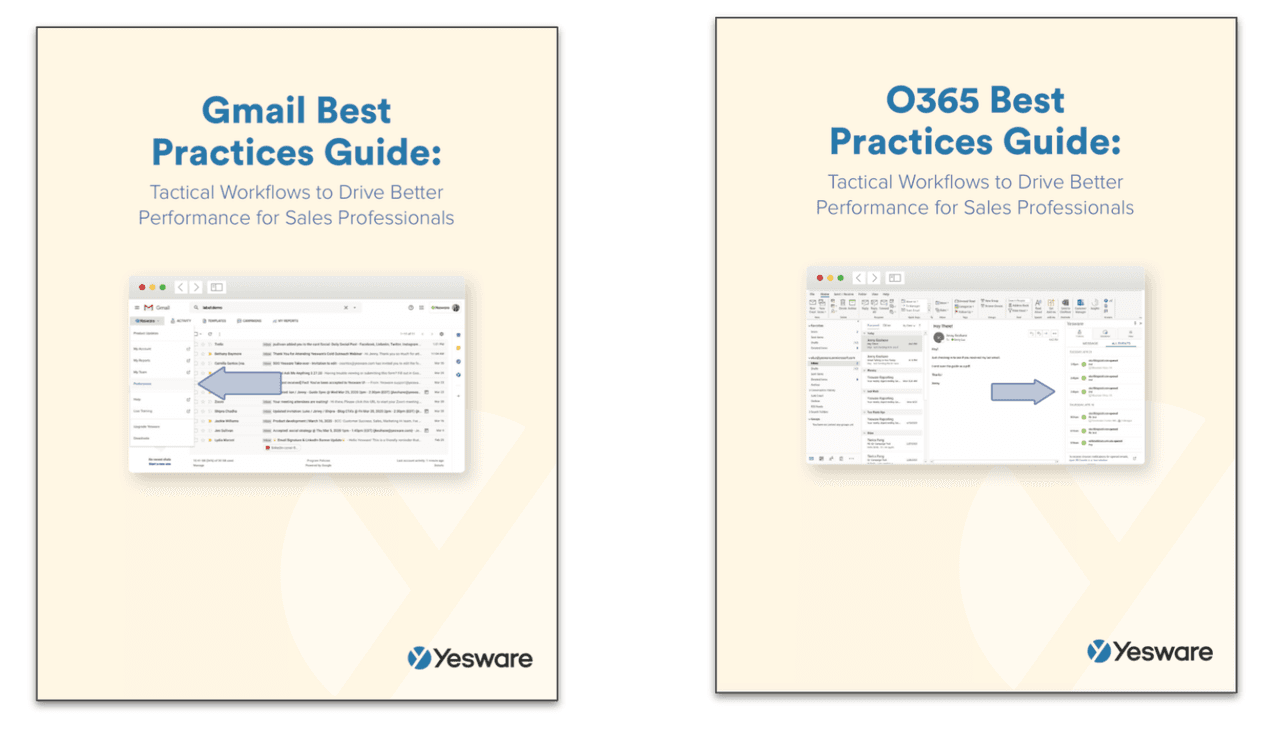 Identify your winning contentView attachment opens and page-by-page breakdowns
3. Meet Regularly
Studies show that the biggest challenge in sales and marketing alignment is communication.
One of the most effective ways you can avoid this blocker is by meeting regularly. This will unify teams and ensure collaboration, mutual perceptions, and agreements. 
Managers can ensure regular communication takes place by booking a weekly meeting on both team's calendars for consistency.
Some ideas for your sales and marketing meeting include:
Present new ideas and offer feedback
Group brainstorm sessions
Review processes 
Present new content 
Share data
Review campaigns
Lead generation and lead scoring discussions
4. Develop a Feedback Loop
With a proper feedback loop in place, sales and marketing teams can provide unique insights and valuable feedback on various fronts.
For example, marketing can ask sales if the piece of collateral they're creating is effective enough to address the buyer's concerns or drive better conversations. And sales can ask marketing if their email templates or campaigns are catered enough to the buyer persona and resonate with buyer pain points and behaviors.
Here's an example of an effective smarketing feedback loop: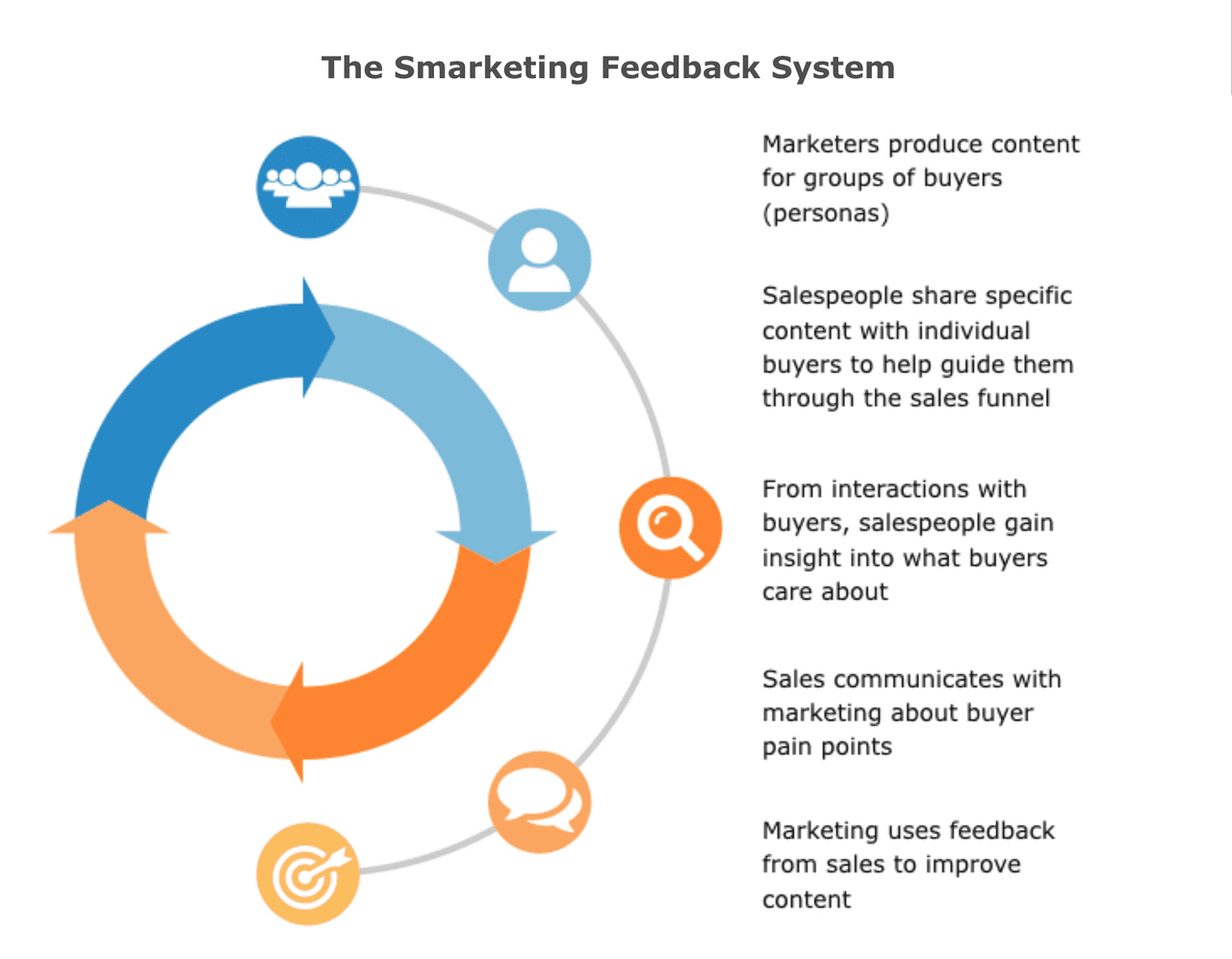 5. Adopt the Right Technology and Resources
Finding the right technology can make it much easier to align teams.
Investing in sales enablement can be super helpful in managing the process. A smooth sales enablement program works with teams to ensure alignment through tools, training, and resources.
Especially if you want to keep up with the competition, sales enablement programs are increasingly on the rise and here to stay:
It's also important to utilize a CRM for increased transparency, data accuracy, and the ability to measure impact.
6. Utilize Customer Feedback
Customer feedback is a dominant factor in sales and marketing alignment.
One way teams can do this is by listening in on sales calls and assessing pain points, opportunities, common phrases, and more. In this call, your marketing team can gain inspiration to refine offerings as well as indicate areas where the team can help provide further information/collateral to drive momentum on the call.
Your teams can also evaluate the success of your alignment through customer feedback. Through this feedback, you can revamp strategies to ensure a smooth buyer experience on both fronts. 
7. Unify Communication
Unifying communications across teams will undeniably increase transparency and collaboration.
Using a tool like Slack will help teams have frequent communication with one another, especially during the remote era we live in now.
For example, here at Yesware, we have a "sales-marketing" slack channel where we share feedback and ideas, ask questions, share current content and projects, etc.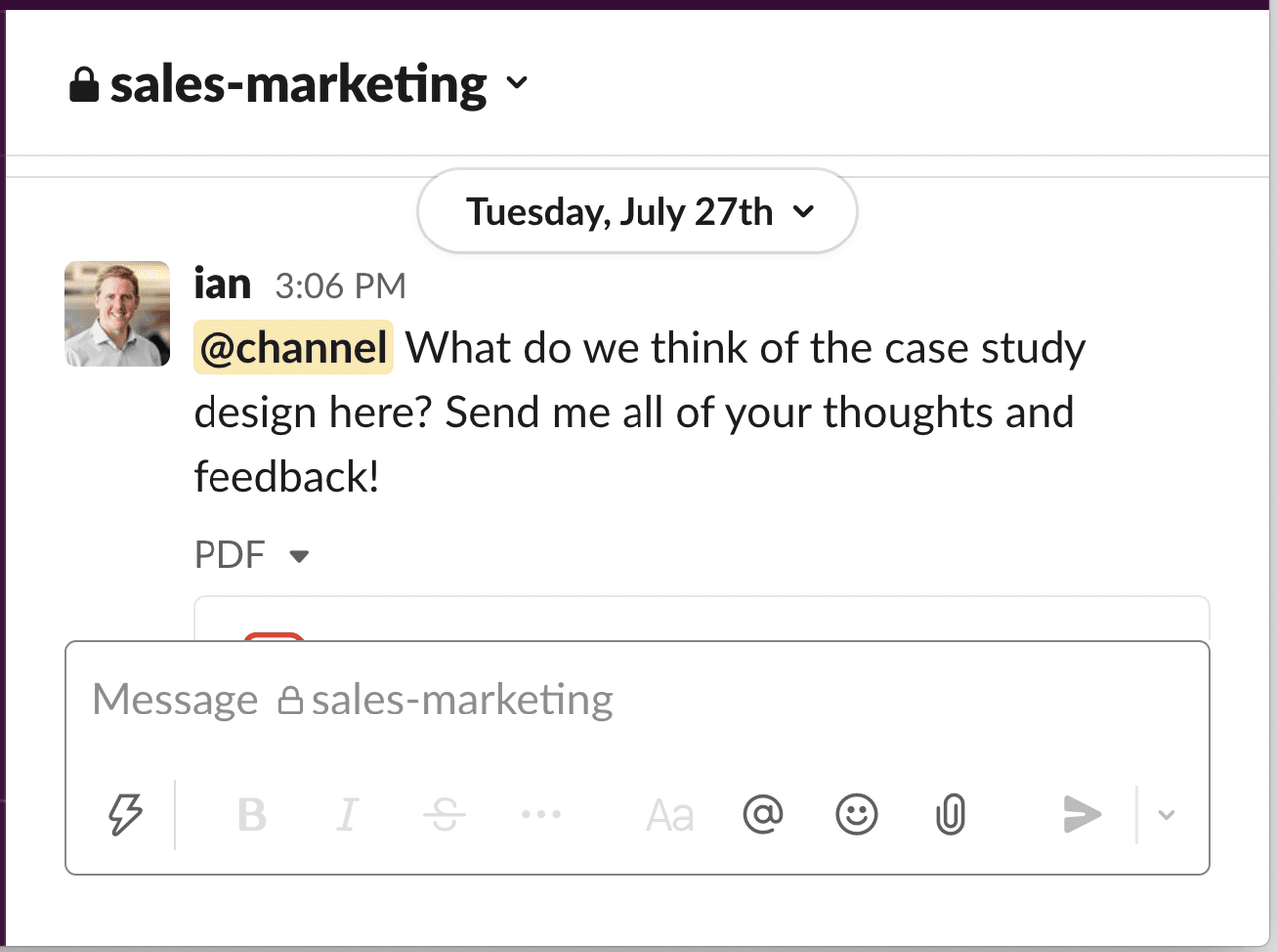 8. Align the Sales Funnel
From the top of the funnel to the bottom of the funnel — awareness to purchase — teams should be aligned through every stage.
With the rise of online reviews, social media, and vast information accessible to the buyer, the funnel is changing. 
This makes communication between teams even more crucial, such as nurturing leads and ensuring an efficient hand-off.
9. Ensure Message Alignment
Another key aspect smarketing helps with is providing a consistent experience for your customers.
If your marketing team portrays the benefits of your product/service one way, you want your sales team to reinforce that messaging in the same way once buyers move to the next stage.
One way you can do this is by sharing your email templates and/or campaigns so you're aligned on similar messaging and language.
Ensure alignmentShare top performing templates and campaigns with teams to improve alignment and messaging
10. Review Your Strategy on a Quarterly Basis
Last but not least, always look back and review your alignment strategy. Look for ways you can improve communication between teams and identify blockers.
Re-assessing your strategy at the end of each quarter is beneficial to all businesses, new or old to sales and marketing alignment. There's always room for improvement.
Conclusion
There's a lot of moving pieces in every business. And the more aligned your teams can be, the more powerful they can be.
Although it's common to think of teams as separate entities, don't dismiss the idea that other teams can have valuable insights that can help your team drive results.
By forming a smarketing system — you'll encourage both teams to bring unique insights to the table and form strong strategies and processes that'll drive results and grow revenue.
Get expert sales tips straight to your inbox to win more deals
Related Articles
Sales, deal management, and communication tips for your inbox