The Complete Guide to the Best LinkedIn Profile
Setting up your LinkedIn profile is like getting dressed in the morning.
The difference is that your LinkedIn profile sticks with you for an internet eternity. 
It's seen by your colleagues, old classmates, prospects, recruiters, and the boss who hired you. And it's a deciding factor for strangers about whether to accept or dismiss your connection request.
No pressure (but pressure).
People with complete profiles are 40 times more likely to receive opportunities through LinkedIn, so it's worth following some insanely easy tips to update that outfit.
All you need is a few minutes of time and your LinkedIn log-in.
LinkedIn in your inboxGet instant insights from your inbox sidebar
How to Edit Your LinkedIn Profile The Right Way
Once you're logged in, hover your mouse over "Profile" in the navigation bar and select "Edit Profile."
Set profile changes to private through your activity broadcast settings. This will hide profile tweaks from your entire network's eye. Click the "Privacy" tab, and then scroll down to the "Sharing profile edits"  option. Choose "No." If yours is currently set to "Yes," you'll have to click "Change" first.

Tip: While you're in your privacy settings, make sure you can be seen by LinkedIn search engines and people looking for you or your company. Set "Notifying connections when you're in the news" and (in the Data privacy and Advertising section) "Representing Your Organization" to "yes."
Think (before moving on to the edits below): Who is your primary audience? Prospects? Recruiters? Schools? Your answer will affect the type of LinkedIn changes you make.
Move to the next section of this post.
10 Ways to Stop Being a LinkedIn Wallflower In Seconds
1. Make your profile public (30 seconds)
Go to your Public Profile Settings and you'll see this on the right: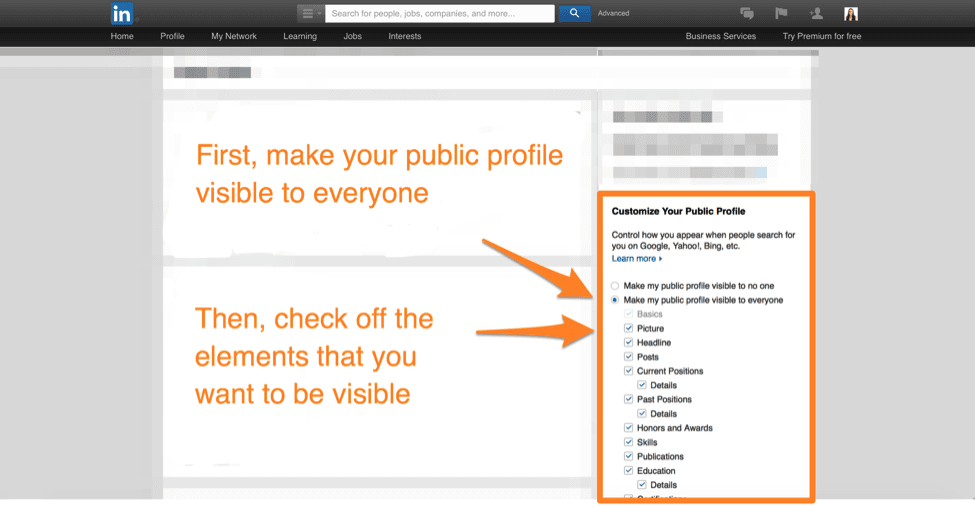 Choose "Make my public profile visible to everyone. Before saving, go to Step 2…
2. Create your own link (30 seconds)
Staying on the same page as above, secure a custom URL for your profile — ideally with a short slug like "/firstnamelastname". This will be especially helpful for listing your LinkedIn on business cards and your resume.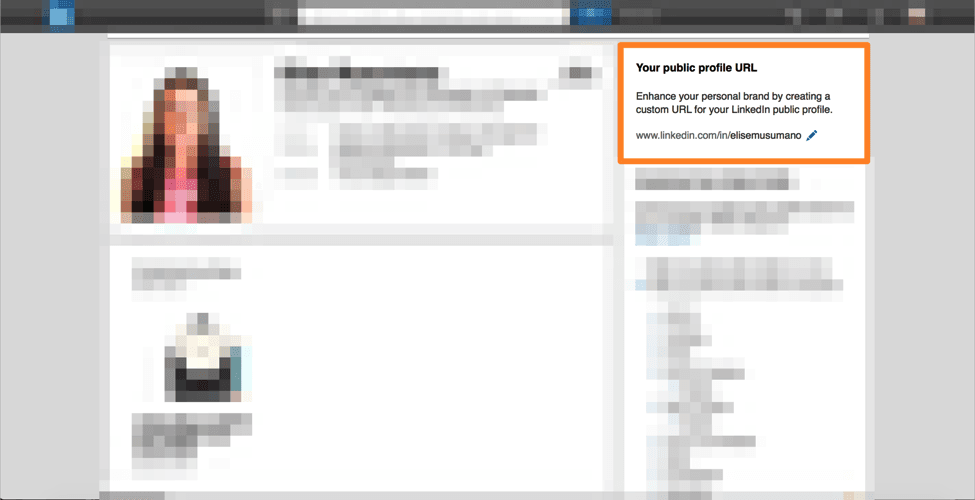 Scroll down and Save.
3. Add or update your LinkedIn profile picture using free tools (1 minute)
Having a picture makes you seven times more likely to be found on LinkedIn, and will get you 40% more InMail responses.
Even if you already have a LinkedIn picture, you can do better. We wrote a post filled with science-backed ways to reach your best LinkedIn photo. Here are some fast tricks:
Try uploading your photo to PhotoFeeler to see what your LinkedIn photo scores compared to what you've been thinking all along.
Take your picture against a white background and then use a tool like Background Burner to set a new background color.
Get yourself the "free forever" version of Canva to edit the picture you plan to use so it fits the right dimensions.

4. Set a LinkedIn Profile background photo (1 minute)
While you're on Canva, set a new canvas to the size of 1400 x 425 pixels.
Ideas for background photos:
Something that conveys what you accomplish in your role
Company branding (i.e. an office shot with a logo or a graphic-designer-approved pic)
A scenic view of the city you're located in
Here are some great examples from our sales team here at Yesware:

5. Set your current location and industry (30 seconds)
Just like how a picture turns you into a person to your network and search engines, setting a specific location does the same.
Looking to connect with a prospect? If you're in the same city as them, adding your location puts the similarity principle on your side.
Aiming for a new job? Recruiters use an advanced LinkedIn profile search that lets them filter by location for the position they're looking to fill. Adding your city makes you stand out 23 times more in search results.
Action: Quickly update your location and industry by clicking the pencil icon to edit your profile.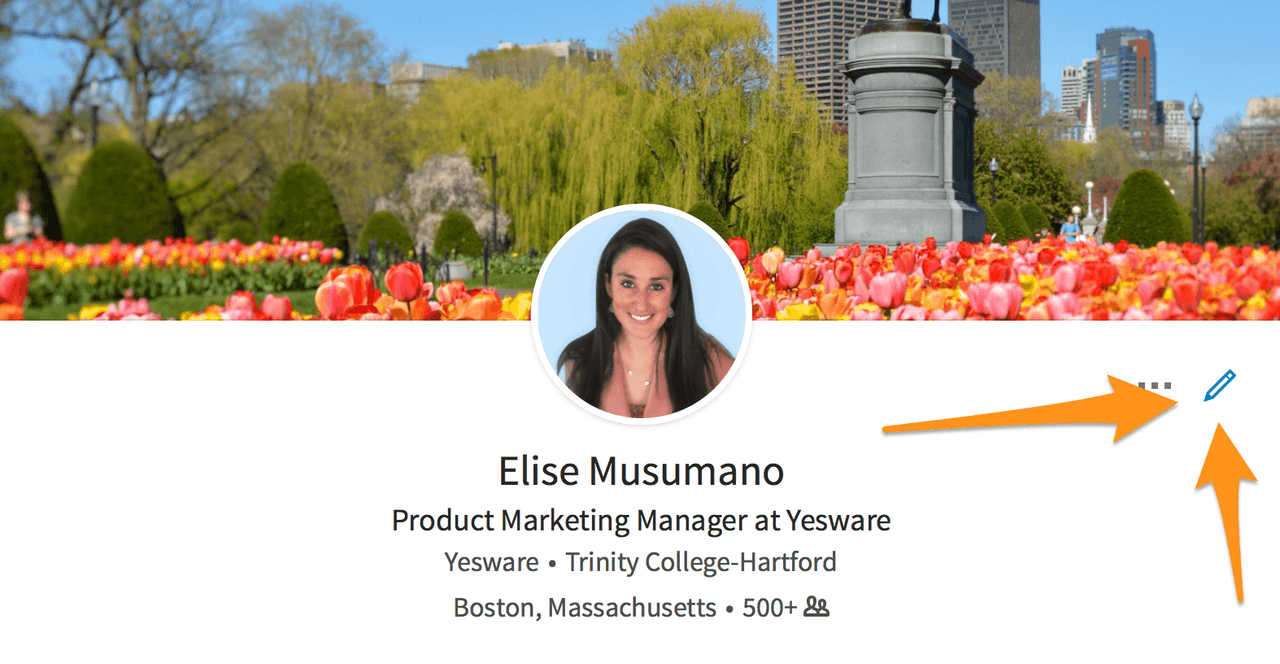 View LinkedIn profiles from your inbox
Add LinkedIn Sales Navigator to Gmail today
 6. Optimize your headline (1 minute)
Your headline doesn't have to be your current job title. In fact, if you're trying to compel action from your profile visitors, it shouldn't be.
So, if you're in sales or actively seeking a new opportunity, make it actionable.
How to do this: Fill in the black: "[Action]ing to/for [outcome]"
To make sure you stay within the 120 character limit, use this character count tool.
Here's an example from our sales team to illustrate this point:

(Note: Alex's background photo is a great illustration of what he accomplishes in his role — helping sales teams sell smarter and faster right from their inboxes.)
7. Add a LinkedIn profile summary (2 minutes)
This is your opportunity to tell the LinkedIn world what you stand for and to ask for action. As you write your own summary, keep in mind you have a 2000 character limit.
If you're targeting recruiters or laying out a general introduction, try a 3 x 3 summary: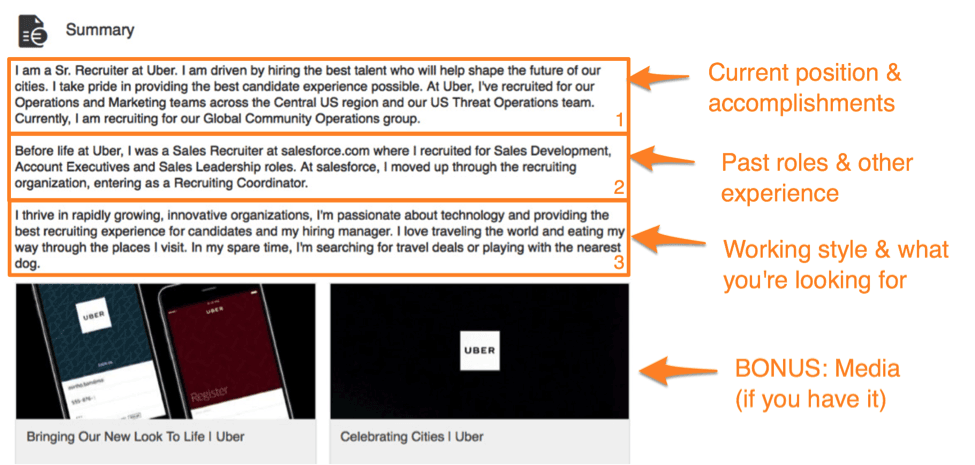 Keep in mind: with seven million people on LinkedIn switching jobs in a year, you'll need to differentiate yourself. Check out this helpful resource from LinkedIn if you want to add media to your summary.
If you're in sales, here's a good LinkedIn summary example to model after, from Paul Hlatky on our team:

Pro Tip: Don't start from scratch — Here are 6 LinkedIn summary examples + 7 more here to help get you started.
8. Fill out your experience (5 minutes)
Okay, I know you've been avoiding this one. And you're not alone — 46% of professionals don't feel confident describing their work accomplishments, according to a LinkedIn study.
But incomplete profiles are a turnoff for recruiters. So don't be shy in naming your successes, and make them quantifiable where you can (i.e. "wrote email templates that increased team reply rates by 35%").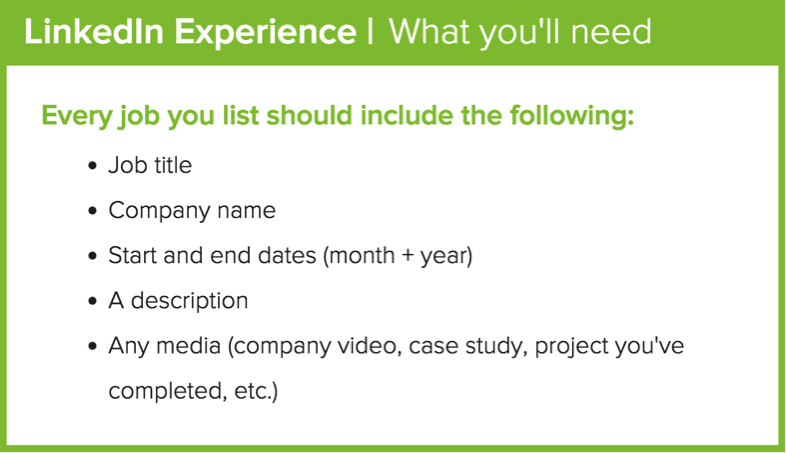 Pro tip: Keep your formatting consistent for each job description.
If you use bullets, do they start with the same verb tense for all past positions?
Are you consistent with using either paragraph form or bullets for each description?
When something falls out of line from a pattern, it causes cognitive dissonance with your readers, so do a quick read-through before you publish.
Bonus: if you're looking for a new job, use job descriptions to your advantage; they can be your jumping-off point for edits. Paste a job description into tagcrowd.com to find out the important words you should be including in your own experience and summary sections.
9. Add five professional skills to your LinkedIn profile (20 seconds)
LinkedIn members with 5 or more skills listed are 33x more likely to get messaged by recruiters and receive 17x more profile views. It's that simple — if you haven't added any yet, you need to.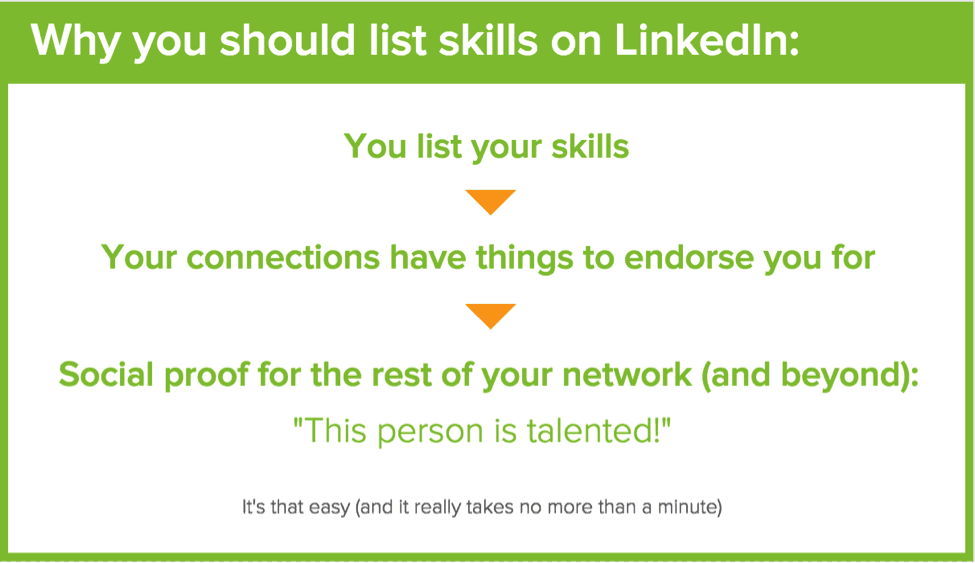 10. Get yourself 50 connections (1 minute)
If you're under this cap, do some quick work to get yourself to Complete Profile status.
Action 1: Go to your company's LinkedIn page, and make sure you're connected with all current employees.
You can do this to connect with coworkers from your previous job, too, if you never did it before.
Action 2: Go through People You May Know and connect with whoever you'd say hello to if you saw them on the street.
Connect with more buyers
Build valuable business relationships faster
7 Edits to Get Your LinkedIn Profile to All-Star Strength
Have you ever noticed that when you visit your profile on LinkedIn, there's this "Profile Strength" score (oftentimes calling out mediocrity)?
Trying to reach the far right can feel like:
So close and yet, always so far.
Well here's some good news: the tips and tricks above will win you that All-Star status (where you're 27x more likely to be found by recruiters, according to LinkedIn).
That said, if you're feeling ambitious, here are seven other suggested updates to make to your profile to show what you've accomplished and what you're interested in.
Publications — have you ever written something public-facing for your company or on your own?
Certifications — do you hold any industry or role-related certifications?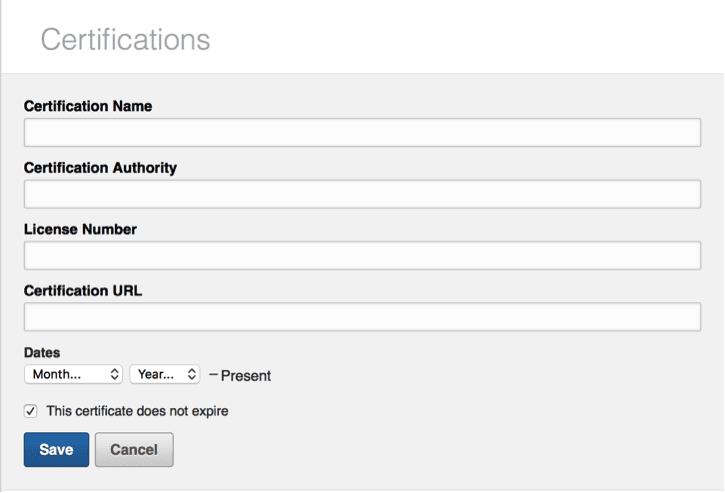 Groups — who are you looking to connect with? Join the groups they're in.
Following — what do you stand for? Think of five people and/or companies who influence you, and follow them (whether they're in your industry, career track, have the same ambitions, etc.)
Language — do you speak any second languages? (I had to skip this one because 7 years of Latin doesn't really count when it comes to conversational languages  #bringbackLatin)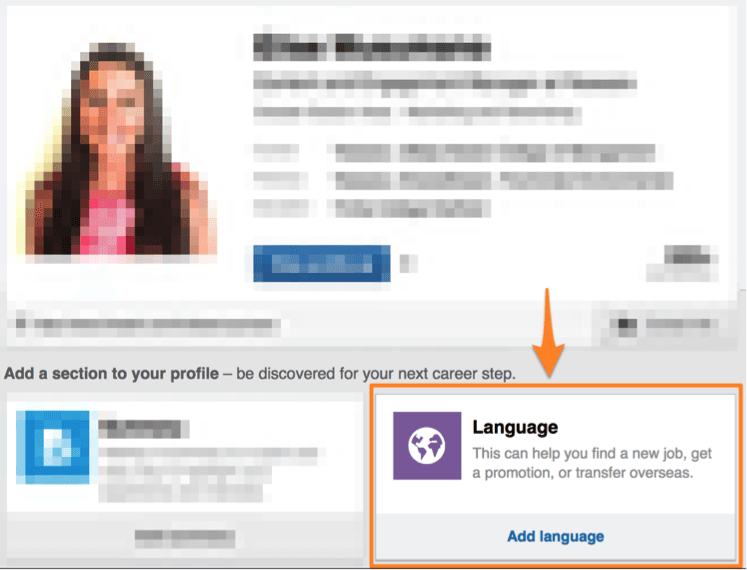 Volunteer Experience — here's what it looks like and why you should add it: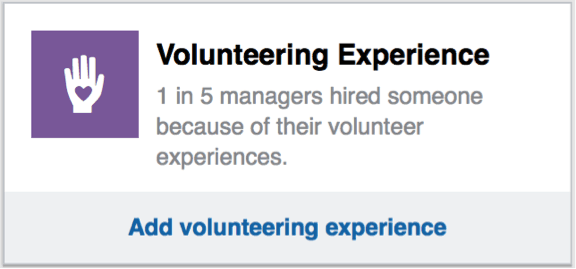 If you're not convinced yet — 41% of LinkedIn members consider volunteer experience to be as valuable as work experience. If you have experience, include it.
Recommendations — ask one person for a recommendation, if you haven't yet. How? Visit their profile, Click the "More" button and choose "Request a Recommendation."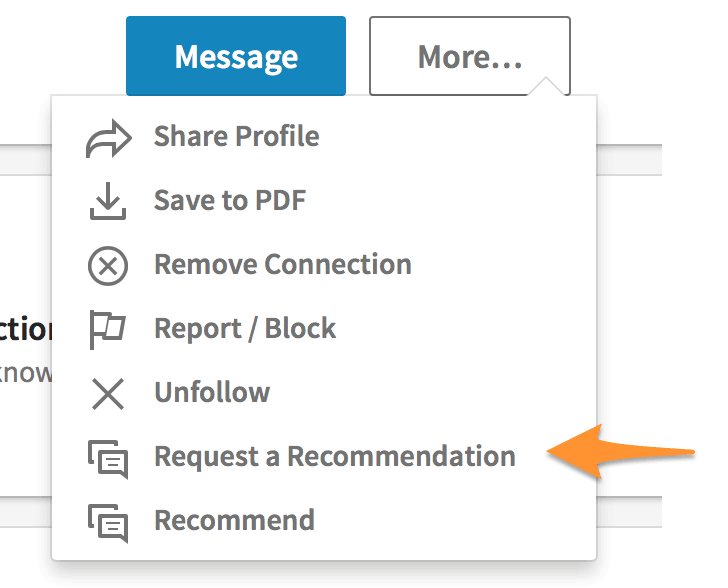 Okay, we're nearly there now! Just one final recap to send you on your way:
How to Reach a "Complete Profile" Status on LinkedIn
Here's what you need, at a minimum:
Profile photo
Industry and location
Your current position
2 past positions you've held
Your education
3 skills
Industry & postal code
50 or more connections
If you're missing any of the above requirements, set aside ten to fifteen minutes and follow the step-by-step guide above.
And that's everything! Feel free to tweet us additional tips, tricks, and great LinkedIn profiles to benefit other readers. Otherwise, we'll continue to update as LinkedIn evolves its profile sections and strength parameters.
Next stop: let's give your inbox a 60-second makeover.
More tips for perfecting your LinkedIn profile:
Get expert sales tips straight to your inbox to win more deals
Related Articles
Sales, deal management, and communication tips for your inbox