6 LinkedIn Summary Examples to Master Your First Impression
LinkedIn is one of the most effective ways to connect with prospects. After all, you get to qualify them through their work credentials, and they get to determine if you're the right fit for them all in one place.
On LinkedIn, people are actively looking for work-related solutions to problems they're facing in their daily working lives. This means they're going to be far more receptive there than on other platforms.
But you have to get it right. And that all starts with your LinkedIn summary.
Think about it: one of the first things prospects will see when they land on your LinkedIn profile is your summary. This is the blurb below your photo and your headline that provides an introduction to who you are and what you do.
This is going to be the first digital impression a lot of prospects will have of you. To help you master your first impression, let's look at 6 LinkedIn summary examples that hit the mark.
What Does a Good LinkedIn Summary Look Like?
The first paragraph on your LinkedIn page is the place to show off your skills, your passion for what you do, and your past results — as they say, the proof is in the pudding, and nothing is more powerful than solid evidence.
However, lots of sales reps leave this part of their profile blank because they simply don't know what to write. But this could be losing them tons of business, particularly when there are sales reps out there populating this part of the profile in an engaging way. Your LinkedIn summary should do three things:
1. Introduce you to a prospect

2. Show off your value (this comes in the form of your passion, why you're the person to help them, and past evidence if you can provide some)

3. Create an immediate connection (you want prospects to immediately relate to you and want to get in touch) 
Let's take a look at this in action. We've gathered together a collection of LinkedIn profile summaries that do the job on many different levels.
Quick note: These examples are for salespeople. Job seekers who are looking to impress hiring managers and recruiters will need to focus more on themselves and their qualifications rather than on the prospect.
Now, scroll on for inspiration.
View LinkedIn profiles from your inbox
Add LinkedIn Sales Navigator to Gmail today
Top LinkedIn Summary Examples
1. The Fun and Friendly LinkedIn Summary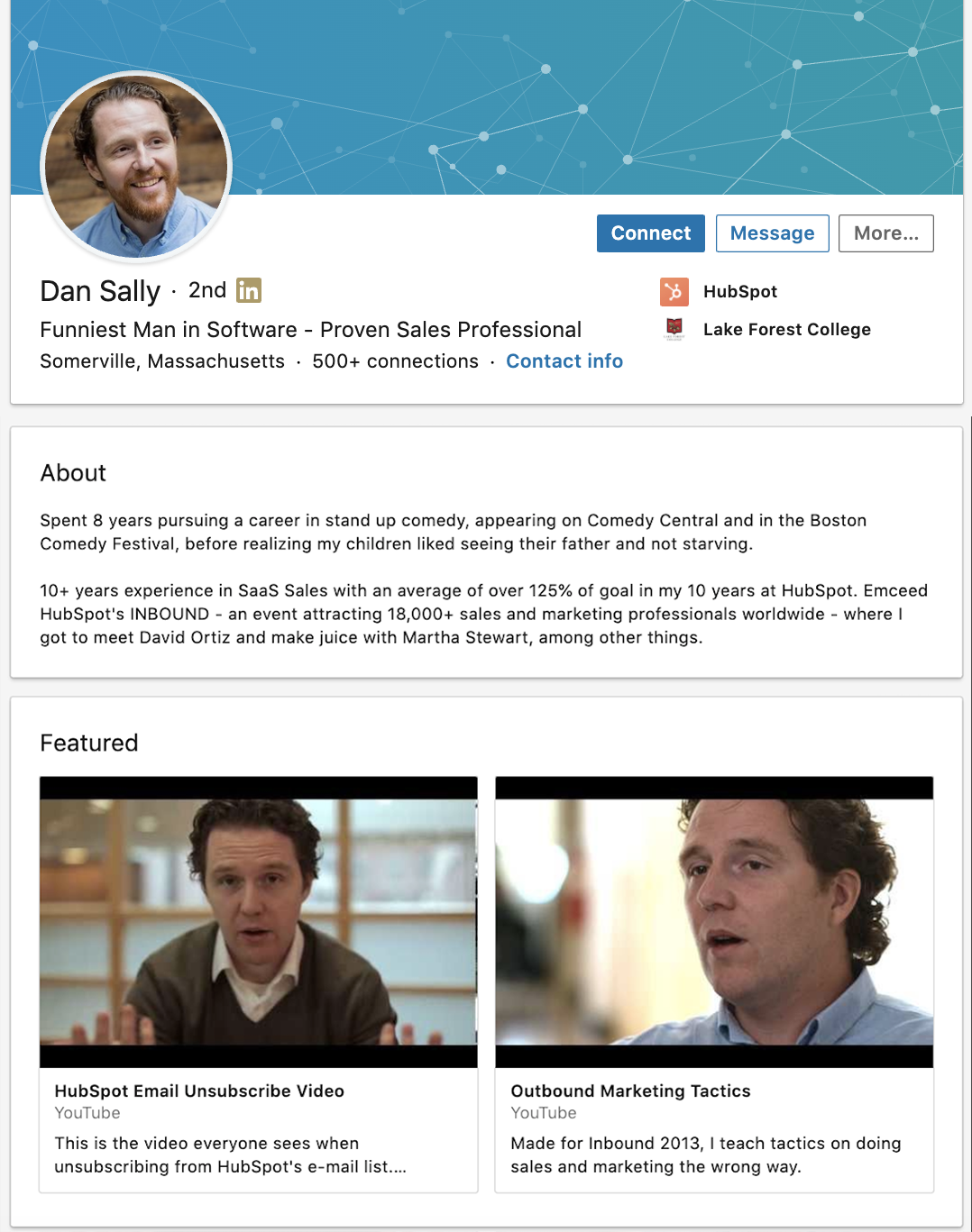 Dan brings out his sense of humor in the very first sentence (it probably helps that in his past life he was a stand-up comedian). Just because LinkedIn is a professional platform, it doesn't mean your summary has to be stuffy and formal. In fact, this can turn off prospects who are looking for a human connection with the people they buy from.
In this LinkedIn summary example, Dan manages to strike the perfect balance between adding a dash of comedy into his summary while still outlining his achievements and what he does.
Do It Yourself:
Bring out your sense of humor – everyone has one!
Think about it as if you were speaking to a friend. Keep it informal and only make appropriate jokes that fit well. We only recommend trying to add humor if you can pull it off… and whatever you do, don't go over the top as you'll tip the scales into cringe territory. 
2. The Prospect-Focused LinkedIn Summary 
Lydia knows who she's targeting and she calls them out immediately – small-to-mid market companies that need a marketing person.
While your LinkedIn profile is all about you, it doesn't have to be all "me, me, me!". Instead, use the space wisely to touch on your prospect's pain points. This will immediately communicate to them that you understand their wants and needs.
You have a very limited amount of time to connect with prospects online, particularly when there's so much competition out there, that it's important to make your summary outward-facing – that is, it talks to your prospects rather than talks about you.
Do It Yourself:
Identify your prospect's main pain points and lead with those in your summary. This will immediately catch their attention and have them nodding along in agreement. After that, you can present yourself or your business as the solution.
3. The Personality-Infused LinkedIn Summary 
Jenn does a great job of summarizing her experience and expertise while also keeping things casual and friendly. It's like she's talking to you over the phone rather than via a block of text, right? She even throws in a smiley face for good measure, which makes it extra personable.
Bear in mind that she still outlines what she does and specifically who she works with, which helps prospects determine whether she's a good fit for them and their needs.
Do It Yourself:
The easiest way to inject your personality into your LinkedIn summary is to simply write like you speak. Using a diction tool can be really useful here (though do remember to go back and edit it as there are likely to be some typos in the mix!).
Text that you can almost hear helps you forge deeper connections with your prospects and will instantly bolster their connection to you as it will feel like they already know you. 
4. The Skills-Centered LinkedIn Summary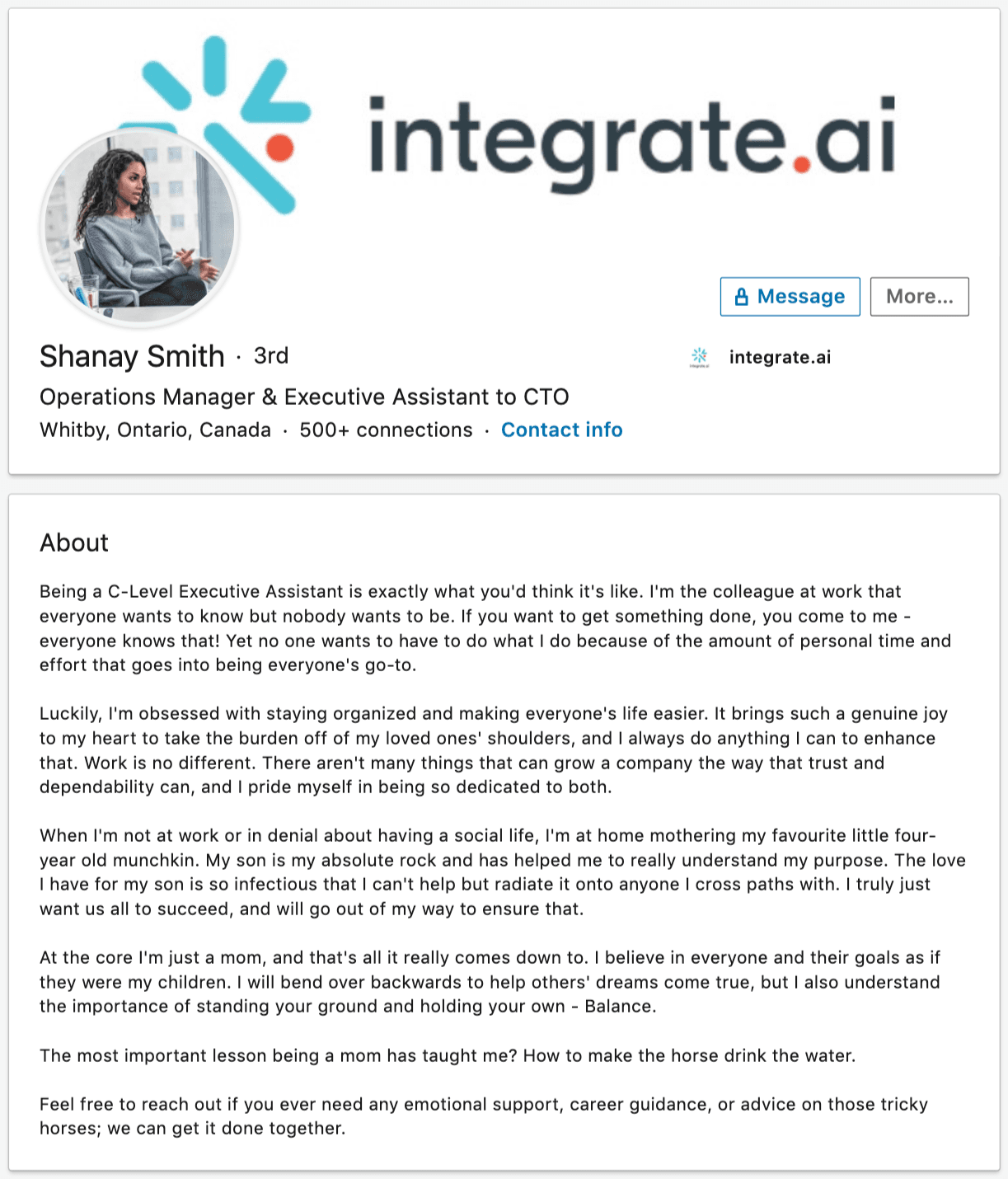 It's so important to highlight your skills in your LinkedIn summary. This is what will set you apart from your competitors and help prospects qualify you as a good fit. 
In this LinkedIn summary example, Shanay manages to get across her expertise in an engaging way while still injecting her summary with personality. And then includes a clear call to action at the end. You can get a feel for what it would be like to meet her in person, but you also leave with a clear understanding of what exactly she does and who she does it for.
Do It Yourself:
Don't bore prospects with a long list of your skills. Instead, weave them into a story like Shanay does to keep prospects engaging and wanting to read on.
5. The Skimmable LinkedIn Summary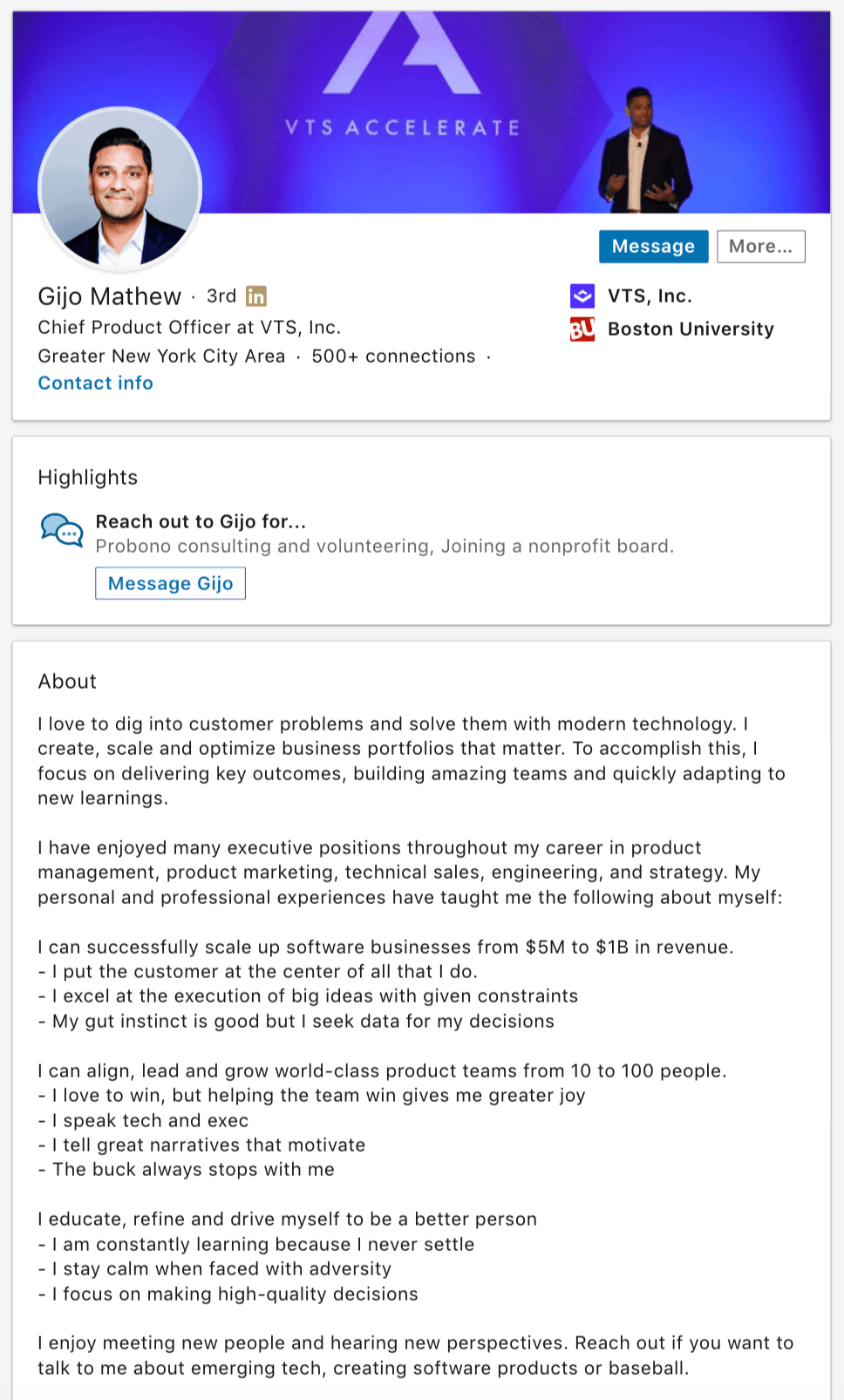 People don't have a lot of time these days, so making your LinkedIn summary short and skimmable can be a really effective way to get as much information across as possible in a short space of time.
Make like Gijo and split up your summary into sections with bullet points. This allows readers to skim the headers and get a deep understanding of what Gijo can do without having to read reams of text.
Do It Yourself:
Use features like bullet points and bold or italics to pick out the important parts of your summary. If you feel like you could write paragraphs and paragraphs about what you do, try and break it up into different sections and structure it so that readers can easily pull out the important parts. 
6. The Story-Inspired LinkedIn Summary 
Storytelling remains one of the most effective ways to engage readers. Since the dawn of time, humans have thoroughly enjoyed a good story. Just because LinkedIn is a professional place, it doesn't mean you can't weave a good narrative into your summary.
Katie does this really well. She starts things off unconventionally with a scenario that her readers will be able to relate to. She then uses this to lead into her skills and expertise and present herself as a much-needed solution.
Do It Yourself:
Think about how you can explain your professional past and experience in a way that resonates with the people you're targeting. Can you turn it into a metaphor? Can you present it as a story that they'll understand?
Don't forget to put yourself in the story too – it's no good having a beautifully written narrative if it doesn't give prospects an insight into your expertise. 
Connect with more buyers
Connect on LinkedIn without leaving Gmail
Top Tips for Writing Your LinkedIn Summary 
These LinkedIn summary examples are all very different but are all incredibly effective at positioning their authors as ideal solutions. If you want your summary to be on the same level as these, consider using one or more of the following tips. 
1. Use First Person
People want to get to know know (and it's also kind of weird to talk about yourself in third person).
2. Show Your Personality
Be yourself.
By showing your personality — prospects can get to know who you are as a person and determine if you can work well together.
3. Short, Sweet, and to the Point
Keep things short, sweet, and to the point, as people these days don't have a lot of time on their hands.
The last thing you want is for your audience to get tired of reading and miss out on important information.
4. Include Keywords
Optimization can help get your summary in front of more eyes.
Include keywords so that your summary shows up in related searches (for example, if you're a marketing manager, make sure you use those words in your summary).
5. Align Your Voice
Remember who you're talking to and align your voice and messaging with your prospect's wants and needs.
6. Tell a Story
Tell a story to keep readers engaged and wanting more.
Storytelling in sales has a profound effect on our brains and elicit empathic responses.
7. Highlight Your Skills
Highlight your skills so that prospects know what your assets are and how you can best help them.
8. Make It Fun
Make it fun so that prospects actively want to reach out and engage with you.
You want to come off as likable and approachable right off the bat.
First Impressions Matter, So Make Your LinkedIn Summary Count 
Your LinkedIn summary is often the first chance you get to impress new prospects. But, with only a small amount of space, it's a skill in itself to get it right.
Use the tips and examples we've highlighted here to create a summary that's effective from the get-go and lands you qualified prospects time and time again.
Hungry for more LinkedIn tips/techniques? Here are 40 ways to use LinkedIn for sales.
Get expert sales tips straight to your inbox to win more deals
Related Articles
Sales, deal management, and communication tips for your inbox