LinkedIn Headline Examples for Salespeople
Your LinkedIn headline is one of the most important parts of your overall profile. An outstanding headline can help you rise above the rest of LinkedIn's 575 million users to make valuable connections, target and generate well-qualified leads, and rise to the top of your field. 
In this article, we'll show you the ins and outs of crafting the perfect LinkedIn headline (with examples, of course). We'll also teach you how to write your own LinkedIn headline that's guaranteed to make a fantastic first impression, whether you're just starting out or well into your sales career.
Here's what we'll cover:
LinkedIn Headlines: What They Are and Why They're Important
Your LinkedIn profile has many important parts, each significant in its own way. Your headshot, career summary, and qualifications all come together to show off your unique value as an employee.
But no aspect of your profile is quite as visible or as important as your LinkedIn headline.
That's right — those short, sweet 120 characters are precious real estate on your profile, and it's your job to make them some of the most impactful and exciting ones on the page.
And many sales professionals drastically underutilize them:
Think of your LinkedIn headline as a first impression. It should be exciting but authentic and pique the reader's interest. When crafted correctly, and optimized with the right keywords, your LinkedIn headline can accomplish a number of goals in a really small space. It can:
Indicate your current job title to other LinkedIn users, which will open up new opportunities for networking.
Show recruiters and hiring managers your intentions for job-seeking, and demonstrate the unique strengths that you can bring to the table.
Funnel well-qualified traffic directly to you (hello, cost-free leads!).
Suffice it to say, your LinkedIn headline can pack a mighty punch — if you use those roughly 20 words to your advantage. But don't stress — writing a great LinkedIn headline isn't rocket science. Let's take a look at some examples of good LinkedIn headlines, and what makes them stand out from the crowd.
View LinkedIn profiles from your inbox
Add LinkedIn Sales Navigator to Gmail today
LinkedIn Headline Examples for Sales Job Seekers
LinkedIn is a fantastic place for job-seeking sales professionals. Recent data shows that about 95% of companies and recruiters rely heavily on LinkedIn for finding qualified job candidates. 
The key is making yourself stand out among a sea of other accomplished and eager sales reps.
Optimize Your Keywords
LinkedIn is part social media, part search engine. It's important that your profile stays authentic to who you are and your experiences as a professional, but targeted keyword optimization will help you get noticed more quickly. 
Most people don't know this, but LinkedIn automatically gives you a default headline when you sign up. The algorithm is extremely simple, and usually ends up reading "Job Title + Current Company." That's why there's a nearly limitless pool of headlines that read, "Sales Professional," "Sales Executive," or "Sales Rep." 
It goes without saying that it will be virtually impossible for these people to get noticed and find a new job if they stick with the default.
Even adding a few words that are key to your industry or specific job title will help you stand out to recruiters or hiring managers when they do a LinkedIn search.
Look at how Natalie hits major keywords specific to her field in her headline. If a recruiter was searching for a "pharmaceutical sales rep," she would jump straight to the top of the search results.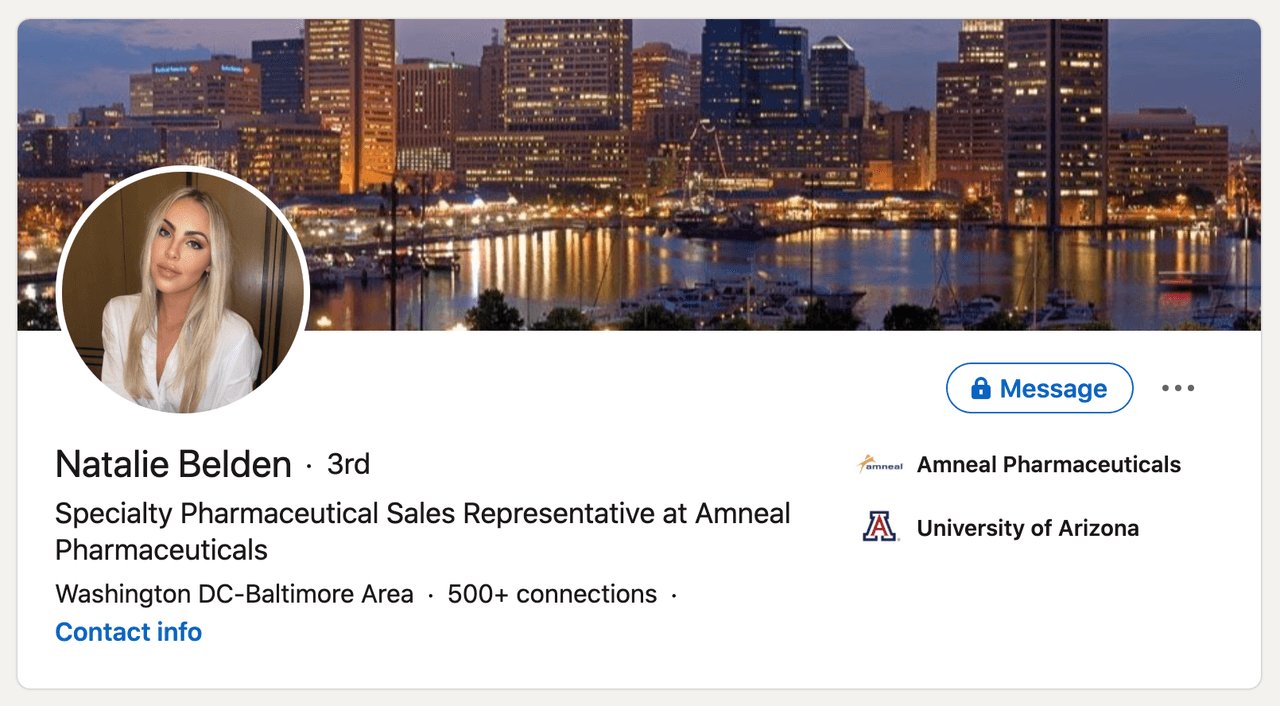 Max does the same when he describes himself as a "Medical Sales Representative."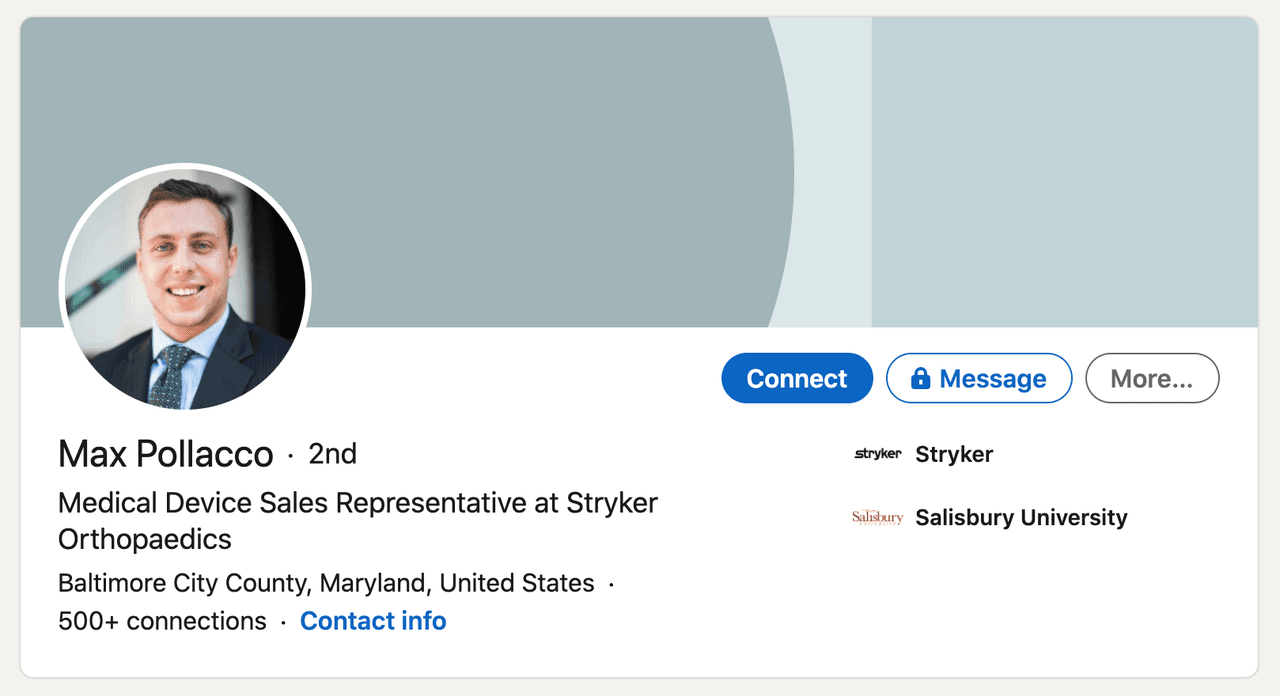 It may not seem like much, but going the extra step to describe what field he's in adds a ton of value to Max's headline.
Showcase Your Skills
Your LinkedIn headline can absolutely turn heads, even if you don't have a ton of "real" experience in your field yet. Remember, everybody starts somewhere, and many recruiters give a lot of weight to college or internship experience. 
One way to use your LinkedIn headline as an early-career job seeker is to highlight your overall skills and strengths. 
Look at the way Jonathan lists out the various niches in which he's worked in sales. He doesn't specifically name any company or particular achievement; instead, he targets a few key areas (B2B Saas, demand generation, etc.) that he feels are areas of strength.
This makes it very easy for hiring managers to know whether or not they want to know more from his LinkedIn profile.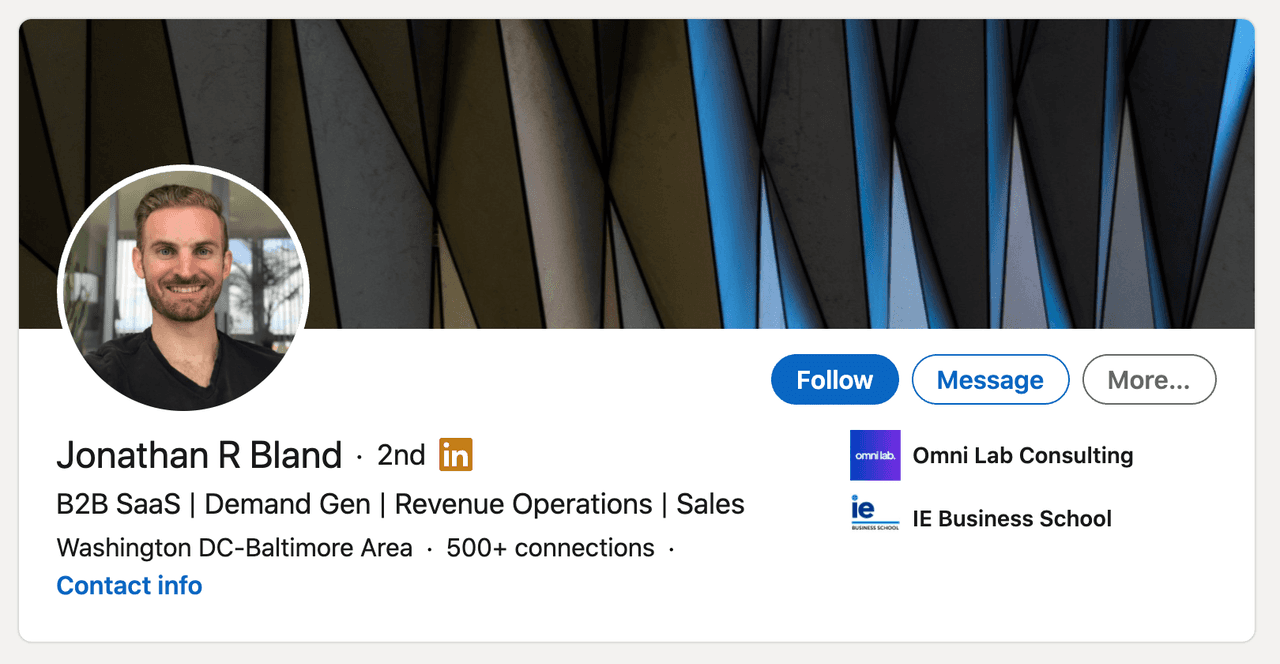 Jordan does something similar. He names one specific skill he can offer (helping companies avoid phishing attacks), which gives companies great insight into his skillset.
This would be a great strategy for job seekers who have limited work experience. Even if you've only held unpaid internships until now, you can (and should!) leverage the knowledge and skills you gained from them in your LinkedIn headline to attract new professional opportunities.
LinkedIn Headline Examples for Sales Executives
Even well-seasoned sales executives can get a lot of mileage out of their headlines.
Your LinkedIn headline is a great opportunity to network with like-minded sales professionals and LinkedIn users. Even if you're happy with and well-suited for your current position, a great LinkedIn headline can help strengthen your personal brand and showcase the value you bring to your field.
Have Fun and Be Yourself
Look at the way Marcus's personality comes right off the page through his headline.
Not only does he use it to effectively demonstrate his accomplishments (he started his career by selling Speedos, and climbed all the way to 7-figure deals!), he also includes his purpose: help more salespeople make more sales and earn more money. The emoji is a fun touch, too, and fits in nicely with the general feel of his profile. 
Amy, below, does something similar — calling herself "The Most Seriously Non-Serious Sales Rep" shows that she's an easy-going, fun member of her sales team.
However, despite her easy-going nature, note the way she doesn't shy away from advertising her accomplishments.
Before clicking on her profile, we can already see that she is serious enough to (co)found two different ventures. Any hiring manager would be eager to learn more about what Amy could bring to their team.
Go Ahead and Brag (and Be Specific)
Writing about yourself and your professional achievements can be challenging. There's a fine line between putting yourself out there and coming across as overly confident.
The problem with this is that, in an effort to be humble, many LinkedIn users end up repeating the same buzzwords over and over again. It's one thing to say that you're a "team player," but quite another to state that you "Lead an 8-figure profit sales team."
Your LinkedIn headline is one area where it's okay to toot your own horn. If you've earned or achieved field-specific accolades, use your headline to highlight them. 
Jessica, an account executive at Amazon, uses her headline to indicate a key professional credential — her AWS certification (twice over!).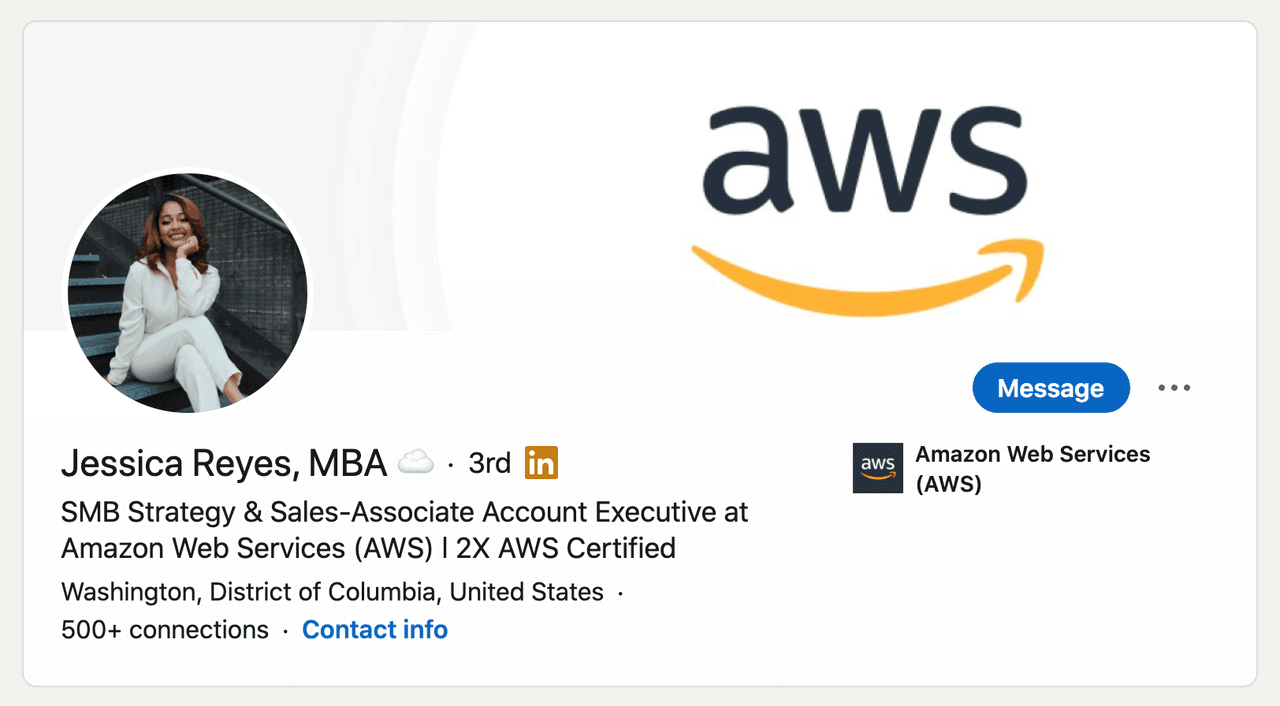 The keywords she chose makes it easy for hiring managers to search for and recruit her, but she also gives them a quick and easy box to check to further qualify her.
Colleen also used her headline to showcase her accolades — and boy, do they really shine!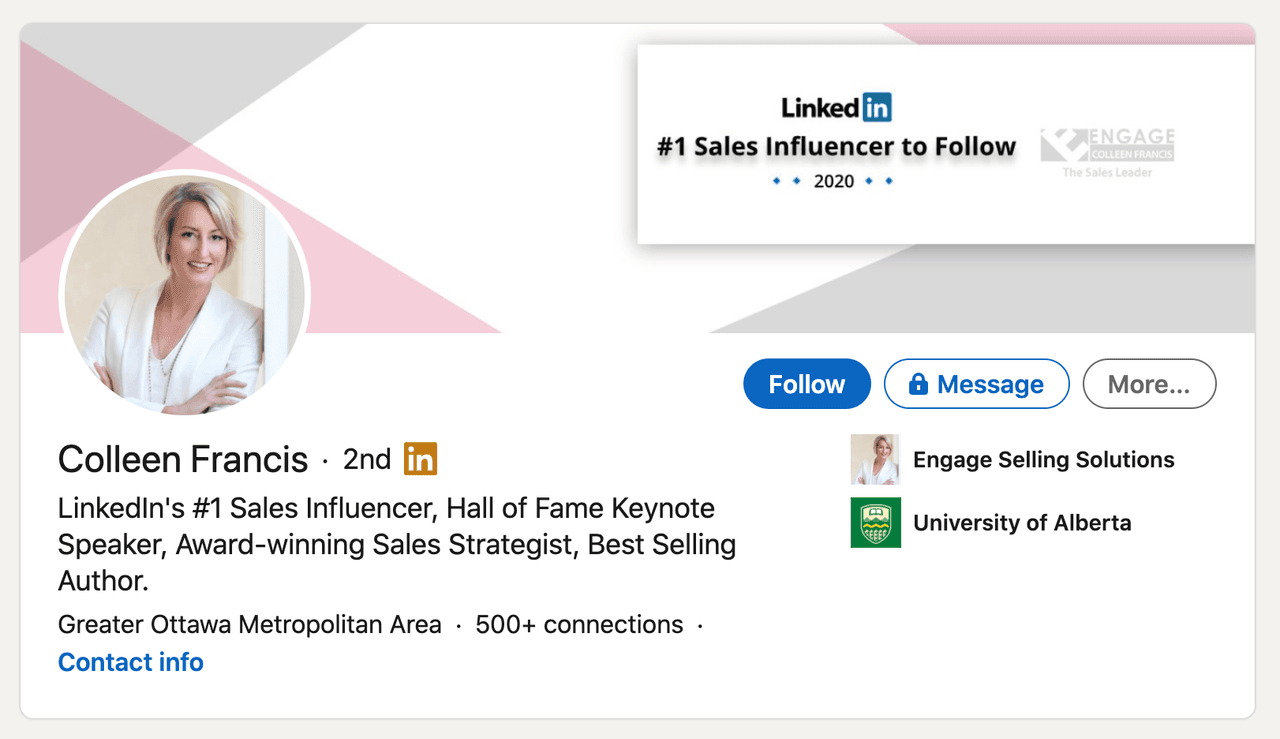 In such a short amount of space, Colleen is able to show that she:
Earned the #1 spot on an exclusive LinkedIn ranking
Is in at least one Hall of Fame
Has won sales awards
Is a best-selling author
Compare any of those to LinkedIn's default headlines. Colleen's default would probably read something like, "Sales Workshop Coordinator | Engage Selling Solutions." 
No offense to LinkedIn, but that's a pretty rough first impression for a woman who has a laundry list of exclusive achievements.
LinkedIn Headline Examples for Sales Hiring Managers
LinkedIn is also a fantastic tool for digital marketing. If your company is hoping to recruit top talent in the sales industry, your hiring managers can use their profile headlines to target salespeople who are actively seeking jobs. 
Call Out to Your People
If you're looking for a specific kind of job candidate, use your headline to make that known.
Fontella makes it nice and easy for job seekers to determine if her company would be a good fit for them.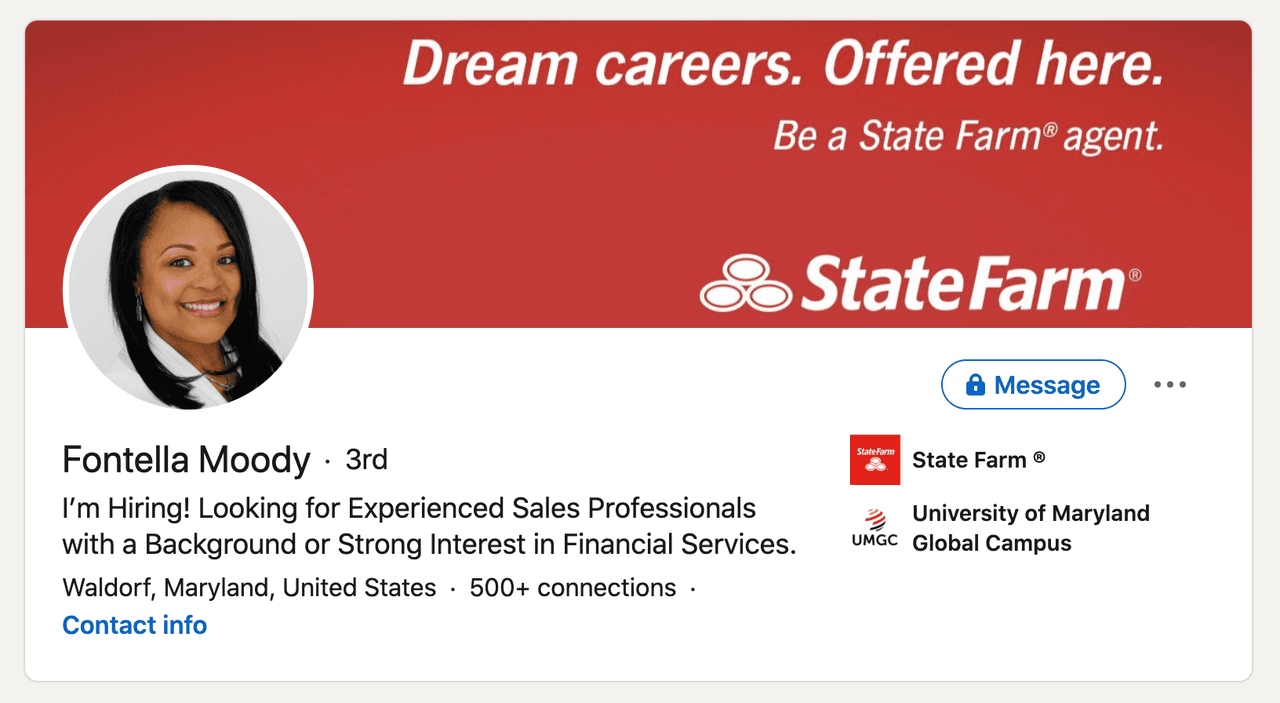 She says she's looking for someone "with a background or strong interest in financial services." This is a huge plus for job seekers who have little work experience — a background is helpful, but even an interest and willingness to learn would seemingly be considered by Fontella.
Jacqueline is hiring for Amazon.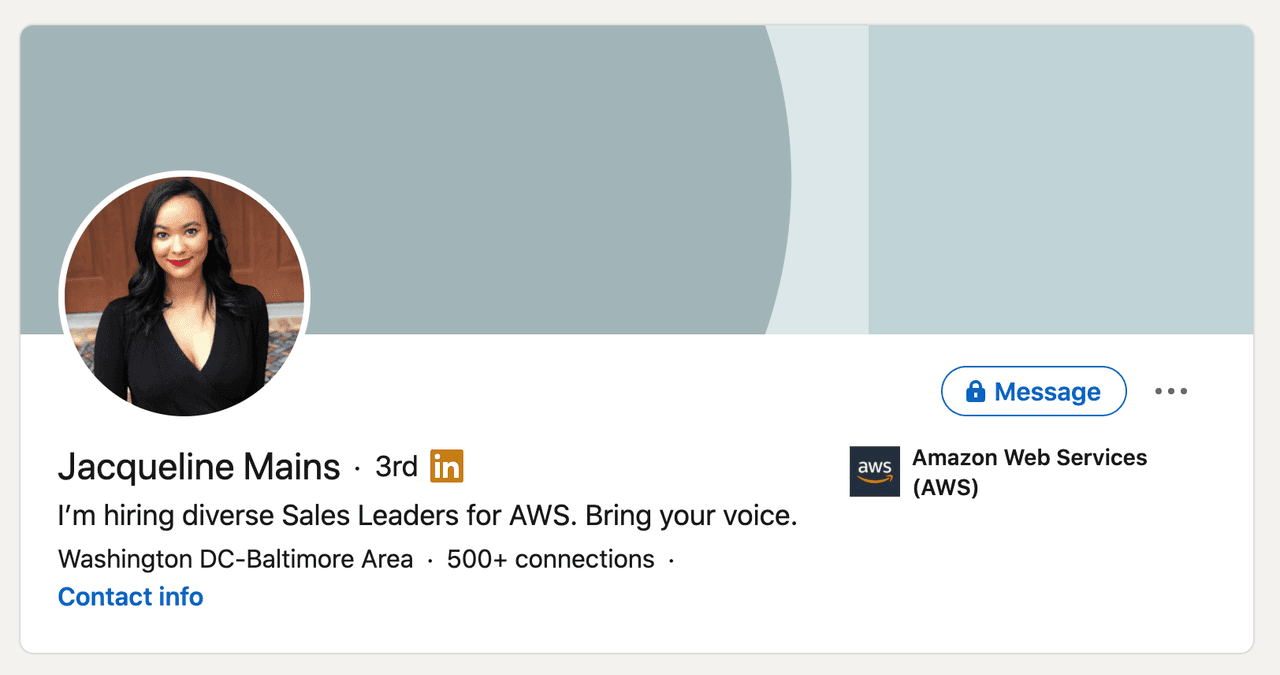 Notice the way she qualifies who she wants to hire. Her headline states that she's looking for diversity, and for people who "bring [their] voice." With so few words, it's clear that Jacqueline is eager to hire job seekers who think outside of the box and are ready to hit the ground running with outspoken, progressive ideas.
Make Yourself Known
Another great way to target well-qualified candidates, aside from calling out the specific type of person you want to apply, is to use your LinkedIn headline to describe your company or work culture.
Sara describes her company as a "family." That indicates that it's a supportive and likely close-knit environment; it may not be a great fit for someone who prefers to keep work strictly professional.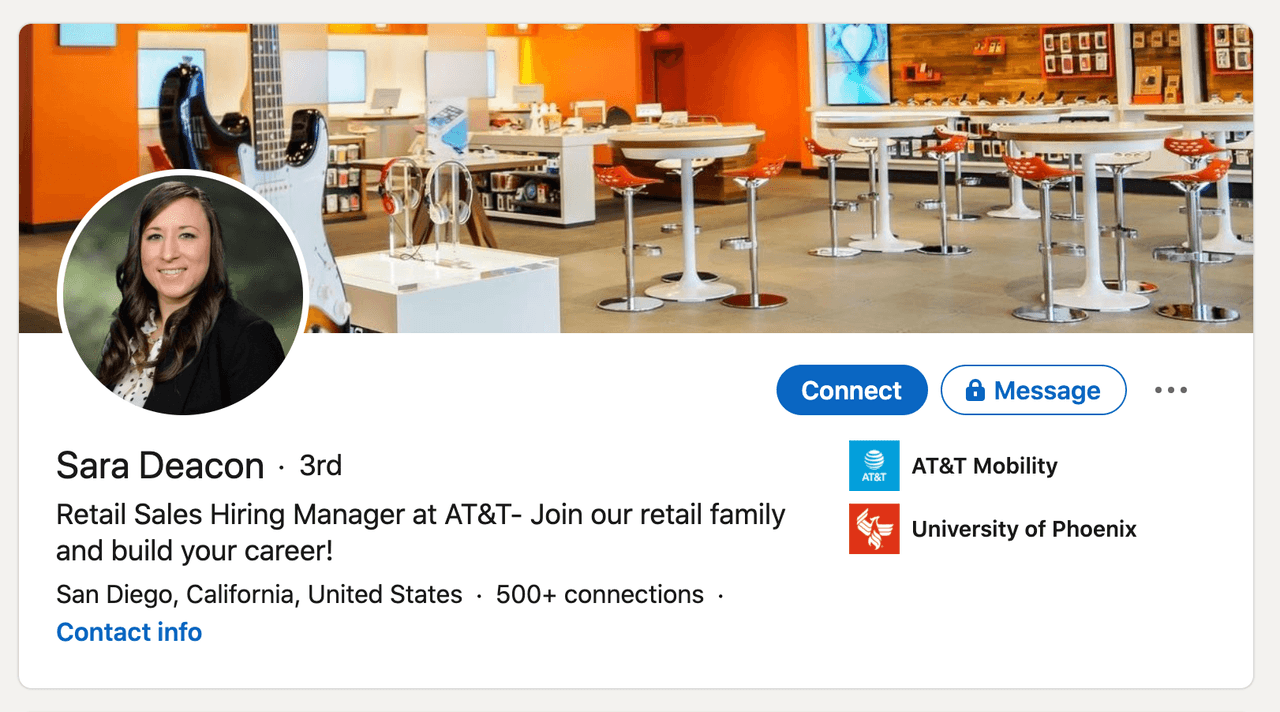 She also invites people to "build [their] career[s]," indicating that salespeople newer to the profession are welcome and can likely expect support and mentorship.
Dennis, who's currently hiring for his startup, uses his headline to indicate that he previously worked for Google and Facebook.
Without knowing Dennis or his new company, it's safe to assume he's looking to build a company culture that's based around technology and progressive workplace ideas.
Connect with more buyersBuild valuable business relationships faster
More Ways to Improve Your LinkedIn Profile
Once you nail the perfect headline, it's important to make sure the rest of your profile is up to snuff, too. Here are a few more tips that will help you round everything out. 
1. Summary
Like the headline, the summary section of the LinkedIn profile is an underutilized opportunity to shine. In fact, many LinkedIn users leave this section blank altogether, simply because they don't know what to write. 
There are many ways to write an effective LinkedIn summary. Whether you opt for personality-based or skill-based, there are a variety of formats and content choices that can help you stand out to colleagues and hiring managers. 
A few potential options to explore are:
Fun and friendly: Remember to be professional, but don't be afraid to be human, too. It's okay to add a bit of humor or approachability into your summary, if it fits.
Prospect-focused: Your summary section doesn't have to be all about your. Consider using the summary space to call out your prospects' pain points for instant connection points.
Skimmable: Short sentences, line breaks, and bullet points all help your summary be more readable. In today's fast-paced world, the quicker you can hit your key talking points, the better off you'll be.
2. Profile Picture
Here's one area that few people skip, but still don't take advantage of. Believe it or not, there are right and wrong choices for your LinkedIn profile picture.
And I'm not just talking about the obvious rules, like avoiding party pictures or busy backgrounds.
Everything from your clothing choices to the way you smile contributes to that first impression. The wrong photo details can quickly turn people off from your profile — even if the rest of it is super effective. There are several free tools available online to help you confirm that the photo you choose communicates the right message. 
3. Connections
Many people think of their LinkedIn connections like their Facebook friends list — don't make that mistake.
Your LinkedIn connections are valuable social proof to hiring managers and influential people in your market about how established you are in your field. The more connections you have, the more you'll continue to make, so be sure to follow up with any new contacts shortly after meeting them.
Each piece of your LinkedIn profile is important. Start by optimizing your headline and go from there. You'll be surprised at how much of an impact even small tweaks can make!
Get expert sales tips straight to your inbox to win more deals
Related Articles
Sales, deal management, and communication tips for your inbox