9 Proven Strategies to Generate B2B Leads
Generating B2B leads is one of the most important parts of the sales process. The number and quality of leads have a direct correlation with a variety of critical KPIs and sales metrics, such as win rate, quota attainment, and revenue. 
It's important that the lead generation process is targeted, efficient, and repeatable. Sales teams and B2B marketers can ensure these things by following a set of strategies and tactics for generating leads.
In this article, we'll go over some of our best-proven tips from successful sales teams for researching and engaging with high-quality leads. 
Here's what we'll cover:
What Is B2B Lead Generation?
B2B lead generation refers to the process of finding well-qualified potential customers for your product or service and then engaging them with targeted marketing strategies to persuade them to buy. 
Lead generation is the first step in the sales process, and its importance cannot be understated. The way you populate the top of your sales pipeline has a direct impact on the success of the stages that follow.
Much of lead generation relies on gathering accurate, up-to-date contact information for good fits from your target audience. The more data, the better.
This doesn't need to be complicated — oftentimes B2B sales teams can find a plethora of data on potential leads using only a simple search engine. There are also a number of lead gen tools that can help B2B businesses run automated lead generation campaigns that will populate their CRMs with new contacts. 
Once sales reps gather the necessary data, they use that information to take action in the next steps of the sales funnel. Salespeople should work closely with their marketing teams to ensure they have engagement strategies to nurture a wide variety of new leads, including: 
Inbound marketing campaigns
Email marketing for outbound leads
Content marketing tailored for your ideal customer
Optimized SEO strategies that lead to high-converting landing pages
The ultimate goal for B2B marketing and sales is to generate a consistent and robust pipeline of leads who have a high chance of converting into customers.
Data that helps you sell smarterDaily activity, engagement data, and outcomes
Why Your B2B Company Needs a Lead Generation Plan
As we mentioned earlier, lead generation is one of the most important components of the sales process. The best B2B companies emphasize the need for a predictable, repeatable lead generation plan. Formalizing a strategy for this process comes with a number of benefits.
Consistently Sign New Customers
A well-thought-out lead generation process allows B2B companies to consistently generate new customers for their businesses. It goes without saying that more new leads directly correlates to increased revenues, so it's no wonder that this is a top priority for most sales and marketing teams.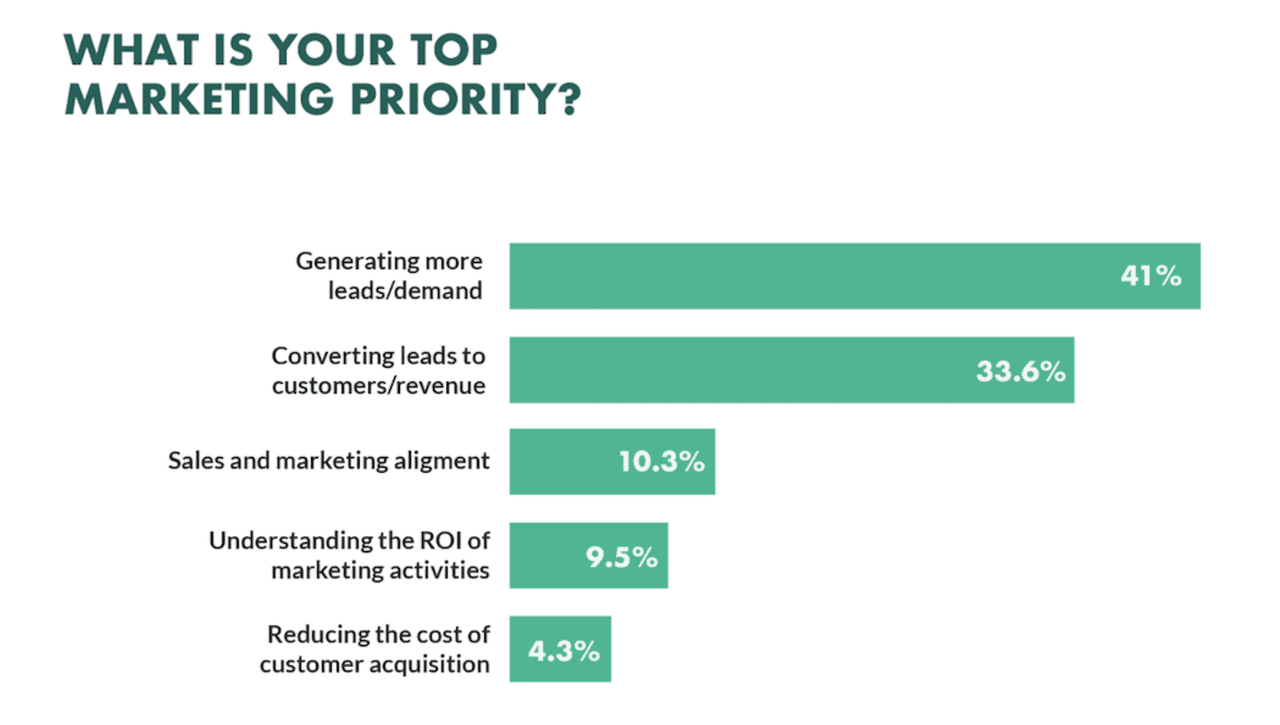 Even for those prospects who don't convert right away, adding them to an email list can create future opportunities to nurture and engage through the process until they're ready to buy. 
Increase Conversion Rates
The best lead generation tactics are the ones that attract best-fit potential customers from the very beginning. Content and marketing optimization can help your lead generation strategies lead to higher conversion rates across the remainder of the funnel.
Learn More About Your Perfect Customers
Lead generation is about much more than locating contact information; it should also help your team create and/or refine your Ideal Customer Profile.
When completed with care and attention to detail, the sales prospecting and lead generation processes can help businesses learn more about what makes decision-makers tick — their goals, pain points, budget, and more.
Create a Strong Pipeline
The effectiveness of your lead generation efforts has a direct impact on the health of your overall pipeline. Let's take a look at an example.
In the pipeline below, each stage starts with a certain number of leads or prospects. Each stage also has a specific conversion rate.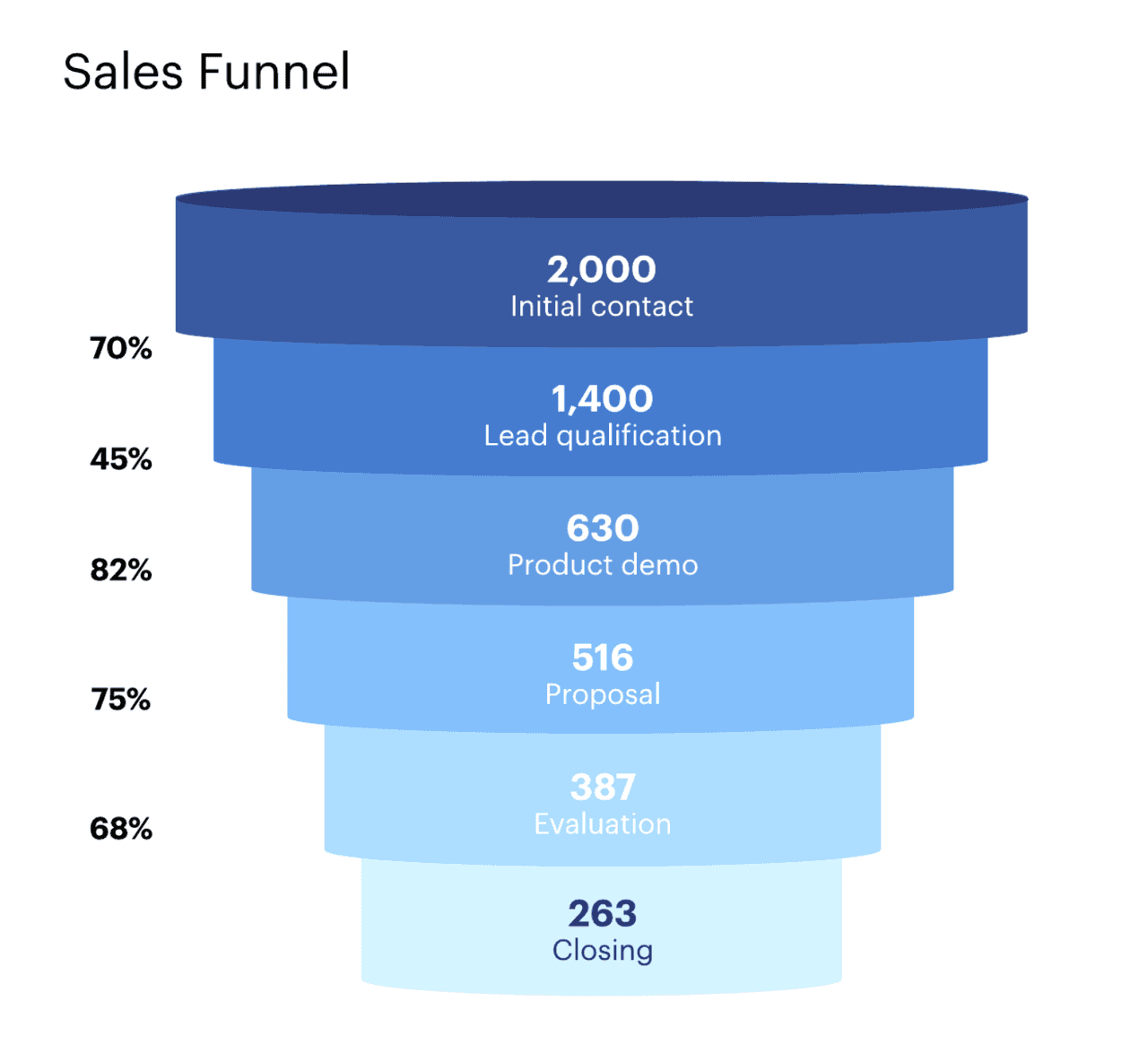 Imagine that your lead generation tactics successfully boost the numbers and conversion rates at the top of the funnel — you're able to make initial contact with 4,000 good-fit leads and, because your lead generation strategy is highly targeted and optimized, you're able to convert 80% of them. Those two shifts would lead to over 600 new closed deals.
As you can see, the health of the top of the pipeline has a dramatic trickle-down effect on the stages that follow. 
The Types of B2B Leads
Remember: leads, in general, are people who have been identified as people who would likely benefit from using your product or service. They may or may not have the intention to purchase at the moment you've identified them as a good fit, but they are a good fit nonetheless.
There are two main types of B2B leads: marketing-qualified leads and sales-qualified leads. 
Marketing-qualified leads (MQLs): Marketing-qualified leads live higher on the funnel than sales-qualified leads. MQLs are businesses that are very likely to benefit from your product or service, and have shown interest in your product based on their engagement with your marketing campaigns. Website visitors and people who download lead magnets (whitepapers, case studies, infographics, etc.) are good examples of MQLs.
Sales-qualified leads (SQLs): Sales-qualified leads have moved beyond browsing; they have shown more direct intent to buy through any number of avenues. A phone call, email, social media message, or a request for a demo might all represent the transformation from an MQL to an SQL.
Both MQLs and SQLs play an important role in the funnel; one is not necessarily better than the other. Instead, the goal is to generate as many MQLs as possible, and convert the highest possible percentage of them into SQLs.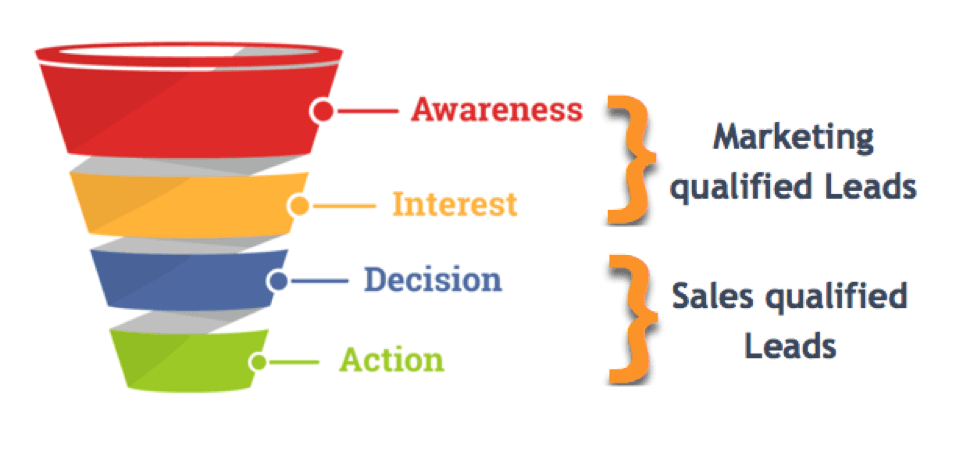 There are many marketing automation tools that can ease the process of generating MQLs and SQLs — check out our post here on some of our favorites.
9 B2B Lead Generation Strategies
Here are nine of our best tested-and-proven strategies for filing your pipeline with highly qualified leads.
1. Align Sales & Marketing
If you take only one step in improving your lead generation process, it should be to implement a sales and marketing alignment strategy to get teams on the same page.
These two teams absolutely must collaborate with one another in order to generate the best results. And the benefits don't stop with more and better-qualified leads; aligning sales and marketing leads to improved results across the board.
2. Don't Skip Cold Outreach
Cold calling and email get a bad reputation in the sales world for being time-consuming, awkward, and unproductive. Don't buy into this negativity!
Cold outreach can be a very effective strategy for generating new and productive leads. In fact, some studies show that many sales reps believe cold outreach generates as many leads as inbound strategies.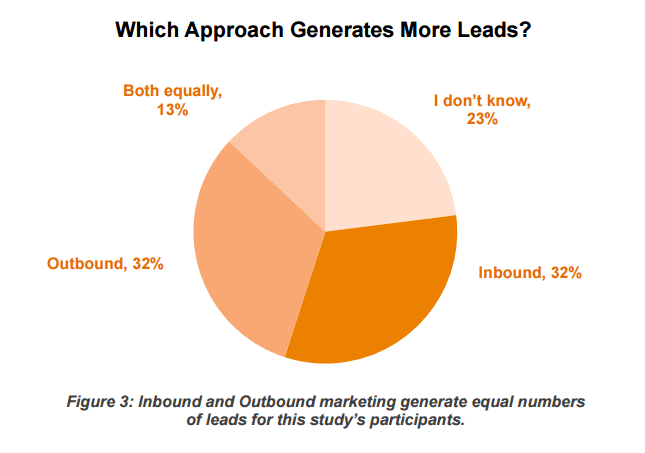 Check out our A-Z guides on cold outreach for more tips and strategies: Cold Emailing 101 and The Definitive Guide to Cold-Calling.
Cold outreach made easyAutomated multi-touch campaigns with email, calls, and social touches
3. Divide and Conquer
Many sales teams choose to split into specialized groups to streamline the process. The specific organizational structure will depend on the unique needs, talents, and goals of your team.
Roles may include:
Sales development reps (responsible for sourcing leads and booking meetings)
Business development reps (responsible for conducting demos and closing deals)
Customer success reps (responsible for ensuring a smooth onboarding process and upselling when appropriate) 
4. Leverage Social Media
There's no way around it: social selling is here to stay. And for good reason — check out some of the most popular benefits of this digital strategy: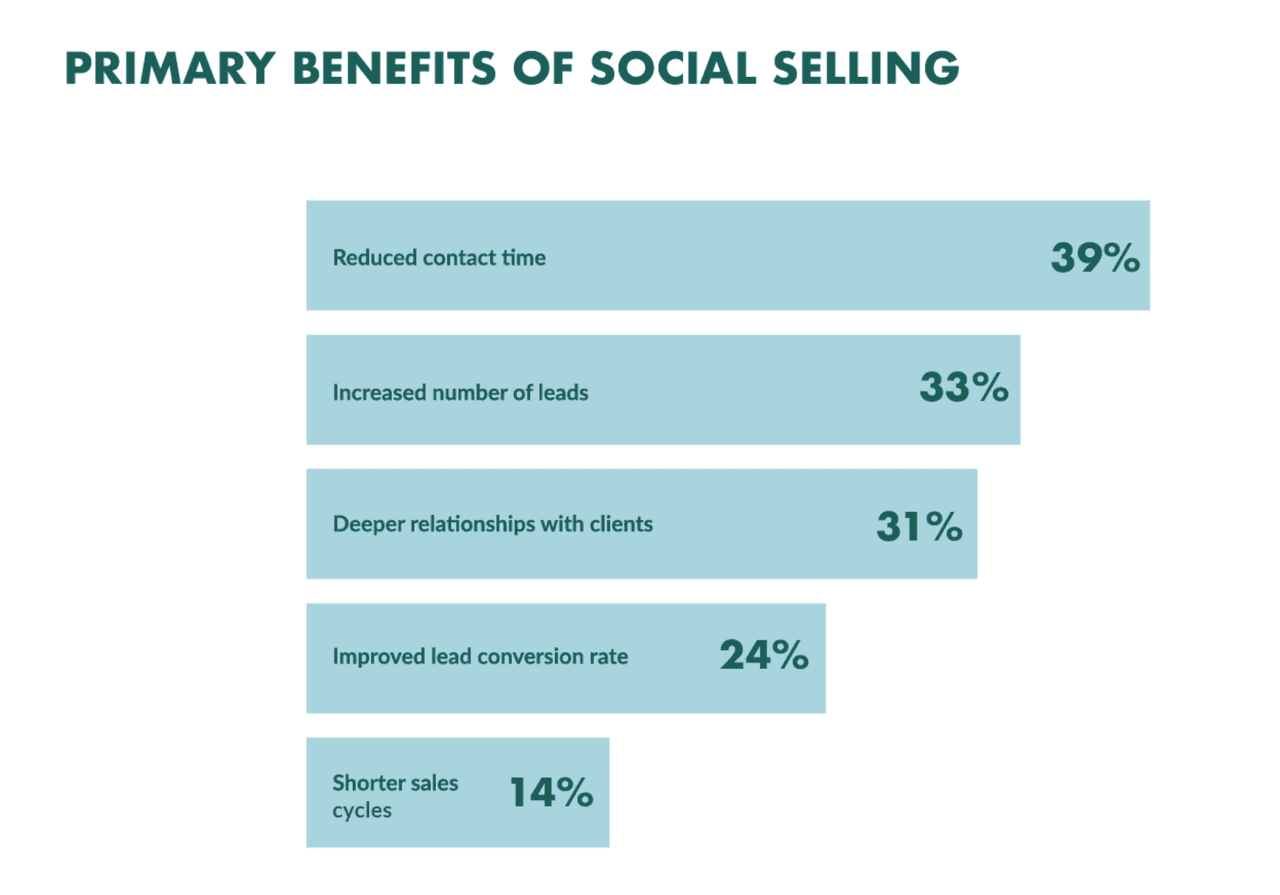 If your team isn't already tapping into the enormous reach that social media can offer, now is the time to start. In addition to the benefits outlined above, social selling also provides a very effective avenue for remarketing.
5. Go Outside the Box
There's a new buzzword in the sales world, and it's gaining well-deserved traction: growth hacking. Growth hacking blends marketing, product, and data strategies to identify the most efficient methods of growth.
Growth hacking strategies are also typically known for being simple and low-cost, making many of them easily accessible for startups and small businesses.
6. Content Is King
Content marketing is another important piece of an effective lead generation plan. Like social selling, content marketing provides a number of overall benefits to your business.
If your team uses content marketing strategies, this is another important reason to align sales and marketing teams. A sales enablement strategy can also assist in making sure salespeople have the appropriate content for each unique client. 
7. Automate Everything
It's no secret that salespeople today are busier than they've ever been. Unfortunately, this increase in workload doesn't always translate to an increase in new business. In fact, sales reps today only spend about 36% of their time on revenue-generating sales activities; the rest is spent on non-productive administrative activities.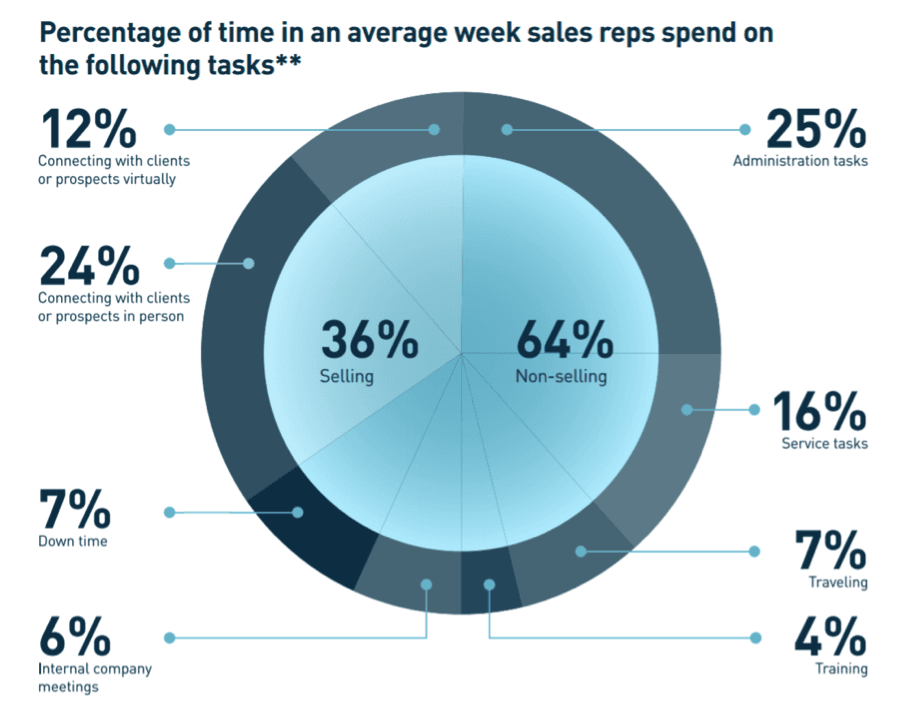 We're fortunate to live in a day and age where automation is literally at our fingertips — use this to your team's advantage. Automate whatever you can, so that your team can focus on the sales activities that matter most. 
8. Try Your Hand With Webinars
The webinar is another "trendy" sales topic that seems to have some staying power. That's because they're low-cost, high-engagement conversion machines.
While it may seem intimidating to consider adding yet another marketing tactic to your toolbelt, it's worth the effort — and probably not as challenging as you might think. In fact, there are many webinar templates and other free tools available online that can get you off the ground running. 
9. Build Your ICP
Trying to generate leads without a defined ideal customer profile is like trying to find a light switch in the dark.
Spend some time developing your ICP if you haven't already.
​​
Your ICP will act as your marketing North Star, ensuring your efforts are directed at the right leads from the very beginning. 
Bonus: How Yesware Can Help Your Sales Team Connect With More Leads
Yesware can take your lead generation strategy to the next level with our highly effective prospecting features and capabilities.
Our software elevates every step of the lead generation and prospecting process.
The following are just some of the ways Yesware can help generate, qualify, and follow-up with leads.
Create Campaign Templates
Yesware's email template feature allows you to automate and send higher-converting emails, without the repetitive busywork. With Yesware, you'll never write the same email twice.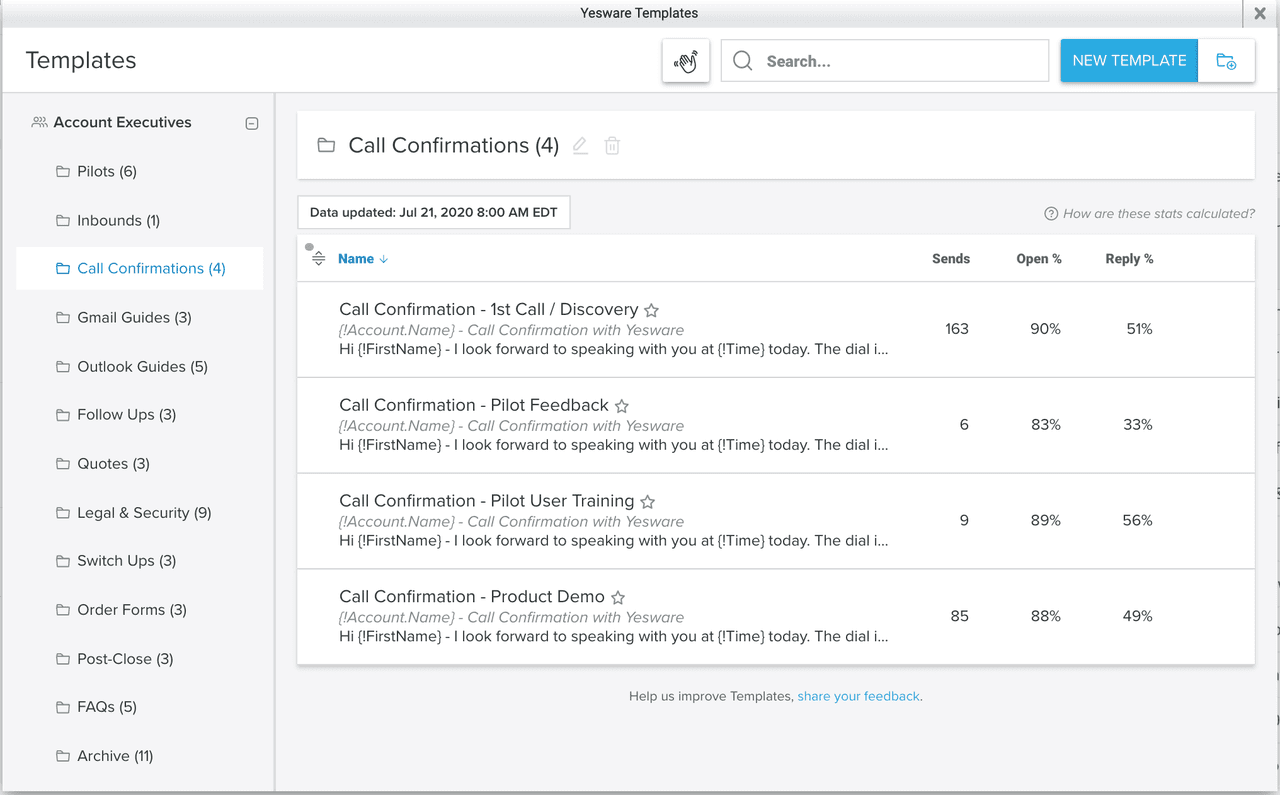 Our ready-to-go templates personalize in seconds and can be auto-scheduled to send at the exact moment your leads are ready to engage.
Personalize Them
Speaking of personalization, Yesware also allows you to completely personalize all of your automated outreach with our prospecting campaign feature. Here, you can create automated email campaigns or multi-channel campaigns with calls and social touches. 
You can choose from a variety of different touch types, including automated or manual emails, LinkedIn InMails, and other custom touches.
Automate Them (Including Follow-up and Scheduling)…
Did you know that 70% of leads are never contacted, yet 65% of marketing budget goes to lead generation? 
This is an absolutely tremendous waste of resources and a problem that can be easily solved with some simple organization and structure. 
Yesware's meeting scheduler helps you stay on top of who needs initial contact, who needs follow-up, and when they need it. It allows you to insert your meeting link into your templates and campaigns, then watch your calendar fill up all on its own. It integrates with both your Outlook or Gmail calendar. 
Track Them
Our reporting and analytics features allow you to track which content works best for certain kinds of customers. This will enable you to give a customized experience for each recipient, making automated personalization truly scalable.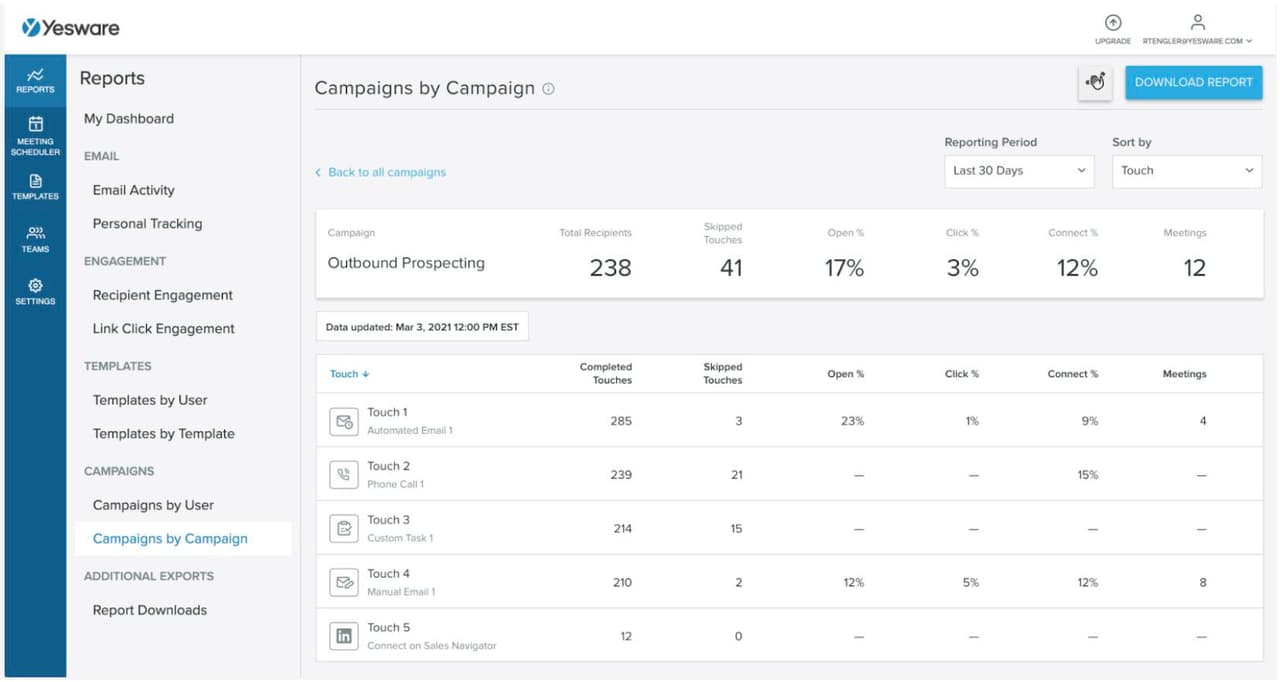 Our in-depth Presentation Reports provide a streamlined analysis of the most engaging content in your playbook. 
Try Yesware today: an all-in-one sales toolkit for better sales engagement.
Get expert sales tips straight to your inbox to win more deals
Related Articles
Sales, deal management, and communication tips for your inbox