How to Create a Sales Persona Template
The sales persona — more commonly known as the buyer persona — is a detailed profile of the decision-makers at your various ideal companies. 
An accurate and comprehensive sales persona is a crucial first step in creating a pipeline chock full of sales opportunities. It also equips sales reps with the insights they need to build authentic, trusting relationships with potential customers.
In this article, we'll go over everything you need to know about creating a sales persona template, including when to begin the process and what to include. 
Here's what we'll cover:
What is a Sales Persona?
A sales persona (also known as a buyer persona) is an informational tool that sales and marketing use to outline the most important demographics, characteristics, and influencing factors about the decision-makers within their target market. 
Sales personas come in many forms. They can be about real, specific people at individual forms, like the one shown here: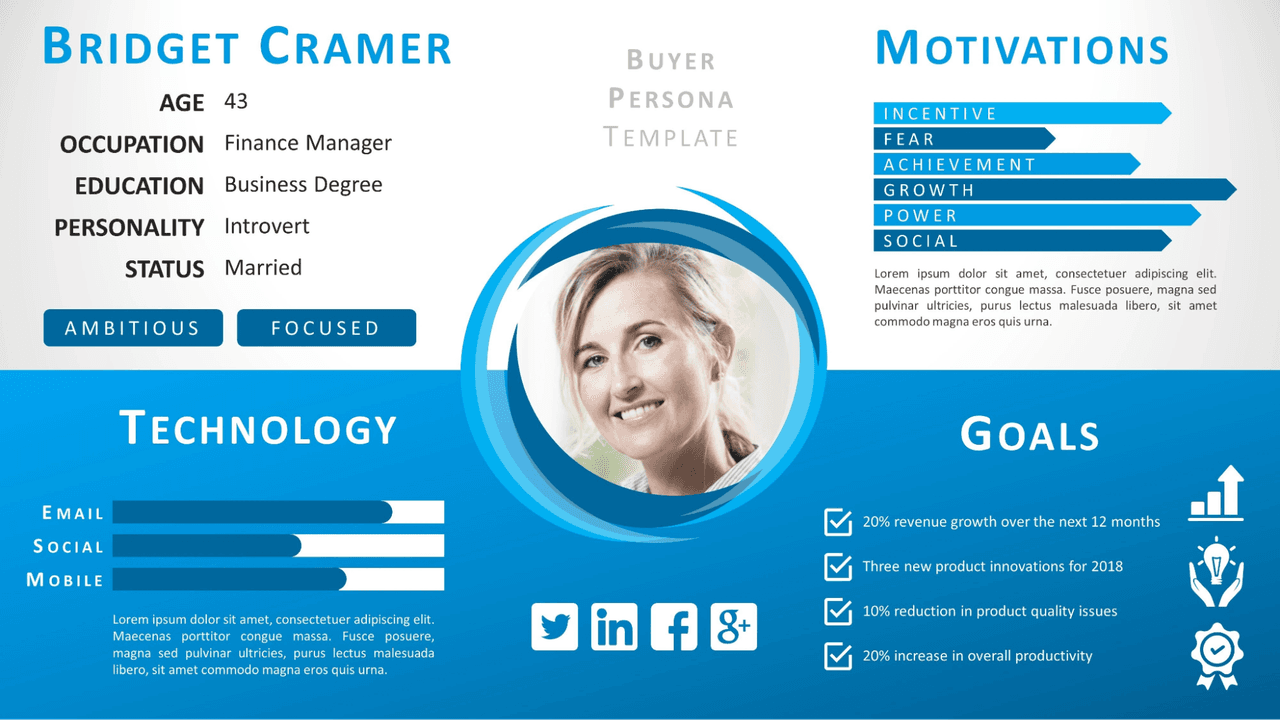 Or they can capture a broader subset of like-minded target account contacts, like this one: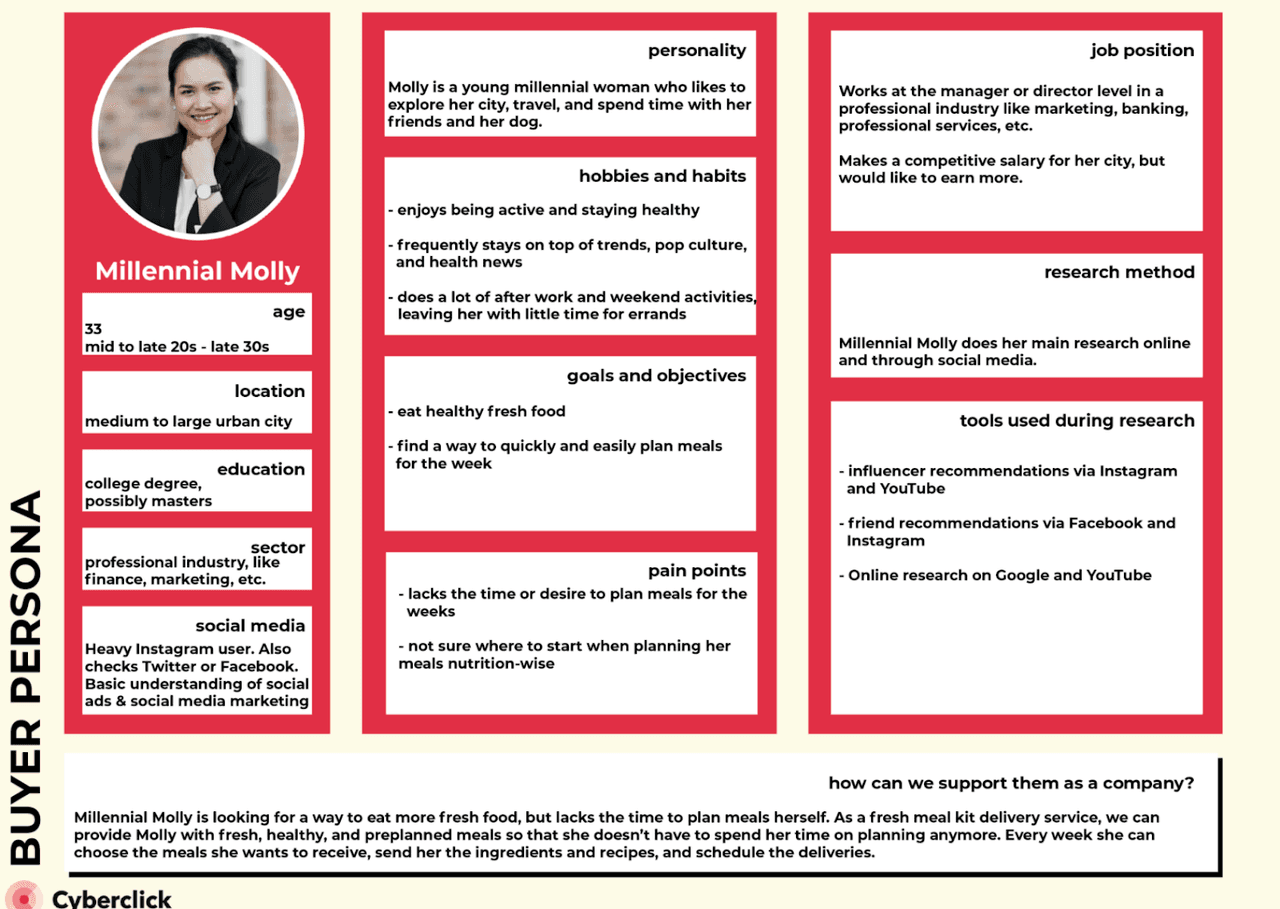 Sales and marketing should collaborate to create buyer personas based on market research, seller feedback, and insight from interviews and observations of the current customer base. 
Take care to create these profiles thoughtfully; this is not the kind of document that you can fill in with a basic Google search. It's worth the time and research required to get it right — 71% of companies with a documented buyer persona exceed their goals in revenue and lead generation.
The sales persona should include comprehensive demographic data on the contact, as well as deeper psychological insights into their buying preferences, such as key pain points, purchasing patterns, and anticipated objections. 
The buyer persona serves several important purposes in the sales process, including:
Defining the ideal audience and the decision-makers within it
Guiding marketing and sales reps in the lead-qualification process
Providing the insights necessary to create targeted content marketing and outreach campaigns
Personalized outreach at scaleMulti-touch, multi-channel campaigns with emails, calls, and social touches
Many salespeople mistakenly believe that the marketing team is responsible for creating and updating the buyer persona template, but creating this customer profile in isolation can be detrimental for your business. 
While it's true that marketing teams rely on the sales persona for optimizing their messaging, and should have an active role in its creation, they do not bear the responsibility on their own. Sales reps need to collaborate with their marketing counterparts for the most accurate possible personas. 
When Should You Create Buyer Personas for Sales?
The best time to create and leverage the buyer persona is right now. 
In fact, if you don't have any personas outlined yet, stop what you're doing and get started on this today.
Seriously — the sooner you start documenting the demographic, firmographic, and psychographic details of your ideal customer, the sooner you can start reaping the rewards. Companies who leverage a documented persona reported the following:
210% increase in website traffic
97% increase in leads generated through their websites
124% increase in sales generated through their websites
The sales persona is especially important for sales teams relying on social media and other inbound marketing strategies for lead generation. 
Remember that salespeople should have access to buyer personas for each decision-maker they may encounter within your target market or within key accounts. Creating these profiles will be an ongoing process as you expand your business, and existing personas should be reviewed and updated at least once a year for accuracy and to reflect new and deeper understandings.
There are also a handful of pivotal moments an organization may come across that should trigger an update to your catalog of personas:
Designing a new marketing campaign
Undergoing a buyout or a merger
Implementing a significant shift in business strategy
Changing existing products or adding new ones
Attending a trade show, convention, or other industry events
In reality, any sales team that wants to book more meetings, fill their pipeline with well-qualified leads, and generate more revenue should make earnest efforts to create or refine their buyer personas.
How Your Sales Team Can Use Buyer Personas
Salespeople should be well-versed in the details of the buyer persona. The profile can help salespeople understand how their prospects are likely to behave based on where they are in the buyer's journey. They can use this insight to align their sales strategy accordingly.
Although the buyer persona is a tool that's most actively used at the top of the funnel, it actually has a direct impact on a rep's ability to efficiently close deals. It enhances an organization's marketing efforts so that the entire sales cycle flows productively.
Improved Lead Generation
The most widely-known benefits of an effective buyer persona occur at the top of the funnel. Because the buyer persona helps marketing and sales define their ideal customer, teams that utilize one are more likely to attract a higher ratio of highly qualified leads.
This is huge — the vast majority of sellers report that their biggest issue in lead generation is quality. 
With more high-qualified leads attracted to your business, the entire rest of the pipeline will benefit. 
Optimized Content
The buyer persona can enable marketing and sales to develop what's becoming known as "smart content."
Smart content helps reps save time and effort in the sales cycle. The details within the buyer persona guides reps in deciding the exact content to offer and exactly when to serve it up within the buying process. 
Find your winning contentView attachment opens & page-by-page breakdowns
Better Customer Relationships 
Nearly 80% of customers say that they only buy from brands that go out of their way to prove they care about meeting their needs. 
The sales persona informs the seller about what specific problems, pain points, and frustrations the buyer needs to solve. It helps them deliver more relevant value through personalized product guides and demos. It also prepares them with common objections and the best ways to overcome them.
While the buyer persona, on its own, is a highly effective tool, it's most beneficial when used alongside a tool that allows sellers to segment their outreach.
What to Include in a Persona Template for Salespeople
The content of each buyer persona should be unique — don't get hung up on sticking to a template too closely. The point of this profile is to differentiate each decision-maker from the next, so there may not be a one-size-fits-all worksheet that captures the needs of your profile.
That being said, there are some must-haves when it comes to researching and compiling the details of your sales persona. 
Consider including, at a minimum, the following components as you build your persona profiles. 
Professional Demographics
The backbone of the buyer persona will be represented by the professional demographics of each of your buyers. Be sure to research the buyers' specific role titles, daily responsibilities, tenure, and career aspirations. Note any recent accomplishments or promotions. 
Find out as much as you can about their background as an employee at the target account. LinkedIn is a goldmine for this kind of data, so use it to its fullest potential. 
Personal Demographics
It also helps to know some personal details about your potential customers. If you can (without crossing boundaries), learn more about their marital status, salary and household income, location, homeownership status, gender, age, family makeup, and decision-making values.
Remember, the buyer persona should be a deep psychology-driven analysis of the factors that drive your ideal buyers' purchasing decisions.
Firmographics
Your buyer personas should also include information about your buyers' overall organizations, and even the industry as a whole. 
Include information about the buyer's company's size, revenue, growth rate, and employee demographics to round out the most basic components of the buyer persona template. You may also find it relevant to include information about the health of the buyer's industry, and anything new or noteworthy in the field. 
Purchasing and Online Behavior
There are some software tools available that allow marketing and sales departments to collect information about a buyer's recent purchasing behavior, including the tools and solutions they've already invested in. This kind of data can shed a ton of light on a buyer's priorities and decision-making processes and can be invaluable in overcoming objections and negotiating the close. 
Goals
The best salespeople know that the pitch should be buyer-focused. Instead of droning on about your product's features and benefits, sellers can use the buyer persona to speak to the ways in which their product will help the buyer meet their goals. 
It's beneficial to also include the KPIs for which your buyer is likely responsible; you can tailor your pitch around the ways your product will improve those specific metrics.
Challenges and Pain Points
Any sales persona should address the buyer's most pressing pain points — both the ones he's trying to solve on behalf of the company and his own frustrations as a buyer. Knowing these pain points will enable salespeople to more efficiently get to the heart of a customer's needs.
Advanced buyer personas will also offer insight into a buyer's fears, motivators, and other emotional drivers that steer their decision-making process. 
A Day in the Life
For some sellers, it's helpful to have a detailed visual of what a buyer's day-to-day life is really like. Some sales personas will include a semi-fictional representation of what life looks like from the eyes of the buyer.
Empathy and trust go hand-in-hand, so don't hesitate to include something like this if your sales reps advocate for it.
Specific Value Offering
You'll also want to outline, in detail, the specific value your product brings to the buyer. The buyer is looking for a reason to say yes — it's up to you to deliver relevant content at strategically timed contact points to move the needle for them. 
One approach to consider here is a warning against the status quo: What would it cost your buyer if they didn't purchase your product? This is one very effective method of value-based selling and can help define your specific offering. 
Businesses should have multiple buyer personas for each subset of their market. How many personas has your team developed? How can you improve the ones you already use?
Get expert sales tips straight to your inbox to win more deals
Related Articles
Sales, deal management, and communication tips for your inbox