How To Use LinkedIn for Better Sales Prospecting
If you view your LinkedIn account as a Rolodex, then you're missing the point.
Today's high-performing sales reps are turning to LinkedIn to get closer to finding qualified leads and connect with them in a meaningful way. With 75% of B2B buyers using social media to make purchasing decisions, it's easily one of the best not-so-secret sales tools in your arsenal.
Free crash course: Learn how to turn emails into meetings that will increase sales.
Here are seven suggestions of ways to wake this sleeping giant and nurture your networking for better sales prospecting.
1. Search for Targeted Prospects
One of your first steps in looking for new prospects is simply by searching your own network. Filter down by job title, location and even level of connection. Find your top prospects quickly with LinkedIn's advanced search options. Reconnecting with old colleagues might even earn you referrals, which can be the most effective prospects in sales.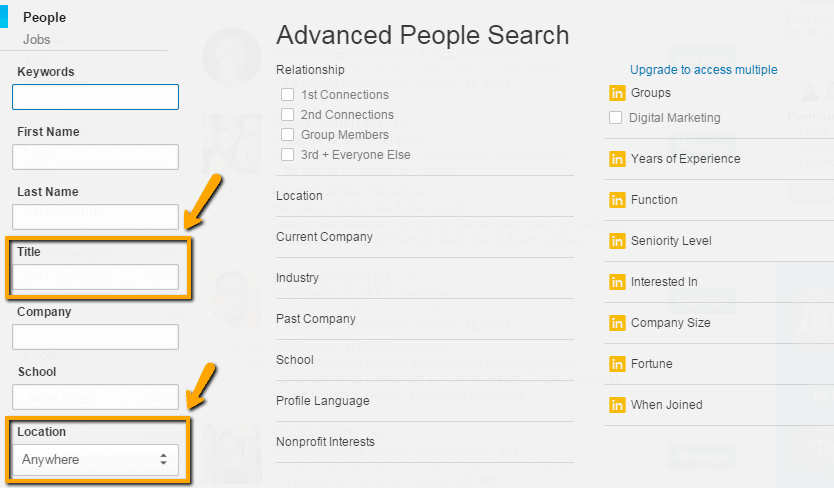 2. Endorse your Connections
Go ahead and spread the love. LinkedIn's Endorsements are an easy way to refresh connections and let others know you think highly of their work.
Once you start this process, it typically builds to a steady yet unobtrusive pace. Just be sure to stay legitimate by only endorsing skills that you have witnessed firsthand.
3. Join and Participate in Groups
Be strategic about the groups you join. Joining groups in your industry is a great way to network with colleagues, but these aren't where you're going to find your prospects. Instead, look for groups filled with people with job titles of your target customer. You can search for groups based on region (if you're prospecting locally), and title of users to find your target customers.
Dig into the stats of those groups as well. If you scroll to the bottom of any group page you can click over to 'Group Statistics' to see how many members are in the group, their location, breakdown of titles, and overall topic.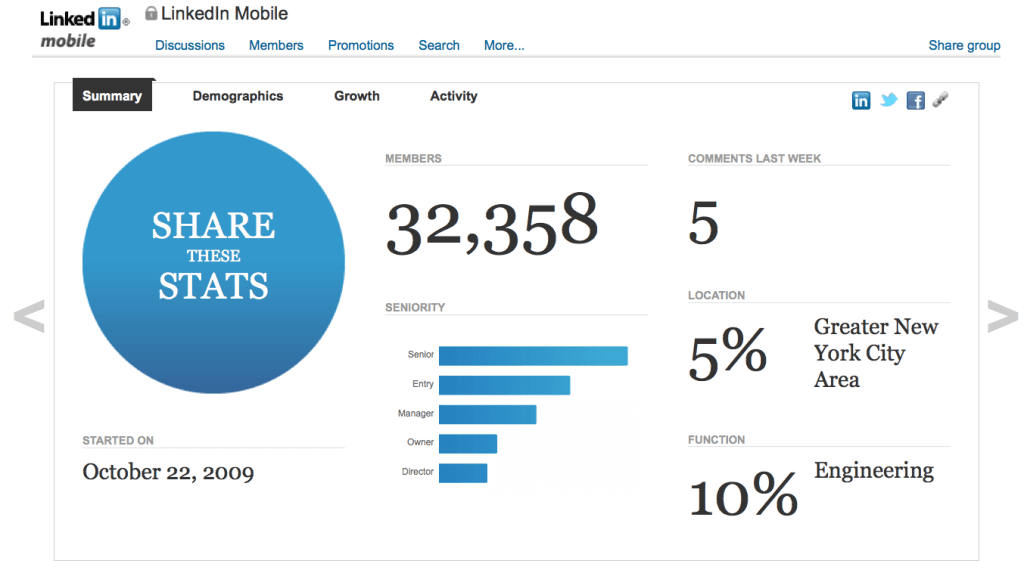 Once you've joined, answer questions and comment on interesting posts to build your voice and reputation among relevant, potential contacts. You'll start to notice regular posters and likely develop opportunities to connect. Remember to provide value and share what you know with users.
4. Publish and Share Your Own Posts
Write your own posts or share those published by your corporate LinkedIn account in order to let your network see what's important to you. Then, share those posts with relevant groups to extend your awareness and gain interest from group members. Be sure to post at the most opportune times as well. SurePayroll noted on their blog that the best times to post on LinkedIn are Tuesdays through Thursdays at noon or between 5 and 6pm.
No time to post (or just plain forgetful)? Consider using a service like IFTTT or Zapier to auto-share your company's blog or other news sources relevant to your prospects.
5. Send a Compelling Intro Message
Connect with people on their profile page, not via the suggested users in the sidebar. This allows you to write a short intro message which can drastically warm-up that initial contact.
And don't stop there — use that form to call out why you want to connect with this person. Compliment them, tell them why you know them, or call attention to mutual interest. Remember to keep your message short. You're limited to 300 characters so be persuasive, not bland.
6. The 'Look and Look Back' Trick
Anna Barton of Salesforce provides an excellent tip on how to increase your LinkedIn connections: Let them know you're looking.
The "Who's Viewed Your Profile" section can give you a good foot-in-the-door in two key ways:
If you check out someone's profile, it's likely that a percentage of those users will look to see who you are.
Once they look back, you have an excuse to reach out with an invite to connect.
7. Use InMail To Get Through to Key Decision Makers
There's a reason that salespeople often open sales calls by asking their targets for a few minutes of their time. Decision-makers are busier than ever.
LinkedIn's internal email system can help you get through to your targets when more traditional channels of communication fail to capture their attention. InMail is delivered right to your connection's inbox, and is 30 times more likely to get a response than a cold call, according to LinkedIn.
Over To You…
Your success ultimately depends upon how aggressive you are (or aren't). Some last words of advice:
Don't be absent from the discussions taking place online. The longer you wait to assert your presence, the more opportunities your competitors will have to do so. You need to claim your place to successfully grow your network and make meaningful connections with prospects.

Value quality over quantity. Grow and nurture your network, but don't blindly try to connect with everyone you come across. Ask your contacts to help you connect with people within their networks when it makes sense.

Keep it professional. If you're going to voice a strong opinion, it shouldn't be offensive or off-topic. If you're going to be critical, be constructive.

Position yourself as a resource that others will value. Your network will hopefully recognize the benefit that you can bring them (and their connections), provide help when you ask for it, or seek you out proactively.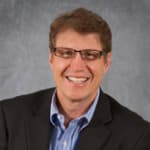 Jim Brodo is Senior Vice President of Marketing at Richardson Sales Training. Jim brings over a decade of experience to this position where he oversees all marketing and communications efforts for the organization including SEO, SEM, planning, public relations, advertising, lead nurturing, and brand strategy.
Get expert sales tips straight to your inbox to win more deals
Related Articles
Sales, deal management, and communication tips for your inbox