Inside Sales vs. Outside Sales: Which Is Right for Your Business?
Inside sales vs. outside sales – what's the difference? Both types of selling are integral to closing deals, but it depends on the kind of deal. And it's safe to say that in 2019, the line dividing the two has become obscured.
There is no 'one is better than the other' – there are many factors that go into whether inside sales or outside sales is right for you and your business. 
Indicators depend on the product or service you're selling and who you're selling to (your target buyer persona). And in 2019, instead of pinning the two methods against one another, many companies are taking the best parts of each and adopting a hybrid model at their company. 
Let's explore the difference between inside sales vs. outside sales, how each can fit into your sales structure, and what a hybrid model looks like.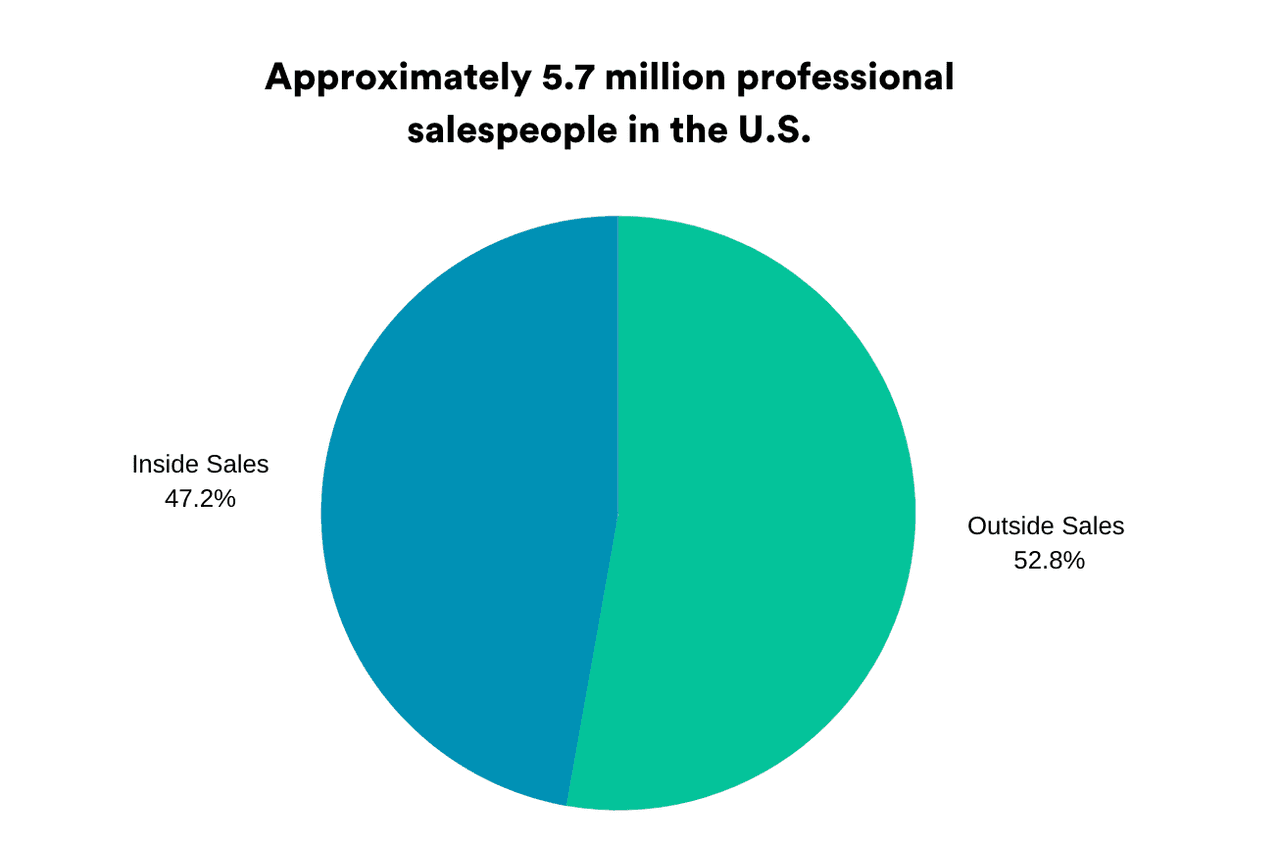 What Is Inside Sales?
Inside sales is a type of selling that relies on technology to remotely sell products or services to potential customers. This technology includes making sales inquiries through email, over the phone, and online technologies for capabilities such as video conferencing.
With the rise of technology and CRMs that make virtual communication much easier, inside sales is growing at a rapid pace. With sales productivity tools like Yesware, inside sales reps can nurture multiple relationships at once.
Inside Sales Personas
Inside sales reps have a more consistent schedule of going into the office on a day-to-day basis. Because inside sales reps nurture multiple relationships at once, they need to be goal-oriented and comfortable multi-tasking. Strong written and verbal communication skills are important to engage with their prospects efficiently. 
Inside sales reps also must have a high level of understanding and expertise of the product or service they're selling because they need to communicate the value and functionalities over email and phone.
Connect with more buyers
All-in-one toolkit for inside and outside sales reps
What Is Outside Sales?
Outside sales, also known as field sales, is a type of selling that relies on traveling to meet prospects and customers to sell products or services in person. These reps meet their leads face-to-face in a variety of settings such as traveling to the lead's location and attending conferences.
Outside sales was the more traditional sales model before the rise of technology, and it's still used significantly to this day as outside sales ultimately end up closing higher deal values. Which we will get into.
Outside Sales Personas
Outside sales reps should excel in verbal and non-verbal communication skills and present themselves in a professional manner. 
These reps need to feel comfortable traveling, adjusting to new environments, and working independently. This means they should be time-oriented and capable of managing their own schedules.
Inside Sales vs. Outside Sales
Before deciding on inside sales vs. outside sales, you need to ask yourself: 
1. What am I selling?

2. Who am I selling to?
Understanding your target persona is crucial for this decision. Some people prefer to meet in person and some prefer to communicate over the phone or email. Although it's common that in 2019 more people prefer remote communication because of the efficiency, that isn't to say there aren't people who still prefer to meet face-to-face.
It also undoubtedly depends on the product or service you are selling. Many products are important to see and try in person, and others can easily be demoed through video conferencing and screen sharing.
Let's explore some frequently asked questions on inside sales vs. outside sales. 
Who Sells More?
Because inside sales reps communicate through quick and easy forms of communication, they can pitch their product or service to more people on a day-to-day basis. 
Studies show that inside sales reps make 7 times more contacts in a day than outside sales reps. But although outside sales reps make fewer, the deal size for each is larger. 
Ultimately, outside sales reach fewer people, but the profit from each sale is higher. And inside sales reach more people, but the profit from each sale is smaller. So this comes down to quantity vs. quality.
Another factor to take into consideration is the average closing rate of these contacts made daily. Studies show that outside sales reps have a higher closing rate because of the benefits of face-to-face interaction:
"Outside sales pros see an average 40% closing rate.

Inside sales pros succeed with 18% of pitches."
So although inside sales reps sell more, this requires pitching to more prospects on a day-to-day basis.
Who Has a Shorter Sales Cycle? 
Inside sales typically have a shorter sales cycle because communicating to potential customers virtually and finalizing the deal can be a fairly quick process if done right.
Inside sales reps can make many touches a day and outside sales reps have to travel to the prospect which significantly cuts down the number of touches they can make in a day. 
Technology and sales tools have made the process for both inside and outside sales reps more efficient leading to more touches and shorter sales cycles. 
Shorten your sales cycleClose deals faster with Yesware
What Kind of Products Do Inside Sales vs. Outside Sales Reps Sell? 
Outside sales is typically used for larger deal sizes and more complex decisions. This often requires a higher-touch relationship where an on-site is required to make a face-to-face relationship.
Also, outside sales reps meet with C-level executives and typically require multiple decision-makers. These require in-depth conversations and strategic business innovation.
Think – can your product or service be demoed virtually or does it need to be in person? And will a potential customer agree to pay thousands of dollars without seeing or trying the product or service you're selling?
Who Makes More Money?
Frequently asked questions revolve around inside sales vs. outside sales compensation. The answer is, outside sales reps make more. The position overall demands a higher base salary.
The median salary for outside sales reps is higher than for inside sales reps. The average outside sales rep salary is around $49K with their commission averaging at $15,123. The average inside sales rep salary is around $43K with their commission averaging at $9,822.
This has to do with higher deal sizes and levels of experience. Sources show that almost half of inside sales reps have less than 5 years of experience, but nearly two-thirds of outside sales reps have over 5 years of experience.
Ultimately, companies spend more money on outside sales reps. Outside sales is more costly for companies not only because of base salary but because of travel expenses that come with meeting their leads in person.
Sales Strategy: Adopting a Hybrid Model
It doesn't always have to be inside sales vs. outside sales. You can actually incorporate both methods into your business strategy, also known as a hybrid model. 
There are many ways companies go about pursuing a hybrid model. Companies can give their salespeople the flexibility to do both – certain opportunities can lead to in-person meetings to show dedication and persistence. Or companies can hire both inside and outside sales reps to work together.
Inside and outside sales can work together to close more deals. An example of this is inside reps do more prospecting and moving customers through the sales funnel, while outside reps do more demoing or focus on the higher contracts.
Harvard Business Review shows that many companies are shifting sales responsibilities – structures are evolving into a more hybrid-based model.
Giving customers the flexibility to use inside or outside sales guarantees customer satisfaction. This choice can depend on the customer's needs and their level of knowledge on the product or service you are selling to them.
So… Which Is Better?
To wrap it up, it all comes down to the customer's needs. What will make it easier for them to understand the value of your product? That is the model your team should go with.
Build relationships based on their needs and wants and don't shy away from new sales structures and flexibility. 
With the rise of technology and tools that make the lives of salespeople much easier, the two models of sales are blending and there shouldn't be any 'inside sales vs. outside sales' comparison. Find the right structure for both your sales team and your customers.
Get expert sales tips straight to your inbox to win more deals
Related Articles
Sales, deal management, and communication tips for your inbox