The structure of your sales team is important – keeping everyone organized and on target helps contribute to overall success. With Yesware, you're able to maintain real-world structure to arrange your sales force into what works for your organization.
Here's how Yesware for teams makes the day-to-day much more efficient from top to bottom:
Managers gain transparency into team productivity and easily identify winning strategies
Sales reps have access to tools that make them more productive, give them insight into prospect activity, and save hours of time on prospecting each week
Together with tracking and reporting, teams sell smarter and close more deals
Not a Yesware user yet? Reps—Try a free trial. Managers—learn more to become a team leader.  
Organization & Structure
Depending on the size of your sales force, the number of sales teams that you have can vary. Some smaller companies have a single team while larger companies may have hundreds of teams that focus on individual markets. Yesware makes it easy to track the progress and activities of your teams so you know exactly what is effective.

Our Team tier is designed for midsize sales teams. Users on the Team tier can create an unlimited number of teams with unlimited members and unlimited leaders, ability to review and share effective templates, use of our mail merge feature and get advanced reporting on all team activities.
Yesware's Enterprise tier is an ideal solution for large sales teams that want to streamline their email communications and gain insight into team activities. The Enterprise tier provides an unlimited number of teams, ability to review and share effective templates, use of our mail merge feature, Salesforce syncing and advanced reporting on all team activities.
You can learn more about creating and managing teams here.
Reporting Capabilities
Having the ability to see exactly how your team is performing helps give you a competitive edge and simplifies the sales process. The reporting that we've built into our team structure puts these insights at your fingertips.

The Team Tracking Report details your team's performance, member by member, in an easy-to-read graph with details including emails sent, emails tracked, and open / reply statistics.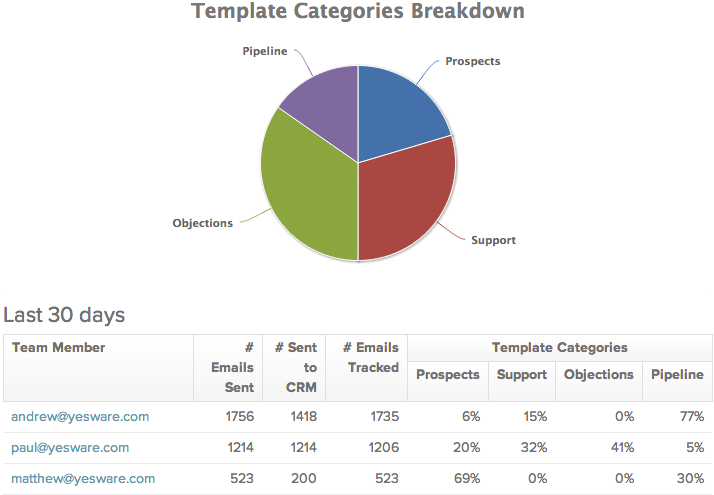 The Activity Report provides an overview of template use, tracked emails, and CRM usage by team member. Quickly see what your team members are actually using and identify common trends across the team.
Advanced Reporting
The Team Tracking Report, Activity Report, and Template Report are available on our Team and Enterprise tiers of Yesware.
Quick and easy access to team reporting is great, but sometimes sales team leaders and managers need to review individual performance. Clicking on an email address in any of the reports will pull up the personal version of that report for that team member.
We've also created for our Team and Enterprise tier a Team Template Reply Report. This report captures all the same information as the personal Template Reply Report, but it's across all members of your team and packaged in a simple, usable report.
Not only will you see the efficacy of each individual template, but we'll tell you whether it's in your team's template library or not. Using this report, you can find great performing templates that individual team members might be using that everyone should have.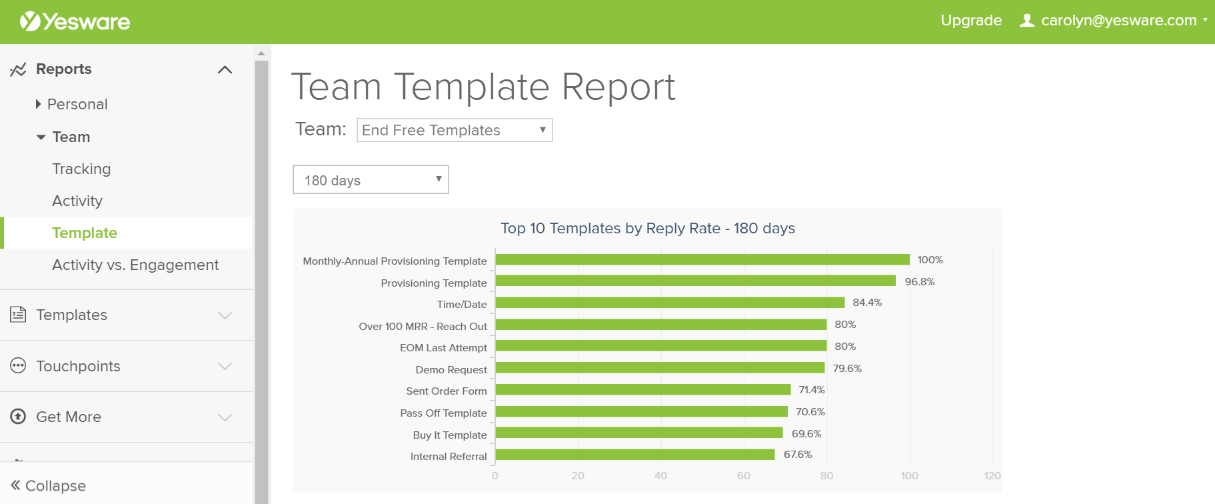 Template Standardization & Easy Template Sharing
Email templates are at the core of Yesware. Being able to compose common messages and standardize them across all of your prospects means that you're getting an actionable message across in less time.
For the Team and Enterprise editions of Yesware, we've built a way to easily keep track of your best templates and to share those out to every member of your team. As a team leader, head to the Team tab inside the Yesware app (Yesware menu > My Account > Team). On the left-hand side there is a "Team Templates" section. Each team template category is listed under "Add/Edit Templates" – like the personal template library, you can add and edit templates in the Team Library. When you click the "Review Templates" link, you'll see a list of recently edited or created templates gathered from each of your team members. While reviewing these templates, you're likely to find one that the rest of the team would benefit from having. Click the orange "copy to team library" button to add that template to the team library.
You can also add these templates through Gmail or Outlook by opening the Template Library and selecting the "Copy" or "Move" option at the bottom of the template.
Sharing Mail Merge Templates with your Team
We've recently launched the ability to share mail merge templates. Team Managers can now share mail merge templates across the team and edit team templates.
To do so, click the Mail Merge Templates section of the Mail Merge page.

From there, locate the Mail Merge Template you'd like to share and choose "Copy" and select the team you'd like to have access to the template.

You can learn more about Mail Merge Team Templates here.
Setting Custom Date Ranges in Team Reports 
Team Leaders can now easily see how team members or team templates are performing over a specific period of time. This is helpful, for example, to see performance for the current month to date.
To use custom date ranges in team reports, visit your Yesware Team Reports and click on either the Team Tracking Report or Team Template Report. When you do, you'll see a new control available that lets you select different time periods for your report, including a custom date range.

Use the date pickers to set your custom date range.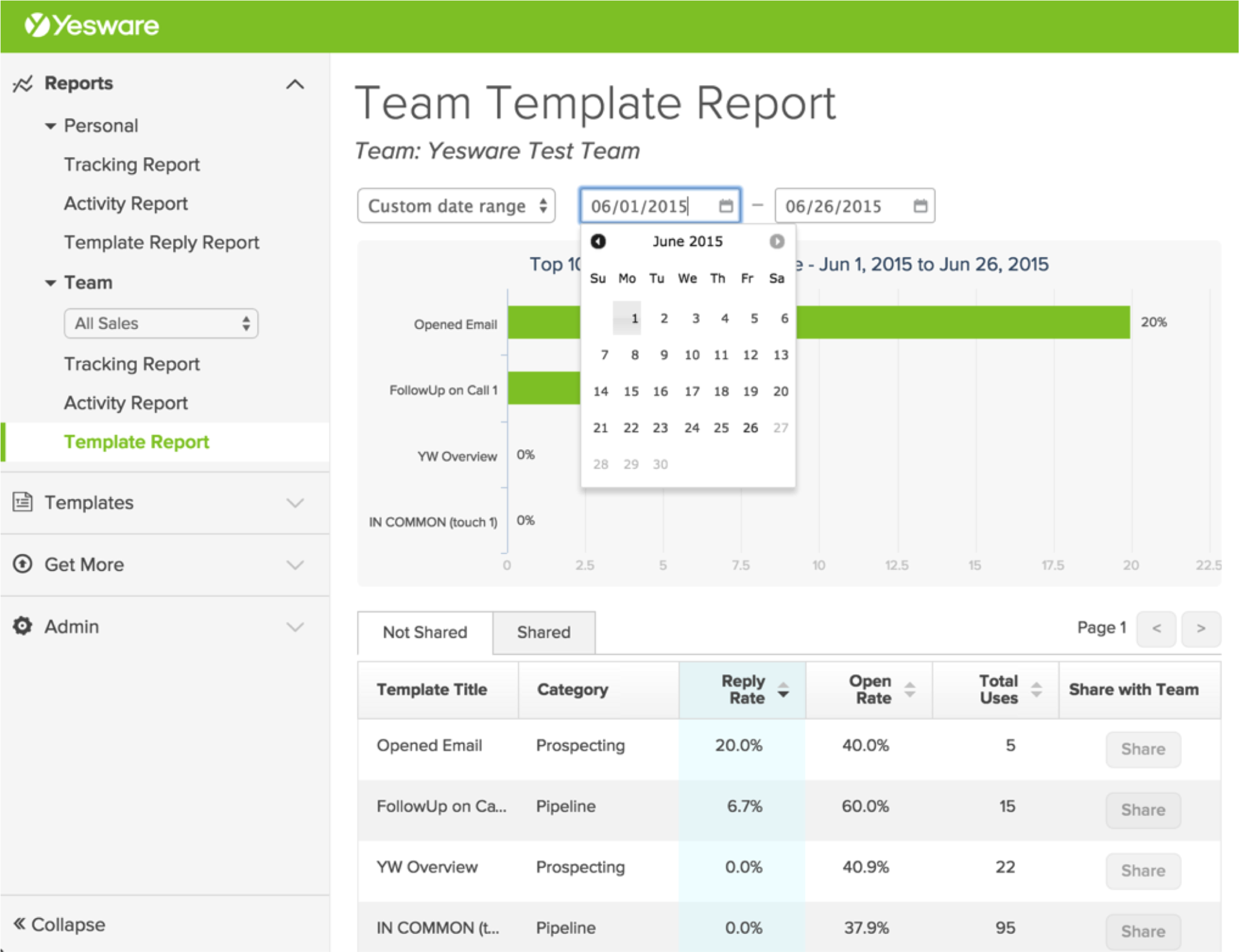 To compare different time periods (e.g. last week to this week), you can open a new browser tab and navigate to the same report, setting the date range to a different time period.
Have a question that wasn't covered in any of the above? Feel free to view our FAQ and submit a question through our Help Center. We're here to help and we'd love to hear from you!