Sales Management: How VPs of Sales at $50M+ Revenue Companies Drive Growth
What are the top pieces of sales management advice from leaders who achieve massive revenue growth?
We combed through numerous podcasts, articles, and interviews to answer this question.
Sales management is about much more than coaching a team – it requires the coordination of both people and resources and implementing a cohesive strategy that'll drive business revenue.
Below, these top industry experts cover various elements of leadership – business transformation, data alignment, leadership skills, hiring top talent, pipeline generation, and coaching.
Let's look at some tactical advice and insights from sales management leaders at $50 million plus revenue companies to get a look into their success.
Sales Management Topics: Data Alignment, Workplace, and Buyers Journey
The first three topics discussed by sales management leaders are:
Edward Mcdonnell discusses data alignment.
Sue Barsamian discusses improving the workplace.
Armen M. Zildjian discusses coaching his team through the buyer's journey.
Executive VP Enterprise Sales at Salesforce, Edward Mcdonnell, Talks Data Alignment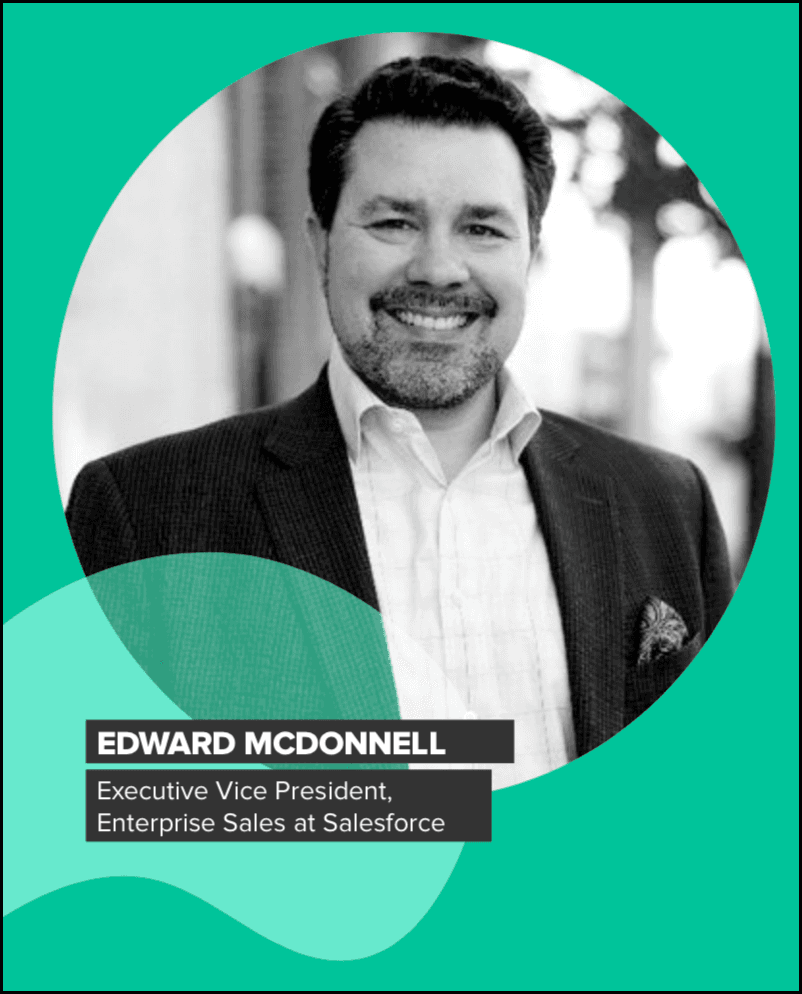 An important element of sales management is using the data available to make data-driven decisions and align that data across teams.
In the podcast Data-Driven Alignment with Edward McDonnell on Market Trends, Ian Faison sits down with McDonnell, Executive VP of Enterprise Sales at Salesforce, to discuss the relationship between sales and marketing and data-driven alignment.
McDonnell explains, "Any sales leader is always grounded in data. We want to understand information, we want to understand trends, we want to understand what is the data telling us on what's working and what's not working."
Data drives decision-making. And when communicating across teams – it's important to back up your strategy with this data.
"I think sometimes sales leaders and marketing leaders together are trying to think about 'what's the big next bet' or 'what's the big next thing.' Sometimes blocking and tackling works too. There has to be a really good balance behind 'we know these campaigns work because we have history, we have data, we have results, that prove that over time these hold a consistent level of working," McDonnel explains.
The key takeaway on sales management from McDonnell is to always lead your strategy with data. Use the data to illustrate why you are approaching it the way you are. This will result in not only more business and revenue growth but a stronger connection between teams.
Listen to the full podcast here.
Lead your team to successTrack, analyze, and standardize what's working
Former Senior VP of Global Sales at HPE Software, Sue Barsamian, on Improving the Workplace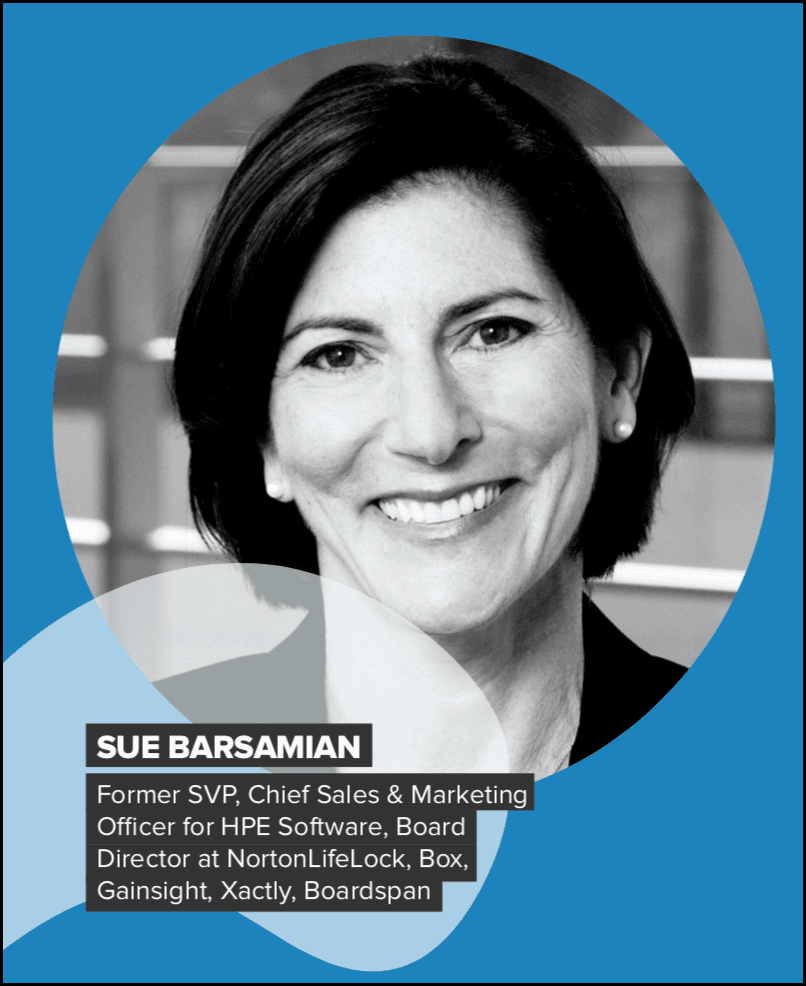 Great leadership is the foundation of any organization, big or small.
Udacity sat down with Sue Barsamian, former Senior Vice President of Global Sales at HPE Software, during their recent "Udacity Thought Leader" series webinar. They discuss the qualities leaders need to effectively manage high-performing, productive teams.
Sue offers some highly effective tips to becoming a successful, high-performing leader.
1. Stay close to the product or customer
"There are many great roles in a company. But no matter how you do your job, the closer you are to understanding the customer and the product, the closer you are learning what makes the business of the company run," explains Barsamian.
2. Diversity makes strong teams
The author, Cary Fulbright, states that throughout their discussion: "Sue credits much of her success to surrounding herself with a wide range of people – each with their own unique skill-set."
3. Understand the roles and responsibilities in a matrixed organization
Barsamian expresses, "The art of selling is understanding how you make your customers successful. And when your customers are successful, they buy and buy more. The same concept holds true in a matrixed organization."
Check out the full interview for not only sales management insights but succeeding at leadership as a whole.
VP of Sales at Drift, Armen M. Zildjian, Talks Coaching His Team Through the Buyer's Journey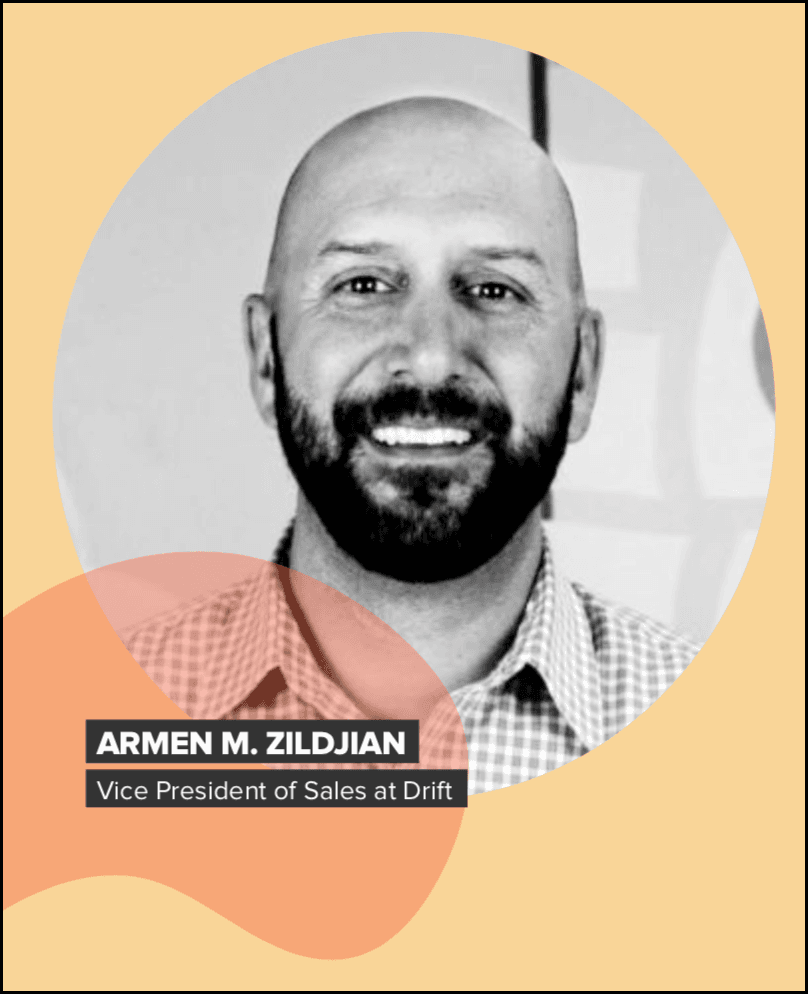 In Costello's People > Processes series, Teresa Weirich interviews Armen Zildjian, VP of Sales at Drift. They discuss sales management and strategies he instills in his sales team.
"Visitors already come to your website with a certain level of understanding, that's why we now have to meet buyers where they are in the process." Zildjian says that Drift has adopted a "tour guide" approach to deliver value to prospective buyers.
Zildjian explains, "If you were to visit Rome, you would spend weeks researching the best restaurants, the best museums, and the best activities. You may have a well-laid out plan — until you arrive and the locals tell you where you need to go for the most authentic Italian experience."
The author explains: "By adopting a similar approach to his team's sales process, Drift can offer guidance and support by closing the gap between the world of what the prospect has read, and the world of what Drift actually is — and only then determine if there's value for the prospective customer."
How can sales professionals build buyer trust? According to Zildjian, they have to give up some control in the sales process. You can do this by not bombarding the prospect with sales questions right off the bat and really listening to the prospect.
Zildjian explains, "As sales leaders, we're guilty of burying the modern sales rep with BANT, MEDDIC, and other tactics that we require them to get from the prospective customer. We say to our reps 'you can't get off the call until you capture these things about their pain points, budget, decision-making process, and so on.' While it is key to collect as much information as possible, we must do it in a way that is conversational—not an interrogation. We must allow the prospect to have some control."
Lastly, Zildjian states that he instructs his sales team to not sell the biggest packages: "We optimize for not getting the most ACV that we can on the first deal, but for exposing the business to the value of Drift."
Business Transformation, Recruiting, and Pipeline Generation
Next, we dive into some more topics from top sales leaders.
Joe Wykes discusses business transformation and business priorities.
Angie Jongejan discusses recruiting top sales talent.
Dan Fougere discusses the qualities of sales management and pipeline generation.
Senior VP of Worldwide Partnerships and Sales at Acquia, Joe Wykes, Talks Business Transformation & Business Priorities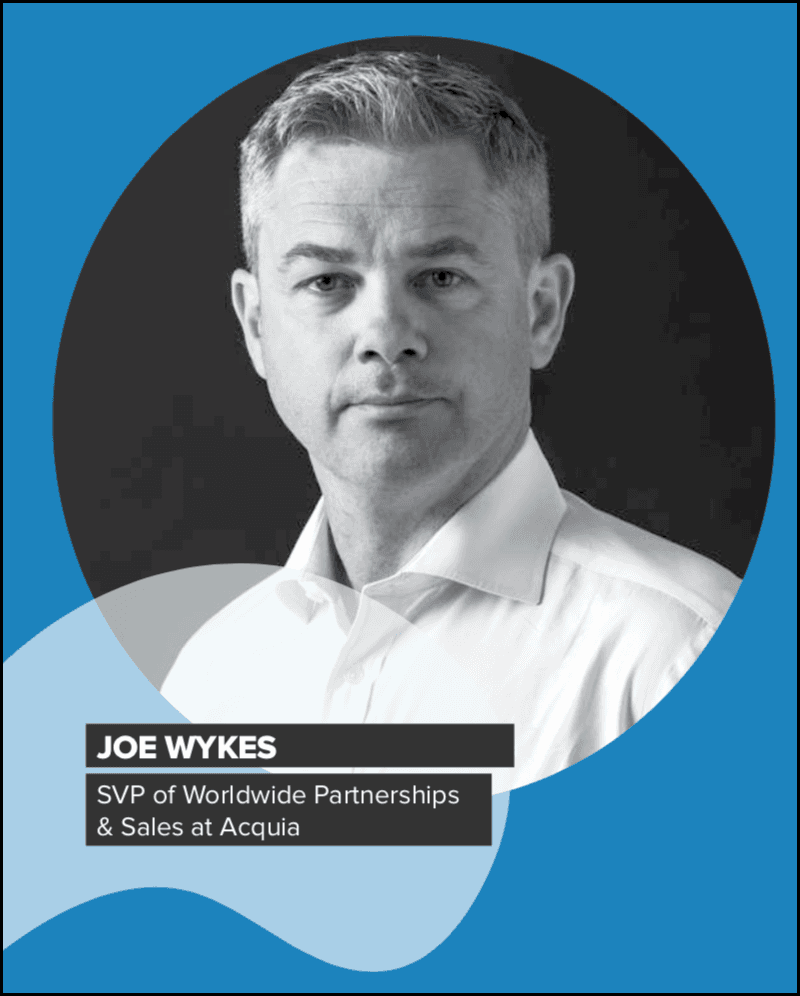 In The MullenLowe Group interview series called "The Business of Transformation," Ben Mooney, the Global Head of Business Transformation, interviews Joe Wykes, SVP of Worldwide Partnerships and Sales at Acquia. Mooney askes Wykes about business transformation and where business priorities will shift in the future – showing strong sales management skills.
In terms of the process of transformation, Wykes believes a holistic approach is important  – it needs to be thought of as a program that requires both adoption and absorption.
Wykes states that there are three golden principles to follow for reshaping a business that is key to strong sales management.
Trust
Integrity
Communication
Wykes explains, "It's not about inspecting the individual. It is about inspecting the idea. It's fine to have some constructive criticism and it's fine to challenge each other on ideas."
He also strongly believes that the customer journey needs to be considered when companies are assessing transformation.
Wykes explains, "I believe brands are under siege today more than ever before. I think that what we see is, frankly, consumer loyalty to most brands is quite low. For many organizations, their competition will try to re-segment a market by emphasizing price and speed – think faster, cheaper."
But rather than a race of price and speed, customer experience is a key factor in standing out: "Customer experience is what ends up being the difference, and that is perhaps the vital ingredient – actually providing an engaging, relevant, very personalized experience, and doing that across multiple channels."
Wykes concludes that personalization is crucial when assessing factors that will hold companies in a good place for the future. Providing a personalized customer experience is a central factor in standing out to competitors.
Accelerate revenue
See a 3x increase in sales volume per rep
Director of Sales at Surveymonkey, Angie Jongejan, Talks Recruiting Top Sales Talent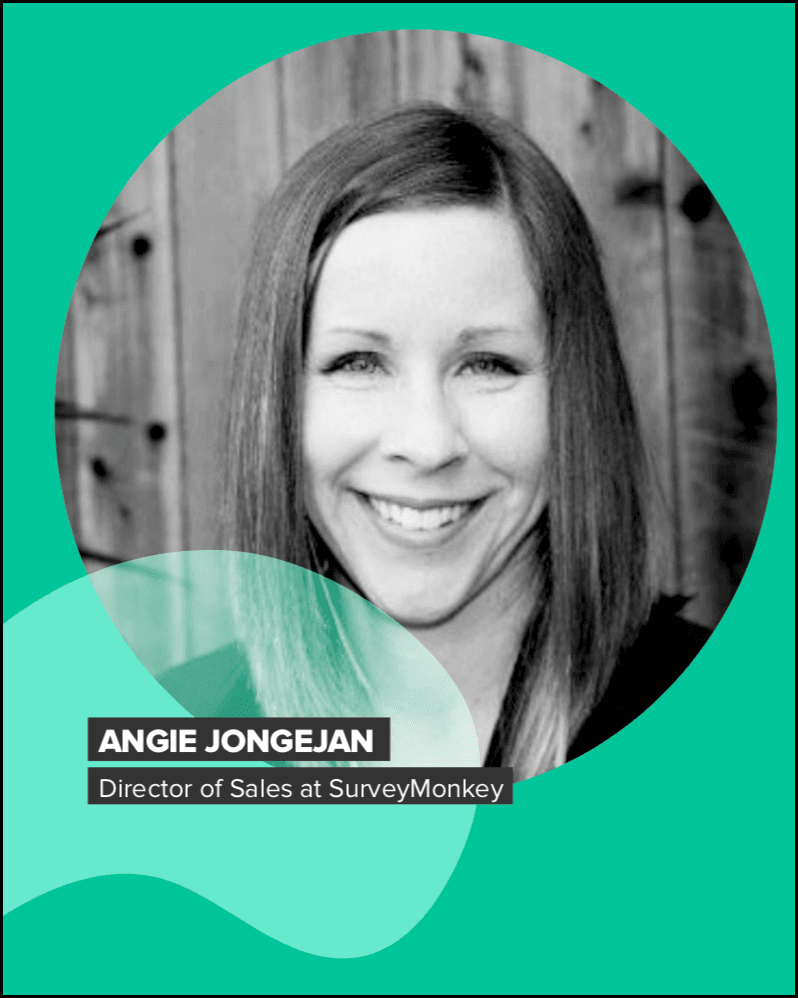 In a Recruiting Future's podcast called "Recruiting In A Highly Competitive Market"  —  Matt Alder interviews Angie Jongejan, Director of Sales at SurveyMonkey. Jongejan focuses her sales management expertise on a very important factor — recruiting top sales talent in the highly competitive tech industry.
Jongejan discusses the way SurveyMonkey has overcome the challenges of hiring diverse talent in a competitive landscape.
"We've done targeted outreach to diverse talent from folks within our leadership team, we've attended recruiting events in the area for sales folks, and we've done a sourcing jam with folks on the team with the focus on thinking through this desire for more diverse talent," Jongejan explains.
She also emphasizes that hiring in a competitive landscape requires getting people excited and wanting to choose your company over others, and SurveyMonkey does this by providing a great experience for candidates and highlighting their culture.
As Jongejan has been growing the team, she shares some key lessons she's learned along the way.
"One major lesson that I've seen is the need to be aligned across the recruiting team as well as the interview panel. So, having really clear expectations for what we're looking for in candidates, what are the 'needs to have' and 'nice to haves,' and making sure we're really clear on who is evaluating candidates for what part of those expectations."
Jongejan says the team gathers feedback from the candidate's perspective by sending out surveys after the interview process. This helps align everyone involved in the interview process, coach and improve, and really understand the candidate's experience.
Lastly, Jongejan discusses aspects that are critical for setting the tone for culture in an organization:
Having a really clear mission and values that the company looks to uphold.
Have those values displayed from the leadership team down.
Accountability, teamwork, and collaboration: not only driving towards your own goals but helping others reach their goals as well. Ex: sharing best practices.
Listen to the full podcast here.
Chief Revenue Officer at Datadog, Dan Fougere, on Qualities of Great Sales Management & Pipeline Generation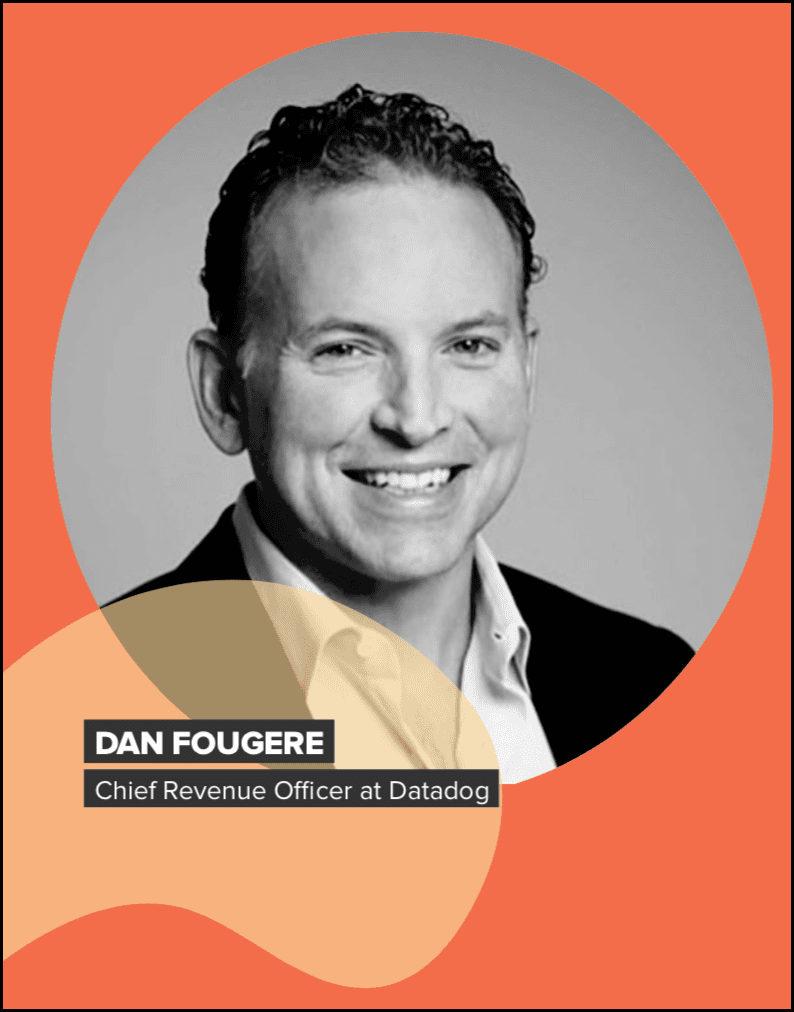 In a Sales Hacker podcast, Sam Jacobs interviews Dan Fougere, CRO of Datadog. As CRO, Fougere is responsible for Datadog's global sales strategy and execution. In this interview, he talks about the key qualities of sales management as well as pipeline generation.
Fougere discusses his 3 tenets:
Make sure it's clearly stated to everyone that this is important
Create a collaborative, safe environment for constant learning
Track pipeline generation
Make sure that it is clearly stated to everyone that this is important: Gougere explains, "A mistake that I think a lot of salespeople make is they think that 'oh yeah cold calling is for when I was an SDR when I was 22,' it's not – cold calling is not dead. It's not the sole responsibility of Marketing or SDRs."
He compares this to baseball: "They call it a 5-tool player, where you can run fast, hit for average, field, throw, etc. and this is the same thing as a sales professional. You want to make sure you can continuously work on your skills and you've got to take responsibility for creating pipeline."
Creating a collaborative, safe environment: "By creating that collaborative safe environment for constant learning, people are going to share, and encourage sharing of what's working." This means sharing emails that are working/not working, best times to send, and more.
Gougere has also found that this is better for customer satisfaction: "You're not just throwing a bunch of stuff at the wall and hoping that it sticks, you're really refining your message and your techniques so that when you do engage with a customer, you're having valuable interactions and valuable engagement."
Track pipeline generation: "So we can actually delineate through pipeline that's been generated through outbound efforts and pipeline that is generated through inbound leads from our SDRs."
"So, that way we can get a more accurate view of the truth. And we can also help people get better who are maybe falling down in those areas and change some of the enablement and training that we're doing," Gougere explains.
Listen to the full podcast here.
Tip: With Yesware, share best practices and top-performing templates and campaigns across your team, right from your inbox. Download a free trial today.
Key Takeaways on Sales Management
As seen above, sales management consists of a range of techniques and strategies that these experts are succeeding across the board.
Some of the key takeaways from the interviews above are:
1. Always lead your strategy with data.

2. Surround yourself with a wide range of people and keep evolving.

3. In order to build trust, you must allow the prospect to have control.

4. When providing great value, the rest of the wallet share will come.

5. It's not about inspecting the individual, it's about inspecting the idea.

6. Providing an engaging and personalized experience is a vital ingredient.

7. Reshaping a business requires trust, integrity, and communication.

8. It's important to have your values displayed from the leadership team down.

9. Collaborative safe environments encourage the sharing of best practices.

10. Sharing what's working across the team will help the entire team refine their message – leading to more valuable interactions with customers.
The sales leaders above have led their companies to great success. And the change wasn't only seen on the sales side but across the whole organization.
We want to thank all of the sources above for providing thorough information and asking these important questions. And of course all of the sales leaders for stepping up and sharing their insights and industry expertise.
Get expert sales tips straight to your inbox to win more deals
Related Articles
Sales, deal management, and communication tips for your inbox