Selling to the C-Suite: Tips and Strategies
There's a lot of talk in sales about reaching out to a level of high-ranking/c-level executives — CEOs, CFOs, CIOs — known as the "C-suite."
But much of that talk is cheap, especially when it comes to reaching those executives in a way that produces sales results.
Let's look at some strategies that salespeople and sales teams should know and follow when selling to the C-suite.
Find Out What Works and What Doesn't With Sales Emails + Getting Replies
Then you have the expertise of two men, Nicholas A.C. Read and Dr. Stephen J. Bistritz. To say they wrote the book on the C-suite is literal, as their volume "Selling to the C-Suite" reveals the thinking and strategy that goes into reaching for the top when selling.
Bistritz, the current head of SellXL, remembers well the moment he heard a startling executive-level insight. In 1995, he was crafting a workshop on selling to executives by conducting research at Hewlett-Packard.
One executive told him, "I meet with professional salespeople because often they can offer me solutions that even people within my own organization can't develop. They've seen these problems in other organizations and I want the benefit of their experience."
Bistritz recalls: "That was the first time I heard the term 'trusted adviser' being used in conjunction with a salesperson. HP wanted to find out how their salespeople could be leaders, in the position of becoming trusted advisors. It validated my role as a professional salesperson: If I perceive that a salesperson can deliver value, I'm going to meet with them."
This lies at the heart of the C-suite philosophy: getting to the level of becoming that trusted advisor. But as you might've guessed, it's hardly a matter of making a cold call or sales pitch to a CEO.
Find The Relevant Executive For The Buying Opportunity 
In fact, Bistritz says that in his work training 30,000 sales reps at IBM (where he spent more than 27 years), "We had these steps in the buying cycle and we asked the executives, 'When do you get involved?' What surprised us was that they got involved late and wanted to measure the results. If they spent $500,000 on a software solution, they wanted to understand the value you'd deliver."
So whom do you go after? Bistritz says it's a matter of "finding what I call the relevant executive for the buying opportunity—the one who can influence the buying decision. It's the executive who stands to gain the most, or lose the most, by the application of your sales opportunity."
Tip: Using LinkedIn for sales can help map out organizations and find/understand the key stakeholders.
Capability + Integrity = Client Value Zone
And how do you become that trusted advisor? "It's a combination of capability and integrity," Bistritz says. "If you do both of those things at the same time, over time you could be perceived as the trusted advisor—and here's where the relationship can become trustworthy. You're not just trying to sell something, you're looking out for the client's best interests."
The area where capability and integrity rise together is what's known as the "Client Value Zone," which Bistritz adapts from the book "Clients for Life" by Jagdish Sheth and Andrew Sobel. The relationship between salesperson and client becomes collaborative, and the salesperson moves from a traditional role into something special.
To a large extent, it's also whom you know. Bistritz (who has the benefit of drawing on numerous studies from more than 500 executives), asked executives how likely they'd be to schedule a meeting with a salesperson concerning a major purchase. If the recommendation came from someone inside the company, 16% said "always," and 68% said "usually." With outside referrals, it was 8% always, and 36% usually.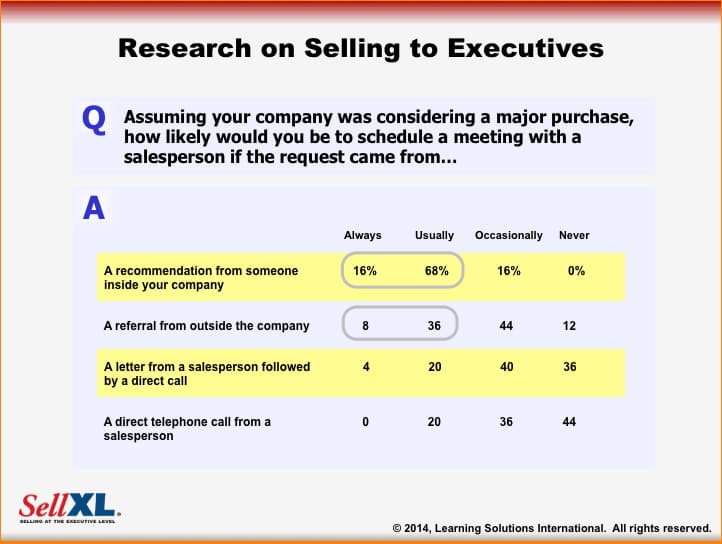 "If I happen to pick up my phone, I disengage if somebody is selling me something," says Diane DiResta, founder/CEO of DiResta Communications and author of a recent Forbes piece on reaching the C-Suite. "Time is the most valuable resource and I don't want to waste it chatting about something I don't want or need. Even if I'm interested in the product, it's rare that I'd buy from somebody I didn't know."
Selling to the C-Suite: Implement C-Suite Tactics
To the extent that you want to implement C-suite tactics in your selling, keep in mind these pointers:
1) Find the relative executive. "Think of the last deal that you won, or the last deal that you lost," Bistritz says. "Were you aligned with the relative executive? If you won the deal, you were probably aligned with some executive whose neck was on the line. And that executive is going to have influence over the buying decision."
2) Know something about that executive's line. "Typically when you look at a client organization, there are two types of buying decisions taking place: The formal decision, and an informal buyer who can usurp that buying decision at the last minute," Bistritz says. If you've done your homework and know who that informal buyer is, you can preserve the deal.
3) Do all your homework. Read and Bistriz list four relevant points that executives look for in a successful meeting. Of those four, two relate directly to the salesperson's knowledge: that they "understood my business goals" and "displayed knowledge of my industry."
4) Listen, listen, listen. Before you can get to c-level decision-makers, you have to bond with those beneath them/lower level—and the best way to do that is to learn by listening.  "The best consultants listen actively whether or not the answers are what they are looking for," DiResta says. "They ask the right questions. One colleague of mine beat out a celebrity for a speaking engagement because of the question he asked. The celebrity was selling a keynote. My friend sold a solution to the problem."
Get expert sales tips straight to your inbox to win more deals
Related Articles
Sales, deal management, and communication tips for your inbox