How To Sell Nonstrategic Products (Hint: Forget About Price)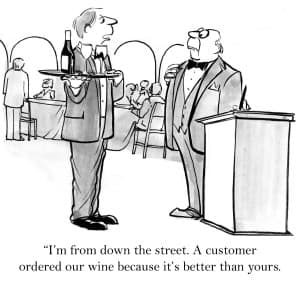 If you're selling "a nice to have" rather than a "need to have" product, you might have convinced yourself there are only two ways to compete: on price or features. Turns out, that's not the case.
According to recent research, it doesn't work because your customers aren't looking for a cheaper product or one full of more bells and whistles. If their basic needs are being met and the cost isn't too outrageous, they're on the hunt for "something more" to turn their hesitation into a purchase.
During a three-year study of 46 companies, lead author professor James C. Anderson of Northwestern University's Kellogg School of Management and his colleagues James A. Narus and Marc Wouters discovered that salespeople often misunderstand this need, pulling instead from their well-worn playbook of the strategies listed above.
Their findings, detailed in an article published in Harvard Business Review, suggest that purchasing managers are actually looking for a "justifier," especially considering they spend 80 percent of their time making decisions on only about 20 percent of what they have to buy to keep the business competitive.
An element of the product or service that provides a clear-cut value that stands above the competition is the justifier that gains an edge. That could be something as simple as adding the customer's own product codes on packaging to facilitate integration in their inventory system or the ability to cancel a contract without paying a hefty fee.
This is important, the professors contend, because it helps make purchasing managers look good to their own top brass. Writing in HBR, the professors note that purchasing non-strategic products and services is a thankless job that only gets recognized when something goes wrong. They write:
Helping purchasing managers break out of this rut by giving them a visible "win" is how suppliers win. They gain a larger share of customers' business—and, potentially, the ability to price their offerings at or near the upper end of each customer's acceptable range.
How can salespeople shift into this mindset and provide justifiers? The professors have several suggestions.
1. Start a Real Dialog
You can't sell effectively if you don't understand how your customer plans to put your product or service into action every day. The professors' research found that companies that trained their salespeople to ask specific questions boosted their competitive advantage.
For example, at a rebar supplier, salespeople have been taught to open dialogs with reviews. They asked questions such as:
Which ratings would the customer most want our company to improve?
What exactly is meant by particular ratings such as "ease of doing business"?
How could our company raise its ratings?
At the end of the sales call, they closed with asking how they could be a better supplier.
It was this query that prompted an explanation of one particularly costly problem the customer had with rebar. By addressing this need, the supplier reduced its own costs and then passed the savings on to the customer.
Though its wares may be thought of by some as a commodity product, the rebar company pulled ahead of the pack by giving purchasing managers a way to show senior executives how they were helping save their company money. The same could be done with anything from software to ball point pens–salespeople just need to find out what the sticking point is and help remove it.
2. Research Other Companies That Sell To Your Customer
Knowing what other companies supply goods and services to your customer can help you better position your product with them, the professors found. In this way, you may be able to join forces and offer your customer two times the value if they buy from you.
The HBR article cites an example of a GPS company that teamed up with a provider of data analytics for the drivers of a pest prevention firm. The companies worked in tandem to combine GPS location services and driver data, providing the pest company a new window into the maintenance of its vehicles and a way to save money on fuel costs. The purchasing manager at the pest control firm could clearly show the benefits of using services from both companies.
3. Do Basic Math
The professors made an unnerving discovery as they conducted their research. Purchasing managers told them that salespeople rarely took the time to look at their customers' websites and learn about the company they wanted to sell to.
With annual reports that can be easily accessed on the Web, it's not difficult to draft a list of goals that your customer's senior management wants to achieve. Past metrics are also usually touted within company content, which can arm a salesperson with important numbers on safety records, and waste and cost reduction goals. When you head into the sales call, have those numbers handy and show the purchasing manager how you can help him or her meet the company's specific goals.
As the professors point out, " a little exploration can go a long way." What will you do to identify justifiers for your customers?
Get expert sales tips straight to your inbox to win more deals
Related Articles
Sales, deal management, and communication tips for your inbox