6 Sales Strategies That Will Get You to Yes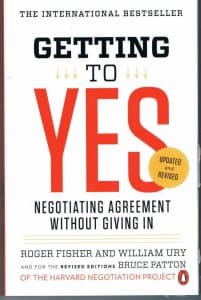 If you wonder what makes Yesware tick, you can find the answer on the right-hand column of this page: "Salespeople are all about 'Getting to Yes' so we don't make hardware or software, we make Yesware." Of course, Getting to Yes is also the groundbreaking book co-authored by Dr. William Ury, who co-founded Harvard's Program on Negotiation and is currently a Distinguished Senior Fellow of the Harvard Negotiation Project.
When Ury hears the Yesware tenet read aloud, he laughs and expresses gratitude. "For me, sales is negotiation and negotiation is sales," he says. "They're two different lenses on the same phenomena, which is 'How do you persuade people, how do you help people, how do you change people's minds and hearts?' It makes sense that the same 'getting to yes' principles apply."
Between flights at O'Hare, Ury shared a half-dozen negotiation principles from his trio of books, Getting to Yes, Getting Past No, and The Power of a Positive No. Whether you're new to Ury's work or a fan of his writings, read this post and pass it on to your sales comrades. It represents a distillation of his finest thought and findings, prepared especially for Yesware readers.
Can You Influence Yourself?
Before influencing clients and customers, this step comes first: Influencing yourself. "After 35 years in this field as a student, participant, and teacher, I've found the single biggest obstacle is not the difficult customer; it's us and our tendency to react. It was Ambrose Bierce who said, 'Speak when you're angry and you'll make the best speech you'll ever regret.'"
Salespeople against a wall—when a cherished client threatens to yank business, for example—may feel the need to fight back, or capitulate to hefty concessions. Neither tacks prove productive; hence, Ury's first directive:
Getting to Yes
1. "Go to the balcony"
This phrase from Getting Past No refers to creating time and space where you avoid a knee-jerk reaction and consider broader solutions. "People in sales are under so much pressure: all the phone calls, the texts, the emails," Ury says. In light of an email where, say, a client reneges on a deal, "the most tempting thing in the world is to hit reply—or even worse, reply all." Instead, Ury implores that salespeople use the "balcony button" on their computers: "Get the reply out of your system and compose it, but hit 'save as,' and then get some perspective. Go to the gym, go out to dinner with a friend, get a good night's sleep. Then have a personal meeting with that person, and try to find out what's really going on."
2. Find the interest behind the position
In sales your prospect may sweat the usual variables: price, terms, conditions. In Getting to Yes, Ury reveals how successful negotiators (and sales reps) go deeper. "Look at the underlying needs, concerns, desires or aspirations."
He uses the example of two sisters who fight over an orange and split it in half. Afterwards, they discover one wanted to eat the orange, while the other wanted the peel for cooking. If they'd explored the interests behind their needs, they could've scored a whole orange and a whole rind respectively, instead of half of each and the accompanying waste. So if a client requests a steep price cut, poke around. You might find she has a fixed budget, an interest you could easily solve by extending the purchase over two budget periods, Ury says.
3) Know your "BATNA"
No, it's not a creature from Star Wars. It's an acronym for "best alternative to a negotiated agreement." And it's the friend you keep in your pocket if you must walk from a negotiation, Ury says. "If you're looking for a job with only one interview and you're talking about salary, imagine how that conversation goes," Ury says. "But you could research other possible jobs, look into additional training, or create alternatives. Having other alternatives gives you confidence. If you need, need, need this deal, that gives a lot of power to the other side."
A simple example: If a negotiation with a client goes south because the other side refuses to budge on unfair demands, maybe it's time to consider reaching out to the client's competitor, or redirect the time and energy to clients who'll help you build your account base.
4. See the world as others see it
Many salespeople enter a negotiation preoccupied with their goals, needs, and wants. But the other side opens up, Ury says, when you demonstrate real desire to understand things from their vantage point. This creates a subtle shift that allows two sides to collaborate on a challenge and sidestep a win-lose face-off. "Successful salespeople, even if we think of them as successful talkers, are really more successful listeners," Ury says. "Listen not from within your frame of reference, but the other side's. Listening conveys respect and that is greatly underrated as a way of connecting."
5. Expand the pie
It's a sign of scarcity thinking and limited imagination to see the spoils of a sales deal as a fixed fraction that only goes so far. "Too often it's, 'A dollar more for you is a dollar less for me,'" Ury says. "But we can invent options for mutual gain. What's low cost to you and high benefit to the customer that you can exchange? Meanwhile, a customer's referral is very low cost but of high value to us: It means more business."
6. Create a "yes-no-yes" sandwich
The stereotype of the high-pressure sales rep still pervades popular culture, but it obscures how clients often squeeze sales reps, dangling the sword of continued business over their heads. In <em>The Power of a Positive No</em>, Ury suggests you say "yes" by thanking a contact for the business; say "no" by politely and respectfully declining any ill-fitting deal; and say "yes" again by stressing how you want the relationship to continue.
"Steve Jobs once said that focus is not about saying yes, it's about saying no," Ury notes. So if you turn down an impossible proposal or work beyond your scope, 'you can say, 'We can do this, this and this for you.' To say no in a positive way is critical for every salesperson."
Practice Makes Principle
It's too tempting to read posts like this one, or Ury's books, without working the strategies until they become an ingrained habit.
"Practice this stuff," Ury advises. "These are codifications of timeless principles, common sense principles not commonly practiced. So in that way, they represent uncommon sense."
Try Yesware for free to get to "yes" faster — over email and phone. 
Get expert sales tips straight to your inbox to win more deals
Related Articles
Sales, deal management, and communication tips for your inbox