Yesware is for Salespeople, Not for Spammers
If you're like the rest of the denizens of the Internet, you've been at the receiving end of a sales email that totally got you wrong.
The scary truth is that 82% of salespeople aren't aligned with the buyer's needs.
They have no idea who you are or what you want to buy – let alone why you'd want to buy. They didn't do the research.
When it comes to your own prospecting, the last thing you want is to be THAT person.
How Yesware's Features Bring Authentic Personalization To Your Inbox
With advanced features like Campaigns and Templates, you can easily personalize your messaging at scale.
Templates enable you to create a library of your go-to messaging and actually see what works so that you can iterate: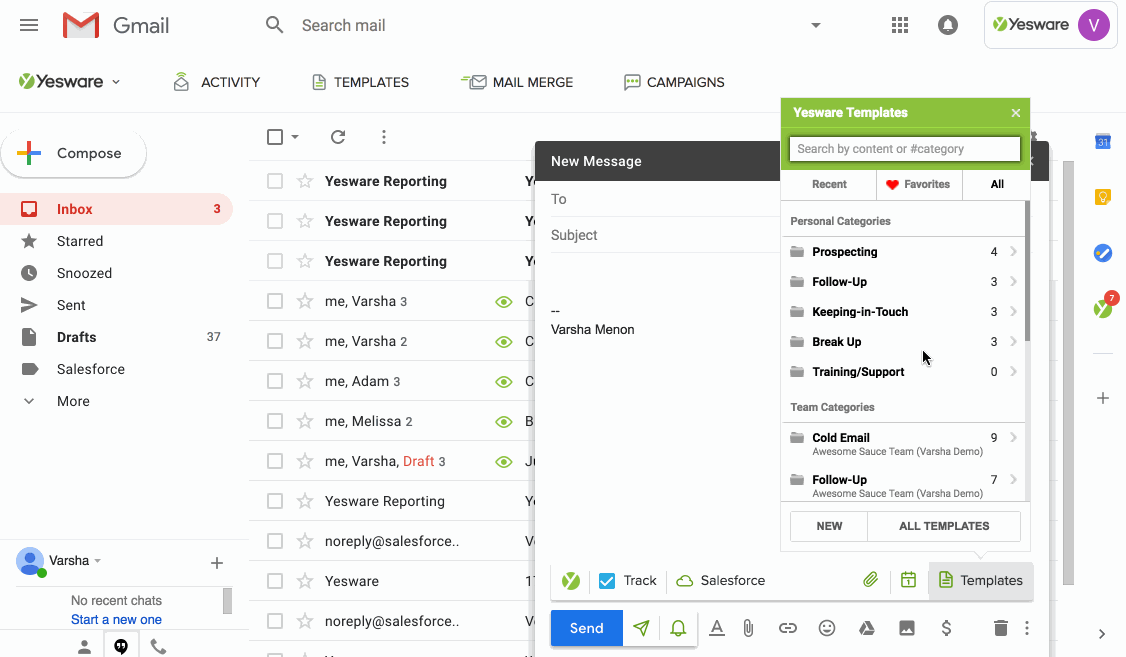 Save top-performing emails as templatesNever write the same email twice with Yesware
Campaigns allow you to scale your communications and manage your daily communication. You can also follow up your workflow with a smart to-do list:
You can also personalize at scale using merge fields that allow you to input information about your recipients that will automatically sync to each individual email, like so:
If you're thinking, "This is exactly what I've been looking for," then now is the perfect time to start a free trial so that you can start using Campaigns right away.
When you're using Campaigns on the trial, you'll be limited to a total of 500 recipients over the course of the trial. You'll be able to see how many recipients you've added to a Campaign, and we'll warn you when you're nearing the limit.
Why are we setting this limit? The reason is twofold.
Multi-channel campaignsPersonalize emails at scale with Yesware
1. You'll send emails with intent and mindfulness
We want you to make the most out of using Yesware so that you can make smarter decisions from your inbox. But with great power, comes great responsibility.
Pro tip: We recommend that Campaigns newbies start small and scale communication over time.
This means:
Taking the time to research your recipients
Personalizing your messages
Demonstrating you get your buyer
We want you to avoid committing the fatal error of scaling for hyper-activity at the cost of actual positive results.
2. We want to maintain the integrity of our tool
Yesware is committed to building software for salespeople, not software for spammers.
In the past, we've found that some folks have abused the free trial as a means of spamming others. And that is not what Yesware is about. Yesware is meant to empower salespeople and others to have authentic, effective conversations.
This limit will help us ensure that we're not creating a tool that has the potential to become dangerous and problematic.
How does Yesware empower YOU to send emails with integrity?
We understand what's at stake when you reach out to a prospect.
That's why any emails sent on your behalf will be sent from your account when using Yesware Campaigns. When recipients see that you're personally sending them an email, you can get that first impression right every time.
By using our tool and sending smarter emails, your reputation remains intact.
In Closing
If you're one of our 60k customers, we thank you helping us make Yesware better every day. And if you're considering Yesware, we hope you find that Yesware can be a part of your daily toolkit!
If you have any questions, you can go to help.yesware.com and send a question to our amazing Customer Experience Team.
Get expert sales tips straight to your inbox to win more deals
Related Articles
Sales, deal management, and communication tips for your inbox