3 Unlikely Words That Can Make You a Top Salesperson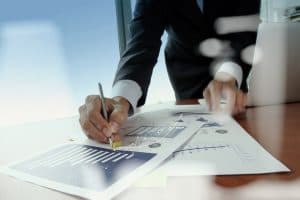 There are three words that can make you a top salesperson, and they likely aren't what you think.
Indeed, sometimes the best way forward may not be the most direct nor the way that makes the most sense–at least, at first glance. Some of the most successful companies and business leaders have gotten to the top by going sideways or backwards.
Warren Buffett, for example, doesn't surround himself with "yes men." He relies on vice chairman Charlie Munger to tell him when he's wrong. Likewise, Apple released the MacBook Air with no CD or DVD drive and limited memory–features that made it stand out and sell.
Next time you're beating a path to your customer's door armed with what you think will close the deal, take a step back and consider the following approaches–and three unlikely words—that require a complete reversal of traditional thinking.
"No"
There's something about telling someone what they can't have. Decades of research prove that "no" is a powerful motivator that gets people juiced up to pursue the now-forbidden object.
Telling yourself what you can't have can be just as motivating. Consider the case of Robert D. Smith's first foray into sales. Long before he penned 20,000 Days and Counting, Smith was going door-to-door peddling educational resources –a tough job, even for a top salesperson.
After practicing his pitch and eliminating any unnecessary information, Smith hit on a strategy that got customers to buy. "I never focused on the 'Yes,'" Smith writes. "My only goal, each and every day, was to do my presentation 30 times. Without fail, I made at least one sale just about every day."
"After"
During a pitch, sales folk often focus on getting through the presentation without forgetting any wonderful product features or to mention how they've helped other customers in the past.
News flash: Your customer doesn't care about that.
Ivan Misner, founder of the professional networking organization BNI, recalls some advice he got from a sales expert. "Customers don't care what you do; they care about what they're left with after you've done it."
Misner's friend, the aforementioned sales expert, says that's why it's important to keep the word "after" top of mind to deliver a pitch that's truly focused on customers' needs by illustrating how their experience will change as a result of your product. A top salesperson knows how to deliver questions to steer that discussion.
Those questions might include:
"What are you looking to achieve after our work together?"
"What would success look like to you as a result of this project?"
"Looking back a year from now, what will need to happen for you to think things have gone brilliantly?"
"Invest"
You can't always get a face-to-face meeting with a new customer. Connecting with a customer digitally is a good alternative, but it can be challenging to do this effectively.
One-to-one emails can go awry when they default to delivering a deluge of information from a pasted-in list of product features that's not tailored to the prospect's unique needs. Even worse are thinly disguised e-blasts that use a boilerplate message bookended with informalities when you don't know the recipient–as in this unfortunate example:
Hi Jane,

How's the summer treating you, so far?

Have you thought about upgrading your current system of doing business? If so, you'll want to consider our product. It's best-in-class because:

Product feature

Product feature

Product feature

Let me know if you're interested in learning more and have a great weekend!

Sincerely,

Terri Salesperson
Not only will this email fail to get busy people to respond, it could actually boost the chances that the prospect will hit delete on all future correspondence in a nanosecond. A top salesperson knows how to connect with their prospect, which includes doing research ahead of time.
That's why Babette Ten Haken, founder and president of Sales Aerobics for Engineers, maintains that a top salesperson must do a considerable amount of homework well before pressing send on any communications.
That includes:
Making sure to connect via social media
Learning exactly what the prospective company does
Understanding what role the prospect has within the company
Using the prospect's business email address: Ten Haken warns that flooding a personal inbox with sales pitches is a sure-fire tip-off that a sales person just bought a mailing list and is not targeting the most relevant prospects.
Not paying attention to these details says Ten Haken, proclaims (loud and clear) that you:
Don't know how to enter into the competitive marketplace
Don't want to take the time to understand your target customers' businesses
Are not willing to invest your time in developing sales mastery
Becoming a Top Salesperson
Customers want to feel as though their salesperson understands their pain points and has solutions. As Ten Haken says, "Invest in learning about me. Then I'll consider the relevance of making an investment in you."
By understanding how to ease places of tension, connecting with your prospects, and eliminating any unnecessary information, success is certainly on its way.
Make your next sales call more persuasive by avoiding these phrases [PDF]
Get expert sales tips straight to your inbox to win more deals
Related Articles
Sales, deal management, and communication tips for your inbox