What is an Account Executive? Definition, Job Description, Interview Questions
The account executive performs a number of important responsibilities. Sometimes called an account manager, the position is somewhat nuanced, usually sitting somewhere between (and among) sales and customer success. 
Not every company will need an account executive. It's an investment position, and usually indicates the presence of a healthy customer base, efficient sales pipeline, and post-startup operating status. 
In this article, we'll go over everything you need to know about the account executive — what they do, the skills they need to do their job, and resume and interview insights for sales professionals seeking an opportunity in this role.
Here's what we'll cover:
What Is an Account Executive?
An account executive is a specialized kind of sales representative.
The exact responsibilities of the position will vary by company. Sometimes, the position entails all of the sales duties typical of a standard sales role — prospecting via email and phone, qualifying leads, negotiating, and closing deals with new clients.
What makes the role noteworthy, though — and separate from a traditional sales rep — is that its responsibilities go beyond the scope of a traditional sales rep role. 
The account executive acts as the primary point of contact between an organization and its existing customers. The account executive builds relationships with new accounts to support, enhance, renew, and grow them.
In some organizations, the account executive sits higher on the org chart than the sales rep and is more of a senior-level position; the sales development rep researches prospective customers and qualifies leads, and then passes ready buyers to the account executive. The AE then negotiates and closes the deal, and nurtures the relationship beyond the close.
SDR vs. AE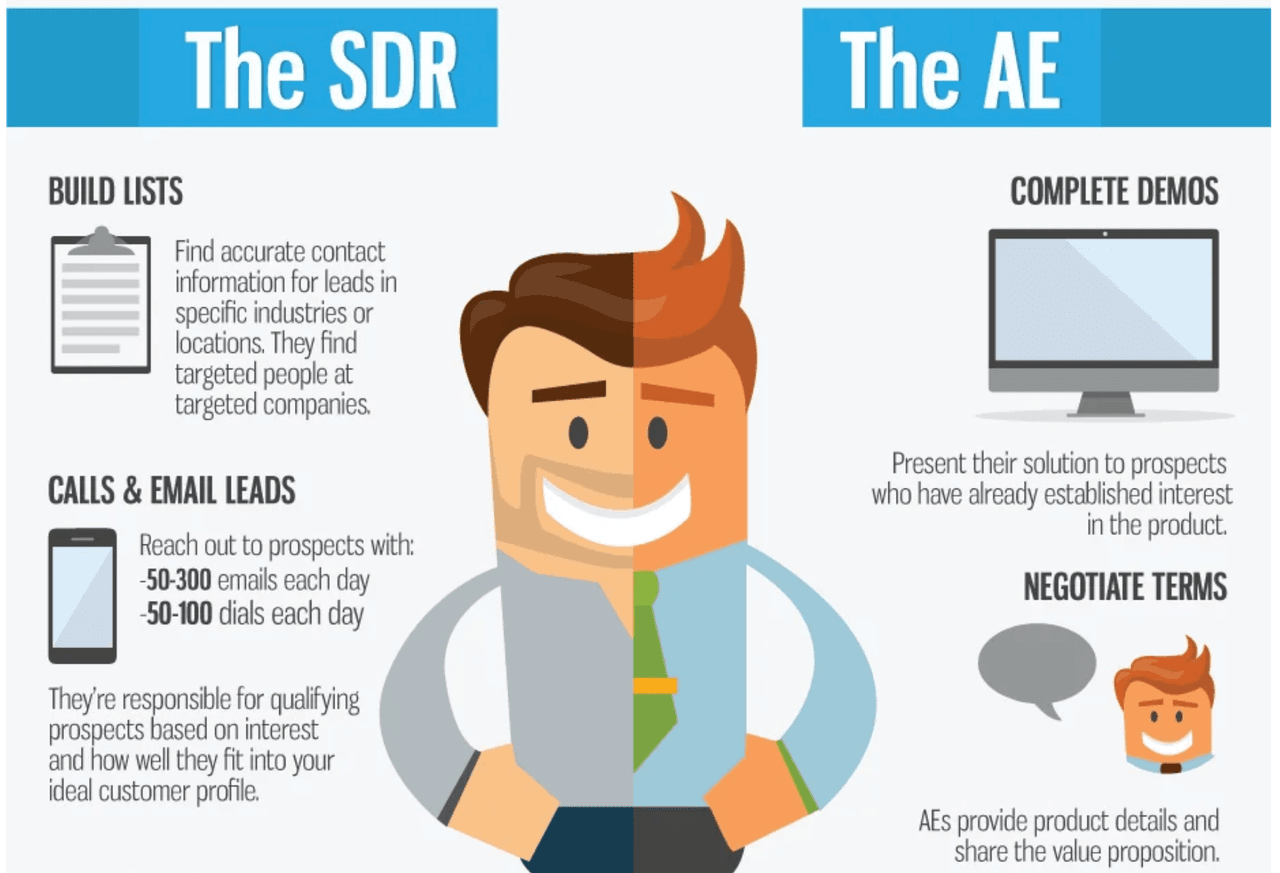 The AE completes demos and presentations and then negotiates to win new business. They are then responsible for ensuring those customers remain happy.
But the position goes even a step further. Not only are account executives responsible for the health of existing customers' accounts, they're also tasked with seeking out and generating new opportunities from both new and existing customers.
The account executive needs to consistently seek a specialized subset of customer feedback. While the customer success team may want to know more about a user's experience with the product's features, the account executive aims to understand how the customer relates emotionally to the product and, more importantly, the brand as a whole.
Although developing an account executive position can be an investment, hiring someone with this job title can offer a lot of value to your bottom line. Acquiring a new customer is anywhere from 5 – 25x more expensive than maintaining an existing one — account executives work to mitigate those costs by maximizing each existing account's lifetime value potential.
Boost performanceRobust set of tools for AEs to track email activity, rapidly test what's working, & drive better results
7 Skills to Develop as an Account Executive
The exact "years of experience" requirement will vary, but becoming an account executive typically requires at least some sales experience. That being said, there are a handful of specific skills that sales professionals can hone in on to improve their success as an AE.
1. Negotiation Skills 
One of the most consequential components of an account executive's duties is the negotiation process.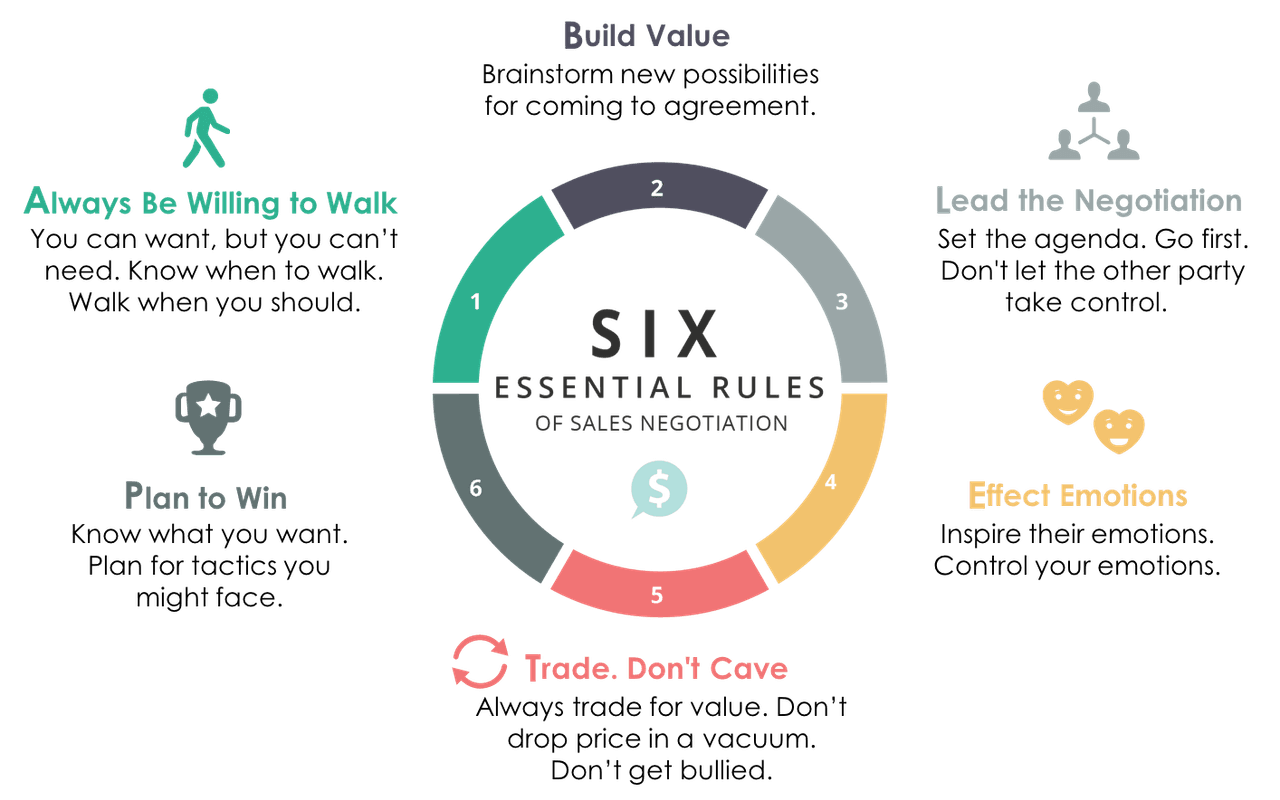 Whether the account executive sources the lead themself or picks up where a sales development rep (SDR) leaves off, the account executive is almost always responsible for negotiating the terms of the deal and guiding it to close.
Successful negotiations have a direct effect on overall business development goals, so the person in this role needs to be confident and skilled.
2. Prospecting and Basic Sales Skills
Many account executives need to prospect and qualify the clients they will ultimately work with on the other side of the sales funnel.
In this regard, AEs need to become skilled at researching new prospects, asking qualifying questions, and nurturing and following up with warm leads.
3. Emotional Intelligence (EQ)
Account executives are responsible for attending to and anticipating the needs of their customers to grow their accounts and increase revenue. Emotional intelligence (sometimes known as EQ) can be a huge asset in navigating these needs.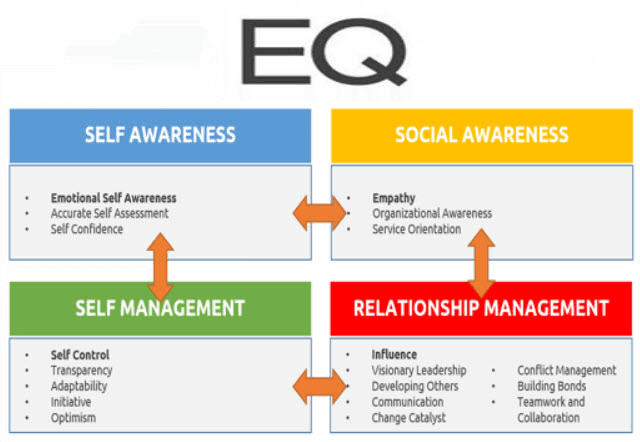 EQ develops over time and with intentionality and mindfulness. The higher your EQ, the better equipped you'll be in meeting your customers' ongoing needs.
4. Big Picture & Strategy
In addition to many of the challenging day-to-day activities involved in a busy sales process, strategizing and project management also fall under the umbrella of an AE's responsibility. 
The AE needs to be able to analyze industry and company trends and data to optimize the pipeline, maximize productivity, and develop high-converting sales strategies.
5. Active Listening
One of the best ways to help clients feel heard is through active listening. 
Active listening skills are crucial for an account executive. Not only will active listening help the customer feel important, it will also help AEs read between the lines and really get to the heart of what a customer needs to ultimately feel loyal to a brand.
6. Organization Skills
Some AEs are responsible for the entire sales process from start to finish, closing prospective clients, and then going on to manage the health of the account. 
Even for AEs who tag-team with SDRs, there are many moving pieces involved in staying one step ahead of what a customer needs. 
Account executives need to have top-tier organizational skills. A CRM system and a robust sales engagement tool like Yesware can help alleviate AEs of some of the tasks that need to run in the background in order to make sales and grow accounts.
Work smarter & fasterAutomate outreach, eliminate data entry, and never write the same email twice
7. Communication
Account executives also need to have excellent communication skills across many domains, including cold-calling, emailing, phone-based sales presentations, and in-person demos. 
All communication needs to be professional and polished, of course, but it also needs to be purposeful. AEs should practice communicating in a way that uncovers hidden needs and drives the conversation forward. 
Sample Account Executive Job Description
Landing an account executive position can be challenging. Companies seeking to hire someone for this position will be judging candidates based on how well they appear to relate to the organization and, ultimately, the clients' needs. The truth is, much of this intuition doesn't develop until account executives have completed a few years on the job.
There are ways to climb the ladder with less experience, though. Some companies who are new to account executives, or those with smaller budgets, may opt to hire a "Junior" AE. The Junior AE focuses heavily on maintaining successful client accounts, but also performs all other "regular" sales duties, as well. As the AE gains experience and lands promotions, their time will be reallocated more toward growing existing accounts and initiating new opportunities.
The following account executive job description was adapted from LinkedIn and is typical of the position. 
Job Description
We are currently looking for an account executive to attend to our growing client relationships. The ideal candidate will have proven experience enhancing existing relationships, eliminating competitive threats within our customer base, and ensuring customer satisfaction within our accounts. You'll be a proactive and curious member of our growing sales team, identifying growth opportunities for clients before they identify a need or gap for themselves. 
Objectives of this Role
Build and maintain lasting relationships with clients and partners by understanding pain points and needs, and anticipating them in advance
Coordinate internal and external resources to expedite workflow
Manage communication between upper management and employees
Stay current with company offerings and industry trends
Oversee and achieve organizational goals while upholding best practices
Daily and Monthly Responsibilities
Support and solve problems for clients by understanding and exceeding their expectations
Illustrate the value of products and services to create growth opportunities; compile and analyze data to identify trends
Participate in brainstorming, office activities, staff meetings and client meetings, researching and assisting with program development for existing clients and new prospects
Perform prospecting activities such as cold calling and networking
Follow up with clients regularly to ensure needs are being met and identify opportunities for cross-selling, upselling, or referrals.
Maintain a database of clients, prospects, partners, and vendors
Skills and Qualifications
Bachelor's degree in business, marketing, or a related discipline
4 years experience in an administrative role reporting directly to upper management
Ability to manage multiple accounts while seeking new opportunities
Ability to understand client needs, and negotiate costs and services
Proficiency in Microsoft Office and CRM software, with the aptitude to learn systems
Willingness to travel as needed to meet with clients and prospects
Preferred Qualifications
Master's degree
Proficiency in a second language
Experience overseeing budgets and expenses
Experience developing internal processes and filing system
Sample Account Executive Interview Questions
The account executive can be a very lucrative position, with Glassdoor reporting an average salary of nearly $61,000.

With this healthy salary comes high expectations, and usually a rigorous job interview process. Read on to learn some of the questions you're likely to encounter during an account executive job interview.
Questions for Account Executive Job Interview:
Describe your current role, your responsibilities, and how success is measured. 
Knowing what you know now, go back to the beginning of your current role and describe to me what you would have done differently to generate even more success.
What would your current supervisor describe as your strengths and areas of growth?
How do you handle rejection?
What strategies do you use to discover new sales opportunities?
What are the most important components of building and maintaining a successful, long-term business relationship?
Describe your experience with social selling, including specific strategies or campaigns you've used.
Imagine you have multiple clients with simultaneous needs or complaints. How do you prioritize. 
How did you handle your unhappiest client?
What was your most complicated sales cycle in previous positions?
Describe a time when you lost a chance to engage with a prospect? What happened? What would you have done differently?
Imagine that a client calls you and reports that they've found a new product to meet their needs. They wish to discontinue your business relationship. How do you respond?
How do you view the account executive role in relation to the sales, marketing, and customer success teams?
How do you juggle supporting your assigned clients alongside pursuing new leads and generating new sales strategies? 
Have you interviewed for an account executive position? Did you encounter any of these questions? Remember, it's okay to practice your responses beforehand, but avoid sounding too rehearsed. Stay flexible during the interview process and focus on your overarching principles as a salesperson. 
How Yesware Can Help Account Executives Succeed
Yesware's suite of sales tools is designed to help account executives manage a busy pipeline and grow (in volume and quality) successful client accounts.
First, our email templates help AEs save time by allowing them to save and store successful email messages that can be used over and over again.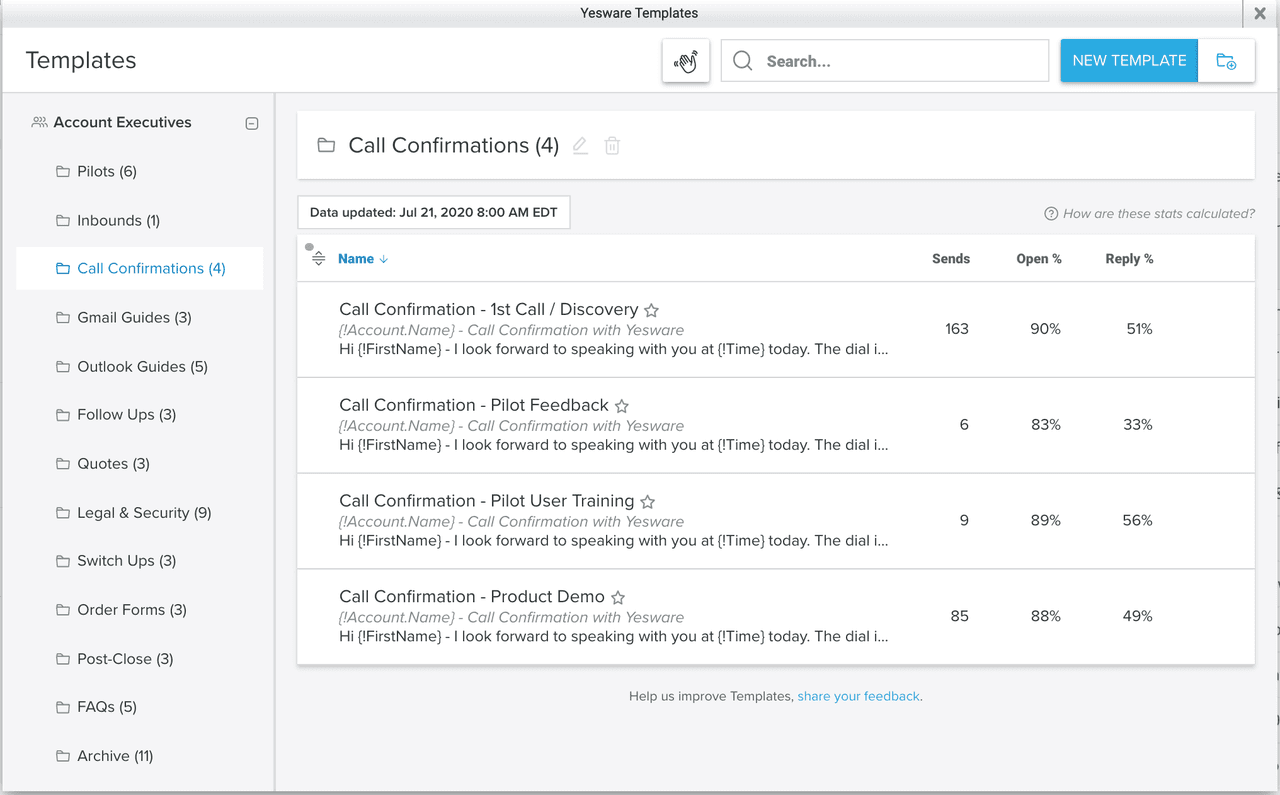 Account executives can save templates for any number of scenarios, and pull them from the catalog in just a few seconds.
Yesware's multi-touch campaigns can use an AE's email templates in a high-touch, intuitive outreach sequence.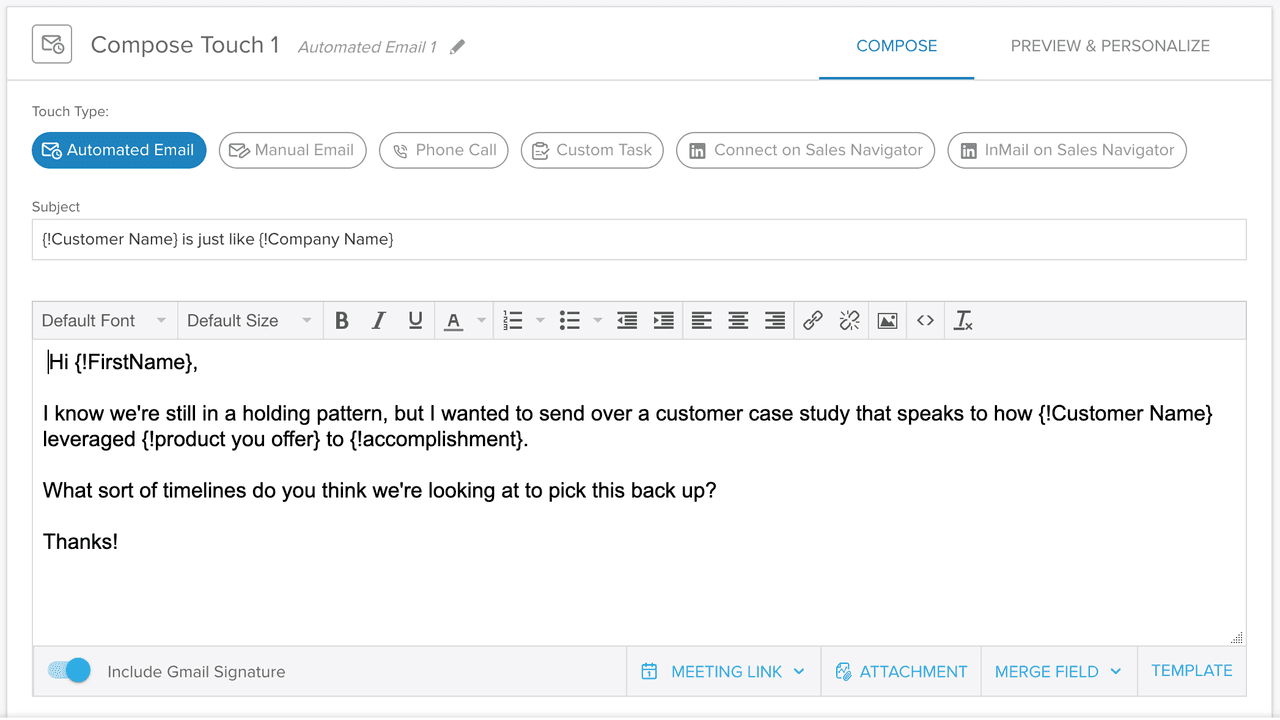 These campaigns can be as straightforward or as complex as the account requires, and each one is fully customizable.
Once an AE's campaigns are up and running, they can use Yesware's analytics tools to measure their most effective strategies.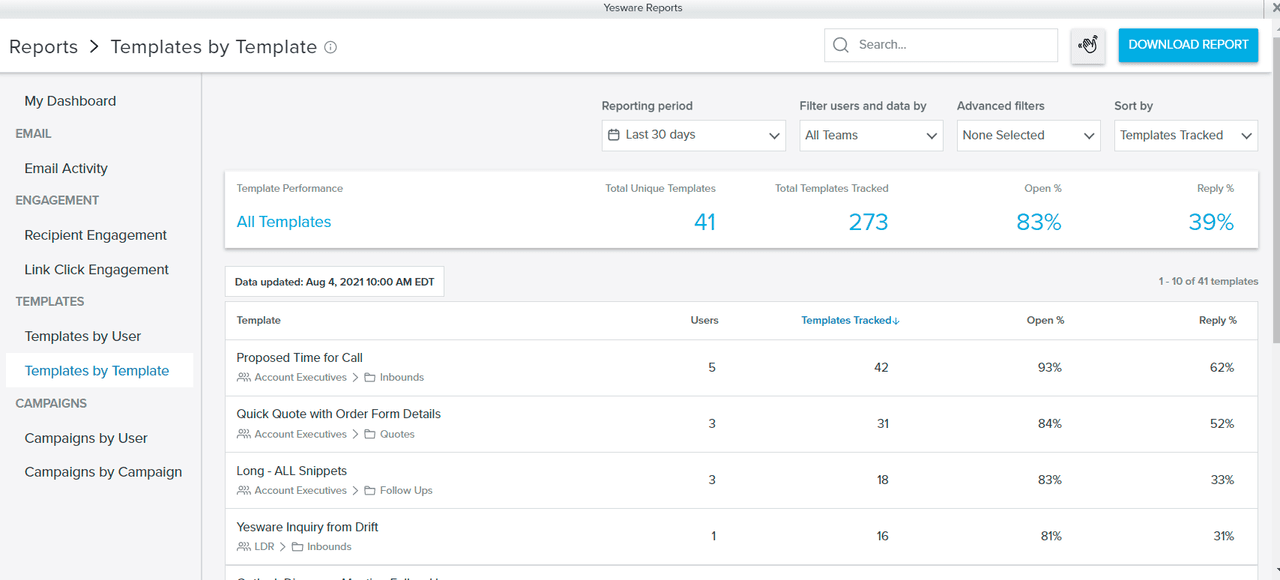 These insights help account executives determine which customers or leads are most engaged, and which may need more targeted nurturing.
Does your team have an account executive on the salesforce? Can you find a use case for one? For companies beyond the startup phase who are looking for sustainable scaling and growth, the account executive position can be a worthy investment.
Get expert sales tips straight to your inbox to win more deals
Related Articles
Sales, deal management, and communication tips for your inbox