How to Manage Your Business Development Representative Team Towards Better Results
Having a strong business development representative team producing results is one of the most valuable optimizations you could make.
If your BDRs are performing consistently, then you'll produce pipeline consistently. And consistent pipeline generation is what leads to predictable revenue and reps hitting quotas.
Today, let's talk about how to build a better team by creating, measuring, and optimizing processes that hold BDRs accountable so that your team performs to their full capacity.
3 Steps to Managing Your Business Development Representative Team
1. Map out your process
First, you need to lay out the process you want your business development representative team to go through. Start with their overall objective, and then figure out all the steps that get them there.
For example, if your business development representative team is responsible for generating qualified opportunities, figure out how you manufacture opportunities.
You probably need to show a demo to get the opportunity. To do so, set the demos on a qualified call or through a qualified email exchange.
Your business development representatives need to be making calls, sending emails, and committing to other types of outreach.
If your reps are focused on outbound activity, then they probably have prospecting and lead generation to do.
Map this process out into all its increments, so that you can measure each piece individually.
Lead your team to successTrack, analyze, and standardize what's working
2. Identify Drivers and Ratios
Like most sales roles, you want to measure your BDR team on two types of metrics: Drivers and Ratios.
Drivers are straightforward and simply measure the volume of output by a rep on a particular metric. The keys to look for in Drivers are whether reps are hitting the overall target and whether they are happening consistently.
To keep reps on pace, it can be useful to use period-over-period charts to see how your business development representative is tracking against the previous week or month. A simple month-over-month chart for demos set or calls (see below) is a great way to keep a BDR on pace and beating their prior performance:

Ratios can be even more useful than Drivers because they tell you if your reps are following your strategy, and whether that strategy is having the desired outcomes.
For example, some of the key Ratios to look at are:
The number of unique accounts your BDRs are reaching out to
How many contacts they are reaching out to, per account
The number of accounts your BDRs are reaching out to is called Account Coverage, and is important to think about. Depending on the way you market and sell, you may want your team to be reaching out to as many different accounts as possible. This is typically the case when you sell a product with a small ASP, in a high-velocity, transactional way.
However, if you sell a higher ASP product where you need multiple stakeholders, then you actually want your BDRs to be reaching out to fewer accounts (but a larger number of contacts per account).
Monitoring these metrics can help you make sure that reps aren't just reaching out to anybody. It ensures that they have a plan that maps with your overall go-to-market strategy: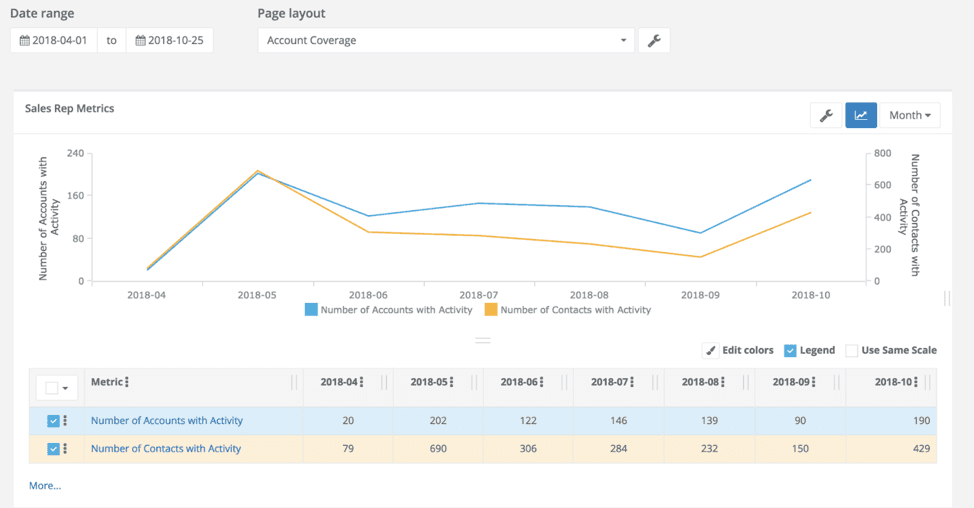 You should track your account coverage over time, and also by rep. You'll be able to see if there is an optimal number of accounts for a rep to have in their campaigns at a time.
Ratios are also very useful for diagnosing reps that aren't producing the full output you would want. For example, if your BDRs are responsible for driving qualified opportunities to pass over to Account Executives, your Ratio shines a light on which part of the process is failing when a rep isn't hitting their number.
Data in your inboxDaily activity, engagement data, and outcomes
3. Compare across reps, build coaching plans
Comparing metrics across all of the reps on your team is critical.
If a metric looks low for a rep, comparing across the team can tell you if it's a process problem or an individual problem.
When a metric is only low for one rep, it's a great opportunity for coaching and team learning; however, if it's low across the board, then you have a bigger issue where you need to fix your process.
If your process for BDRs is call/email → connect → set demo → complete demo → opportunity, then a useful way to assess all of your team members is to compare them all on the conversion rates from stage to stage.
That will give you a heat map of who is strong in which areas: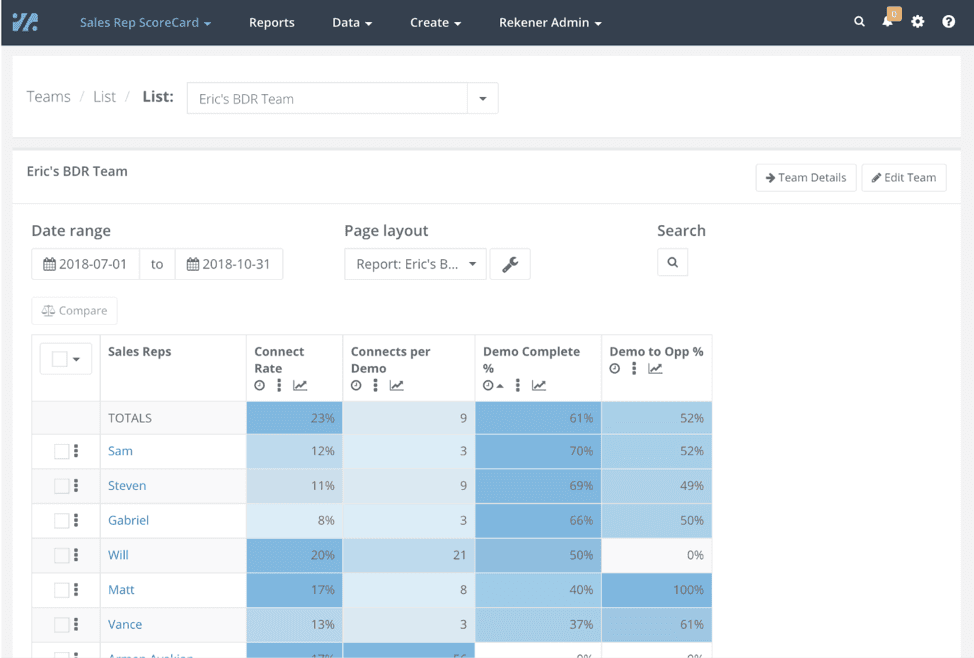 In this example, Matt is strong at converting demos to opportunities but weak at getting demos completed. A good move would be to pair Matt with Steven who is strong at completing demos but weak at converting them to opportunities.
Pairing reps up has many benefits:
Generates better chemistry among the team
Outsources coaching work to people on your team
Reinforces ownership of team metrics
Reps will know that they are either a master in a particular area, or they will know it's a place that needs work. If you bring this to the surface frequently, reps will start getting proactive about improving the places they are weak.
Summary
Running an efficient BDR team can lead to incredibly valuable results.
Committing to these three actions can lead your team to success:
Map out your process
Identify Drivers and Ratios
Compare across reps to build a stronger team
Get expert sales tips straight to your inbox to win more deals
Related Articles
Sales, deal management, and communication tips for your inbox