How to Generate Leads with Cold Email
A cold email is a sales email sent to a prospective buyer with whom the sender has no prior connection. When done right, it can be a highly effective strategy for generating leads.
Unsolicited sales emails, however, can be annoying and outright deleted.
That's why if you want your campaign to generate results, you need to implement a strategy to get prospects to open your emails in the first place.
Here are seven tips for effective cold email lead generation: 
1. Pay Attention to Subject Lines
Subject lines are literally the first thing your prospect notices in an email. So, if you didn't take the time to think about your subject line, chances are, your email will just end up in the trash.
The secret to writing a good cold email subject line is this: Be short, to the point, and personal.
If your subject lines are too long, your prospect won't even bother to finish reading them. They'd do the same thing if you beat around the bush. Remember, your prospects are busy people. They don't have time to guess what you want.
Your subject line needs to be personalized, too. That doesn't just mean you are using your prospect's name. It also means finding something your prospects can relate to. If your prospect can't relate to your email from the get-go, they'll end up just deleting your email.
An email with the subject line "I loved your book" is more likely to be opened than one with the subject line "Let me tell you about our product." The first one is something the prospect is familiar with. The second one is something unknown your prospect can't appreciate. Besides, it just sounds like you're planning to lecture them with the second one.
A/B testing can help you determine what email subject line works for you. Pick two or more subject lines and test them on your audience. Retain the one that yields better open rates. 
Boost opens and repliesUncover what's working in your cold emails
2. Use Personalized Content
What will make your cold emails not so "cold" in nature? The warmth of a "personal touch."  Sounds cheesy, but it's true.
Emails with personalized content are more likely to get a response. I'm not just talking about using your prospect's name here. 
Do your research. Check out your prospect's background. What's their position in their company? Maybe they participated in a recent event? The idea is to find something you can highlight to show you have something in common with your prospect. If you do that, you'll increase your chances of your prospect reading your email in its entirety.
Let me give you an example. Let's say based on your research, you find out your prospect was a speaker at a digital marketing seminar you attended in New York weeks ago. To get them to read your entire email, you can lead with that:
"Hi [name of prospect],

I loved your speech at the X Digital Marketing Seminar in New York two weeks ago. I agree that while social signals are not a direct Google ranking factor, they can actually help your SEO indirectly."
That introduction is more likely to get your prospect to read your entire email than this introduction:
"Hi,

I'm Donna and I'd like to introduce you to our new inbound marketing software solution."
See what I mean? The first email is something the prospect can relate to so they'll definitely take the time to read your entire content. The second email is just, well, too sales-y. Just one look at the sentence and that email is probably going to the trash.
Bear in mind that these prospects don't know you. If you don't give them a reason to read on, they won't.
3. Offer Value 
Here comes the tricky part. Pitching your idea without getting ignored.  
When writing your email body, put yourself in the shoes of your prospects. What is it that will get them to reply to your email? Answer? Value.
So, if your prospect is a new business owner who spends too much time sending those marketing emails one by one to subscribers, then highlight the fact that your email marketing software can actually help them save time. You can tell them that with just one click, they can send hundreds of emails to different people.
If you're selling an SEO tool to a business owner who is starting an online business and is just learning SEO basics, highlight the fact that your tool is easy to use. 
In other words, for effective cold email lead generation, determine your prospect's pain points and present your product as a solution.
Buyer personas can help you there.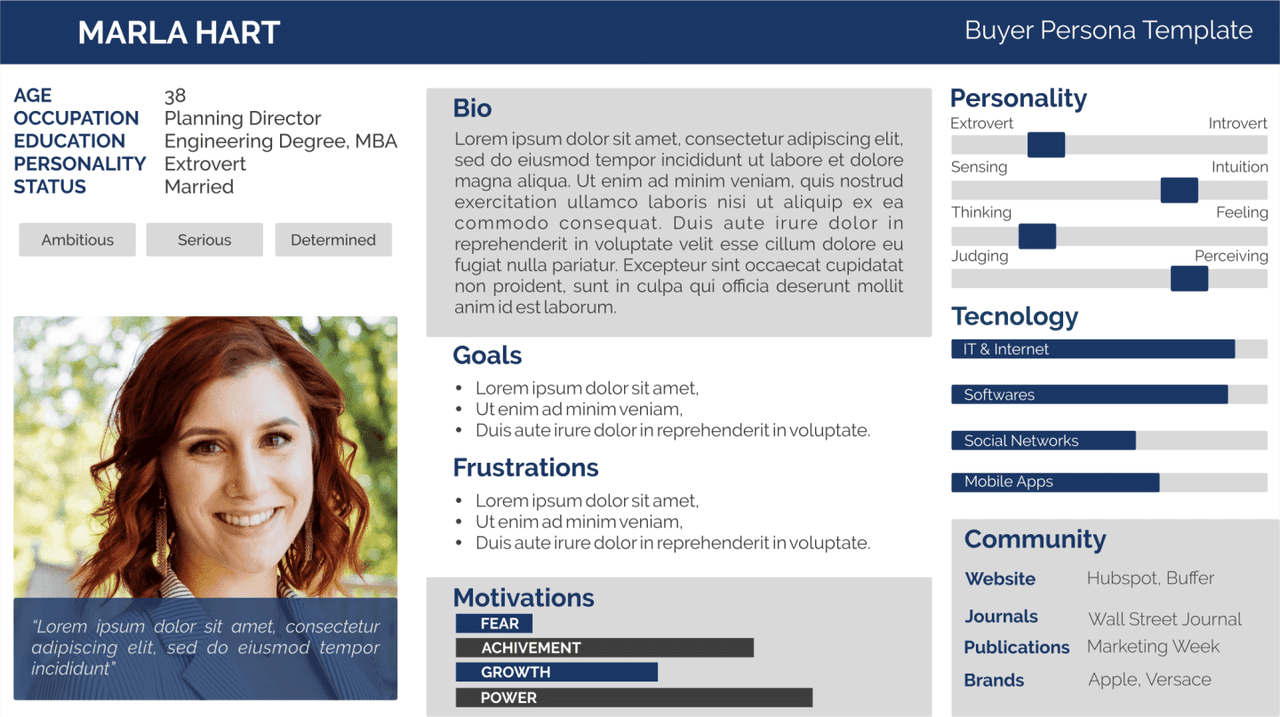 Source
Presenting your product as a solution, well, this is where some marketers make mistakes. The key thing to remember here is that you need to highlight your product's benefits, not features. 
4. Identify the Right Time
Timing is everything when it comes to cold emailing. Go back to your customer persona for this.
Are your prospects full-time working professionals, have part-time jobs, or are they just studying? That will help you determine, more or less, the hours your readers would be available to receive (and hopefully) read your cold email. 
It's always a good idea to send your cold email based on the time zone your recipients are in. Don't send your email at 5 p.m. in Tokyo, Japan, if your prospect is based in California, in the United States. That would mean them receiving the email at 1 a.m. They might see that as, well, rude on your part.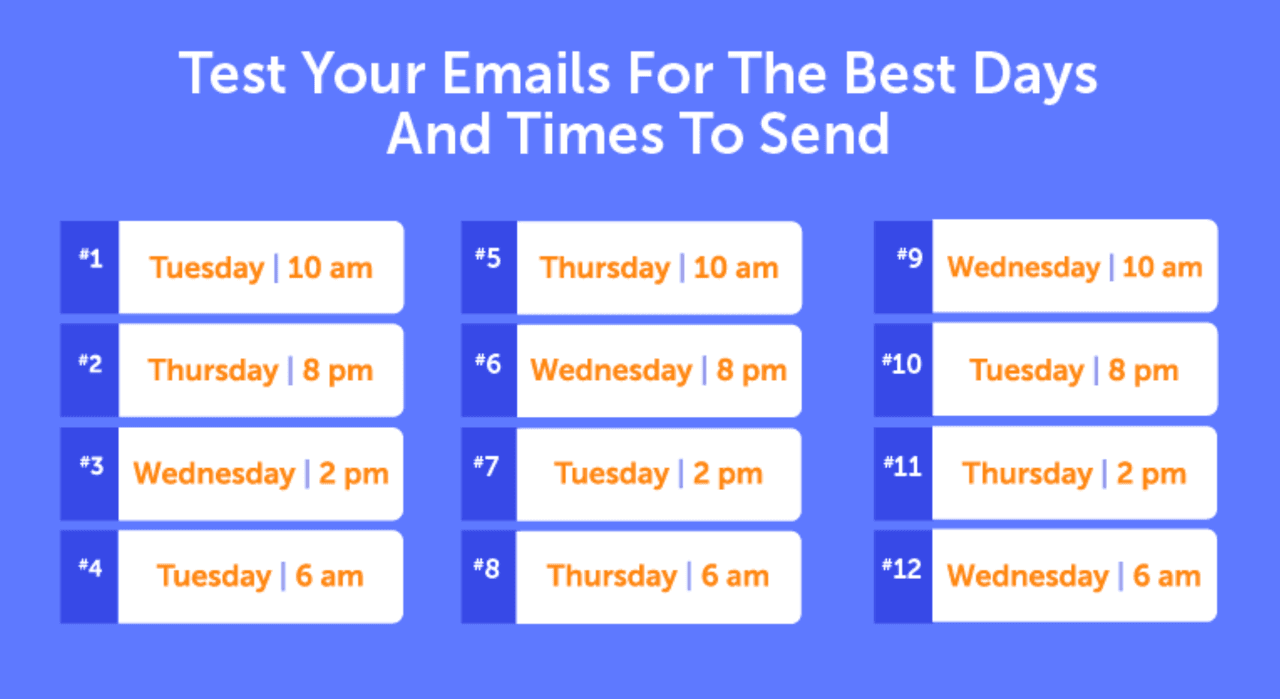 Source
Try sending your emails at different times and use an email analytics tool to determine which one gets better open rates.
Eliminate the guessworkGet real-time insights and engagement data to dissect the best times for your cold emails
5. Include a Strong CTA
Let's say you got your prospect to open your email, read through it, and you convinced them to, say, avail of your free trial. But your email doesn't say how exactly they can do that. That would be a missed opportunity.
Your email needs to have a clear call-to-action or your final instruction to the prospect. 
To determine your CTA, go back to your intent for sending your cold email in the first place. Were you hoping your prospect would allow you to give them a product demo? Then your CTA can be "Schedule a product demo" then explain how they can do that. Should they just reply to your email with a "yes"? Or maybe they just need to fill out your attached calendar. Make it easy for them to take that final action.
Always give them step-by-step instructions. Never assume they already know what to do to take you up on your offer.
6. Ensure Your Email Is Optimized for Mobile 
Nearly 85% of people use smartphones to access emails. Most people like to check their mailbox while on the go to save time. It only makes sense, then, that you ensure your emails are mobile-optimized.
That means you need to design your email in such a way that it can still be read from a small screen. So, include alt-text in your images. Compress your images to make sure they load quickly. Use a large font. Break up the text. 
The simpler, the better. You can test out your cold emails on mobile devices before sending them out, so you'll know if you need to make some adjustments for mobile. 
7. Always Follow Up
Didn't get a reply the first time? Don't throw in the towel just yet! A whopping 80% of sales, after all, are made in the fifth to twelfth contact. Moral of the story? Follow up.
Don't get me wrong. I'm not saying you should bombard your prospect with too many emails at one time. Ideally, wait for at least five days to send the first follow-up email. Something like this:

Source
Then send the subsequent ones in intervals.
Just one more thing to remember. Never ever call your prospect out for not replying. That's just one sure-fire way to get you blacklisted.
Bonus: Free Cold Email Templates
Check out Yesware's free guide that consists of 10 cold email copywriting techniques and templates that'll help you boost reply rates and generate more leads.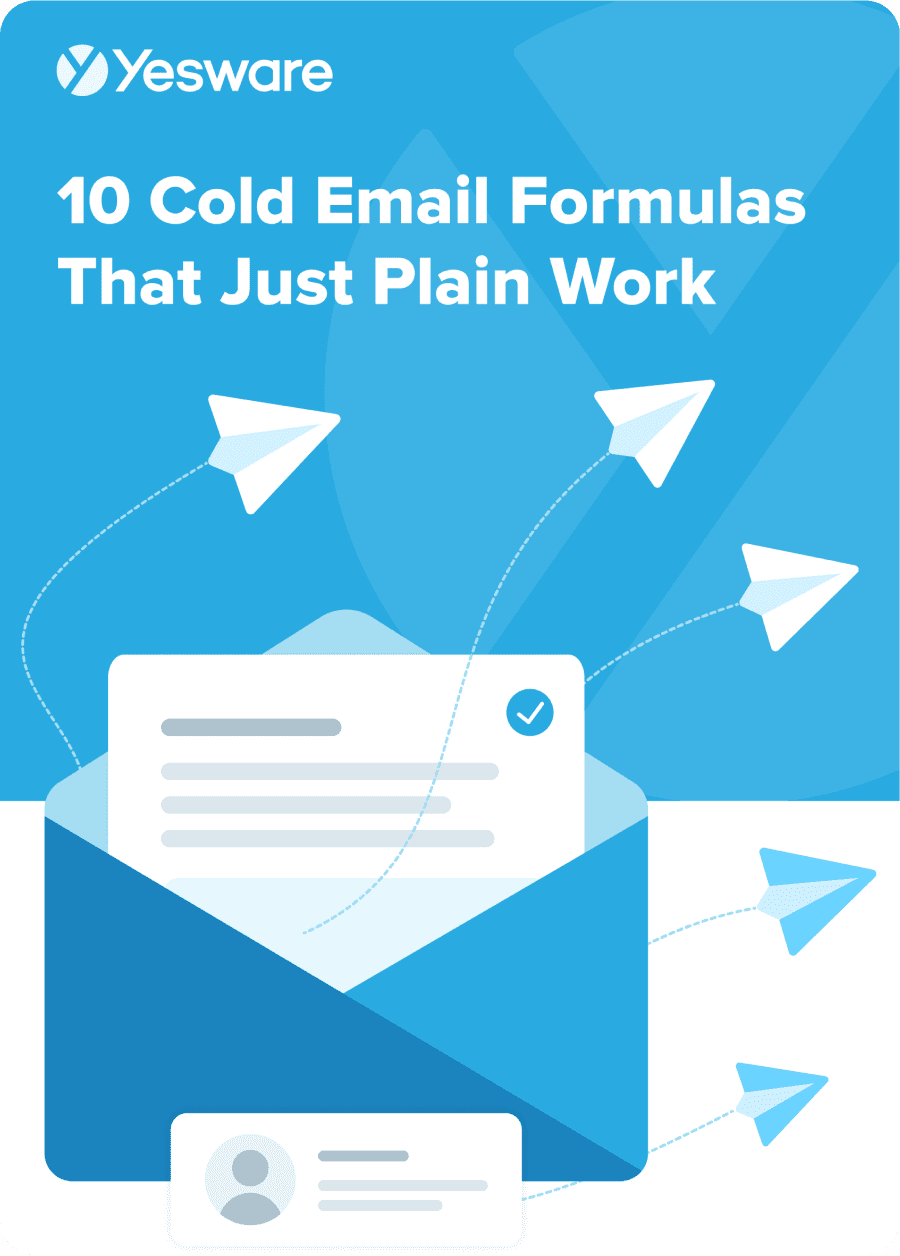 10 Cold Email Formulas That Just Plain WorkSee how B2B sales professionals are using these cold email templates to engage more prospects, fill the top of their funnel and build more sales pipeline faster.
In Closing
Cold email lead generation is hard, but it's not impossible! You just need to know how to do it right.
In this article, I shared with you seven tips you can follow. Use personalized content, create catchy subject lines, offer value through your content, and use mobile-friendly formats.
Also, identify the right timing for sending the emails, include a CTA to drive action, and always follow up with your prospect. Follow these tips, and your cold email lead generation will yield great results.
---
About the Author: Jimmy Rodriguez is the COO of Shift4Shop, a completely free, enterprise-grade eCommerce solution. He's dedicated to helping internet retailers succeed online by developing digital marketing strategies and optimized shopping experiences that drive conversions and improve business performance.
Get expert sales tips straight to your inbox to win more deals
Related Articles
Sales, deal management, and communication tips for your inbox