Easy Tips to Optimize Lead Management
In response to their 2011 Sales Performance Optimization (SPO) study noting the changing trends in sales reps, CSO Insights began questioning the role of marketing to promote lead generation. These results are reported in the 2011 Lead Management Optimization Key Trends Analysis.
CSO Insights polled firms asking them to list their top three strategic marketing objectives for 2011.
Top Three Strategic Marketing Objectives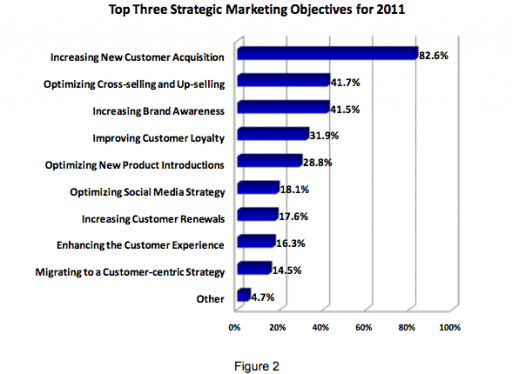 82.6% of responding firms listed increasing new customer acquisition as one of their Top Three Strategic Marketing Objectives for 2011, as expected.
41.5% reported Increasing Brand Awareness in their top three, but this number is down from 54% last year.
This reduced emphasis on branding is surprising, but it suggests that companies are focusing more on their customers as opposed to their brand and new products, further supported by only 28.8% reporting Optimizing New Product Introductions as a 2011 objective.
Improving Customer Loyalty
The 31.9% who reported Improving Customer Loyalty as important is up from 25% in 2010, there is also a trend toward Increasing Customer Renewals, Enhancing the Customer Experience, and migrating to a Customer-centric Strategy each listing 17.6%, 16.3%, and 14.5% respectively.  Companies want to retain customers, which is why the Improving Customer Loyalty number is up from 25% last year.
While companies want to keep the customers that they have, there is always the need to gain new customers, which is why 70.3% of firms reported increased marketing budgets, and only 29.6% reported a decrease.
Lead Generation
Of those newly increased budgets, how much funding is dedicated to lead generation?

CSO Insights reported that these percentages seem lower than last year's, but the budgets have increased, so they concluded that there may have been no net-increase.
With 95% of firms raising sales reps' quotas and marketing departments without extra funds, they are going to have to be more effective in leveraging these budgets to help sales reps meet quotas.
The top-rated lead generation program is still email marketing with 55.2%, down from 62% last year.
When asked how effective their lead campaigns are the results were surprising.  These numbers are down from 2010 when  49% of Web-based Marketing met/exceeded expectations, 53% of Direct Mail campaigns met/exceeded expectations, 53% of Telemarketing met/exceeded expectations, and 58% of Traditional Media met/exceeded expectations.
How Many Leads Result in a Call?  
In 2006 41% reported lead conversion rates over 50%, how has the nature of sales changed to produce such a decline in lead conversion? One reason is that customers no longer see the need to talk to a rep. There are so many ways for the prospect to get their own information about your products or services, so reps must do more research to come up with a compelling story to get the sale.
In reaction to these responses, CSO Insights offered some advice for how to improve upon the grim lead management figures.
Lead Focus Alignment
Creating a definition of the perfect lead (including certain industries, geographies, stakeholders, or problems) and curtailing campaigns to reach that demographic will increase conversion by handing reps leads with a higher likelihood of closing the deal.  CSO Insights recommends Perfect Prospect Profile.
Data Quality Commitment
Top-down dedication to generating data on those prospects that fit the P3 is key.  This will cut down on the work that reps will have to do weeding through bad leads and will allow them to invest their time in quality prospects.  Yesware aims to minimize time spent doing data entry by importing information directly into your CRM for you.  Try it free now!
Prospect/Method Alignment
Only 51% of firms track lead generation ROI.  Use your current CRM or Lead Management System to track leads generated, leads converting (to discussions, presentations, proposals, and sales), average deal size per sale, average margin per sale, and the percentage of customers retained.  These metrics will help you to gauge the effectiveness of your lead generation campaigns and hone in on successful practices.
Targeted Messaging
There are two trends in messaging developing, marketing messaging and messaging to help the rep contacting the lead.  Marketing messaging should be customized to lead the prospect to the landing page where they can request more information.  Reps should be provided information that they can use to escort the prospect through the buying cycle.
Encourage your sales reps to try Yesware's templates. These templates will provide all of your reps with consistent brand messaging for replying to objections and support questions. Yesware helps you offer targeted messaging to a sales team.
Lead Prioritization
Determine whether or not the lead is sales-ready, then pass them on to the rep.  If the lead is not sales-ready, determine whether or not it is marketing-ready with the potential to be sales-ready.  If there is no potential for sales readiness determine whether or not the lead should be dropped so as not to waste time and resources.
Lead Nurturing
Put in place a formal lead nurturing process.  Because prospects have time commitments too, you must work to make sure that your product or service remains on their mind. Putting in place a formal process can cost-effectively have tremendous paybacks before your prospect enters a formal buying cycle.
Yesware's email templates can provide your sales reps with responses they can tweak and quickly send out to new leads.
Have advice for optimizing lead management?  Tried Yesware and want to share your experience?  Post in the comments!
_____________________________________________________________________________
Want to optimize your lead management using email? Want to make the most of each email you send from Gmail to your prospects? Try your free trial of Yesware today.
Get expert sales tips straight to your inbox to win more deals
Related Articles
Sales, deal management, and communication tips for your inbox