How to Use Salesforce to Manage Your Sales Process
An established, repeatable sales process is one of the hallmarks of a productive and lucrative sales team.
A proven sales process helps you design and optimize your sales funnel, which in turn will help you surpass your goals and exceed even your most promising sales forecasts. 
Salesforce, one of the world's leading CRM platforms, helps you streamline, manage, and track your sales process for optimal performance. This article will teach you everything you need to know about how to use Salesforce to manage your sales process.
Here's what we'll cover:
Why You Should Use Salesforce to Manage Your Process
Salesforce is a big name in the sales world, and for good reason.
With over 150,000 customers worldwide — and a highly successful track record of delivering dramatic improvements to their customers' bottom lines — it's no wonder the world's #1 sales productivity software has generated a buzz.
And if popular opinion isn't enough, Salesforce has the data to back it up. The average Salesforce user reports the following ROI after implementing a team-wide process for using the platform: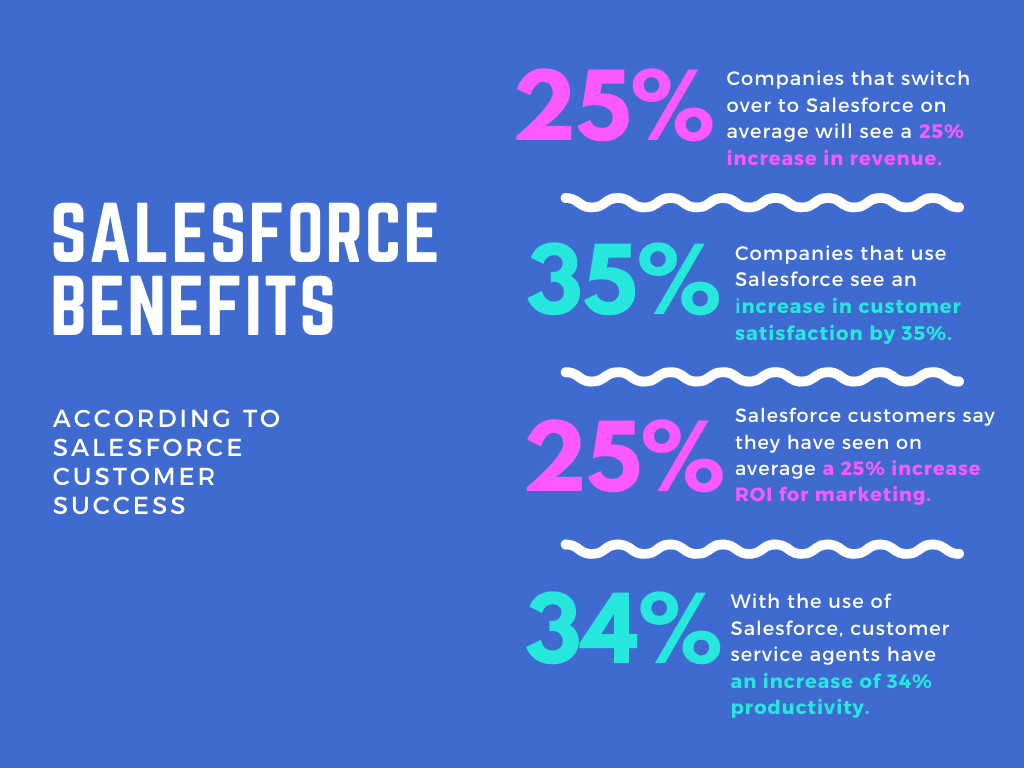 Even the most basic Salesforce functionality can drastically improve both the day-to-day operations and the big-picture health of your sales team. But the software really shines when it's leveraged to its full capabilities and is used to design and adopt a proven sales process.
Sales teams that use Salesforce to create, manage, and track a well-structured and clearly defined sales process are the ones who see the most impressive results.
If your salesforce hasn't already done so, it's worth it to carve out the time to explicitly define your sales process. The exercise can be tedious, but it's a critical one; nearly 80% of top-performing companies report that they rely on a formalized sales process to produce their outstanding results.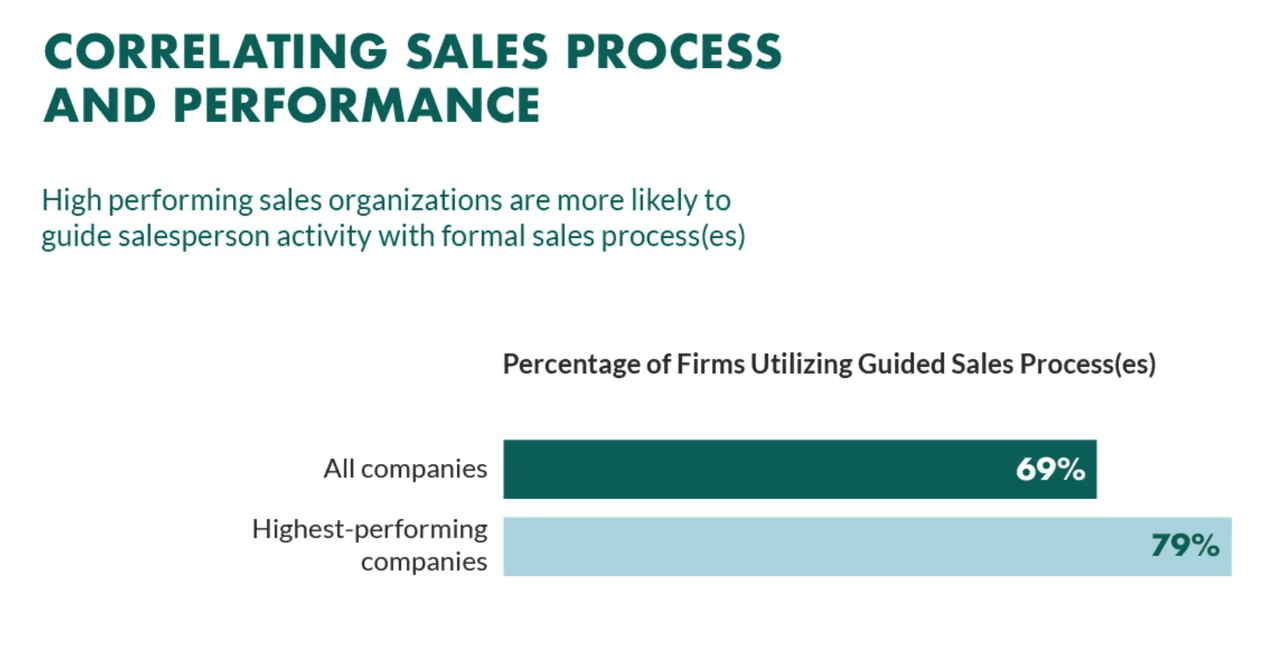 Although most sales processes will follow a general structure common to most organizations, your company's specific sales process will be unique. A sales process map can help you define and standardize the various stakeholders, activities, and decision points specific to your organization. 
Once your sales process has been defined and standardized, integrating into and implementing via Salesforce will quickly take things to the next level. 
Skip the manual data entryAutomatically sync sales activity to your CRM without having to leave your inbox
Automation 
With salespeople losing up to 64% of their time to non-revenue-generating activities, effective and reliable automation is more necessary than ever.
Salesforce easily assumes the burden of a multitude of administrative tasks that would otherwise be delegated to overworked sales reps. Additionally, the platform is remarkably customizable and can be optimized to seamlessly meet your company's automation needs.
Better Lead Management
Perhaps one of its best-known capabilities, the Salesforce software streamlines and manages even the most complex prospect and customer lists with ease. 
Users have the ability to distinguish and sort prospects and customers by any number of different criteria, so reps can have a continuous pulse on their sales pipeline progress. Salesforce can also present data based on Opportunity Stage (more on that in a minute), which is important for accurate sales forecasting.
Optimized Funnel Design
The more you know about your customer and their behaviors, the more lucrative your sales funnel will become. 
Salesforce can customize, manage, and analyze virtually limitless customer data points, making it easy for your team members to refine and optimize the sales funnel.
Finding the right content for the right prospect at the right time can be challenging for even the most experienced salesperson. Salesforce can help reps keep track of who needs what and when, so you can take the guesswork out of the process.
Tip: Learn which attachments are opened the most and for how long.
Put simply, Salesforce is a whole lot more than a simple data entry management tool. The software has tremendous capability to transform the way your team manages customer relationships and can impact a huge range of your business needs.
How Salesforce Is Organized
In order to get the most out of your Salesforce platform, it's important to understand the ins and outs of how it's organized.
The internal architecture of Salesforce is organized by sectors called Objects. The four standard Objects that salespeople work most frequently with are known as Leads, Contacts, Accounts, and Opportunities.
For Salesforce purposes, anyone with an unknown interest in your product is a considered Lead. Once a sales rep qualifies them, they become a Contact. All Contacts must be housed under an Account, and all Accounts represent Opportunities.
Let's dig into these categories a bit further.
Leads
The Leads Object is where all of your potential customers live before you've had a chance to qualify them. Leads will be the most populous Object in your sales process.
Once you start working with Leads to qualify them (ideally through BANT or similar processes), they then get redirected into new Objects based on the outcome of your qualification process. Some Leads will be disqualified, and some will move through to the next Object.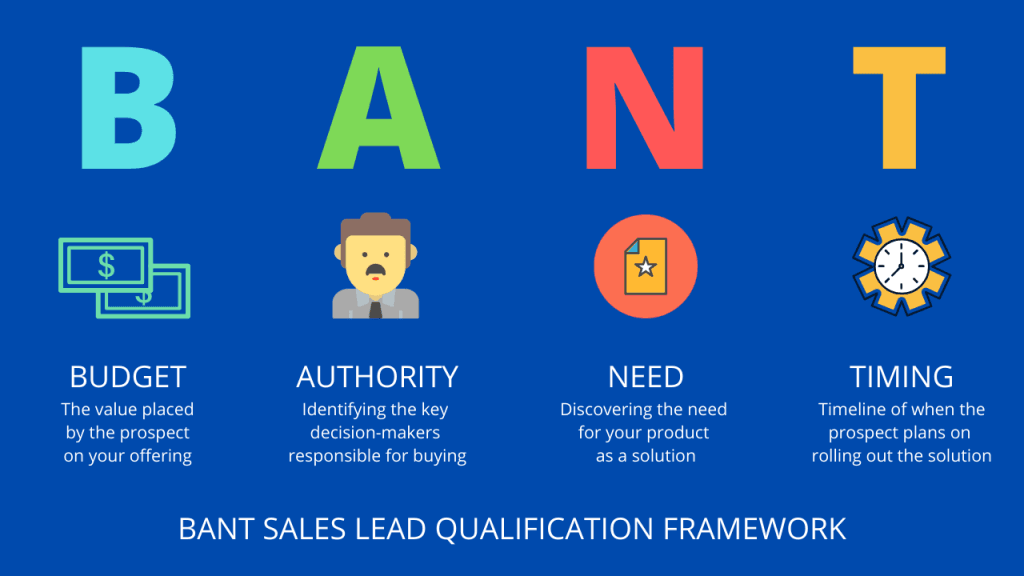 It's important that your sales team follows a standard and repeatable process for prospecting. The BANT framework is a great starting point; you might also consider the following questions:
Where did this Lead come from?
How or why did they first learn about their problem? 
What do they know about our solution?  
Prospecting is anything but random, and creating a method to manage the workflow in this sales stage is paramount to closing more deals with less effort. 
Contacts
Once you've qualified a Lead and determined that they represent a good fit for your product, the Lead becomes a Contact. All Contacts must be housed under an Account. You can store a phone number, email address, and business information for a Contact. 
Accounts
In Salesforce, an Account is any business with whom you have some kind of relationship. An Account is an umbrella term, and is where Contacts live. Every Contact must be tied to an Account; an Account can house multiple contacts from the same company. Each Account also represents an Opportunity within Salesforce. 
Accounts are easily customizable within the platform. You can customize and distinguish between different kinds of Accounts based on the "Type" field in Salesforce. Use the "Type" field to differentiate in a way that makes the most sense for your particular sales team: Prospect Accounts, Customer Accounts, Partner Accounts, and Competitor Accounts are all popular categorizations but use the terminology that aligns best with your business. 
Opportunities
Opportunities are considered deals in progress. As soon as a Lead becomes qualified and moves into the Contacts & Accounts Objects, it also simultaneously becomes an Opportunity. It will remain an Opportunity until the deal is done, whether it's Closed/Won or Closed/Lost.
Within the Opportunity Object, there are also Stages. The Opportunity Stage helps you define the probability of a given sale being completed as Closed/Won. 
Much like the various other components of your Salesforce usage, the Opportunity Stages should be discussed, agreed upon, and standardized across your company. Your sales reps should all be on the same page about how to categorize entry and exit markers for each Opportunity Stage. 
Most sales teams organize their Opportunity Stages around the following categories, give or take a few differences in specifics:
Awareness: The Contact is aware of your product or service.
Interest: A sales rep has had interaction with the Contact, usually via educational content like whitepapers or ebooks. 
Evaluation: The Contact is comparing you against their other product options.
Decision: The Contact has been nurtured and educated, and the decision-makers are narrowing down their options.
Quote/Negotiation: A custom proposal was provided to the Account decision-makers; negotiations may take place. 
Closed/Won: The sales rep successfully closed the deal.
Closed/Lost: The Account did not move forward with your product or company. 
Regardless of how your company ultimately defines these stages, try to have as few Stages as necessary. Don't omit important categories for the sake of brevity, but the less complex, the better. 
How to Set Salesforce Lead Stages
Much like the Stages outlined above for Opportunities, the Lead Object in Salesforce can also be tagged and sorted based on Stages. 
And, like Opportunity Stages, Lead Stages — where they begin and end, specifically — will be unique to your company and sales process. That being said, here's a general outline of how many businesses choose to organize their Lead Stages. 
Open: The Lead has been created, but has not interacted with a sales rep.
Nurture: The Lead is engaged, but not yet ready to buy; they will require further nurturing.
MQL: This stands for Marketing Qualified Lead, which is a prospect who opted-in (usually via website) and shows a high level of interest.
Contacting: A sales rep has contacted the Lead to start the qualification process.
Qualifying: A sales rep is in the process of qualifying the Lead.
Converted: The Lead has been converted into a Contact within an Account
Once a Lead is converted into a Contact/Account, it becomes and remains an Opportunity until the deal is either Closed/Won or Closed/Lost. 
That being said, approach this stage with some flexibility. It's perfectly okay to put slower or even seemingly dead Opportunities on the backburner and remarket to them if there comes a better time. Just be sure to define how and when this should happen with your team.
The following steps will help you create your Lead Stages in Salesforce:
First, click the Gear icon in the upper right corner.
Click "Edit Object." This will bring you to the backend of the Leads Object.
Click "Fields and Relationships."
Use the search box to search for and click "Lead Status."
Search the Lead Status Picklist values and click "New."
Create your New Status according to criteria determined by your team.
Click "Save."
Go back to the "Edit Object" page from Step 2. 
Click "Reorder."
Drag and drop your stage names and configure them appropriately.
It's true that there is a bit of legwork required in defining and creating the many Lead and Opportunity stages available to you within Salesforce, but it's work that will pay off many times over throughout the sales process. 
Creating a Guided Sales Path in Salesforce
Salesforce Lightning users have the opportunity to cohesively blend the many Stages across the sales process into a guided sales path. 
A guided sales path helps all of your reps adopt, track, and optimize your sales process. It offers a clear pathway of guidance for success, and makes the sales process virtually foolproof. 
Just like the other custom fields outlined in this article, the guided sales path that you ultimately define within Salesforce should be carefully considered and clearly structured before you build it within the software.
One way to approach this process is to reverse engineer your Closed/Won deals. Think about which actions and indicators are more likely to represent deals that are ultimately won, and design your process around them. 
Once your process is clearly defined, it can be built within the software and adopted by your team.
The following steps will help you build your guided sales path:
Navigate to the desired Object.
Create a New Record Type within the Object for which you would like to create a Path.
Enable the Path by navigating to Setup. 
Type "Path" into the search box. This will show Path Settings.
After selecting Path Setting, click "Enable."
Choose whether the Path remembers its previous state by selecting Remember User's Path Preferences.
Select New Path.
Create the Path by giving it a unique name. 
Choose the Object that the Path will be used on. 
Select the Record Type that you created and choose the Picklist from the Record Type.
Click "Next."
Select up to five key fields for each stage.
Click "Next."
Activate the Path.
Creating these guided sales paths will make onboarding new reps a quick and easy process. And will help even the most experienced reps remain productive and on track throughout the sales process. 
Managing Your Leads, Contacts, and Opportunities in Salesforce
By now, it should be clear that a little bit of organization and customization within your Salesforce account can take your team a long way in mastering a proven, scalable sales process. 
It's been said before, but it bears repeating: the most critical action your team can take in effectively managing the many moving pieces within Salesforce is to define the key entry and exit criteria for each specific stage. 
There are many sales engagement softwares that integrate with Salesforce to make this process even easier. Yesware, for example, puts Salesforce right in your inbox.
The Salesforce Sidebar displays the contact's information and recent activity. You can also create or update Salesforce Leads, Contacts, Accounts, Opportunities, or Tasks right in your Gmail or Outlook inbox.
Yesware's Salesforce Sync automatically syncs your email activity, calendar activity, campaign activity, and engagement data.
The more you can assign data entry, management, and analysis to high-level automation platforms like Yesware and Salesforce, the more productive your sales team will be. 
Save hours with CRM SyncCapture all activity, on all devices, at all times so your CRM is always up-to-date
Track Sales Activities and Measure Your Progress
Once your team has the architecture in place to adopt and scale your defined guided sales path, you can turn your attention to the day-to-day tasks that will make the biggest difference to your bottom line: sales activities. 
Salesforce is capable of tracking the many activities of individual reps and creating reports around their behaviors and results. This kind of insight is invaluable to improving productivity and workflow, and can shed light on which sales activities are most worth the effort of your sales team. 
Within Salesforce, this is done by customizing the Activity Type picklist fields and using them to generate activity reports.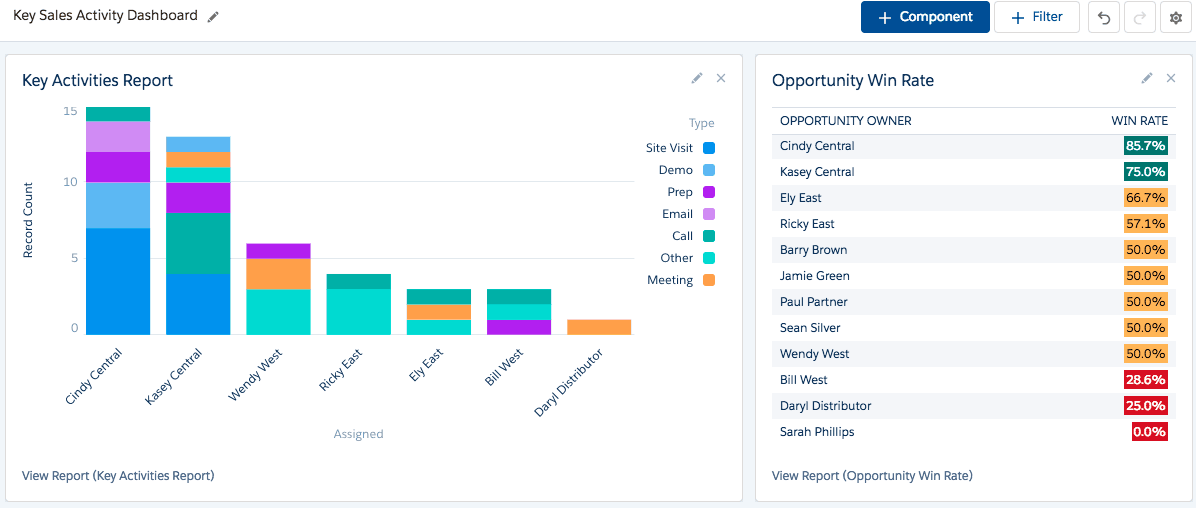 This kind of reporting can improve both transparency and efficiency across your team.
One last time for good measure: before you go about defining these Activity Types, be sure to set expectations with your team about which sales activities to track, how to define them, and how often you need to track them.
Salesforce is an amazingly capable tool for creating, implementing, and monitoring your team's sales process. Try experimenting with some of the functionality laid out in this article and see how your process improves.
Get expert sales tips straight to your inbox to win more deals
Related Articles
Sales, deal management, and communication tips for your inbox