How to Create a Sales Forecast
A sales forecast is a data-driven prediction of future sales benchmarks.
Sales forecasting is an important exercise for any sales team that wants to see significant year-over-year growth and gain the ability to fine-tune their sales process in specific, targeted ways.
In this article, we'll go over the basics of sales forecasting, as well as the exact steps your company should follow to create your own.
Here's what we'll cover:
What Is a Sales Forecast?
A sales forecast is a data-driven prediction of the financial outcomes a business is most likely to see at the end of a given time period.
Your sales forecast can include monthly, quarterly, yearly, or multi-year projections, and can also be individual or company-wide.
Lead your team to successTrack, analyze, and standardize what's working
Why You Need a Sales Forecast
Sales forecasts are worth the time and effort required to create them. An accurate and thorough forecast can make a significant difference in how efficiently a company meets its goals.
A whopping 97% of companies that implement sales forecasting meet their quotas; in other words, nearly all companies who consistently meet revenue targets are using sales forecasts to guide them. 
On the other hand, only 55% of companies without sales forecasts are able to meet their quotas.
It's clear that sales forecasts are a critical component for any company that wants to meet their sales goals. Let's take a look at some of the ways sales forecasting can help improve your sales performance. 
Inventory Management
An accurate sales forecast can help you confidently predict how much product stock to order, and when. Proper inventory management can have a huge impact on salespeople's success.
Nothing is more frustrating to sales leaders than running out of stock when demand is high; trying to offload surplus inventory can also impact your financial resources.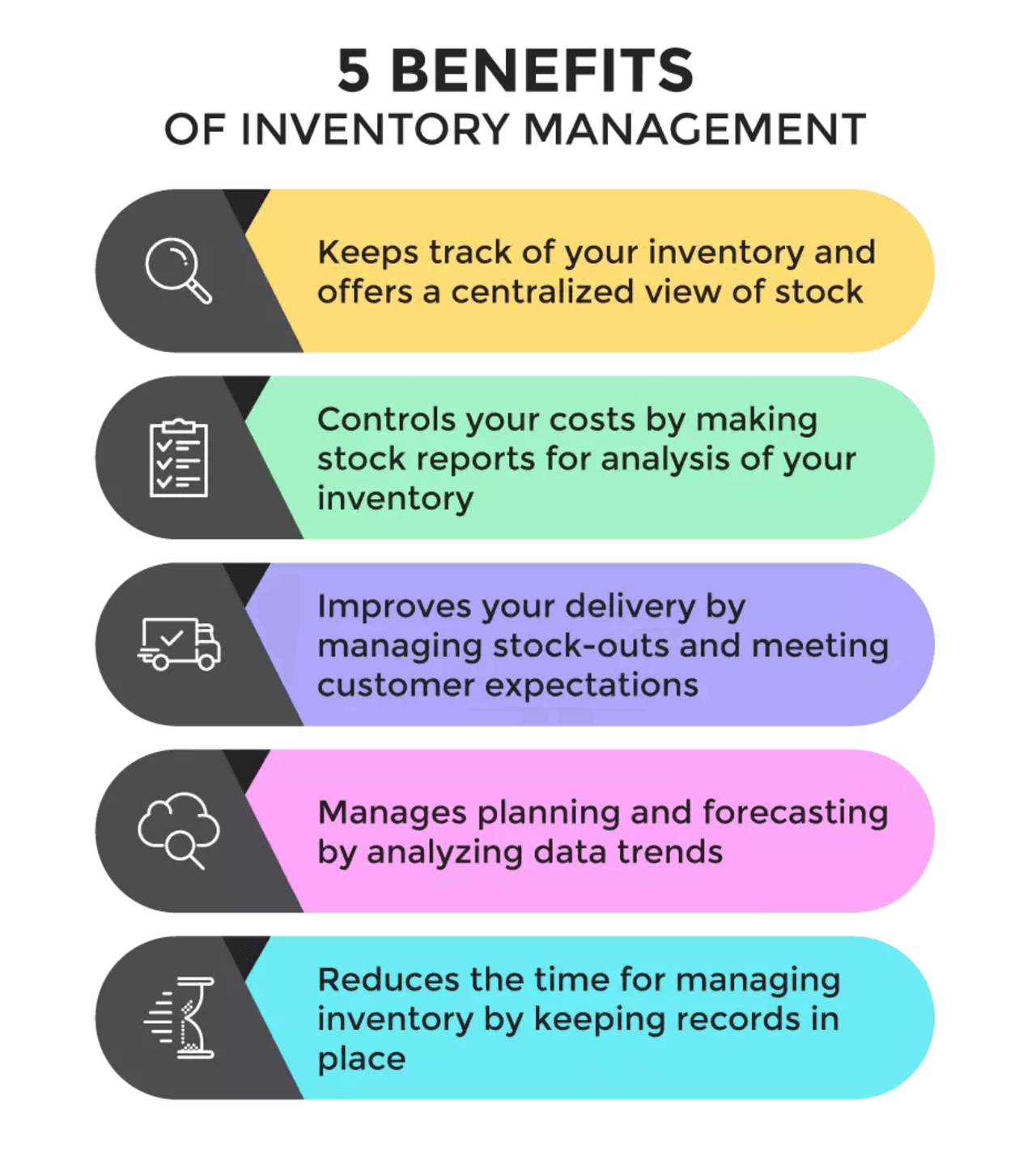 Sales leaders can use projected sales data to effectively manage their inventory purchases. This is an especially important step for businesses impacted by seasonality. 
Business Planning
Sales forecasting is also a necessary step for creating an accurate business plan. Your sales forecast can help you estimate the timing and volume of expected sales revenue.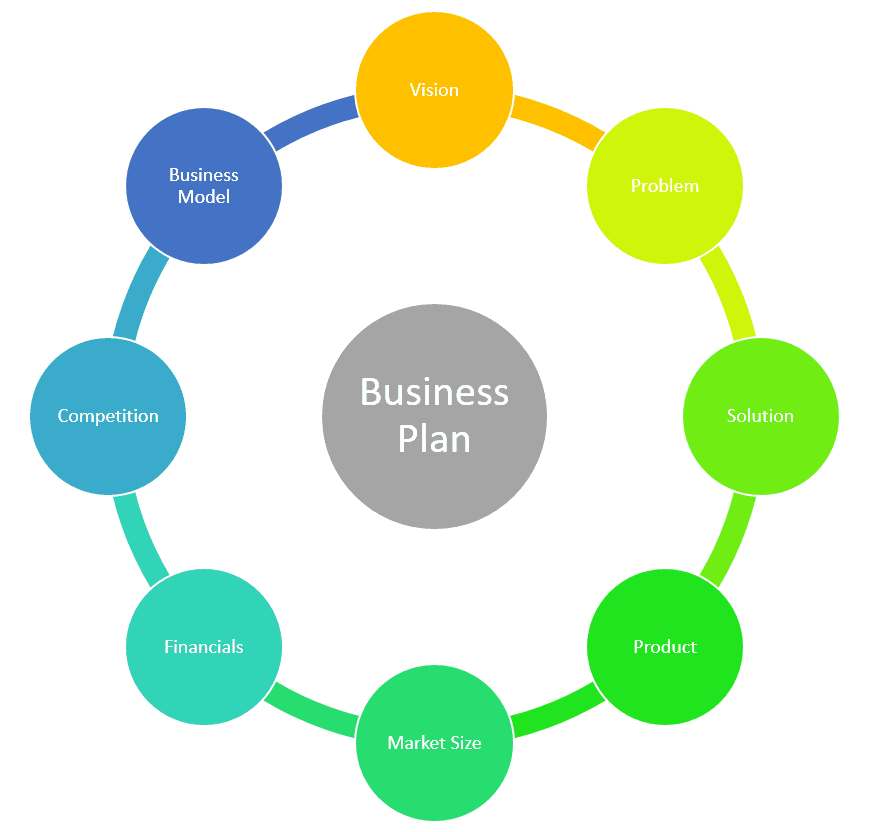 An accurate sales forecast can help sales managers and C-suite executives with budgeting and cash flow, which will allow them to make the necessary business decisions to allocate appropriate resources for:
Marketing
Future hires
Expanding territories to generate new business
They can also help you tweak any underperforming segments of the sales pipeline, or change course in your sales strategy if what you're doing isn't working. Making these kinds of adjustments in real-time is always preferable to waiting until the end of the quarter or fiscal year when it's too late to do anything about it.
The Optimal Technology Stack for B2B Sales TeamsUsing data from the most successful business-scaling models, we designed a blueprint for the exact technology your business needs at each phase of growth.
Investor Partnerships
For startups and small businesses looking for capital, sales forecasts can also be a great way to earn the trust of potential investors and show that your business can provide a worthwhile return on investment.
In general, investors will want to see your month-to-month cash flow, as well as your overall profitability. It's likely that they'll want to see three-year and five-year projections, as well. If you're a new business or are lacking the past sales data to project out to that time frame, that's okay. Remember that sales forecasts are meant to be tweaked along the way.
Who on the Team Is in Charge of the Sales Forecast
In general, the sales management team is responsible for taking the lead in creating the sales forecast.
That being said, though, the most accurate forecast will come from lots of collaboration between many professionals, sales, and otherwise. 
Sales
Everyone on your sales team should have an active role in the forecasting process. They are, after all, the ones "in the trenches," and can offer valuable insight into the customer relationship, length of the sales cycle, and the overall sales process. This day-to-day knowledge can offer critical building blocks in seeing the bigger picture for your forecast. 
Finance
Your finance department can help you dig into both your historical data, as well as your current baselines (e.g., current monthly sales, annual revenue, revenue by rep, etc.) to calculate your predicted growth rate. 
HR
The HR team can help you get a handle on how much it will cost to hire new salespeople in the future. This kind of data will help you understand how to best set your goals for the future. If, for example, you know you'd like to cover three more territories in the next year, and each territory needs coverage from two sales reps, you'll need to plan for that in your budget. 
Marketing
Sales and marketing often work hand-in-hand on a variety of projects — sales forecasting is no different. Your sales forecast will be driven by data from your marketing team, and will also help you allocate the appropriate resources to marketing for the future. 
Production & Supply Chain
The production team is another that will be involved in both the input and output of the sales forecast. Your finished forecast will help the supply team know when and how much stock to re-order; on the other hand, the production team should be able to provide historical data for the sales team about order trends, seasonality, and run rate. 
IT
Don't overlook the importance of great software to make sales forecasting easier. Talk to your IT team to make sure you're getting as much data as possible from your CRM. You might also have a conversation about investing in software with predictive analytics; this will make the forecasting process much more efficient.
Remember, the sales forecast is a team effort. While it may be challenging to align calendars and come to a consensus, the document will be much more valuable if the whole team is involved in creating it.
What Data to Include in Your Sales Forecast
The more accurate your sales forecast is, the more functional and valuable it becomes. It can be overwhelming to sort through the various data and opinions available when it comes time to forecast, but getting this right is important; sales teams who had more accurate forecasts had 13.4% more year-over-year growth than those who were inaccurate.
Consider analyzing the following data when making your sales forecast.
Sales quotas, both individual and team-wide
Your overall sales process (length of the sales cycle is particularly relevant)
KPIs and metrics from each stage of the sales funnel
Past performance and historical sales data

Average annual contract value
Conversion rates
Customer acquisition cost

Monthly and annual revenue
Attainment
Pipeline coverage
Depending on your specific company and forecast needs, there may be other pieces of data that will create the best-fit forecast for your team. Be sure to talk to the various departments outlined above and, when needed, go back and add to or tweak your forecast as more information becomes available.
Accelerate resultsEnable your team to run a repeatable sales process
How to Choose a Sales Forecasting Method
There are many ways to create a sales forecast (check out our post: 20+ free sales projection templates), but most can be broken down into two major formats: top-down or bottom-up.
Bottom-Up
Bottom-up forecasting starts with the number of units a company will sell, then multiply that number by the average cost per unit. From there, you then multiply by the time frame for which you're hoping to forecast.
You can follow this format to itemize revenue by territory or by sales rep, by month or by year. The bottom-up method is very easy to change or update as needed and can give an extremely detailed view of the sales outcomes your team is likely to see.
Top-Down
Top-down forecasting can be a bit more complicated. The top-down forecast starts by looking at your total addressable market (TAM). From there, you'll estimate what percentage of the TAM the company can reliably capture.
There is no right or wrong way to forecast your sales. In truth, it's prudent to forecast from both bottom-up and top-down. You can, for example, start with top-down, and then repeat the process bottom-up to see how realistic your first forecast looks.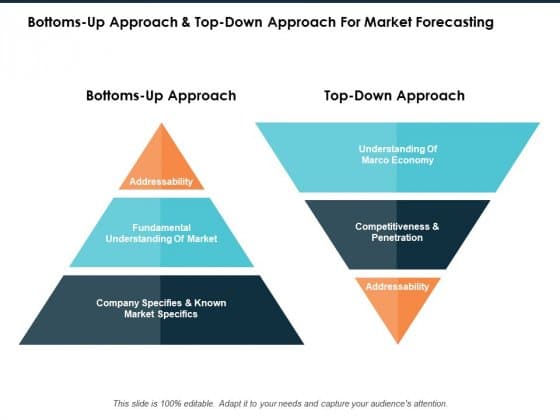 Remember that things can change according to company policy, personnel changes, economy or market changes, seasonal fluctuations, new product offerings, and other factors. Add in, take out, or tweak what's needed.
6 Steps to Create an Accurate Sales Forecast
No matter how young or well-established, big or small your business is, it's likely that your team has enough data to create your own sales forecast. 
For businesses without a lot of historical sales data, work with the numbers you have and make educated guesses where necessary. You can always come back and update your forecast as more data becomes available.
The following steps will help you create an accurate, powerful sales forecast (remember to check out the many templates here to get you started).
1. Standardize Your Terminology and Metrics
Before crunching any numbers, it's important to make sure your entire team is using the same terminology and KPIs. Spend some time before forecasting making sure everyone is on the same page about the lingo you use and how you define it.
2. Set Goals
While sales forecasting isn't quite a goal-setting exercise, it's important to make sure the projections you come up with are in line with your company goals. Use the SMART goal framework to create productive and motivating goals. 
3. Look at Historical Sales Data
Here's where the actual forecasting begins.
Gather as much historical sales data as you can. If you're not sure where this information is aggregated, talk to your sales manager or finance department. 
Break down the numbers as specifically as possible. You'll want to see the data broken out by sales rep, by territory, and by time frame. 
4. Anticipate Changes
While you won't be able to foresee every change, update, or disruption to your pipeline before you create your forecast, it will be helpful to take note of any upcoming and noteworthy changes.
If you anticipate hiring new reps in about 6 months, for example, that should be included in your forecast. Also consider whether there will be changes to the budget, new products added to your pipeline, territory expansions, or any promotions or deals to be offered in the future. 
Finally, be sure your forecast reflects any larger-scale changes or disruptions to your overall market. 
5. Reference Your Sales Process Map
If your team uses a sales process map, use it as a point of reference when creating your forecast. The map will help you ensure that you're capturing every step of the process, which will make your results more accurate.
6. Be Timely
As a sales rep, it's important to make sure you're submitting or updating your sales metrics in a timely manner. One of the benefits of having a sales forecast is that it can help you detect a change in the wind, so to speak, and give you a chance to correct your course if sales activities aren't up to par. That benefit will only play out, though, if data is entered quickly and accurately.
Get expert sales tips straight to your inbox to win more deals
Related Articles
Sales, deal management, and communication tips for your inbox