Fast is Only the First Step
Spurred on by one particular slide in "Secret Sauce for Demand Generation" by Jon Miller, I started digging into "best practices" for website-generated lead response times. The slide in question claimed that the vast majority of website leads that became qualified were contacted within 5 minutes of being on the site. Makes sense. If I'm on your site, I'm clearly thinking about your product. As soon as I leave your site, you are going to have to pull my attention back to you. Hard to do in these attention-deficit days.
Response Time From Creation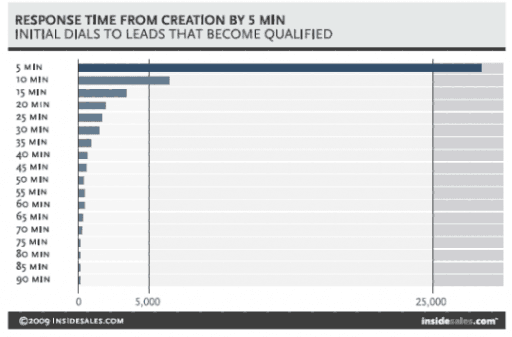 The authors have put together a followup study, which they got published on the Harvard Business Review site, claiming that businesses are terrible at reaching out to prospects this quickly. Out of the 2,241 companies surveyed, "… 37% responded to their lead within an hour,  16% responded within one to 24 hours, 24% took more than 24 hours—and 23% of the companies never responded at all."
How Firms Are Slow to Respond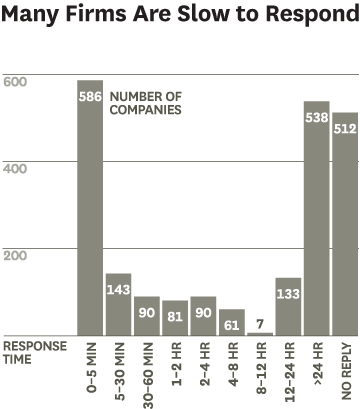 The authors mention, but don't reference explicitly, a third study which found that "U.S. Firms that tried to contact potential customers within an hour of receiving a query were nearly seven times as likely to qualify the lead (which we defined as having a meaningful conversation with a key decision-maker) as those that tried to contact the customer even an hour later—and more than 60 times as likely as companies that waited 24 hours or longer."
In search of that study, I went to the Insidesales.com research page. As you might expect, I had to fill out a form to download their papers. Both phone and email fields were required, and sure enough, I got a call from someone at InsideSales.com within 5 minutes. Leaving aside the fact that I didn't explicitly request or give permission to get a call from the company (their privacy policy just says "…the ISDC also uses registered user information to contact users when necessary and to send promotional emails…") the opening that this poor inside sales rep used was pathetic.
"Hi there. I saw you were on our site. Are you interested in the Power Dialer? Can I answer any questions about our products?"
I said I was just looking at their research. I told him about the 404 error I was seeing from the top link on the page. And then I got off the phone as fast as I could. What the hell? We now have the technology to be fast when responding to visitors on the website.
But fast is only the first step. We also have to be good. We have to add value to our prospects' lives. Instead of looking at me as a prospect, giving me more information, helping me with whatever I need (and the company can cost-effectively provide), companies are looking to be fast on the trigger finger. This kind of instant-cold-call is harmful to your long-term relationship with serious buyers.
Mark Roberge at Hubspot is pointing the way here. In a recent presentation to the current Boston Tech Stars class, he talked about how he trains his reps to call into prospects with "three tips to improve their online business." I'm sure most of the tips revolve around services that Hubspot provides. But that approach – let me give you something helpful – is so much more productive than a faster version of dialing for dollars.
So, in addition to being fast, be helpful. Be accurate. Know at least a little bit about who you are calling before you reach out. A B2B buyer is a terrible thing to waste.
Get expert sales tips straight to your inbox to win more deals
Related Articles
Sales, deal management, and communication tips for your inbox