Filter your Email to Stay on Top of Key Prospects
If you're a salesperson that relies on email prospecting to close deals then you also have a ton of messages to sift through in order to determine who to follow up with. We recognize this and are proud to explain new changes to our filtering features to help you close deals faster.
Yesware Application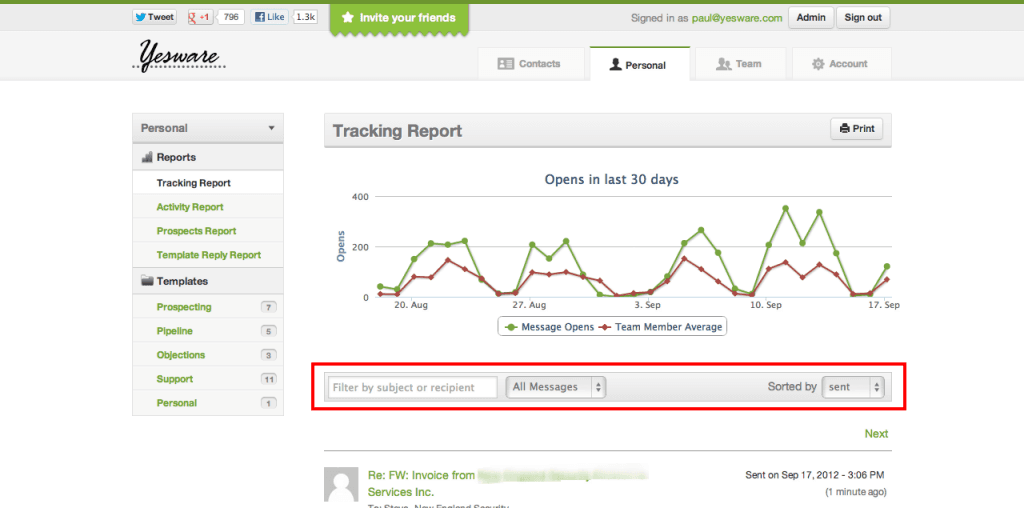 If you go to 'My Yesware' at the top of your Gmail window you will find your Tracking Report in the Yesware Application website. Here you are able to filter messages by subject or recipients that have been Opened/ Unopened, Clicked/ Not Clicked and Replied to/ Not Replied to. Additionally, if you're not looking for anything specific you can do a quick sort by messages that have been Opened, Clicked and Replied.
Why is this so valuable for salespeople? Here are a couple of use cases:
Your pipeline suddenly dries up and to understand why you sort messages by Opened and/or Clicked. You'll see that certain messages have been opened several times and the links in the email were clicked. This is a clear indicator that the prospect is interested and should be followed up with.
By filtering messages with Subjects or Recipients you can target campaigns and prospects that you're actively trying to pursue. If you have a lot of correspondence with them then understanding which messages are being ignored or engaged with is incredibly valuable information to close the deal.
Yesware Dashboard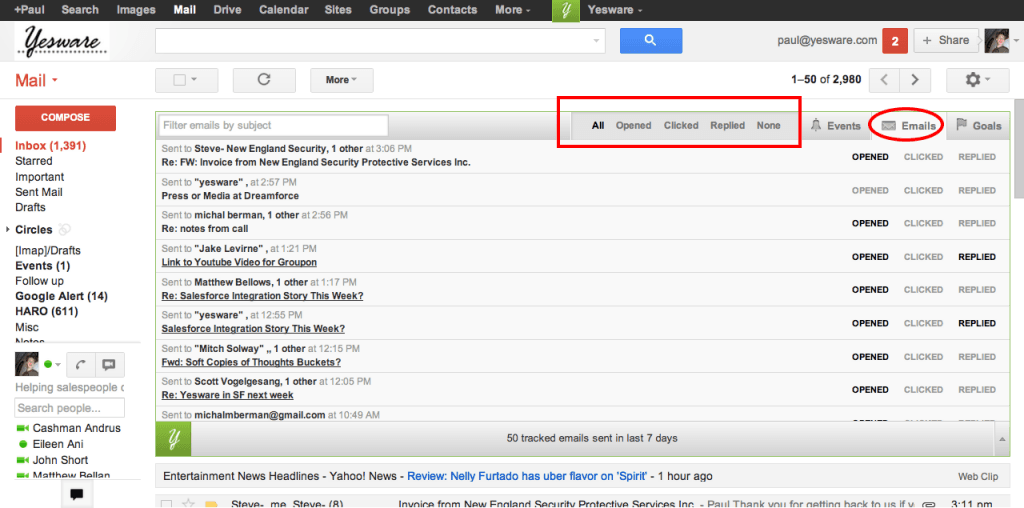 We also made a few modifications to the Yesware dashboard. You still see familiar tabs like Events and Goals but we also added 'Emails'. Here you'll be able to get a quick snapshot of your most recent sent mail that have been Clicked, Opened, Replied to or have no interaction.
Why is this so valuable for salespeople? Here are a couple of use cases:
Complement your event notifications by seeing exactly which messages are being interacted with or not. For example, if you see a message has been opened and clicked it warrants a follow-up.
Yesware will not notify you for messages that haven't been opened or clicked but that information is still valuable! If you have a qualified lead that hasn't opened your email it definitely makes sense to follow up with them to gauge their interest. People are busy and inboxes get crowded.
So are you as excited about email filtering as we are!? We sure hope so! Knowing who is (and who isn't) interacting with your email is vital information to any sales person trying to close a deal faster.
As always please email questions and suggestions to support@yesware.com!
Do you have any questions about email filtering? Is there anything else you'd like to see? Let us know in the comments!
Get expert sales tips straight to your inbox to win more deals
Related Articles
Sales, deal management, and communication tips for your inbox