How Sterling Customer Service Adds Up to Stellar Sales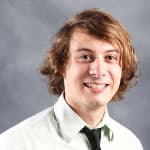 Chances are you haven't heard of John Ptak, a 25-year-old employee of online musical equipment retailer Sweetwater Sound.
But this young "sales engineer"—the title Sweetwater gives to staffers tasked with turning first-time customers into longtime accounts—is the embodiment of an intriguing strategy that demolishes the traditional wall between sales and customer service.
John Ptak Background
I first encountered Ptak three years ago, shortly after he joined Sweetwater.
Ptak provided superlative customer service throughout the buying process, using a technique the company informally calls "the Sweetwater Way." In my case, it meant multiple calls, emails, and genuine attempts to learn about my background, aspirations, and future needs. I was impressed enough that coming back to Sweetwater for future purchases was an easy decision.
But Ptak and Sweetwater probably wouldn't call the service they provided "above and beyond." For them, it was business as usual. That's because the company lives by a simple credo: stellar customer service = stellar sales performance.
Customer Service in the Hands of Sales
While many companies shunt customer service to fulfillment staff – or worse yet, call centers half a world away – Sweetwater places it in the hands of its sales force as job one. Ptak says it's had a direct effect on his bottom line.
"The more I reach out to customers, the more money I make. And we try to have good conversations with every single one of those people," Ptak said. "I can't even describe the huge, huge difference it makes. We are obsessive about numbers and the ratio of calls we make to the dollars we make. But for me personally, I have a high call-to-dollars ratio: one in three calls, I'll write up an invoice."
Jeff Radke, Sweetwater's executive vice president of sales, said that customer service orientation has translated to 20 percent annual growth for five straight years. Sweetwater is on track to finish out 2013 with $270 million in sales—not bad for a company with 203 sales engineers.
"My first mentor in sales taught me that if I earned a customer's business by offering the lowest price, that the customer's loyalty – and I use the term in its loosest sense – is only as strong as the next lowest price," Radke said. "But think about the last time you went to a restaurant, not even necessarily an expensive restaurant, and had an exceptional server with a great personality who made recommendations. I'll bet that waiter played a tremendous role in your impression of the meal and the restaurant overall. The bottom line is that service matters."
Customer-Service-First Approach
As Radke suggests, a customer-service-first approach is not limited to Sweetwater's niche industry.
"Delivering great customer service and taking care of people issues and complaints is a big reason for repeat purchases," said Todd Cohen, the author of Everyone's In Sales.  "The real measure of customer service is the proactive behavior that occurs when people know what they do impacts the client, and that this leads to more sales."
Cohen tells Yesware that this holds true throughout an organization: when everyone in the company buys in to making clients happy, salespeople simply have an easier time meeting and surpassing their goals.
"The people delivering customer service have a direct impact on the clients' desire to make referrals," he says. "When was the last time you made a referral because customer service messed up?"
Texas car dealer magnate Carl Sewell helped popularize the customer-service-first approach with his bestselling 1990 book, Customers For Life. Sewell famously boasted that the fanatical loyalty his dealerships garnered by thrilling customers was worth $517,000 over the lifetime of each customer.
So if customer service and sales are inexorably intertwined, what does that mean for salespeople? It means that successful sales staffers will be the ones who make proactive customer service a top priority. When they do, they will earn more, sell more, and repeat sales will naturally follow.
Salespeople who aren't afraid to dive into customer service could soon find themselves pulling off feats like turning an order for a $30 guitar strap into a $1600 guitar purchase, as Ptak recently did after reaching out repeatedly to the customer, making himself available to answer questions, and recognizing the customer's needs.
"He didn't haggle me on price, either," Ptak says. "He was a car salesman, and he understands keeping in touch. He said he could've bought it from anywhere else, and maybe less, but he bought it from us because we kept in touch with him."
Get expert sales tips straight to your inbox to win more deals
Related Articles
Sales, deal management, and communication tips for your inbox