New Yesware Feature: Subject Line with Templates
Today we pushed out a new build of Yesware that includes a long-requested upgrade – now you can store subject lines with each of your email templates. Here's how it works.
1. Start as usual in the Compose or Reply area of Gmail/Yesware. Select the template category that you want to enter a subject line for.
2. Select the template and press Edit. You can use the button as shown here, or you can just click the template text.
3. Press the new "Subject" button
4. Enter your template subject in the new area and press "Save"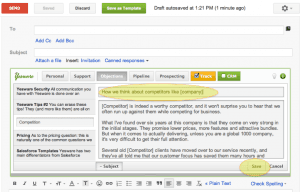 5. Now, the next time you Use that template, your subject line will be included with your email.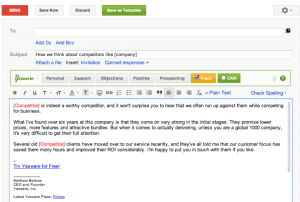 As always, please let us know what you think about this new feature and everything else! Email support@yesware.com. We'll do our best to get right back to you.
P.S. If you want to spread the word about Yesware, we've added a new "Invite" button (the megaphone, get it)? See it highlighted below?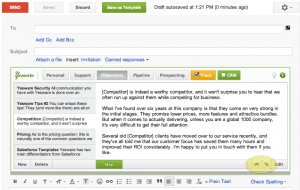 P.P.S. A while ago, we started auto-collapsing the template area after you pressed "Use." For those of you who want to keep the template area open, we added a little thumbtack. If you pin the area down, it will stay open after every "Use."
Get sales tips and strategies delivered straight to your inbox.
Related Articles
Sales, deal management, and communication tips for your inbox