New Yesware Features: Moving & Sharing Templates, Link Tracking Off
This morning we added a whole slew of new features – some that are aimed at solo users, and some that help team managers share templates.
Here's a quick breakdown of the new goods. When you refresh Gmail, you'll see all these changes at once.
The Link Tracking Option
As we mentioned in our first post about the Link Tracking feature, one downside of the technology is that it can trigger spam and virus software, because we're redirecting your links to our tracking server before sending your recipient on to the final destination. In addition, for some email readers, our wrapped links were getting exposed in replies or forwards… and they look ugly.
So this change gives you, the Yesware user, an option to track opens, links or both with every email you send. Just click the little flower on your Track button before you send.
(It's really a gear).
Moving Templates in Gmail
I'm sorry it took us this long to get this feature done… but we did it. You can now move templates around within Gmail. When you mouseover the right edge of the template list within a category, your cursor will change to a compass rose now. Click down and drag/drop the template wherever in the category you want it to appear.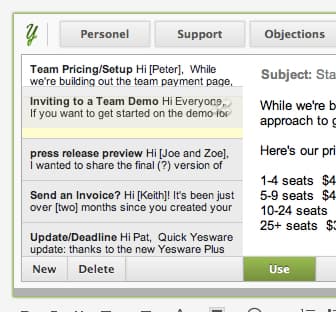 Fifth Category Now Reserved
Yesware comes with five (and only five) template categories in the Gmail interface. With this last release, we've reserved the fifth one, the right-most on your toolbar, the one next to the Track button, the one normally called "Personal" to be private to the user only.
If you are a member of a team, your manager can review and make copies of your templates now (see below) except for templates in this fifth category. If you want to keep certain templates private, please store them in this category.
There are other user-centric changes, but we'll leave you to find them. They are mostly in preparation for more stuff to come.
The Big One: Team Template Sharing
Up to now, it's been really hard to manage a team template library. Today we've added several new features to make importing, tracking and sharing templates much easier. Rather than try to describe all the new changes, here's a video demonstration.
If you want to try them yourself, go to My Account from the top Yesware logo in Gmail.
As always, please let us know what you think!
Get sales tips and strategies delivered straight to your inbox.
Related Articles
Sales, deal management, and communication tips for your inbox