How to Have a Great Quarterly Business Review (QBR)
A quarterly business review (QBR) is a high-level, strategy-focused review of a client's previous quarter's results, as well as an implementation plan for their future goals.
Quarterly business review meetings are usually run by the Customer Success Manager, and will ideally include executives from both the provider and the client.
QBRs are a fantastic way to build long-lasting, trusting relationships with your most important clients.
In this article, we'll go over everything you need to know about how, when, and why to hold a QBR, as well as how to know whether or not you're doing so successfully.
Here's what we'll cover:
What Is a QBR?
A quarterly business review — sometimes also known as an executive business review (EBR) — is usually reserved for the top segment of your customer base. The QBR is a proactive way to show those clients who require and/or deserve special care and attention that you are deeply invested in their success.
The intention of the QBR is two-fold: 
Deliver results from the previous quarter, which will demonstrate the ROI the client receives from your product, and
Make plans and set goals for continued collaboration and future growth
The QBR should be a strategic meeting, not a tactical one; this meeting is not the time to discuss support queries or the inner workings or your product or service. Instead, focus the meeting around high-level, revenue-driving strategies that will enable growth for both parties.
Here's a standard QBR Template: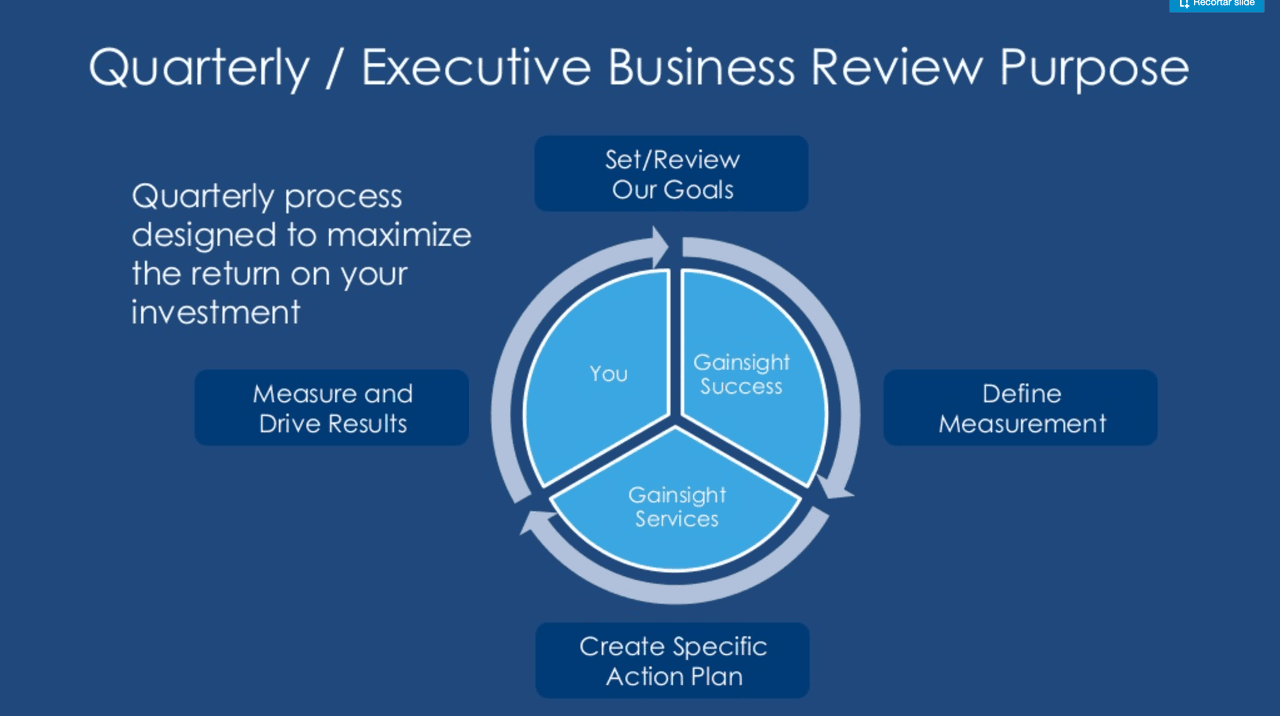 With this in mind, it's a good idea to encourage executives from both companies to be present at the QBR. The clients for whom you run QBRs typically represent your best opportunities for glowing references and growth opportunities, so you'll want their executives to be in the loop on how much value you're actually providing. 
Moreover, sending executives from your own company to attend the meeting will send the message to the client that you take their business very seriously, and that they're worthy of special attention from your c-suite. 
The overall takeaway from the QBR should be value: how much you've already provided, and how much will be in store with a continued partnership.
Generate sales reportsAggregate sales data for client meetings
Why Salespeople Should Do Quarterly Business Reviews
Let's acknowledge the elephant in the room before we go any further: no salesperson is eager to add yet another formalized meeting to their already-packed schedules. 
While that's a completely valid point of view, don't let it cloud your feelings about the QBR. These meetings are high-impact and go a long way in building mutually lucrative relationships with your best customers. 
Better Relationships
The first and most obvious benefit of holding a QBR is that it indicates to the client that you value their business and their success. Email updates and check-ins are fine for run-of-the-mill communication, but the significance of face-to-face contact when it comes time to talk results cannot be understated. 
A well-run QBR shows your client that you're a true partner in their success. It enables executives on both ends to stay involved and communicate with one another for best results. This kind of high-level partnership promotes loyalty and trust.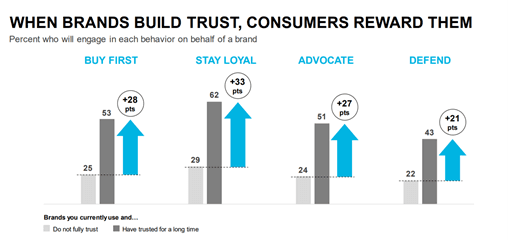 Renewals, Referrals, and Cross-Business
When your clients trust you, they're more likely to do three major revenue-generating things:
Sign a contract renewal with little-to-no effort on the part of the sales team
Provide outstanding referrals for other high-impact accounts
Opt-in to other products or services you offer
Generating new business can be very costly; keeping on existing clients, cross-selling them into new product offerings, and using their word-of-mouth in place of paid marketing are all much more affordable ways of boosting the bottom line.

Highlight ROI
At the end of the day, most companies care most about one thing: how much they're getting back on their investment. The QBR is your chance to demonstrate just how much value your product or service provides.
Consider utilizing value-based selling strategies in your QBR to give tangible, results-oriented data to your client. The more you can emphasize the ROI, the more likely the client will be to renew, refer, and opt-in for more services. 
Questions to Ask When Creating a Quarterly Business Review
Each QBR should look unique. It is, after all, meant to be a customized review of your company's partnership with an individual and unique client.
That being said, there are some basic templates and questions that you can use to get started and guide your presentation. As you compile the materials and results you'll share in your QBR, consider the following perspectives. 
1. What are the shareable results from the past 90 days?
Even if you're not running these meetings quarterly (some companies opt to hold them once a year or biannually, instead), you'll still want to highlight recent results. Providing a clear snapshot of how your product is performing in real-time will go a long way in convincing a client to continue working with you.
2. What ROI have you provided thus far?
Is this return tangible yet — that is, is it easily demonstrated with real numbers and data? If yes, make sure you have the figures to back it up. If the results aren't quite tangible yet, see if you can reframe the return in terms of how their investment will start to generate a return in the near future.
3. How will ROI continue to grow in the future?
Can they expect to see increased or even exponential returns the longer they stay on? Try to demonstrate the increased value of continuing a partnership with your company.
4. Can we expand our success?
Are there ways to increase use of your product for greater ROI? Expand the value proposition from the client's perspective. Are there additional use cases that you're currently exploring? Is there a Phase 2+ of product implementation that can be discussed or planned for?
5. Are there any roadblocks?
Although the QBR isn't meant to be a tactical meeting, it's worthwhile to discuss any high-level roadblocks or challenges that you're currently or soon-to-be up against. 
6. What are our goals for the next 90 days?
How do you see your product being used in the future that will drive your client's success? Outline specific and strategic goals here; you'll invite the client's feedback during the QBR.
7. What is their Customer Health Score?
Spend time before your meeting analyzing the client's current Customer Health Score. This is a weighted score that takes into account things like depth and breadth of product usage, growth since implementation, and support usage. 
8. Who will attend, and how often will we meet?
These may seem like background details, but knowing which members of the client's company will be in attendance will help you tailor your presentation appropriately. The timeframe is similarly important and will dictate how much information and data you'll need to include.  
Once you've collaborated with your team to answer these questions, as well as any others you've identified as important, you'll want to set an agenda for the meeting. Be sure to distribute the agenda to all relevant parties well in advance of the meeting.
Skip the back-and-forthSend customizable links that sync to your Outlook or Gmail calendar
Using a QBR to Create a Strategic Sales Account Plan
On their own, QBRs are meaningful exercises in creating long-lasting, mutually profitable relationships between client and provider. They also, however, have the power to serve another transformative purpose in your business: creating strategic sales account plans. 
When you create a sales account plan, your goal is to build a value-driven relationship with your most important and impactful clients. Sales account plans help build the kind of customer relationships that promote long-term profitability and account retention.
Put simply, an account plan helps a company transform in the eyes of the client from one who sells products, to one who solves problems.
A sales account plan should include all of the important details of an account, including but not limited to:
Business Overview
Key Business Initiatives
Customer Relationship Landscape
Customer Products and Revenues
Competitor Analysis
Buying Process and Selling Points
Relationship Goals and Strategy
Sales Opportunities, Targets, Risks
Action Plan
Plan Review
Much of this information can be gathered directly from the QBR. The goal of the sales account plan is to target high-value, high-profit accounts that your team will make concerted efforts to grow and nurture. The account plan should include all relevant information to allow your sales and customer success teams to partner with the client, rather than simply sell to them.
How to Measure if Your QBR Was Successful
Presenting a QBR can be a nerve-wracking experience. With multiple executives in the room, and the hopes of a continued, profitable relationship on the line, the scenario can sometimes feel make-or-break. Here are a few ways to determine whether your QBR was productive and successful.
Mutual Participation
Both parties should have a chance to talk during the meeting. Again, try to stay away from support issues or other day-to-day minutia. But you should eagerly solicit feedback regarding past results and future goals from the client's executive team. Remember, the goal of the QBR is to foster a partnership, rather than a buyer/seller relationship. 
Goals Have Been Met
One surefire sign your QBR is going well is when you can clearly demonstrate that goals outlined for the previous 90 days have been successfully met. If you've been successful in this component, make sure to take time during the meeting to create new goals using the SMART goal framework.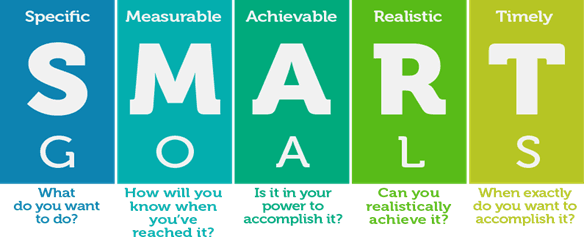 Client Renewal
The ultimate deciding factor in whether your QBR was successful? The client will renew their account with you with little-to-no questioning or pushback. If the value you provide is clearly communicated, it will be a no-brainer for them to continue working with you. 
If you want to try your hand at running a QBR, but aren't sure where to start, try segmenting your customers by the level of profitability and future growth opportunities. From there, target one or two accounts (perhaps not your most profitable one — at least until you get some practice) and design a QBR presentation using the tips in this article.
Chances are high that even initiating this meeting — regardless of how "successful" it ends up being — will go a long way in showing the client that you're serious about their success.
Get expert sales tips straight to your inbox to win more deals
Related Articles
Sales, deal management, and communication tips for your inbox