4 New Salesforce-Focused Features as Yesware Tops 300k Users
Today we're unveiling four new features that harness the best that Salesforce and Yesware have to offer to give you more insight into the sales process, more transparency about exactly what's been synced to Salesforce, and fewer headaches when it comes to contact and task management. With Yesware and Salesforce, now you can:
Identify Opportunities at Risk
To help sales reps and managers spot red flags in the sales process before it's too late, we're rolling out a new Yesware dashboard inside Salesforce.com that shows which opportunities you should pay particular attention to, starting with opportunities at risk. Using Yesware's email tracking data, the Opportunities at Risk dashboard provides a graphical overview of open opportunities with a last reply or send date greater than five days.
Managers will see this information for every rep, while reps will see only their opportunities. To get the Opportunities at Risk Dashboard setup for your company or to provide feedback on additional information you'd like to see in this report, please get in touch at support (at) yesware.com.
View Salesforce Sync Status
Good news, Team and Enterprise users: Yesware now shows you exactly what happened to each email you wanted to send to Salesforce. When you view a thread that has successfully synced to Salesforce, you will see a green label. If you click on the label, it will expand to show you which messages have been synced since the last time Yesware checked sync status.
If for some reason there is a delay in syncing, the status will still be green, but will also indicate that the sync is pending. Don't worry — your information is on its way. The status label will automatically update once your message has successfully made it in to Salesforce.
An orange label means there is an alert. This could mean no task was created, or duplicates were found.
Finally, a red label will indicate an error has occurred. Click on the button to email support for more help.
Sync Contacts and Tasks Between Google and Salesforce
Create contacts in Salesforce and see them in Google. Create tasks in Google and see them in Salesforce. It's that simple. Here's how it works:
Contact Sync — Yesware now syncs all updates made to Salesforce contacts (i.e. phone, email, name, account, and title fields) to Google Contacts. On the go? If you have Google contacts on your phone, the contact is automatically in your phone. You can count on up-to-date information about your Salesforce contacts wherever you use Google Contacts.
Task Sync — Google Tasks users now have the option of syncing tasks to Salesforce. Once Task Sync is enabled, a new task list called "Salesforce" is created. Tasks added to this designated list are synced hourly to Salesforce.
Ready to start syncing? Please email support (at) yesware.com to let us know you'd like to enable these two new features.
Start Dancing
Late last week Yesware crossed the 300,000-user mark, up from 62,000 users at this time last year. Our reaction went a little something like this: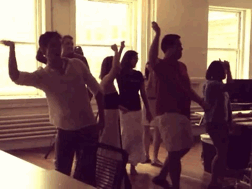 Because it's pretty awesome to know that Yesware has helped so many of you be successful and close more deals. And when we think of helping even more people improve their sales process in the weeks ahead, well, the excitement looks like this:
What's next? We can't wait to show you. Stay tuned.
Get expert sales tips straight to your inbox to win more deals
Related Articles
Sales, deal management, and communication tips for your inbox