The Science Behind Emojis In Business Emails
Anyone here find themselves using emojis as a part of their everyday communication?
🙋‍♀️ Just me?
Whether I'm celebrating in Slack when new Yesware features are announced 🙌🎉, sending some 💕💕 for a good dog video on Twitter, or feeling 😱  after I read a study revealed that 😊 and 🙂 can make you seem less competent, emojis are a natural part of our communication with family and friends. 
But What About in the Business World?
Well, that study I mentioned….In 2017, the journal Social Psychological and Personal Science reported that in computer-mediated communication "smileys do not increase perceptions of warmth and actually decrease perceptions of competence."
During the experiment, participants were tasked with rating the warmth and competence of an email sender, then asked to reply to that email. The senders of emails that contained smiley faces were perceived to be less competent and had no increase in perception of warmth. Interestingly, participants' replies to the smiley emails contained less information than those replying to emails without smileys in them.
So even if smiling makes you seem warmer and more approachable in person, on a screen, smiling emojis could make you or your business seem less capable.
The study's trio of authors ultimately concluded that "perceptions of low competence, in turn, undermined information sharing."
Measure what's working
Get real-time insights and engagement data
So does this mean you should never use emojis in email?
Well, if you're part of the 76% of American workers who use emojis, don't fret. While it's important to stay on brand for your business and recognize where it can be inappropriate to use emojis, there are always exceptions.
Here are three cases where 📫 or 🙂 might actually help your emails:
1. Welcoming New Employees
Often times when new hires join a company, it can be overwhelming to learn the names and the norms of the business. Of the aforementioned 76% of employees who use emojis, 50% of these folks would use an emoji more if they wanted to come across as more personable, while 40% would use an emoji to show more of their personality. Sending an emoji or emoticon in the copy of an email can help lift any tension or anxiety new employees might feel having to acclimate to a new environment.
Example: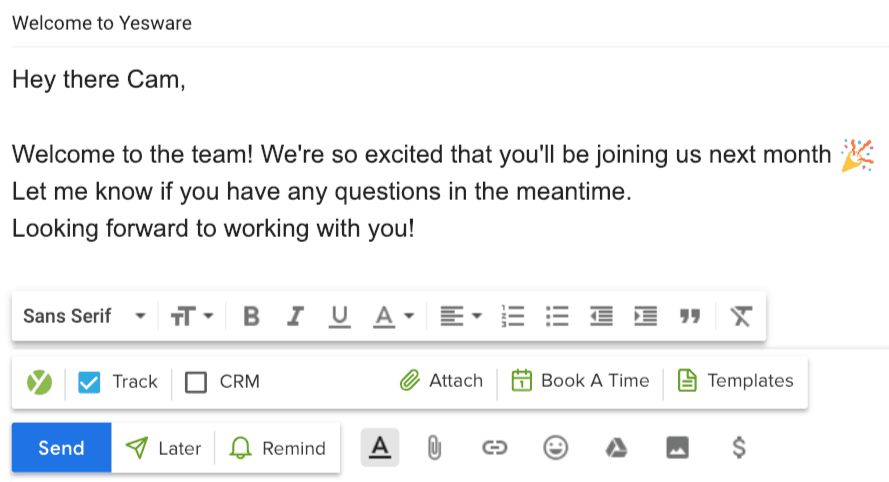 2. Subject Lines
If you're considering using emojis for marketing or other business purposes, try utilizing subject lines instead of the body of the email. Research shows that about 60% of the time, good and strategic uses of emojis in subject lines can increase opens by 25%. Conversely, the same study shows that when emojis don't work in emails, they actually decay the open rate by the same 60%. So, does that mean the study was inconclusive? No.
It proved that emojis act as "language amplifiers," making bad subject lines worse, and good subject lines better.  
Example:
A good subject line 👍 made better:
This email uses a simple 🚀 to help accentuate a simple subject and make it stand out in the sea of Arial. The emoji doesn't replace a word and flows with the within the context of the line.

This subject line is bad to begin with, it just screams "SPAM!" In this case, using emojis (and two different kinds at that) assumes that your customers fall for gimmicks and makes you look desperate. The high-pressure call to action with overdone images is just annoying, and all the more reason to delete the email without opening.
Track your subject linesFind your best-performing subject lines & emails
3. Brief & Familiar Messages
Many of our "business" emails aren't just for closing deals and sending out customer resources, they're often sent between colleagues and peers in lieu of text messages. You can use emojis or emoticons in short logistical emails, such as planning where to meet up outside the office.
Example:

The Verdict:
Know your target audience. Know your brand. Generally, B2B businesses should use emojis sparingly, if at all. Make sure your emoji use is appropriate, completing your subject lines and brand image. This also means not to replace words as emojis, as stated before you should use them as "amplifiers," not as substitutions.
However, if you know your brand is fun and casual, emojis can help your business emails stand out in crowded inboxes. When in doubt, remember– professionalism over personality.
Get expert sales tips straight to your inbox to win more deals
Related Articles
Sales, deal management, and communication tips for your inbox