Greatful or Grateful? | Correct Spelling for Your Thank You Note
You're emailing someone and you hit send before the spell check, ugh. Nouns, adverbs, adjectives — the whole English language is full of pitfalls of incorrect spelling, but grammar mishaps can be a big barrier to communicating as a professional. 
As a sales professional who constantly interacts with people, there's large room for error. 
And while trends are always evolving in the sales industry, one thing remains timeless: the practice of sending a follow-up thank you note to potential clients after meeting.
In fact, not expressing gratitude for someone's time is a big mistake to make when networking. Sending a thank you note, whether by hand, email, or leaving a message, is the best way to show your appreciation. Not checking grammar and spelling here is also a big mistake. 
Automate your follow-up
Send personalized thank you notes at scale
Is it Spelled "Greatful" or "Grateful"? 
So you're most likely to express being greatful vs. grateful at some point — so which one is it? 
We'll do you a solid and tell you that "grateful" is the correct word and greatful is actually a common misspelling. 
Grateful has its word origins in Latin gratus, which means 'for thanks'. And here in sales, being grateful means a lot to the people who take the time to connect with you.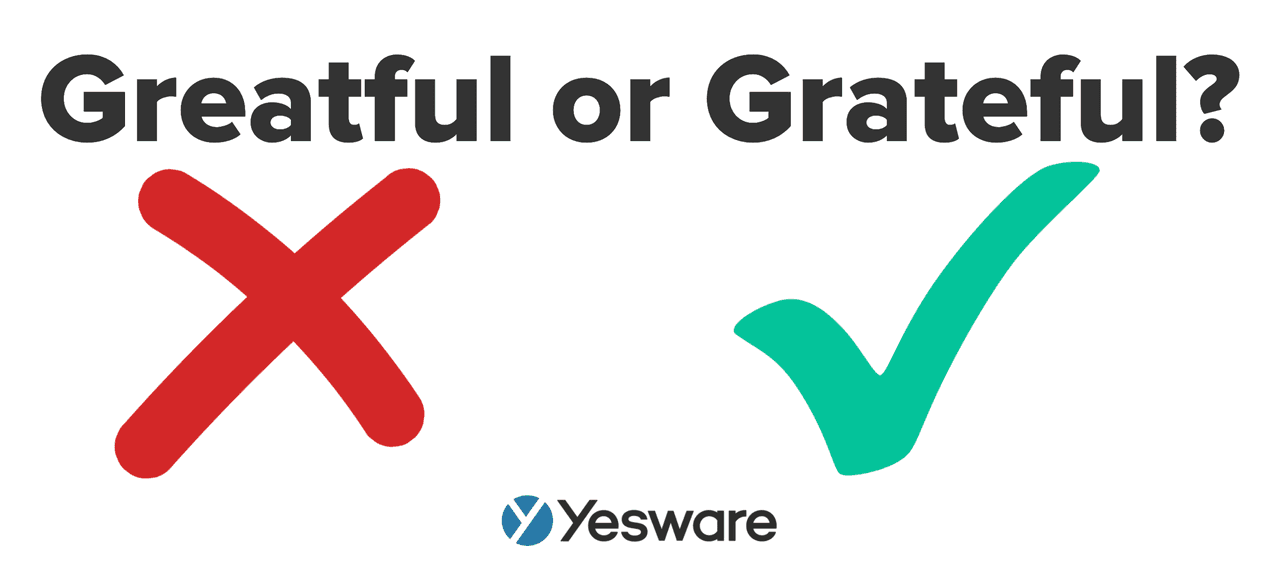 How to Write a Grateful Thank You Note
We'll even go a step further and give you an example of what a thank you letter should look like. 
Address the person with the correct titles and spelling
Thank them for their time and effort 
Give some details on what you valued about the conversation or action
Say thanks again and add on a suggestion for what you want them to do next: talk again, send samples, connect you to someone else, etc.
End with your email signature
Here is an example: 
Dear Ms. Smith,

Thank you for taking the time out of your day to sit down and talk with me. I enjoyed learning about your company's needs. The story about your founders was really interesting. I hope to talk again soon and would love to book a follow up with you next week. 

Thank you again!

Best,

Chris
Above is a general example, feel free to customize it. Furthermore here are some do's and don'ts on thank you notes:
Don't wait too long to send it — same day is best
Do be genuine in what you say
Do be direct and keep it short
Don't forget how to spell grateful!
Type it once, save for re-use
Email templates that live in your inbox
Other Words to Use When You're Feeling Grateful 
Getting sick of using the same words in your thank you notes? Here are some great synonyms for grateful:
Thankful 
Obliged 
Appreciative
Pleased
How Yesware Can Help You Follow Up With a Thank You Note
Finding it difficult to stay on top of all those thank you emails and follow-ups with leads? Yesware is a powerful tool to add to your repertoire in increasing your team's communication efforts, sales effectiveness.
With automation, personalization, tracking, and integration capabilities, Yesware can quickly help your team reach new levels of performance and communication that translate to results.
For example, Yesware's Prospecting Campaigns help you tailor outreach to any prospect or audience. This feature offers personalization and quality in the messages you send while incorporating automation, meaning you can reach more people and make more meaningful connections.
Get expert sales tips straight to your inbox to win more deals
Related Articles
Sales, deal management, and communication tips for your inbox