How You Should Structure Your Sales Organization
A well-defined sales team structure is critical for sales teams to reach optimal productivity. It allows each of your team members to define and specialize in their given role, which in turn will eliminate redundant work and improve sales performance across the board.
The way you organize your sales structure depends on many factors; the size of your team, the industry you sell from or sell to, your specific products, and your ideal customer(s) will all influence how you delegate selling tasks to your sales team. 
There are a number of sales team structures to consider when it comes to defining the needs of your team. In this article, we'll go over the main types and examples of each. We'll also talk about why it's so important that you take the time to formalize your sales structure, and what you can look forward to when the work is done.
Here's what we'll cover:
What Does 'Sales Organization Structure' Mean?
Your sales organization structure defines the way in which your sales team performs specific roles and responsibilities within the team during the sales process. 
There are many benefits to having a well-defined sales structure — we'll discuss these later in this article. Segmenting your team can be a tedious task, and one that sometimes requires a good bit of trial and error. But it's a necessary and rewarding step for teams hoping to reach maximum productivity and profitability.
In fact, nearly 80% of top-performing sales teams report adhering to a formalized sales process.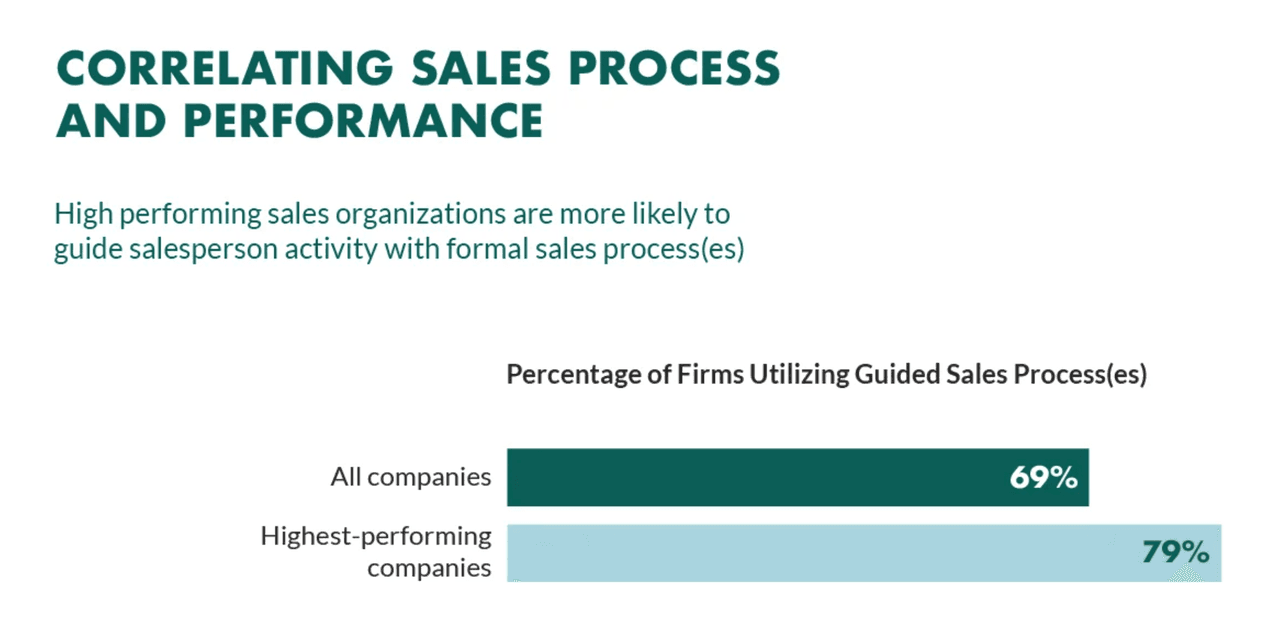 This makes a lot of sense — with a formalized sales process, everyone knows their own responsibilities and expectations. Creating a sales organization structure is a big component of formalizing the sales process as a whole.
That being said, it's important to keep in mind the way the modern sales team has shifted over the years. Now more than ever, sales teams need to be able to work collaboratively within the team, and with other teams in their organization (especially marketing, sales enablement, and sales operations).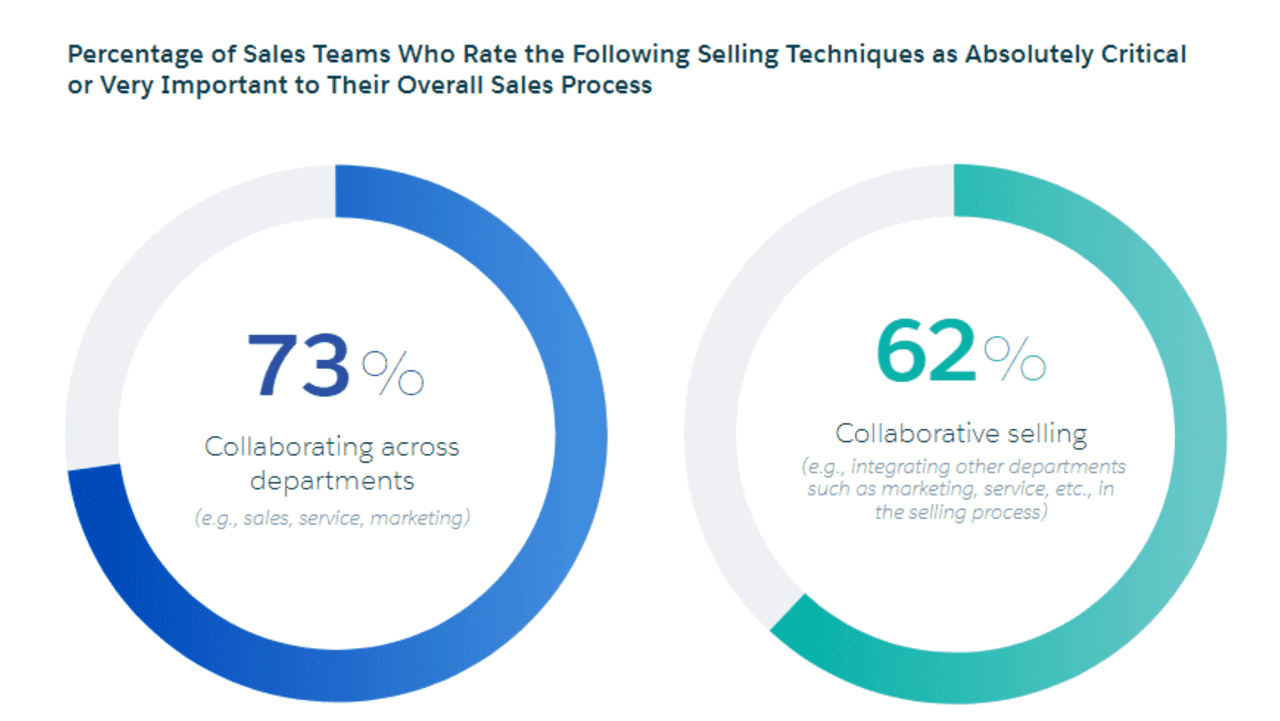 Defining a sales organization structure does not mean that you're isolating sales team members from one another, or from other departments in your organization — quite the opposite. Assigning each teammate a specialized role in the sales process will enable your team to work and collaborate more efficiently. 
Run a repeatable sales processTrack, analyze, and standardize what's working
The Different Types of Sales Organizations
When it comes to sales organizations' structures, there are two areas to consider: the way your team operates externally — that is, the way they approach the selling process as far as their total addressable market is concerned — and how they approach the sales cycle among themselves, internally.
First, let's look at the four main types of external organizations.
1. Geographical Structure
Geographical sales organization structures are the most straightforward. In this model, sometimes also called a territorial sales force structure, your sales team is divided according to geographical area or territory. Sales representatives are responsible for servicing a specific location.
There are a number of benefits to this model. First, it's less costly than the others. You eliminate a lot of expenses that come with constantly moving reps around to work with new prospects. 
This model is also known for the way it lends itself to solid, trusting customer relationships. Most geographical sales reps serve their territory for a long period of time, allowing prospects and customers to build long-lasting relationships with them. This is a huge asset to a sales team, given that most people make purchasing decisions based on trust.
This kind of trust-building can have a compounding effect on your bottom line: the better your sales team does in a given area, the more trust they build. The more trust they build, the more they're able to expand and win new customers. 
2. Product & Service Line
There are two ways to approach a product/service line sales organization structure. Your team might be organized according to the specific product or service that they're charged with selling. This is, of course, a natural choice for companies that sell multiple products or a variety of services.
This type of organization structure allows reps to become experts in their own product line and master the sales process for that particular product. 
On the other hand, it can also sometimes inadvertently cause salespeople to focus more on their own product than on the prospect, which is an easy way to kill a deal. Top closers always spend more time listening to the client than talking about themselves.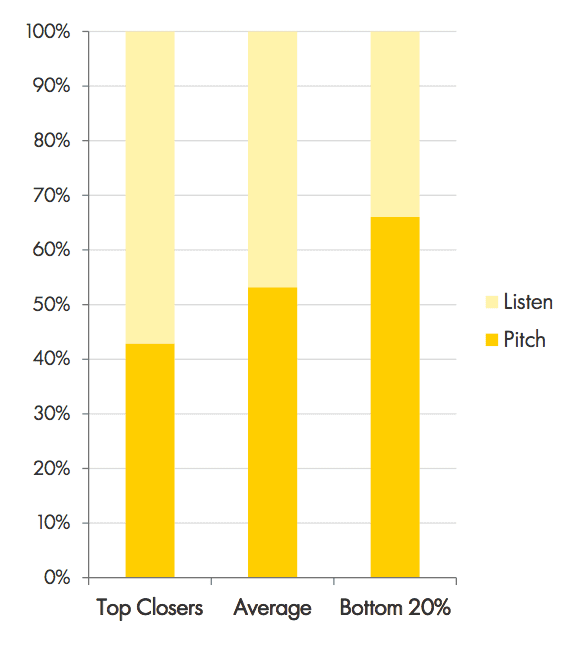 The other way to approach a product-based organization is to center the structure around the clients' products. This is sometimes called the product sales forces structure. 
This model allows reps to sell to multiple companies who all sell the same product or type of product. It allows reps to get to know the pain points of a company who makes a certain type of product, and extend that knowledge to many companies with the same product in a variety of geographical locations. 
The product sales force structure works well for companies who focus on one industry. But can quickly become challenging if your team sells to multiple industries with multiple products.
3. Customer & Account Structure
The customer and account structure is a fantastic choice for sales teams that rely on account-based marketing. This organizational model is designed under the assumption that the selling skills required to connect with small and medium businesses are significantly different from those required for selling to enterprise clients. 
Customer and account structures are very effective for meeting the specific needs of high-impact clients. It's a particularly great option for teams that are working on scaling so that the team can ensure the high-impact accounts get a dedicated account manager who can give them the attention they need to drive your business forward.
The downside to this model is that it can sometimes create the perception (or reality) of poor allocation of resources. It can certainly be tempting to pour everything you've got into the accounts that have the biggest impact on your bottom line, but you can't neglect the smaller deals entirely. Sales managers should only consider this model if they're prepared to make challenging decisions about resource allocation. 
4. Industry & Vertical Structure
In an industry and vertical organizational structure — sometimes also called a market-based structure — sales teams are grouped according to which industry they serve. This model allows reps to specialize in a given industry.
The model is often considered the most expensive, as it may take reps longer to ramp up to optimized productivity as they learn the ins and outs of an entire industry. It also usually requires that salespeople move around a lot. 
The Optimal Technology Stack for B2B Sales TeamsUsing data from the most successful business-scaling models, we designed a blueprint for the exact technology your business needs at each phase of growth.
Team Models
Now that we've covered the front-facing organizational structures, let's take a closer look at how you might approach the sales workload within the team.
The model your team adopts will be unique to your company's specific goals and the talents within your salesforce; you should know, however, that this structure will affect both your productivity and your team culture. Try to balance both of those components as you consider each model.
The following are the three most popular sales team organizational models that speak to how your sales force divides selling tasks for your prospects. 
1. The Assembly Line/Functional Structure
Also sometimes called a functional structure, the Assembly Line is a sales team organized by job title. Each rep has a specific job within the sales process; leads move systematically down the pipeline, with specific members of the sales team handling them for each specific stage.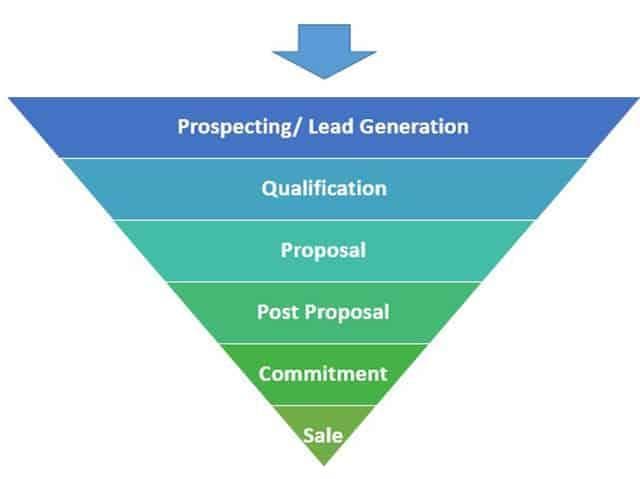 Some reps, for example, are tasked solely with lead generation. They then pass those leads onto qualifying reps, whose job is strictly to qualify prospects. That team then passes qualified leads onto reps responsible for demos and pitches, and so on and so forth.
The Assembly Line model offers salespeople a fantastic opportunity to specialize in a certain area of sales. A sales team in which everyone achieves expertise in the role they play is one of maximum efficiency. It's also very easy to identify inefficiencies or bottlenecks in the process. 
On the other hand, more moving pieces means more chances to screw up. Every time you pass the prospect from stage to stage, you risk adding friction into the process. It can also be hard for individual reps to keep their eyes on the overarching goals of the organization if they're singularly focused on their specific role. 
2. The Island
The Island model of sales organizational structure is, in many respects, the opposite of the Assembly Line. 
In the Island model, a single rep handles the entire sales process from start to finish. Many startups and small businesses employ this strategy when they're going for quantity over quantity; the Island structure works very well for situations with a large number of deals that are mostly low complexity. 
It can also be a great option for companies with high-touch clients who require one-on-one, personalized interactions. 
The Island model is known for breeding competition. For many companies, this is great news — nothing like a little added motivation to crush your goals! For others, though, it can seem isolating and may discourage teamwork. It can also sometimes lead to burnout, with many reps finding it hard to be responsible for many accounts from start to finish. 
3. The Pod
The Pod model enjoys a pretty good reputation as the ideal blend of the Island and the Assembly Line. It's primarily used by larger businesses who have enough employees to split into groups. 
In a Pod model, sales reps are split into sub-teams by grouping based on specialization. Reps within a group might specialize in a certain market, region, or buyer persona. Each pod is then organized into specialized roles, such as sales development reps (SDRs), business development reps (BDRs), or account executives.
There is flexibility in roles within pods, or even pods themselves. This is because the model is based on reps' talents, skills, and expertise which could change or evolve over time.
Hopefully by now it's becoming more clear that there's a lot of flexibility in the various combinations of sales models to choose from. You could, for example, organize your team into an Assembly Line, and tackle your pipeline using a geographical structure. For other companies, a better fit might be pods dedicated to each product or service line.
Each combination comes with its own benefits and drawbacks. Although it can seem overwhelming to consider the many options available for organizing your sales team, the good news is this: there is, undoubtedly, a good fit for businesses of all shapes and sizes. 
Why It's Important for Your Sales Team to Be Well-Organized
In general, well-organized sales teams simply perform better — 76% of high-performing sales teams rate their sales department as having "Excellent" or "Above Average" organizational structure.

The organizational structure can have a number of other significant effects.
Defined Roles: When everyone knows their specific roles and responsibilities within the organization, chances of redundant or repeat work are greatly reduced. 
Less Conflict: Even the most competitive of the organizational structures can still reduce conflict and friction within the team. 
Optimized Process: By its nature, the process of organizing your sales team will lead naturally into organizing the sales process as a whole. Adopting any of these structures will likely lead to an efficient, predictable process that makes decision-making easy.
It's okay to approach this process from an experimental standpoint, especially for businesses that are still growing. Make an educated guess about which models will serve your team best, and give it a try. 
Acceletate performanceData that helps your whole team sell smarter
Recommended Sales Organization Structures for Your Business Type
The best sales team structure for your organization is the one that works with your team's workflow, not against it.
That being said, we've pulled together a handful of generalizations for what structures might work best for some common industries. Check out the list below and see if any resonate as something that might serve your team well. 
Saas Company
Many Saas companies find success with the Assembly Line model. When the priority is generating as many new subscriptions as possible, efficiency is the name of the game. The Assembly Line streamlines the sales process; it gives everyone on the team a chance to specialize in and optimize a part of the process, making it repeatable, predictable, and productive. It also creates transparency in the process and makes it easy to identify and address any kinks in the process. 
Manufacturing Company
Taking a regional approach here might not make sense, especially if each of the products you sell require specific and comprehensive knowledge (and especially if any are technical in nature). Better options for a manufacturing company might be a product line structure, using either an Assembly Line or Pod for selling tasks. That being said, a market-based structure is likely the best fit here, again using the Assembly Line or Pod. 
Small Business or Startup
Small businesses and startups looking to quickly expand their customer base might want to consider a geographic or product line structure. The more important aspect here, however, is the internal team structure. For companies just getting off the ground, the Island might offer just the right amount of competition to motivate reps to consistently outperform. For others who want to err more on the side of teamwork, the Pod model could also be a good option. 
Enterprise Company
The customer and account structure is a great option for enterprise clients. Big-ticket customers love to feel like they're your Most Important Prospect, and a sales team organized by account is in a good position to offer that to ensure customer success. Most ultra-successful organizations see phenomenal results with the Pod model, allowing their reps to collaborate and build on each other's success. 
How Yesware Can Help Your Sales Team Stay Organized
Yesware is designed to be the all-in-one sales toolkit for professionals. It streamlines many aspects of the selling process and can stand as the backbone of an organization in how your team performs
Our multichannel campaigns allow sales reps to create and deploy intricate, multi-touch prospecting campaigns that are automated and personalized. This helps reps juggle a huge number of prospects with little effort.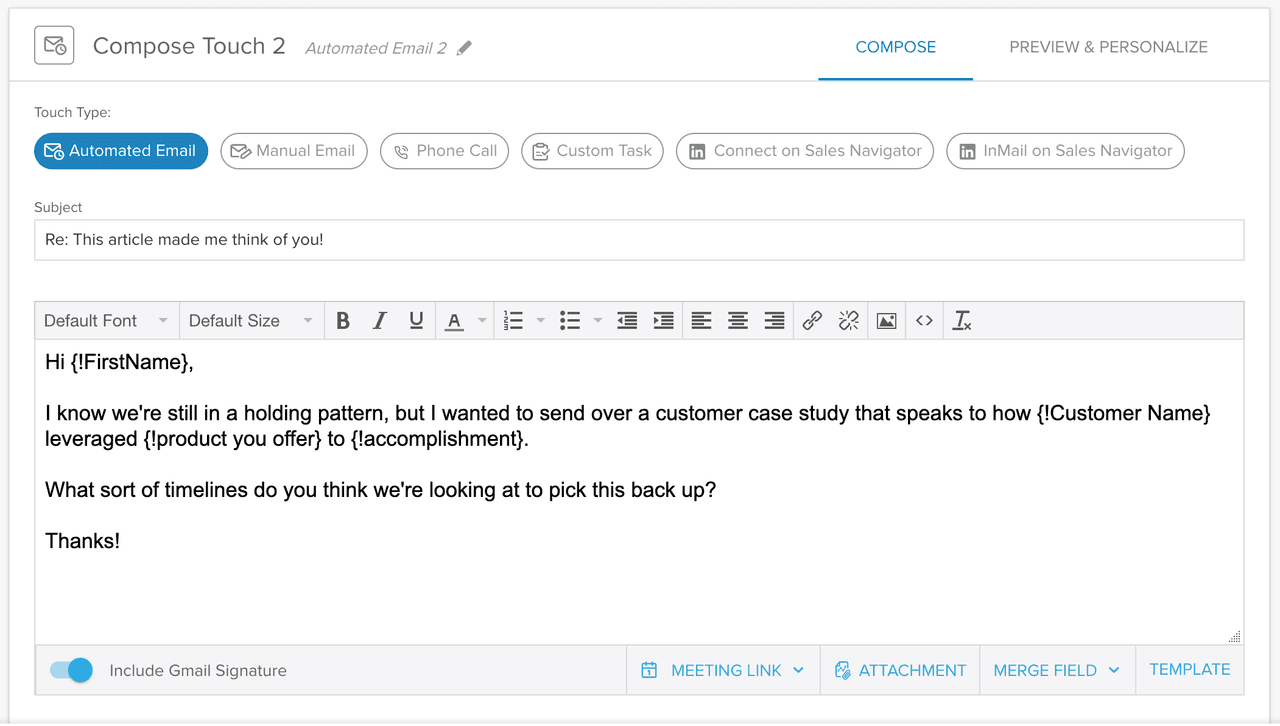 Yesware also allows users to create email templates for virtually any scenario — no more wasting time finding the right words. Find a proven script, and stick to it. Let Yesware do the rest.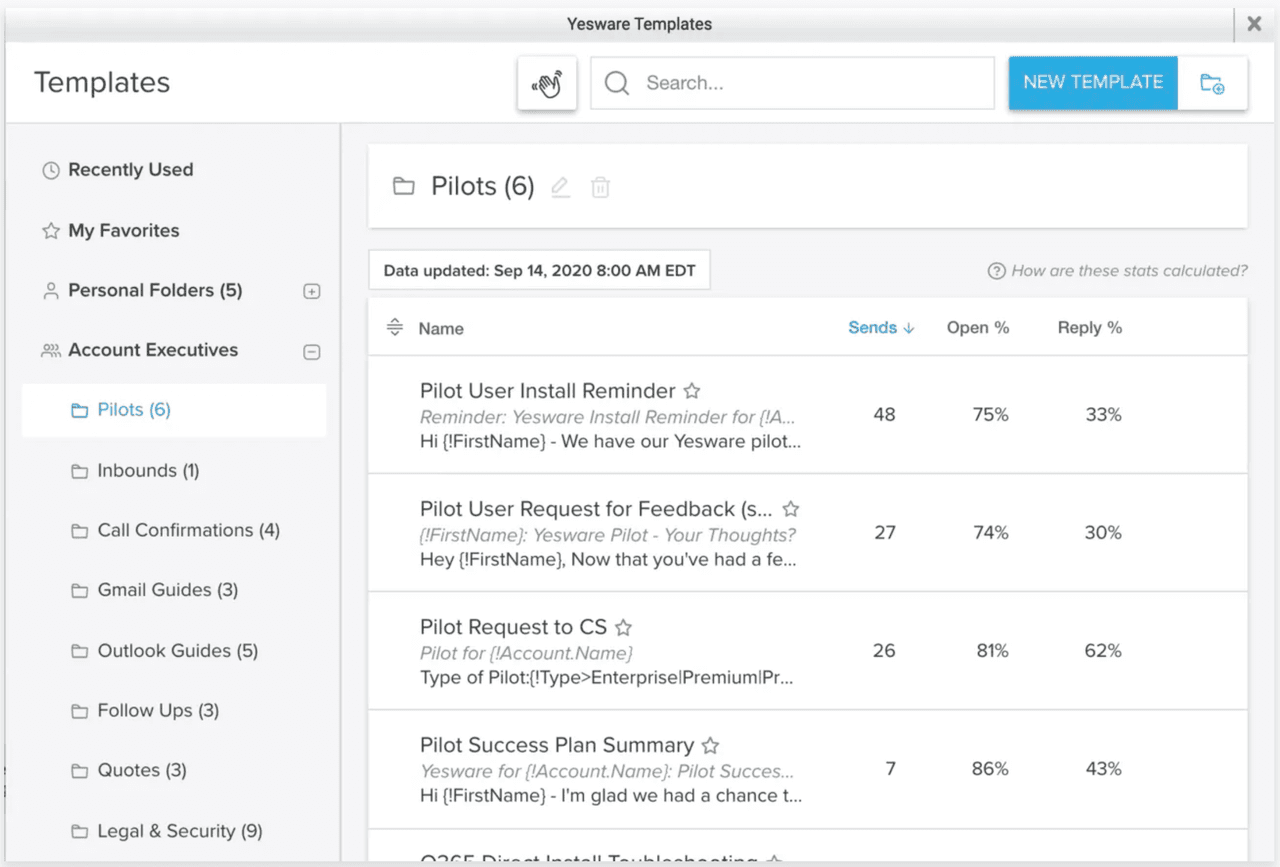 Our Reporting & Analytics features offer full transparency into the sales process, meaning that everyone can keep tabs on their progress no matter what their specific role may be.
How is your sales organizational structure? How has your structure benefitted your team? If you don't have a formalized structure in place yet, spend some time this week considering the many models available to your team to boost their success.
Get expert sales tips straight to your inbox to win more deals
Related Articles
Sales, deal management, and communication tips for your inbox