25 Sales Training Programs to Level Up Your Sales Team
Sales training can be a make-or-break component of a highly successful sales team. The right training resources can take your sales force from good to great and vastly improve your selling process.
Read on for the sales training companies that offer the most "bang for your buck," and the best sales training programs to consider for your salesforce.
Here's what we'll cover:
How to Know if Your Team Needs a Sales Training Program
Average sales quotas and periodically past-due milestones are easy to write off as status quo, but these things add up over time. Sales managers who make an effort to dig into mediocre sales numbers are typically surprised to find that their sales team is in dire need of some targeted training and new skill development. 
Here are some of the indicators that you or your sales team are past due for some sales training.
Lead your team to success
Track, analyze, and standardize what's working
Not Meeting Goals
Effective sales training can go a long way in helping you meet your revenue, profit, or quota goals. In fact, many case studies have demonstrated that companies that offer training opportunities to their employees see 31% more sales reps reach their quotas than those who offered none.
If you find that your sales team is doing mostly okay in the various stages of the sales process, but still somehow aren't meeting quota (which is then trickling down to your bottom line), it might be time to consider a specific sales training program.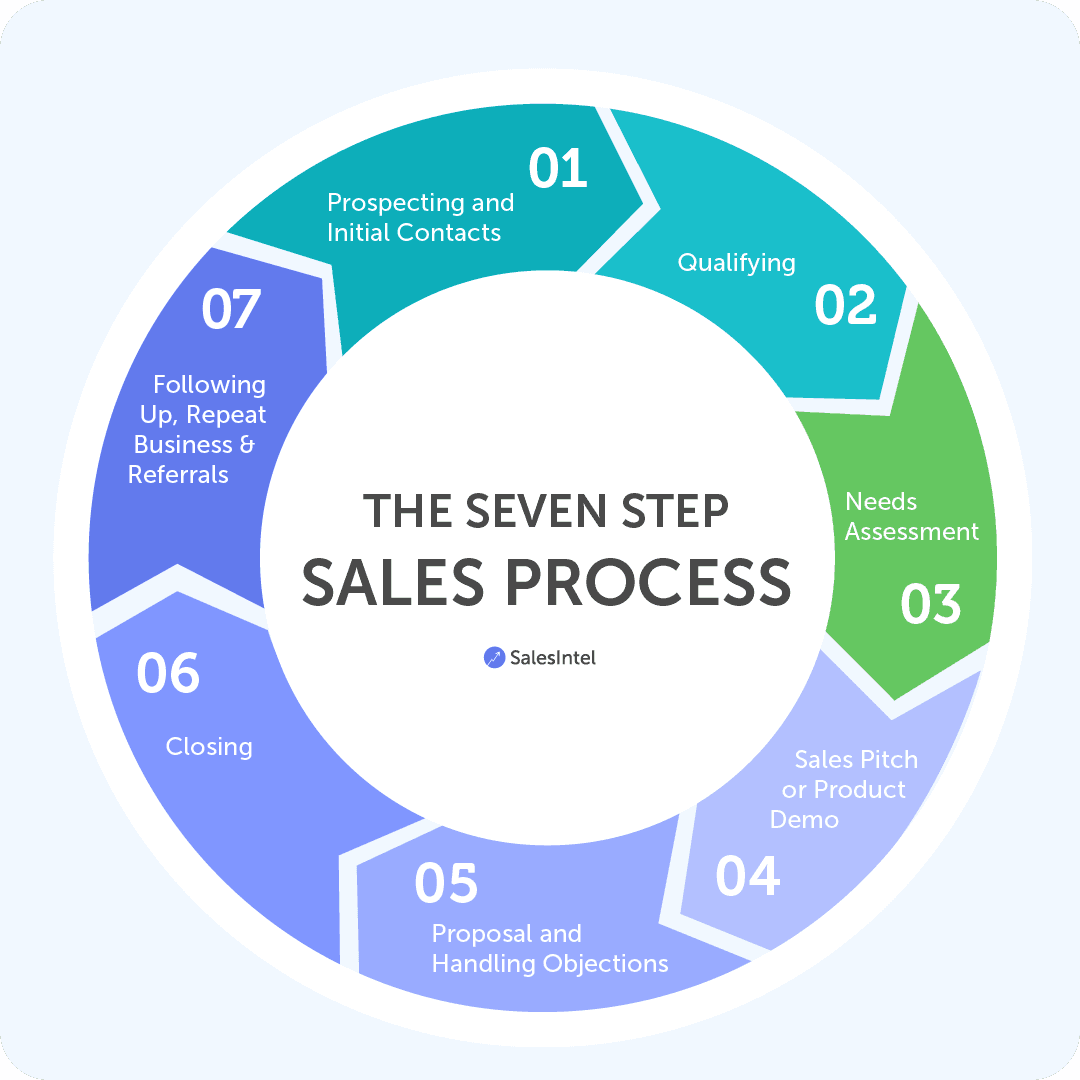 The individual stages of the cycle are certainly important. But if the pieces aren't coming together and your win rates are lower than you'd like, it might be time to pull in the help of a professional and convene the team for training.
You can choose whether you'd like to train your team in something specific, like customer relationships, or provide general training that will help everyone get on the same page and work toward common goals. 
Regardless of the training program you choose, it's very likely that your reps' newfound skills will open new sales opportunities for your team.
Trouble Attracting or Retaining Talent
Top-tier sales leaders are highly sought-after and can be game-changing additions to your sales force. 
However, the reality is that these heavy hitters can only make a truly noticeable difference to your bottom line when they're with you for the long haul. 
If you find that your team is consistently saying goodbye to top talent (or having a hard time attracting such skilled sales reps in the first place), it might be time to bring in some sales coaching. 
Sales organizations that regularly invest in updating their team's sales techniques are the ones who reap the biggest benefits. Even if you feel like you've provided ample opportunity for your team to practice real-world, actionable sales techniques, it's always worth seeking out and offering new opportunities. Most sales professionals lose or forget the skills they learn in about three months.
Offering regular access to sales training courses is a critical component of attracting and retaining top sales professionals.
Filling the Gaps
If you notice that you have a small handful of high flyers — team members who consistently go above and beyond their quotas, and who never have a problem mastering new skills — but the rest are regularly mediocre (or worse), it might be time for a sales training course. 
Similarly, you might also notice that most of your sales cycle runs smoothly, but one or two stages need tweaking. Prospecting, for example, is often very challenging for many salespeople. Sometimes filling in the gaps of specific sales skills is exactly the boost you need to amp up your sales performance.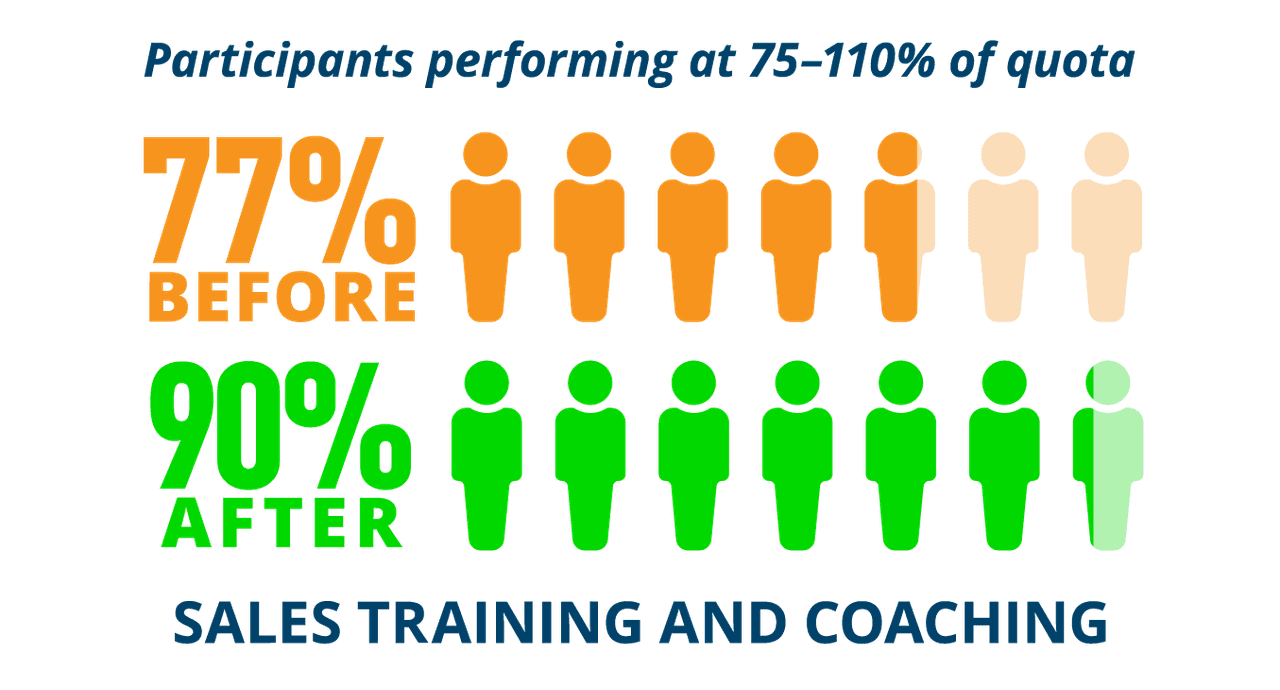 Mapping your sales process can help you pinpoint the areas in which your team's selling skills are falling short. Try tracking your KPIs for a period of time and see if you can narrow down the specific stages in which your sales pipeline falls short. It's likely that a targeted sales training course can help you iron out any kinks you may discover. 
What to Look For in a Sales Training Program
In this day and age, sales training courses are a dime a dozen. It can be challenging to find the precise opportunity that will equip your sales team with the knowledge they need to move forward.
Choosing the best sales training program for you will depend on your specific priorities, but even still — not all programs are created equal. Focus on a few key areas to choose the program that will best propel your sales career forward. 
Determine Your Non-Negotiables
First, it's important to identify the key objectives behind signing up for a sales training program. 
Are you looking to train your entire sales team or only select individuals?
How much time are you willing to allocate for training? Remember, any time spent in training means that much less time selling products. It's up to you to decide the balance you want to strike here.
You'll also want to consider things like budget, and which specific sales skills you're hoping to target. Alternatively, you may be looking for a full-scope program that spends a little bit of time on many different aspects of sales. 
In general, there are four main categories of sales training programs. Each category serves the needs of a different type of salesperson.
4 Main Categories of Sales Training Programs
1. Inside Sales: These types of transactions are completed via sales calls or email; virtual selling is considered inside sales, as well. In other words, inside salespeople are not traveling anywhere to complete their transactions. Most inbound sales programs are a good example of inside sales. 
2. Field Sales: Field sales are the opposite of inside sales. They represent sales that are achieved when the salesperson goes out into "the field" to make deals at places like trade shows or conventions. They may also be meeting prospective clients out on site. Field sales reps require a different subset of skills than inside reps do.   
3. Service Sales: These kinds of sales revolve around building lasting customer relationships, and maximizing the lifetime value of each customer. Many of these types of sales utilize consultative selling or social selling strategies, which would represent great opportunities for specified training.
4. Sales Management: This kind of training focuses specifically on sales leaders and managers. Sales management training helps sales managers with anything from efficient employee onboarding, to implementation of team-wide sales methodologies, to pipeline management.
Before volunteering yourself or your team for a sales training program, make sure you've hammered out some of these basics to help you choose the right course.
Look For Reciprocation
The best sales programs are the ones that are actively invested in helping you, specifically, succeed. 
While most sales training programs may end up having some "cookie-cutter" aspects — this is all but inevitable. So don't be put off if you encounter it. The content should also feel highly relevant to your rep's or team's unique needs. 
Ideally, the administrators of the program should be soliciting specific information from you before you invest time into the course. They might ask questions about your current goals and challenges, specific financial data, or your concrete objectives in signing up for the program. But the important part is that they're asking at all. This personal information can help them tailor their material around your specific company goals.
If there isn't an effort on behalf of the training company to get to know your sales team or overall company, you may want to look elsewhere to find a program that can apply their material better to your specific needs.
Look For Active Engagement
The best sales training programs are the ones that get their attendees actively engaged. No one likes sitting in lectures for hours on end; your training administrators should take care to build in some active skill practice.
You'd be surprised how much opportunity there is for this kind of actionable teaching within sales training. In fact, even online sales training courses are able to work in some real-world applications, so don't lower your standards just because it feels like the topic or the format doesn't lend themselves to hands-on practice. 
Your team will be best served through a healthy mix of lecture, practice, and application. Look for a program that offers to learn through a variety of mediums, and has both instructor-led and participant-led sections.
Look For Ongoing Support
For most companies, sales training programs represent a significant investment of time and money. The expectation is that whatever skills the attendees ultimately walk away with will ultimately be worth more than the selling time they gave up in order to attend the training.
Unfortunately, we know that most sales reps forget or phase out their new training in under 3 months. 
With that in mind, you should look for training programs that offer ongoing support after the program is completed. No matter how much "hands-on" application takes place during the training, there is simply no substitute for applying new sales strategies in the field with real prospects.
Having ongoing access to the training administrators, support staff, and/or course content will allow you to ensure your team is properly utilizing their new sales skills in a way that will make your ROI worth it.
The Optimal Technology Stack for B2B Sales TeamsUsing data from the most successful business-scaling models, we designed a blueprint for the exact technology your business needs at each phase of growth.
The Best Sales Training Programs
As promised, we've done some of the leg work for you — here is a (non-exhaustive) list of some of the best sales training programs currently available. Check out the links to learn more about each one.
1. High Impact Sales Training | Sales Readiness Group (SRG)
High Impact Sales Training is created for sales managers and leaders. The program is designed to teach managers how to effectively maximize their team's performance. The workshop is highly interactive and includes scenario-based learning and role-playing. Attendees will walk away with the skills needed to create a collaborative coaching culture, as well as the ability to implement a highly effective 5-step coaching framework with their teams.
2. Virtual Sales Rep & Manager Training | Factor 8
Virtual Sales Rep & Manager Training is designed for salespeople who sell entirely online, and never have the luxury of a face-to-face meeting. The workshop is packed with actionable tactics and in-the-moment practice around topics like booking meetings, adding value throughout the pipeline, and expanding into new territories. Factor 8 offers all of its attendees lifetime access to The Sales Bar, a continuously updated portal full of sales scripts and coaching guides to continue the education long after the workshop is over.
3. Costigan Training | Costigan Companies, Inc.
John Costigan has a reputation in the sales world for cutting out the fluff and keeping things simple. His Costigan Training program is famous for putting skills to action on the spot. Much of the training involves watching his process unfold live as he and his team call real prospects in real-time. Costigan has offerings for every stage of the sales cycle, and has trained salespeople from many big-name companies like Google, Amazon, and Gilead Pharmaceuticals.
4. Virtual Selling Program | ASLAN
ASLAN is another well-known name in the sales training world, and absolutely deserves this recognition. ASLAN goes above and beyond to customize each of their many training programs to meet the specific needs of each of their attendees. Their Virtual Selling Program, in particular, does a fantastic job of providing targeted, transformative sales strategies for sales reps who are struggling to sell in a faceless digital landscape. At the end of this training, reps will walk away with actionable strategies for generating leads and filling their pipelines. 
5. B2B Sales Training Course | SalesBuzz.com
The SalesBuzz B2B Sales Training Course is unique in that it focuses on one skill per week, over the course of 8 weeks. The intention behind the program design is for sales reps to learn and master one targeted skill at a time. The content is focused on reducing and eliminating prospect reluctance and increasing reps' confidence to boost sales. The course also includes "exams" and assessments to help gauge your progress as you go.
6. RAIN Selling: Foundations of Consultative Selling | RAIN Group
The RAIN group is another world-renowned sales training group, with many course offerings and skill focuses. Their Foundations of Consultative Selling course helps sales professionals lead fruitful and productive sales conversations through a consultative approach. The course covers everything from building trusting relationships to honing in on your unique value proposition.
7. Accelerate Your Sales | Jill Konrath
Konrath's Accelerate Your Sales course teaches sales professionals how to keep pace in an ever-changing sales world. Her course focuses on the key skills every sales rep needs to know in order to secure meetings with decision-makers — no matter what kind of sales approach happens to be trending that day. The course content will help you reduce the time it takes to get your foot in the door with target accounts, and then how to position yourself as an expert once you've established rapport. Her course promises results in the form of an increase in engaged leads.
8. Virtual Selling | Imparta
Imparta offers many unique and customizable courses, but their Virtual Selling pre-designed course stands out as one of the best. The course focuses on reframing reps' mindset to keep up with an increasingly virtual sales landscape, as well as their proprietary 3D Advantage framework. The course content will help reps build momentum and expand their reach in a virtual selling environment.
9. Strategic Selling Done Virtually | Revenue Storm
The Strategic Selling Done Virtually program focuses on putting sales reps in the driver's seat of their own pipeline. Their coursework will teach sales teams how to stop waiting around for leads to come to them, and start proactively building out their lead list through targeted outreach. The Revenue Storm approach is designed to be repeatable and scalable, and also ensures that reps walk away with the skills to not only generate leads, but also nurture them through the sales process to close.
10. IMPACT-U | The Brooks Group
IMPACT-U is a gamified course, making it a really attractive option for any sales team that wants an engaging and exciting training experience. The program teaches a six-step, results-driven process and can be delivered onsite, online, or both. 
11. Value-Based Selling | Mercuri
Mercuri's five-step system is simple and has been taught to students in 50 countries. Their Analyze – Design – Train – Change – Consolidate framework allows them to customize their training to each attendee and focuses on teaching reps how to communicate their value offering to prospects. The Mercuri Value-Based Selling program aims to empower reps to stay competitive in a time where buyers expect more results than ever. 
12. River of Referrals | New Velocity
New Velocity's River of Referrals course teaches sales reps how to use their existing customer base to generate a nearly limitless pool of new prospects. The course, which can be delivered onsite or online, teaches reps their "MYTOP" approach — specific strategies for Monetizing Yourself Through Other People. Sales reps will learn how to leverage their existing connections to convert new referrals through each stage of the sales process.
13. Critical Selling Skills | Janek
The Janek Critical Selling Skills program is research-backed and addresses specific skills throughout each stage of the selling process. Specifically, the course teaches sales reps how to quickly build trust with prospects and differentiate themselves from the competition with highly effective value-based selling strategies. The process is designed to reduce and even eliminate objections from buyers.
14. Integrity Selling | Integrity Solutions
The Integrity Selling course aims to change not only the behavior of sales reps, but also the mindset and attitude. The program is rooted in — you guessed it — integrity and emphasizes consistently strong business values and ethics. According to their website, Integrity Solutions addresses "the head and the heart" of a salesperson's skill set.
15. Winning with Relationship Selling | Dale Carnegie
The Winning with Relationship Selling course aims to move salespeople away from the traditional, transaction-based selling framework, and into a more value-based, relationship-focused approach. The Carnegie approach recognizes how increasingly savvy today's consumer has become and teaches reps how to leverage their innate "human skills" to create the culture of collaboration that most prospects are seeking.
16. N.E.A.T. Selling | The Harris Consulting Group
The N.E.A.T. Selling approach focuses on four things: the Need, Economic Impact, Access to Authority, and Timeline. According to the course, having a deep understanding of these four tenets can guide sales reps through just about any sales conversation to execute the close. The program is designed to work for sales organizations and businesses of any size. 
17. Sales Certification | Sandler Training
The Sandler Selling System is another framework that has made quite a name for itself in the sales world. The company offers a variety of sales trainings and courses depending on your specific needs, but they all teach sales reps how to expertly uncover customer pain points. The Sales Certification course offers ample follow-up reinforcement training.
18. Sales Training Workshops | Action Selling
Next, we have the Sales Training Workshops. Action Selling was one of the first training companies to enlist the help of big data in designing their coursework. They emphasize the importance of monitoring KPIs and using those results to further refine the sales process and strategies. The program boasts an average of a 6x increase in sales performance growth as a result of their training. 
19. Consultative Selling | Richardson Sales Performance
With over 3 million happy customers, Richardson Sales Performance comes with an impressive track record of transforming sales teams from the inside out. Their Consultative Selling course focuses on the intricacies of a productive sales conversation and aims to improve sales reps' strategies around buyer-focused dialogue. Like all of their courses, the Consultative Selling framework focuses on Richardson's 6 Critical Selling Skills.
20. Inbound Sales | Hubspot
Hubspot's Inbound Sales program covers the basics of an inbound selling approach. You'll learn the best contacts to reach out to, how to command the full attention of your most promising leads, and how to design and deliver personalized presentations. This course is considered an introduction or primer to inbound sales; there are no barriers to entry and no background knowledge is required.
21. Driving to Close | JB Sales
Driving to Close is John Barrows' signature sales training program. It focuses on sales meetings and closing strategies. The program specifically teaches sales reps how to skillfully handle customer objections in a way that feels authentic and genuine. It includes a pre-training session with sales managers that helps the instructors customize their training content. 
22. Smart Calling College | Art Sobczak
The Smart Calling College course is designed specifically for phone-based sales reps. Attendees are guided through each phase of a sales call, and learn proven, word-for-word scripts that will help them advance their prospects through the conversation and to a successful close. The course covers everything from cold calls to account management/maintenance calls. Your reps will walk away with a full suite of actionable strategies for every possible scenario.
23. DoubleDigit Sales | DoubleDigit Sales
The DoubleDigit Sales course aims to transform your sales team to achieve double-digit growth. Its approach is simple, but the value is undeniable — you'll learn how to find new customers quickly, articulate your unique value proposition, and align your sales team's strategies so that your execution is flawless. The DoubleDigit program is delivered virtually and offers lifetime access to its participants. 
24. Selling with Video for Teams | Vengreso
Selling with Video for Teams is a unique program that trains sales reps on how to make personalized, highly effective sales videos. Among other noteworthy topics, this course teaches reps how to leverage the power of verbal and nonverbal communication in sales meetings and through video presentation. Reps will also learn how to create irresistible landing pages that align with your video messaging. 
25. Bespoke Online Training | MTD Sales Training Specialists
Perhaps the most customizable program on this list, MTD's Bespoke Online Training gives its participants full control over what kinds of training are prioritized. Everything from the topics to the length and duration of the training are built according to the trainees' requests, giving you a fully optimized training experience. Regardless of your package requirements, MTD promises to deliver a program that's practical, engaging, and fun. 
Get expert sales tips straight to your inbox to win more deals
Related Articles
Sales, deal management, and communication tips for your inbox