The Dangers of "Selling Before Building"
One of the tenants of the Lean Startup approach to company building is "Sell Before You Build." The basic idea being that you need to be out talking to customers and field-testing your approach to their perceived problems before you lay hands to keyboard to create the solution. Makes sense. It's much much easier to change a sketch or a design doc than code. But there are two pitfalls to be aware of when you take this approach: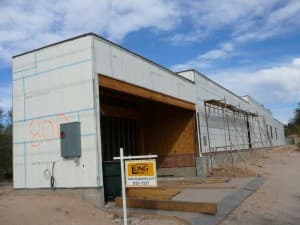 1. You Have to Change Your Mind
I've written before about sticking (or not) to your guns in investor conversations. It's different when talking to customers in the early stages. You want to be as open as possible to their feedback. My approach recently has been (about 2/3 of the way through the customer interview) to read five short sentences about alternate benefits of Yesware and write down their pros/cons, use cases, and other feedback. And they give other feedback. They make odd comments about their view of reality.
Last night after a couple of beers, a very experienced sales exec started talking with me about how salespeople should know how to respond to questions about the Portuguese economic free-fall. Brilliant! The challenge is, after having committed yourself to this startup project completely, and accepted the huge changes that the decision has brought to your life, all in service of this dream you have, you have to change it. You have to stay open to customer feedback to such an extent that, you can hear all feedback and consider how that might be the right thing to do. Once you decide, you have to go for it. Until you have to change your mind again.
2. Don't Sell Too Much
In the course of doing "Customer Development" for Yesware, I've spoken to dozens of salespeople. It was a nasty feeling two weeks ago when I realized that I had been selling way too much and researching/listening way too little. Yes, I was having meetings with salespeople, sales execs, and sales operations people. But I was showing off our gorgeous UI, talking about the features we were building, relating how Yesware could work with CRM, etc., etc., and then at the end saying… "So, what do you think?"
Although it seems obvious now, that's not the best way to get unbiased input on a product plan. It's a tough balance to strike, because you don't know if this person you are interviewing could be a customer, an investor, a promoter. You want to communicate your passion for your project. You can't sell yourself short.
But if you sell too much, and avoid personal selling techniques, you mask the real issues that customers see with your idea. People don't like to be rude. They don't like to crush the hopes of an aspiring entrepreneur. So it's a rare person who will tell you what they really think about your ideas. Selling your solution hard (or well) at the outset will make it even less likely that they'll be honest to your face. Which doesn't mean that they will buy your product when it's done.
So I'm back on the road, talking with salespeople again. One technique I'm trying is to map with each person their workflow/information flow from New Lead to Closed Deal. After a couple of softball questions, we dive into filling this out together. Then we talk about the five alternate benefits, as described above. Here's a sample of what a completed map looks like: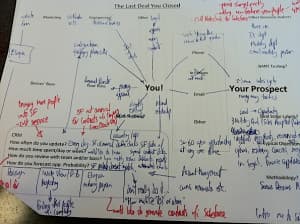 Get expert sales tips straight to your inbox to win more deals
Related Articles
Sales, deal management, and communication tips for your inbox