Unique Selling Proposition Examples: 10 Companies That Nailed Their USP in 2020
In 2020, there's no question that every market is wildly competitive, that's why your unique selling proposition (USP) is a dominant factor of whether you stand out or blend in with the crowd.
Here's the deal, buyers are overwhelmed with options, they need to quickly understand what makes you different from your competitors or they'll move on.
Your USP will lead both your marketing and sales efforts — so it's important to be confident in this statement.
But pinpointing your USP isn't easy, it consists of lots of research, brainstorming, and creativity. If you don't know where to start, looking at other companies' unique selling propositions can help inspire your own and set the stage.
Let's look at 10 companies that nailed their unique selling propositions in 2020.
First, What Is a Unique Selling Proposition?
Your unique selling proposition is what makes your product or service different from the competitors in your market.
Why should customers choose you over your competitors? What makes you different? 
When creating your USP, remember — when you attempt to be known for everything, you don't become known for anything. 
Focus on the main thing that makes you different from the rest, then really excel by making the statement engaging, recognizable, and resonate with your customers.
Does your USP resonate?
Test the messaging with Reporting & Analytics
10 Attention-Grabbing Unique Selling Proposition Examples
These 10 companies nailed their unique selling propositions, take a look:
1. Lemonade's unique selling proposition stops you in your tracks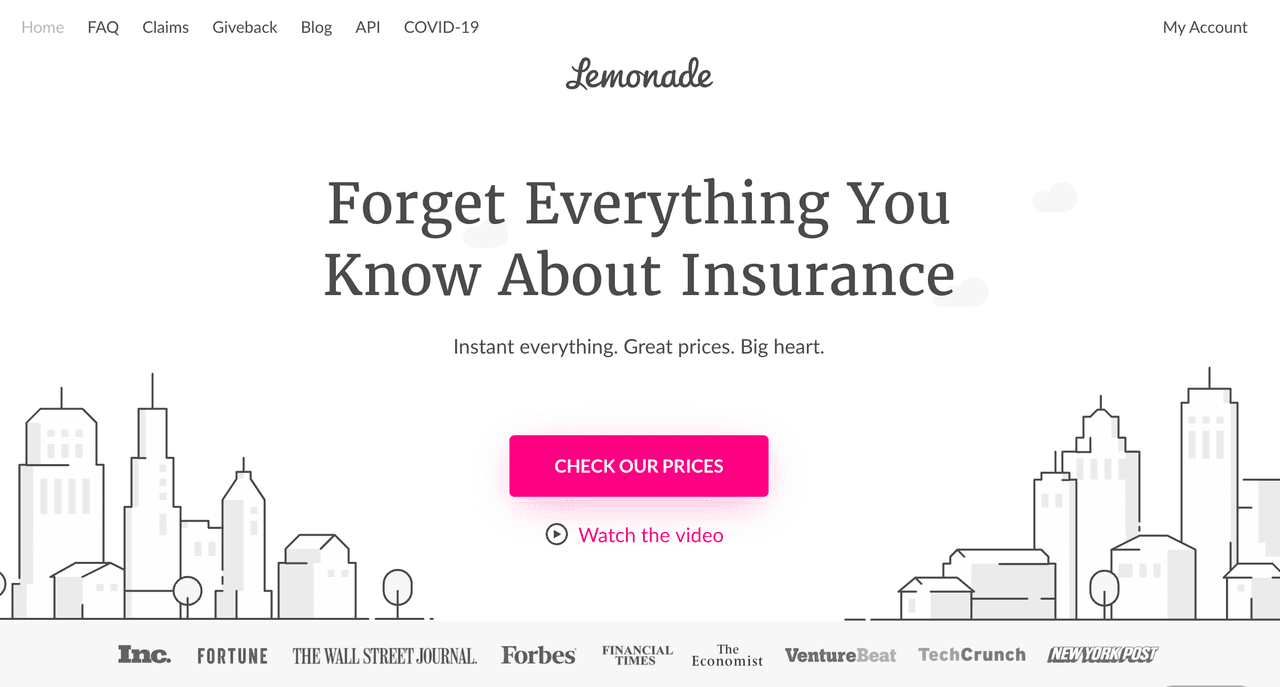 There's no question that dealing with insurance is a very tedious and frustrating task. Lemonade calls this out by making a very unique and powerful claim that tells you to "forget everything you know about insurance."
This is a statement that stops you in your tracks. Why are they not like any other insurance company?
Lemonade answers that right on their homepage: "Instant everything, great prices, big heart." The insurance company takes a flat fee, pays claims instantly, has low prices, and donates leftover money to nonprofits.
Both their marketing and sales efforts make their unique selling proposition loud and clear — they're not like the other insurance companies.
Lemonade states: "By injecting technology and transparency into an industry that often lacks both, we're creating an insurance experience that is fast, affordable, and hassle-free."
2. HelloFresh makes a bold statement of being America's best
HelloFresh makes a bold statement that they're the best of the best at what they do by having a clear unique selling proposition of "America's Most Popular Meal Kit."
This statement not only generates FOMO but acts as its own social proof.
And right under this statement, they back up why that's true: "offering the most recipe variety and meals" at a low price.
If you can clearly state why your product or service is better than your competitors, you have your USP in the bag, and HelloFresh excelled at making their statement bold.
3. Robinhood did something no other financial services company was doing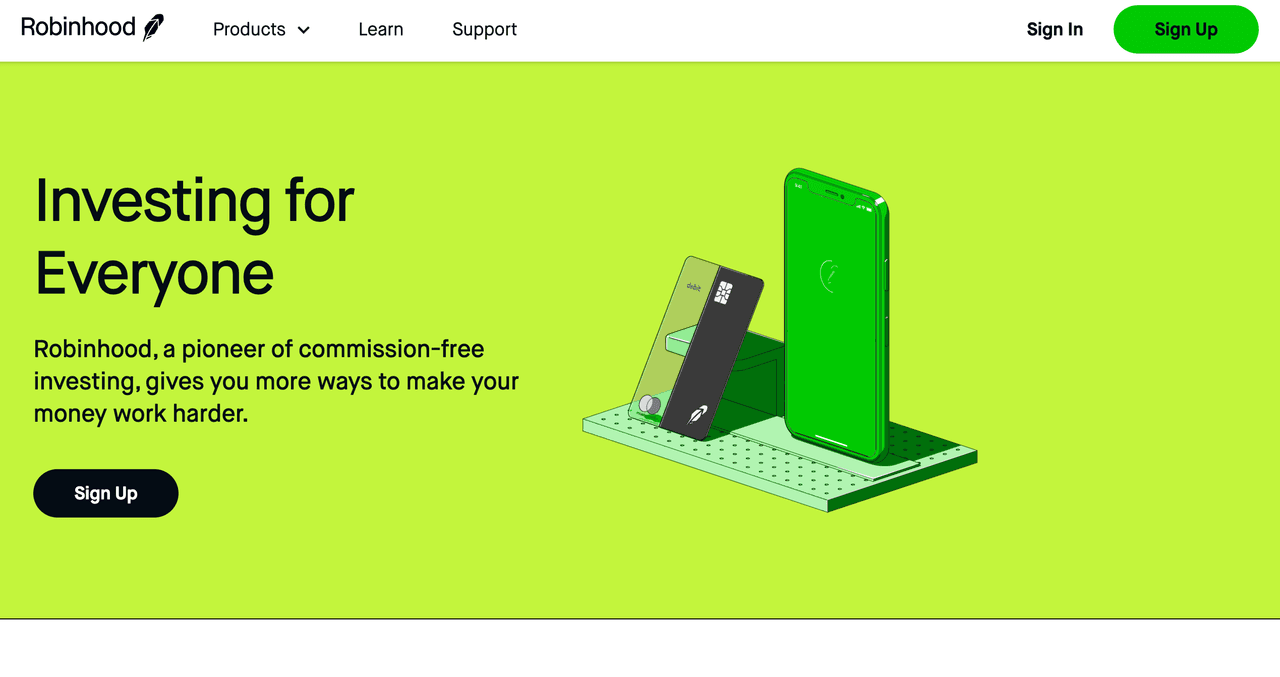 Robinhood was the first mobile-investing app to offer commission-free trading, which has become their leading USP throughout the years.
On their website, this slogan along with the description highlights what makes them different from their competitors. 
Robinhood is a "pioneer of commission-free investing" — they did something no other financial services company was doing in the market. They pioneered the space and keep that messaging alive in their marketing efforts.
And now that competitors have caught up, their unique selling proposition is focused on simplicity and accessibility — "investing for everyone."
4. Dollar Shave Club made an ordinary product into an extraordinary experience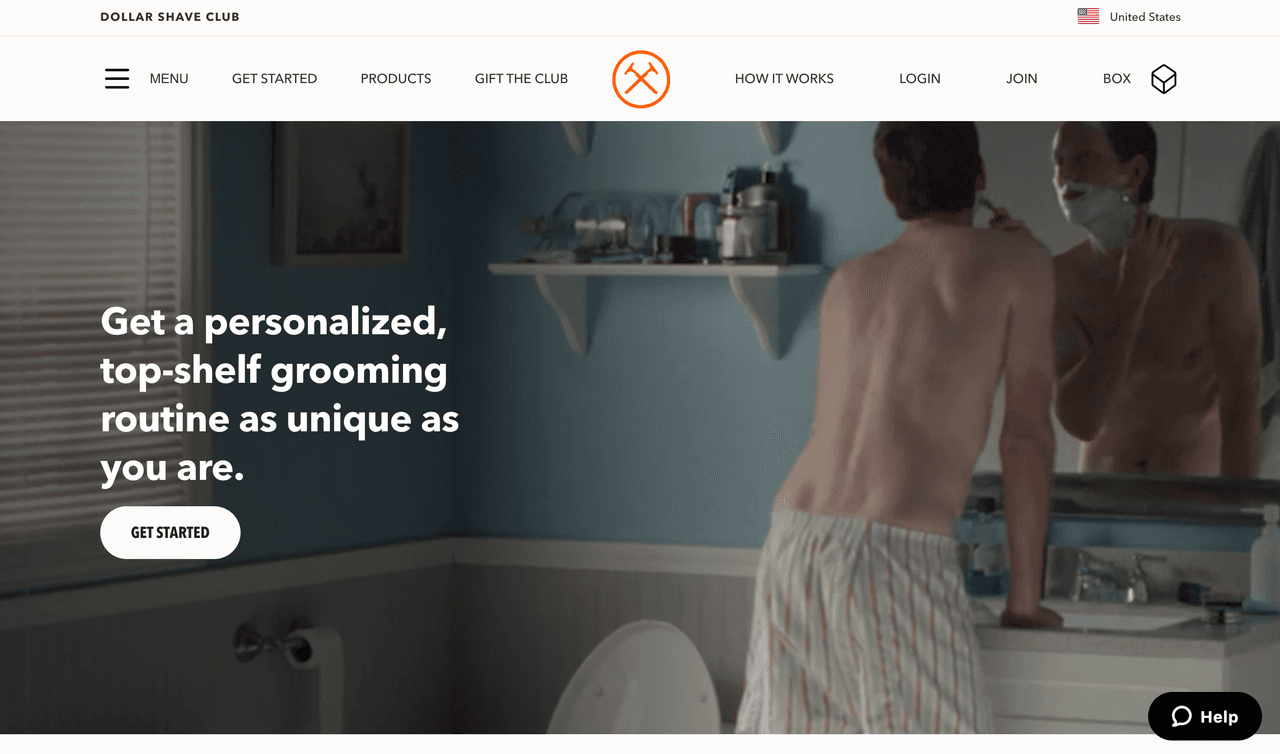 The next unique selling proposition example that stands out to any customer is Dollar Shave Club. 
This company entered into the age-old razor industry and did something no one else was doing.
Dollar Shave Club provides customers with a unique and personalized experience by delivering razors and other personal grooming products right to your door.
By doing so, they took an ordinary everyday product and made it into an extraordinary experience for their customers — and that right there calls for a stand-out selling proposition.
On top of the personalized experience, their razors are cheap and high-quality, making the whole experience based on efficiency.
5. Fresh Sends calls out the cookie-cutter floral industry
Fresh Sends modernizes flower delivery and calls out the "cookie-cutter floral industry."
The company ensures they're different from other floral companies because they're focused on freshness and seasonality. Their bouquets are handcrafted, paired with custom-designed hand-written cards, packaged to keep flowers fresh, and delivered the next day.
Fresh Sends makes their unique selling proposition prominent from the second you land on their page — they're modern and not like the rest of the floral industry. And the rest of their website backs up why this statement is true.
This floral company certainly stands out from the crowd — it's new, fresh, with no fluff. 
Eliminate the guessworkData that helps you sell smarter
6. Warby Parker went the extra mile to ensure customer satisfaction
There's no question that choosing a pair of glasses online is a difficult task.
Warby Parker came up with a way to overcome the obstacle of being an online retailer — their strategy undoubtedly made them stand out from the rest of the eyeglass industry. Warby Parker offers a virtual try-on that allows people to ship 5 frames to their home and try them on for free.
As an online retailer, they had to find a way to overcome this obstacle. And their try-on strategy does just that.
This also represents that Warby Parker puts their customers first and go the extra mile to make sure they're happy.
Their USP provides value, solves a pain point, and puts Warby Parker ahead of the game to their competitors.
7. Drizly paved the way in the delivery service industry
Drizly took advantage of the ever-growing need for delivery service and gave customers the ability to order drinks right to their doorstep in under 60 minutes. That's right, just 60 minutes.
Although other companies have jumped on this train, Drizly ensures under 1-hour delivery, which has remained their unique selling proposition.
And on top of that, Drizly partners with retail stores across hundreds of cities, making them the largest alcohol marketplace. Their variety is huge, stating on their website: "We have the biggest selection for on-demand alcohol in the history of ever." 
Drizly makes it loud and clear why they're better than competitors.
8. Stripe changes the game with their unique selling proposition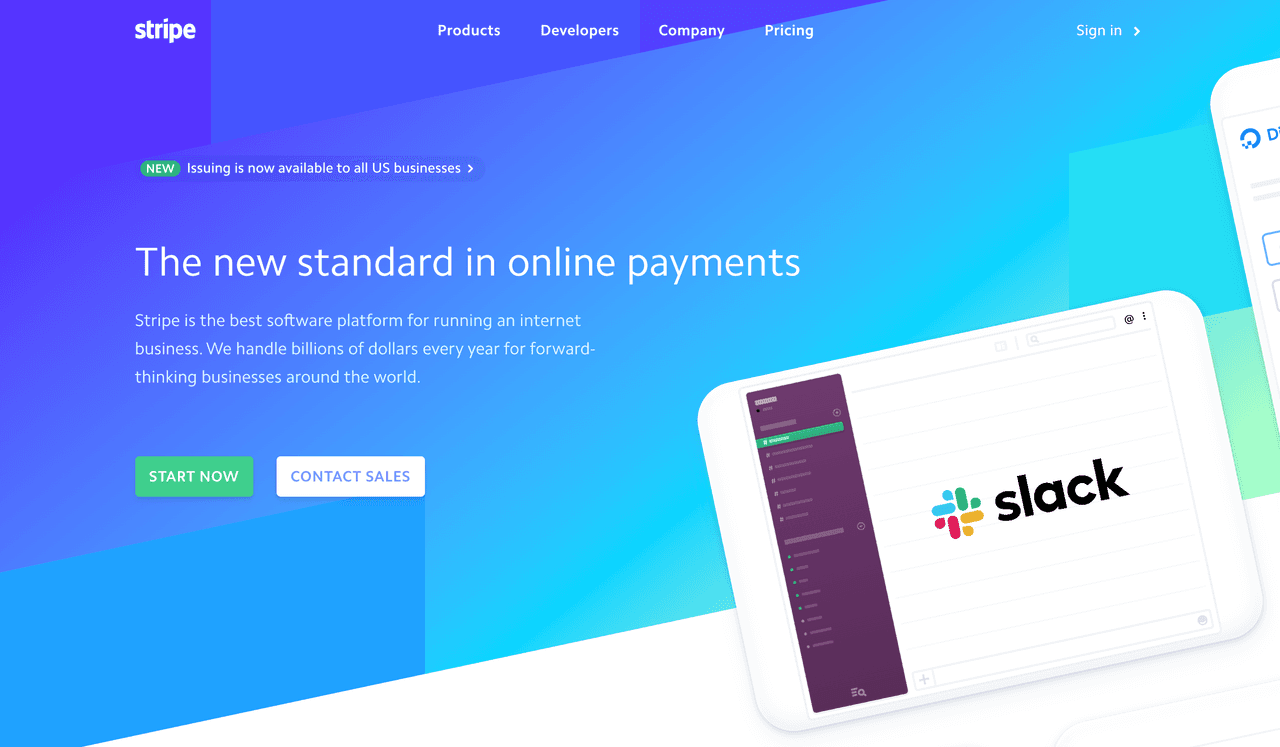 This unique selling proposition example is slick and different — the new standard in online payments.
Stripe is an easy-to-implement payments platform targeted at web software developers. The company makes online payments easy — removes financial complexity, has industry-leading documentation, third-party integrations, and more.
Their messaging makes it clear why they're the most flexible and customizable options for developers, changing the game for online payments.
Their complete toolkit makes them the "new standard" in online payments, and they back this up on their home page by stating that they're "the best software platform for running an internet business." 
Because of this, they can take advantage of their leading position as their unique selling proposition.
9. Head & Shoulders has made a name for themselves through their USP
Although this unique selling proposition is nothing new…it doesn't feel right writing a blog on the best USPs without mentioning Head & Shoulders, because they paved the way.
Head & Shoulders has one of the most famous unique selling proposition examples of all time. Clinically proven to reduce dandruff — so simple yet so powerful.
This company did so well with defining their unique selling proposition that Head & Shoulders is almost synonymous with anti-dandruff. That's the power of your unique selling proposition.
What makes their statement so assuring is the social proof and use of statistics. Clinically proven will catch any consumer's eye, as well as "100% dandruff protection."
10. Anchor focuses on simplicity in a complex industry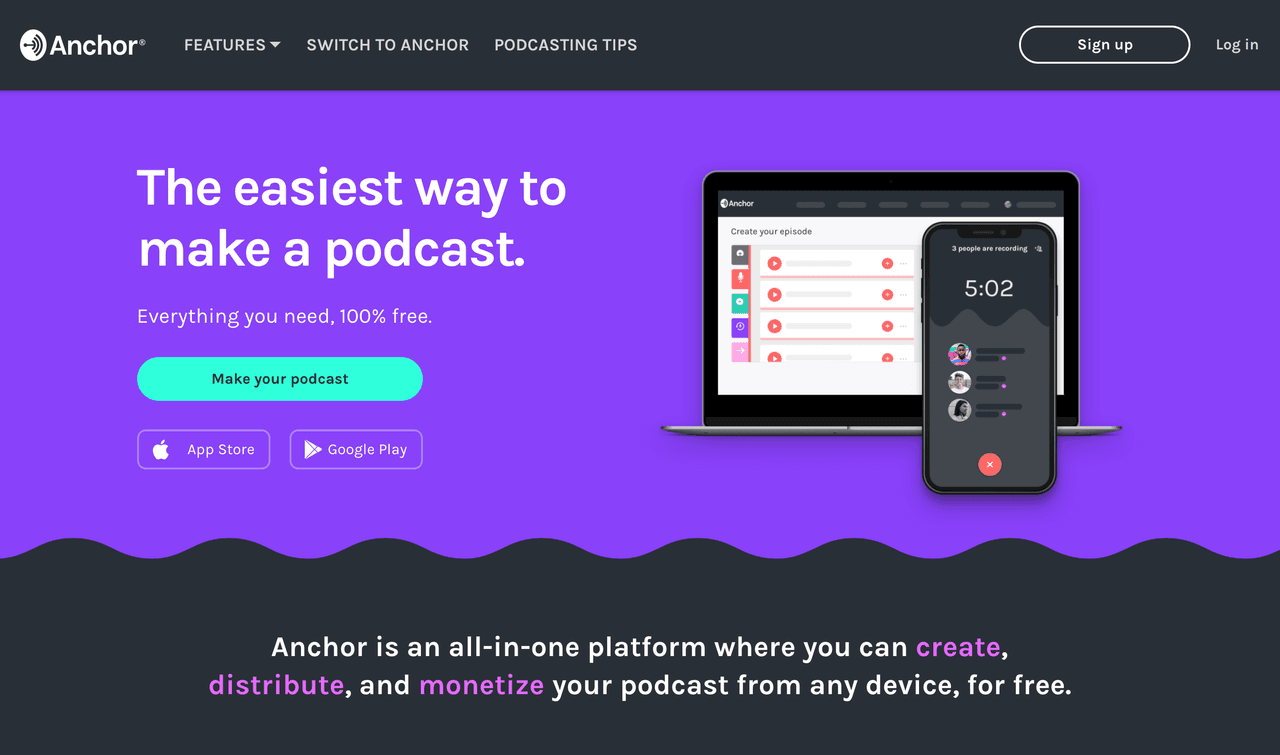 Anchor focuses on ease of use for their unique selling proposition.
With the growing podcast industry, there needed to be a stand-out company that went about their service in a different and unique way. Anchor took this initiative.
Anchor provides an easy-to-use hosting and publishing platform that focuses on making podcasts easy to create, allowing anyone to do it.
Anchor's focus remains on removing the barriers that stand in the way of making a podcast, and all of their marketing and sales efforts seem to be focused around this unique selling proposition — setting them apart from the market.
Prospecting made easySend out a campaign with your new USP and get real results with Yesware
Conclusion
We hope these unique selling proposition examples give you some inspiration for your own.
Every company is different, and every company goes about their USP differently — but the key is, if you can make it loud and clear why your product/service is better than your competitors and then word it in a catchy and engaging way, your USP will dominate.
Don't be like everyone else though. Change it up, be different, be unique.
That's the fundamental element to creating a killer USP in 2020.
Get expert sales tips straight to your inbox to win more deals
Related Articles
Sales, deal management, and communication tips for your inbox