Yesware is a Google Apps Premier Technology Partner
Today we're excited to announce that Yesware is among the first Google Apps Premier Technology Partners.
Google's technology partners provide complementary products which enhance or extend the value and functionality of Google Apps Core Services. In turn, the new technology track for the Google Apps Partner Program provides customers with access to cloud-based apps that help them run their businesses even better.
Yesware + Google
As an early partner, Yesware has been recognized for its success in providing a differentiated user experience across Gmail, Google Calendar, and Google Drive, as well as for contributing to the success of customers that rely on our specialized sales solution.
These are customers like Acquia, whose sales reps save over two hours each day by using Yesware's Salesforce integration to manage their sales funnel, right from Gmail. Or Mimeo, where first year sales reps' productivity increased by over 10 percent after leveraging Yesware's Gmail tracking feature to gain insights on which emails pushed deals forward.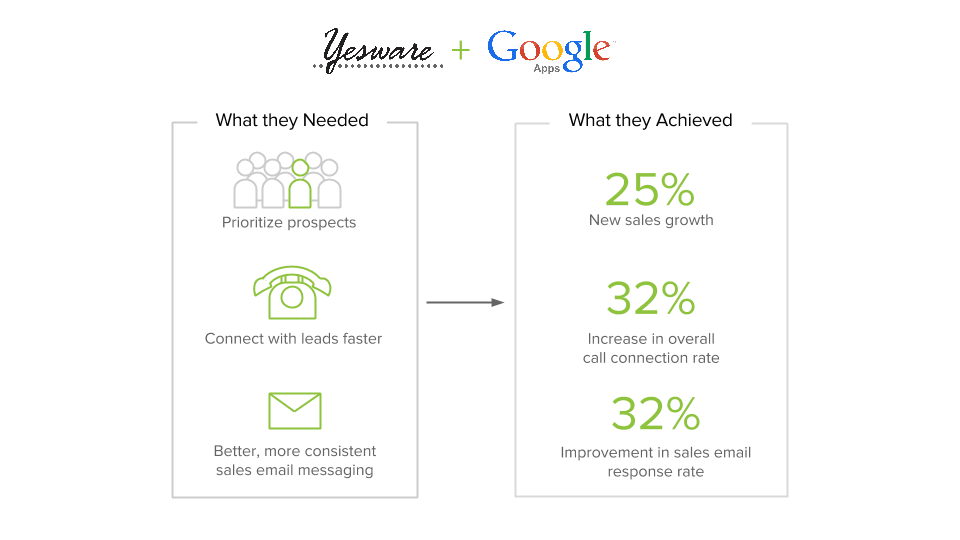 This partnership means that we will be provided with technical, marketing, and sales support to help bring Yesware to more salespeople around the globe.
Looking Forward
In particular, we look forward to working with Google on two fronts:
To drive richer product integrations with Google Apps services so that we may continue to build on to our seamless Gmail, Google Calendar, and Google Drive integrations.

To reach and serve more customers through the Google Apps Marketplace and other joint go-to-market efforts.
For more information about the new technology track in the Google Apps Partners Program, you can check out Google's announcement from earlier this year.
Get expert sales tips straight to your inbox to win more deals
Related Articles
Sales, deal management, and communication tips for your inbox