Okay, show of hands.
Who has better things to do than spend hours handpicking content to share with prospects?
You know that you need to become the best curator of information to stay one step ahead of the competition. You've sworn off naked emails. You get it. 
But taking time to scour the web for the latest thinking on topics that are important to your customer just doesn't seem doable. So, you don't.
We get it. Ain't nobody got time for that.
The good news is that there's a wealth of resources out there that can help you give the people what they want, with minimal effort on your end. You just need to know where to look.
Here are 11 places you can go to find helpful content to share with your prospects and customers.
1. Feedly 
While the death of RSS is bemoaned almost as much as email, Feedly offers living proof that RSS readers are here to stay — with good reason. At a basic level, the news aggregator offers a one stop shop to stay on top of your customer's blog, follow influential media, or discover new industry experts. Be sure to check out the hashtag search (top right) to zero in on specific topics of interest.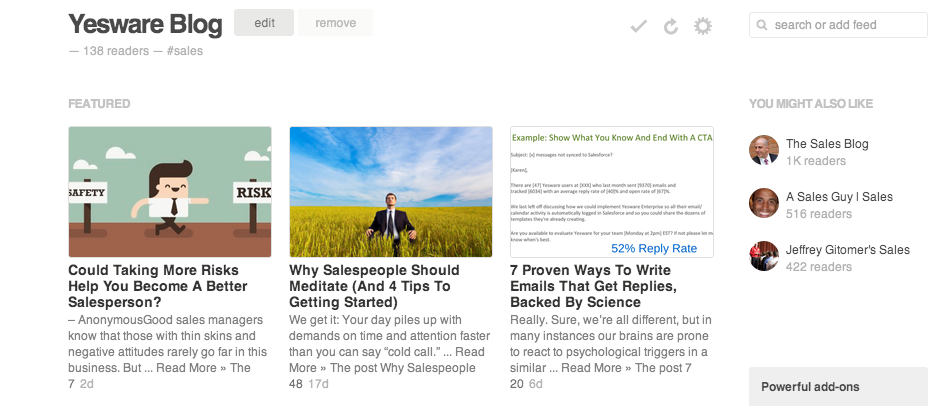 2. LinkedIn 
After launching LinkedIn Today in 2011, the 'social network for professionals' steadily shifted into the publishing realm with the introduction of its Influencer program and later acquisition of news aggregator Pulse. Today, it's a god-send for those of us with limited bandwidth and lots to keep tabs on. Use it to gather information through your connections, monitor industry news and trends via Pulse (on mobile or desktop), or follow the Influencers that are weighing in on the issues that matter most to your customers.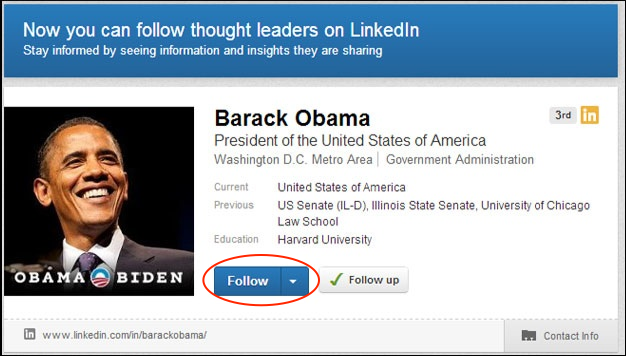 3. Twitter Lists
Twitter's "List" feature offers an easy way to categorize groups of Twitter users, and then view their tweets in a separate timeline. These lists can be public (eg. anyone can see them) or private (eg. for your eyes only). You can curate your own lists, or save time by subscribing to lists created by others. For example, here's a great Twitter list of sales experts that was curated by @billrice. I'll often keep this running in a tab on Tweetdeck and check in every so often to see what topics are gaining traction that day.
Tweets from https://twitter.com/billrice/sales
To start a new Twitter list, head over to the Settings button and click on the "Lists" option. Hit the "Create List" button and then you can: 1) search for people, brands, or businesses, or 2) add people from your Following page or anyone's profile page.
4. Prismatic
Prismatic provides an easy way to follow topics of interest (much like Feedly) and discover new content on your mobile device. What makes it unique (and a personal favorite) is that Prismatic also integrates with Facebook and Twitter to gather information about what you're sharing socially and then suggest content that aligns with your specific interests. So if you're already demonstrating your domain expertise by sharing across these channels, you get similar content delivered to the Prismatic mobile app right away, without manually picking and choosing which feeds are most relevant to you.  
5. Newsle
Newsle is a web app that tracks people in the news so you never miss an important story about a customer, prospect, or person you care about. Use it to follow your LinkedIn contacts, Facebook friends, email contacts, or even public figures, and receive email notifications when a blog or news site mentions the person you're following. You can also view all the curated stories in a single newsfeed (eat your heart out, Google Alerts). Here's a look at my feed featuring a cameo appearance by Yesware's Eileen Ani, who was recently quoted in Mashable. 🙂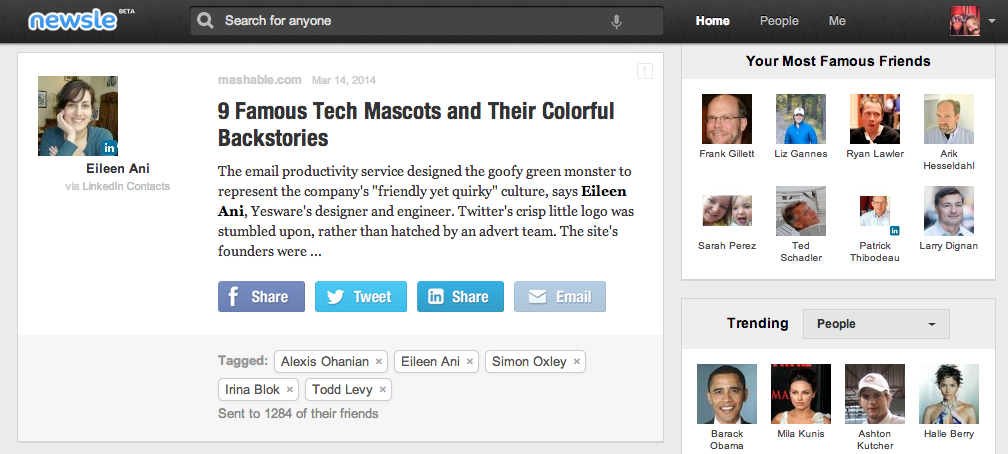 6. Mention
Mention is solid alternative to Google Alerts, especially for those of us who tend to lose track of email alerts in their inbox (*raises hand*). The media monitoring application lets you monitor keywords in real-time via push notifications (available on desktop or mobile), or by daily or weekly email digest. Like Newsle, every alert is rolled up into a single newsfeed, so you can scan at your leisure.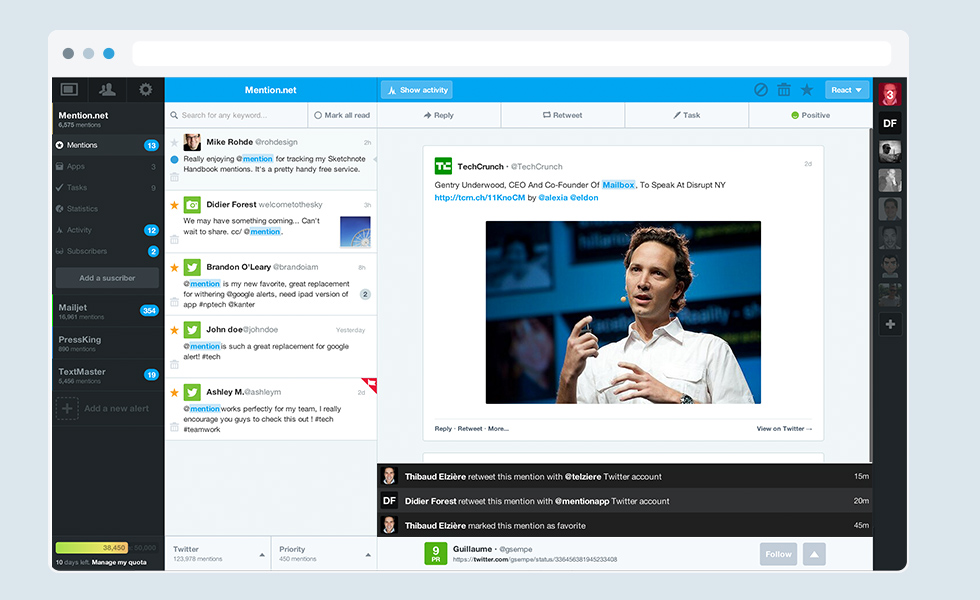 7. Zite/Filpboard
Flipboard's recent acquisition of its main competitor – a mobile news-reading app called Zite – makes this countdown a little tricky. For now, stick with Zite. It's a powerful content discovery engine that not only brings you news catered to your interests, but also learns your reading habits using algorithms developed by the University of British Columbia's Laboratory for Computational Intelligence. By monitoring what you read and how long you spend on each article, Zite knows what you're looking for and suggests new sources and topics that may also be of interest.
Six months from now, set your sights on Flipboard. Zite co-founder, Mike Klass, has said that Zite will eventually shut down for good, with its technology folded into Flipboard.
8. inPowered
After your prospect has finished pouring through your website and vacuumed up all the content therein, you're going to need to find credible third-party information to help them make their decision. That's where inPowered comes in. Salespeople can use the "content discovery and amplification" platform to search by keyword and find relevant content, sorted by the articles that are most-read with the highest levels of social engagement. With this data in hand, it's easier to determine when information is coming from a trusted, credible source, or if it's failed to resonate with it's intended audience.
This search for Yesware, for example, shows me that a recent article in VentureBeat was well received by readers and across the web. I would be more inclined to share this article with a prospect than a similar post in DestinationCRM that saw fewer readers and much more limited engagement.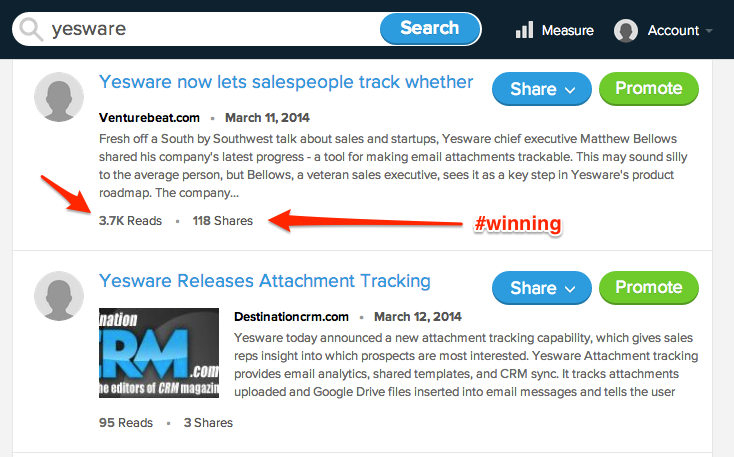 9. Industry Analysis & Market Data
Here's where to find some of the best information that may not always appear in news readers:
10. Medium
Medium is a new-ish blog publishing platform that lets anyone publish articles online. It uses an intelligent algorithm to identify and recommend quality content, curating the best articles into "Collections" of various themes. Using its collection search feature, you can quickly sift through posts to find stories related to a specific subject. You can also choose to follow these collections to receive alerts when new posts are added. Here are a few examples:
Want more collection suggestions? Check out this comprehensive list.
11. Quibb
Like all the coolest new kids in town, Quibb is currently available by invite only. Once you're accepted (high-five!) and connect your Twitter account, inside you'll find a community of people from your field sharing links and articles relevant to your job.

Where do you go to find great content to share with prospects or customers? I'd love to hear your go-to favorites for curating the info you need to get the job done.