Blogging Best Practices for B2B Marketers
Businesses who have blogs are on the rise—according to Content Marketing Institute and MarketingProfs' most recent study, 65% of companies are using blogs to grow their businesses.
Whether you are just starting your company's blog or you're a longtime content manager, here are some B2B blogging best practices to help you stand out from the growing B2B blogging pack:
Create Shareable Headlines
You don't have to have gimmicky headlines, but you need to them to be interesting and relevant enough to capture the small attention span of your audience. Don't feel like you need to be bland either—you want people to be drawn in just by reading your headline.
Think about which headline you would be more likely to share: "My Favorite SaaS Tools to Make You Work Faster at Your Job" or "Top SaaS Products to Increase Productivity"? As a general rule, abide by the criteria for a great headline: headlines should be useful, exclusive, specific and unique.
Get Visual
Even businesspeople like to see images in blog posts—make sure you have engaging photos or videos on your blog to hook them in. One of the best places to find photos is with Compfight—it searches both free Creative Commons and stock photos to find ones to best fit your content.
Having images in your posts is essential to your social sharing strategy as well. Maybe you're trying your hand at marketing via Pinterest or just using LinkedIn's new layout to your advantage—either way, you need to have images in your posts to have them show up when your content is shared to your audience's social networks.
Optimize Your Post for SEO
Optimizing your content for search engines is just as important as having a clever headline. People are looking for new business solutions all the time, so you need to be ready for them to find you via search engines. Make sure to be using the right keywords and linking to internal and external related content.
SEOmoz has an awesome infographic of the perfectly optimized blog post that is a tremendous resource. At the end of the day, make sure to reevaluate your SEO strategy by analyzing your content analytics to see which keywords are driving traffic to your blog and landing pages.
Make It Easy for People to Discover Related Content
Even after you've hooked them with a comprehensive SEO strategy and catchy headline, your readers may not immediately fall in love with your content. Make sure you have a related content tool to suggest other content they may like so you can have another chance to win them over. Related content works best when accompanied with a thumbnail image for the same reason you need multimedia in your posts—it's eye-catching and engaging.
Pick the Right Social Sharing Buttons
Ultimately, after you've brought new readers in and encouraged them to poke around your site, you need make it easy for them to share your content with their social networks.
Make sure you are optimizing your social sharing buttons to the networks that your readers actually use—for example, it might make more sense for you to choose LinkedIn over Pinterest for some types of B2B companies. Think of your social sharing buttons as a distinct call to action—you wouldn't want to overwhelm your readers with an unclear CTA.
These are a few of our B2B blogging best practices—what are yours? Comment below with your tips.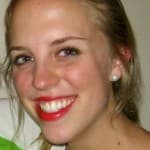 Ginny Soskey is a marketing manager at Shareaholic. Shareaholic creates social sharing, related content and content analytics tools for more than 200,000 websites, reaching 300 million people each month. You can learn more about blogging by keeping up with Shareaholic on the Shareaholic blog.
Get expert sales tips straight to your inbox to win more deals
Related Articles
Sales, deal management, and communication tips for your inbox